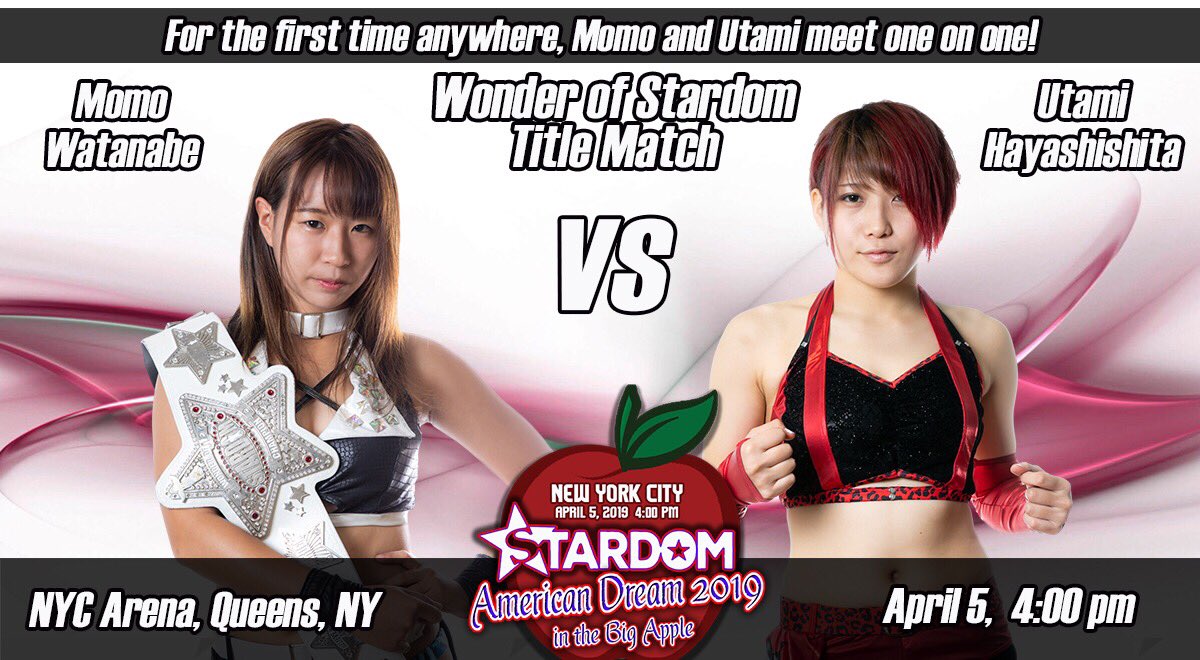 One day I will run out of Mania Weekend shows that I want to review. That shall not be this day. It would have been a bit weird not to check in on Stardom when I watch everything else they do. Plus, there was no chance I was missing Momo vs Utami.
We opened in the middle of an epic contest where some people were engaged in a war with a broken bottom rope. While they battled valiantly, it was to be the first defeat of the evening as Stardom came to the decision that they needed to put this show on at some point. They then had every wrestler come down to the ring while they named them in English and placed them in their factions. That was a nice touch for any newbies in attendance.
JAN (Jungle Kyona and Natusko Tora) defeated Sonya Strong and Violette
Out first was Sonya Strong and Violette who were representing House Of Glory. HOG helped Stardom to put on the show, so it made sense to give a couple of their wrestlers a shot. As far as I'm aware neither has wrestled for Stardom before.
If they wish to do so in the future, they got the perfect opponent to help them get there. Jungle Kyona is one of those wrestlers who makes people look good, and she kicked off the match by bumping around for them. Sadly, neither seemed to grasp the opportunity, as their offence was pretty bland.
Sidenote, this is the rare Stardom show to feature comedy, and by this point, I was beginning to wish it didn't. The English commentator started talking about Mary Sues and Rey from Star Wars, so he's a cunt.
Anyway, I won't go on about that. This match was at its best when Jungle was on the offensive. While the HOG team failed to sparkle, Kyona was positively blinding as her charisma burst off the screen. As reliable as Tora is, I suspect the Stardom wrestler the newbies will remember from this one was Jungle.
Verdict: Two And Three Quarter Stars
International Army (Hana Kimura and Bobbi Tyler) defeated Britt Baker and Britney Blake and Queen's Quest (Konami and Bea Priestley) in a Three Way Tag Match
Hana's hair has changed as she's added some colour to her look. I don't have much more to say about that, but it momentarily confused me when she wandered out. She looked to be in an exuberant mood.
What followed was a fun match where you got the impression we were only getting part of the story. By the sounds of things, the wrestlers were keeping the fight going on the outside, but we were only treated to snippets as they battled in the background while we focused on the wrestlers in the ring.
Not that there was anything wrong with what was happening in the ring. Kimura and Konami had a fun interaction as Hana shines in these environments. That don't give a fuck attitude is perfect for these chaotic brawls where people are constantly on the move. It would ultimately prove effective too as she hit the Missile Dropkick for the three.
Not that her joy lasted long. Someone in the back clicked the wrong button, and she was unimpressed to have her victory capped off with Queen's Quest's music. Still, once the right song was playing she danced her way up the ramp, so she got over it quickly enough.
Verdict: Three And A Half Stars
Hazuki defeated Dust to retain the High Speed Title
Another Hazuki defence brings with it another enjoyable sprint. I like these matches. They're fun, and Hazuki always comes up with some cool spots. You can't accuse of them of failing to deliver.
However, I can't help wishing they'd get a bit more time. Dust seemed like the perfect opponent for Hazuki, matching her athletically and getting a good run of offence. Then, just as things were heating up, the champ rolled her up for the three.
It's possible the delay to the start of the show forced them to shave a few minutes off this, but it's becoming a recurring theme for Hazuki's reign. It would be nice to see her get a chance to stretch her wings and show what she can do.
Verdict: Three And A Half Stars
Momo Watanabe defeated Utami Hayashishita to retain the Wonder of Stardom Title
Momo vs Utami was a massive match for Stardom to put on in America. You've got the Ace vs her protege who not only holds the tag team titles with Watanabe but nearly every mid-card belt in the company too.
It didn't take long for their friendship to be placed to one side. After a relatively respectful opening, Utami offered up a handshake and delivered a slap. We were away. Momo's revenge came in the form of a series of awesome kicks including one which she faked out on before booting Utami from the other side. The champ was taking the Big Rookie to school.
There's a reason Utami has all those belts, though. Watanabe might be the veteran (at the ripe old age of 19), but Utami is no respecter of rank. When she went on the offensive, she was able to bring her power to the fore, slamming her teacher and using Boston Crabs to chip away at Watanabe.
It became apparent that this was an even battle. Both women could gain the advantage, but neither could keep it. One second Watanabe was flying in with a trio of Somatos the next Utami had her on the mat in a sleeper. These stable mates were throwing everything they had at each other in a fight that could go either way.
And it built to the moment where Utami managed to get Watanabe up in the Torture Rack (which, slightly amusingly, was the point at which the live stream dropped out). Utami followed up by slamming Momo down, setting her up for that Stalling German which brought Watanabe crashing down on the back of her head. It should have been the end, yet, somehow, the champion kicked out. Watanabe was refusing to die.
Utami then made her first mistake. She went back to the well and tried to hoist Watanabe up for the Torture Rack again. This time, Watanabe knew what to do, and she slipped out before hitting the B Driver. From there, it was a matter of time. Utami survived the Tequila Sunrise and caused one more fright with a Small Package before running into a huge kick and being sent to bed with Peach Sunset.
What a match. You knew these two were going to deliver, but Momo and Utami went all out to impress. While I think I'd put it slightly below the Kyona match, it's comparing genius with genius. The most exciting part? Both of these women have long careers ahead of them with many a battle left to fight.
Verdict: Four And A Half Stars
Oedo Tai (Kagetsu, Andras Miyagi, Jamie Hayter and Session Moth Martina) defeated STARS (Mayu Iwatani, Arisa Hoshiki, Tam Nakano and Saki Kashima) in an Elimination match
I can only assume this was the main event so that Stardom could have the Oedo Tai dance as part of it? Judging by the crowd reaction, it wasn't a bad decision.
If you are a regular Stardom viewer you know exactly what this match looked like and that it was a load of fun. With eight women out there it never once let up, and when you throw in the motivation to impress the American audience, they were wrestling at a ferocious pace. Much like the three-way tag from earlier in the night, the action wasn't restricted to the ring either. Now and then you'd spot two people going at it on the outside, laying into each other in the background as the match went on.
There were a few standouts. Nakano and Kagetsu went face to face, trading elbows as Tam looked to punish Kagetsu for the mocking she's been throwing her way in recent months. Unfortunately for her, a Hazuki interference would set her day up for an early ending.
Elsewhere, Mayu was her usual brilliant self, making that travesty at MSG all the more frustrating. Then there was Jamie Hayter who is at a point in her career where she's improving weekly. She would end up being part of the final two, getting a brief chance to go face to face with Mayu and looking the part. It wouldn't end particularly well for her as Kagetsu accidentally misted her setting her up to eat a beautiful kick followed by a Moonsault, but the fact she was there tells you Stardom view her highly.
As I said at the start, you all know this was great, and if you're new to Stardom I imagine you'll enjoy it even more than regular watchers. It was a group of great wrestlers doing what they do, and as STARS called the roster out to close the show, the crowd reaction made it clear they'd done their job well.
Verdict: Four Stars
Overall Show
Stardom, as usual, left me with a big smile on my face. Even with a broken bottom rope and some awful commentary, they pulled it off. If you were looking for an authentic Stardom show that would serve as a perfect entryway into this company, then you couldn't do better than this. You had a bunch of fun tags, an outstanding title match and an excellent main event. Well done them.
Watch Stardom: http://www.stardom-world.com/
If you enjoyed this review, please consider contributing to my Ko-fi, even the smallest amount is appreciated.