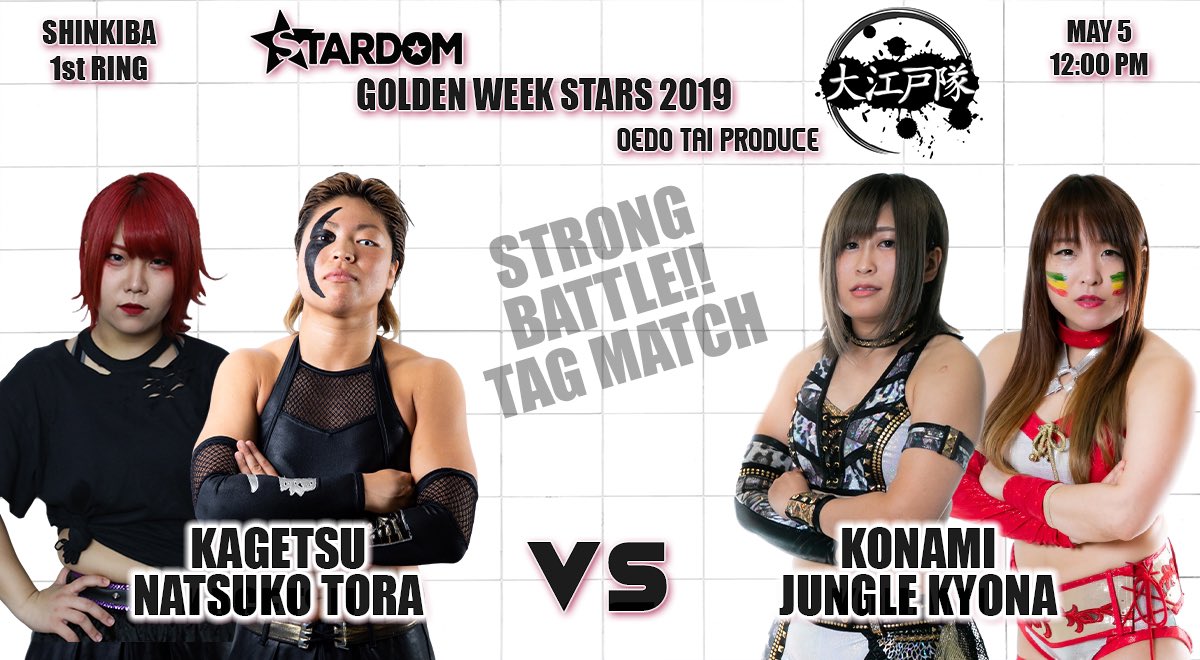 May 5th was Oedo Tai's chance to take up the book as Stardom's Golden Week fun continued. I don't have anything else to say. Why don't we get on with it? Yes, lets.
Miyagi and Kagetsu opened the show as poor Kagetsu admitted to not being in the best of moods after losing her title the day before. She then told the 'bad little kids' in the crowd that the old guy at the reception table had something for them… that doesn't sound at all worrying.
We then got the announcement that she and Miyagi are getting married! Sadly, that was a joke. Miyagi has signed a Stardom contract, though. Between her, Priestley and Kimura everyone is joining up at the moment. Andras got her official tracksuit which Kagetsu had amusingly carried to the ring stuffed into her backpack. It was such a momentous occasion that it prompted Miyagi to cut a promo as the devil allowed her to speak. It must have been exhausting as when she was finished she ran straight to the back.
Finally, Kagetsu welcomed our guest ring announcer for the evening, Mayu Iwatani. She came down in a white dress looking very fancy and admitted that she wasn't entirely comfortable. Mayu then promised to pay Kagetsu 10,000 yen every time she messed up, so this might be an expensive night for her.
STARS (Arisa Hoshiki, Tam Nakano, Saya Iida and Hanan) defeated Queen's Quest (Momo Watanabe, Bea Priestley, Leo Onozaki and Hina) and Tokyo Cyber Squad (Hana Kimura, Rebel Kel, Rina and Ruaka) in a Three Way Dance
Mayu's ring announcing was drawing a lot of laughs, and at one point Tam wandered over to have a glance at what she was reading. Even as someone who doesn't speak Japanese, I am confident in saying that her style was unique.
To add to the fun, this was the rare Stardom World match with commentary. Natsu and Mayu were speaking into live mics at the side of the ring and were genuinely hilarious. It 100% took away from what was happening, as Natsu was having a lovely old time providing 'facts' on those involved, but I enjoyed it enough that I didn't care. The action I paid attention to seemed to be a pretty standard opener with Watanabe and Arisa's short interaction proving the highlight. There were far too many people involved and nowhere near enough time for it to build to anything more than that.
I won't spoil Sumire's antics by writing out the jokes, but this is worth watching just for them.
Verdict: Two And A Half Star Wrestling, Five Star Commentary
Natsu Sumire defeated Saki Kashima by Disqualification
Natsu has been winding Kashima up for a long time. Between singing her entrance theme and providing a rather unflattering portrayal of her during the Costume Change Battle Royal, she's managed to worm her way into Saki's head and piss her off. This show took place on Kashima's birthday, though, and she fully intended to get her revenge.
Before she could do so, Sumire planned to have some more fun. Poor Kashima had to watch from afar as Oedo Tai held her back and Natsu belted out that banging theme. It might not have helped that Mayu and her STARS teammates seemed kind of into it. I doubt the Pink Beansprout saw that as support.
After the impromptu concert, Sumire tried to make her way to the back only for Kashima to give chase and drag her to the ring. Before she could get down to dishing out a proper beating, Sumire grabbed the mic again and told her that it was enough, they couldn't excite the crowd more than she already has. She then revealed she had a present for Kashima and sang Happy Birthday. Unfortunately, the gift turned out to be a 'Don Quijote bag' which failed to impress Saki. I'm not entirely sure what that is, but I'm certain Natsu meant well.
At that point, the match finally started, but the antics didn't end. Oedo Tai got involved right from the start while poor Barb Sasaki found himself facing more them one shot to the balls. Refs are going to start refusing to take part in matches between these two if that theme continues.
Eventually, Kashima got her hands on Natsu's whip and lost it, whipping away at Sumire. She responded with a low blow which caused Kashima to try and retaliate in kind only for Natsu to pull Sasaki in the way as he once again faced the wrath of this feud. That turned out to be one time too many, and he called for the DQ leaving Kashima to storm off while declaring that this wasn't over.
Much like the opener, this isn't something you should watch for the wrestling. It's all about Sumire's antics, and you'll know how you feel about them. I'm a fan, so I laughed, but if you're not, give it a skip.
Verdict: Two Star Action, Four Star Comedy
Hazuki defeated Starlight Kid to retain the High Speed Title
Hazuki was originally scheduled to defend the title against both Starlight Kid and AZM, but AZM's injury took her out of the match, so we're getting a singles instead. I shall not be complaining about that.
These two have wrestled a lot recently, so we knew what this was going to look like it. They have short, action-packed sprints that are great, but leave you wanting a bit more.
I'm not necessarily criticising it for that either. I enjoy the matches, but I want to see Hazuki stretch her wings and do more. Her title shot against Kagetsu from earlier in the year is in the upper echelons of my matches of the year list, and she is good enough to carry a much longer bout. She works a fantastic sprint, but that doesn't mean she shouldn't get to show what else she can do too.
Still, I don't want to end on a negative. I thought this was good. Hazuki and Kid have fantastic chemistry, and they always bring it. Together they produced the first match of this show that is worth watching purely on the strength of the wrestling.
Verdict: Three And A Quarter Stars
Toni Storm defeated Andras Miyagi
Miyagi's pre-match promo was a bit scary. Now she's started talking we might want to find a way to get her to stop before she puts a curse on someone.
Toni Storm is in the midst of a run of singles matches, and she's gone into each of them treating it like a big deal. It was no different in there with Miyagi as they worked a main event style, slowly building from the ground up. Sadly, they did it in a match where they had ten minutes rather than twenty. Just as it felt like this was getting somewhere, Toni flattened Miyagi with Strong Zero, and it was over.
In saying all that, I thought both women looked good in the time they did get. Miyagi, in particular, impressed. They were perhaps just a bit too ambitious in what they aimed to do. I'd rather they shoot high and fall a bit short than phone it in, though so I won't give dish out a kicking for that. It was a solid match, but I'd like to see what they could do with fifteen minutes rather than ten.
Verdict: Three And A Half Stars
Oedo Tai (Kagetsu and Natsuko Tora) defeated Tokyo Cyber Squad (Jungle Kyona and Konami)
They billed this as a Strong Battle, but Oedo Tai started in full troll mode as both Kagetsu and Tora avoided a fight with Jungle. It was only when Konami came in that they began to play and things didn't take off until Tora and Kyona started beating on each other.
After that, they started to live up to the billing. Tora and Kyona, in particular, were fantastic, laying into every strike like they wanted to knock the other out. The former JAN teammates now despise each other and watching them trade blows never gets boring. It was a simple match-up, but it was worked stiff as hell, and everything looked like it hurt.
Not that we should forget Kagetsu and Konami. I've said it countless times, but the formation of TCS is the best thing that could have happened for Konami. She is coming into to her own, and it's fucking awesome. Kagetsu, meanwhile, didn't let the loss of her title get her down. She was as good as ever, almost working like she had something to prove following Priestley taking her belt.
Throw in the burgeoning chemistry between TCS, and we had one hell of a match on our hands. It was an all-star main event packed with four great wrestlers who lived up to that billing. They gave us an all action war that despite being nearly twenty minutes felt like it was only five. Lovely stuff.
Verdict: Four Stars
After the match, Oedo Tai cut a promo about being the New Oedo Tai. They wrestled the main event in camo jumpsuits by the way which seems to be a permanent thing. Not going to lie, they look like they'd be quite toasty, but we'll see how it goes. Either way, Oedo Tai closed out the show with Tora delivering their new catchphrase 'We are the best! And we are the worst! We are Oedo Tai'.
Overall Show
Oedo Tai's show can be nicely split down the middle. The first half was all about the fun before the second half brought the wrestling to the fore. Both parts had a lot going for them, but some will want to give those first few matches a skip. I'll give Oedo Tai's booking a 7/10 putting them level with Queen's Quest, but leaving STARS out in first place. It's left to TCS to see if they can put on a better show than Mayu's army.
Watch Stardom: http://www.stardom-world.com/
If you enjoyed this review, please consider contributing to my Ko-fi, even the smallest amount is appreciated.