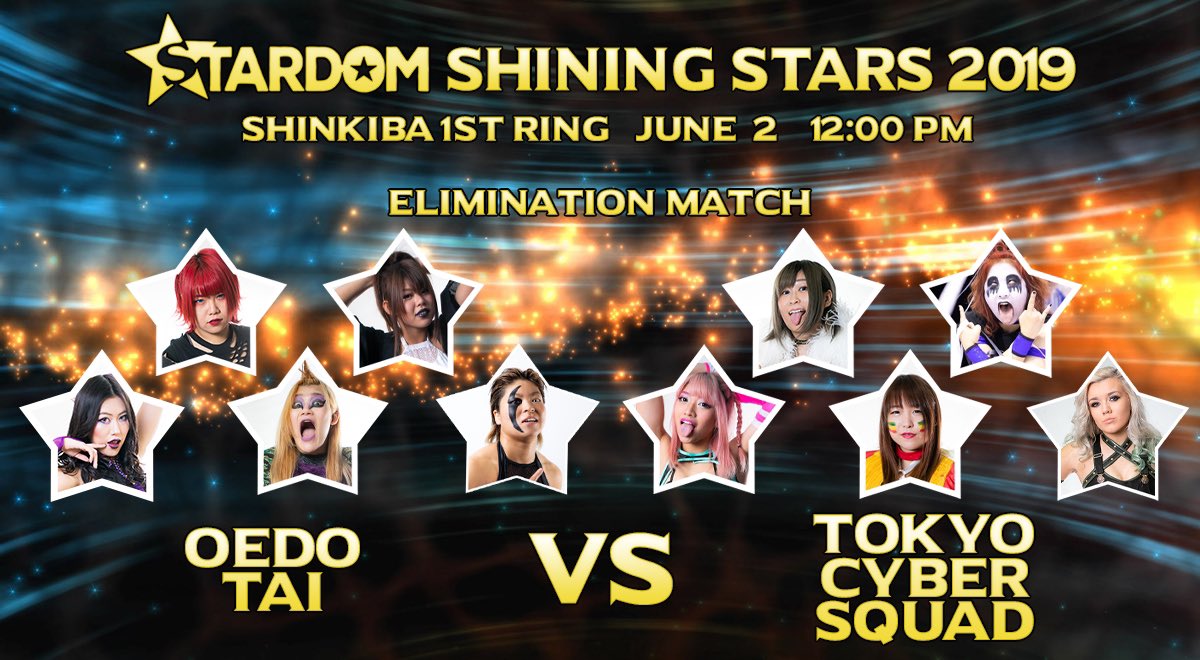 I feel like I'm chasing after Stardom at the moment, desperately trying to catch up on my reviews. Well, I am determined to do so this week because between them and New Japan, there is a shitload of wrestling on the horizon. Let's do this!
Saya Iida defeated Ruaka
According to Cagematch (it's not always reliable for these things), Ruaka is fourteen. Despite that, she's a good head taller than Iida, and that size advantage looked to be making a difference as Saya was being out-powered at every turn. In the end, it was only thanks to her ability to slip into the Iidabashi that she got the win. Although Ruaka refused to go down gracefully, a post-bell boot to Iida's chest made her feelings very clear.
This was a fun match for which the crowd were hot. Ruaka is still green (which should be obvious really), but the fact she's able to produce at this level at her age is an excellent sign for the future.
Verdict: Three Stars
STARS (Saki Kashima and Starlight Kid) defeated Queen's Quest (Leo Onozaki and Hina)
A relatively straightforward victory for Kashima and Kid as Saki builds towards her High Speed Title shot (although, Kid got the pin). Onozaki continues to stand out when given the opportunity. She had a nice flurry where she took out both members of STARS, and I'd like to see her get a bit more to work with. You could easily give her and Iida a ten-minute match at this point and allow them to show what they can do with the time.
In fact, this was a strong performance from both rookies as they worked well as a team before getting the traditional flurry of near falls over. After initially looking uncomfortable away from her sisters, Rina seems to have settled into Queen's Quest and is looking all the better for it. Lovely stuff all around.
Verdict: Three Stars
STARS (Arisa Hoshiki and Tam Nakano) fought to a time limit draw with Queen's Quest (Momo Watanabe and Bea Priestley)
Tam has a title shot against Hoshiki at Korakuen (I can't wait for that one) while Momo and Bea had been on a roll. Of course, this match continues my booking issues with both champions as Priestley struggles to stand out while teaming with Watanabe and Hoshiki has still not picked up a victory since winning the belt. At least she didn't lose this time, I guess.
Despite that, this was as good as you'd expect it to be. These four had a physical match-up, taking advantage of the time they had. A fifteen-minute draw doesn't require them to pace themselves the way they would if it went thirty. Instead, they delivered an all-action affair with neither team able to control the match and everyone gifting some stiff old blows to their opponents. There was one unfortunate botch as Tam fell from the top rope, but as Arisa was holding Momo in a Sleeper, it didn't make anyone look too stupid for standing around waiting for her to recover.
I'll even throw some praise towards the booking. Tam and Arisa somehow managed to work together as a team throughout, with Tam putting her grievances aside to play the game. That was until Hoshiki nearly removed her head with a kick after Momo ducked. It was a simple thing, but ahead of their title match having Nakano play it straight and be booted in the head for it was a great way to add a bit of tension to matters. On top of that, the draw came around as Hoshiki was on top, kicking Watanabe as the bell rang. If they're not going to give her wins, then having her look the more dominant as she draws is at least something.
After the bell, Arisa grabbed the mic and said she and Tam have one more match together and then they have to do their best against each other. Tam looked for a second like she was going to shake Hoshiki's hand in return but instead grabbed her hair, telling her she was looking forward to it. Me too.
Verdict: Three And Three Quarter Stars
Oedo Tai (Kagetsu, Andras Miyagi, Hazuki, Natsu Sumire and Natsuko Tora) defeated Tokyo Cyber Squad (Hana Kimura, Jungle Kyona, Konami, Death Yama-san and Bobbi Tyler)
In a nice twist, it looked like both Oedo Tai, and TCS tried to pull off a sneak attack. Oedo Tai were slightly quicker across the ring, but they didn't keep that control for long as Hana dragged Kagetsu into the back row and then kicked her down to the first.
Once we got into the ring, we got an extended section between Tora and Konami, which was fantastic. They both hit hard and had strong chemistry. I also really liked the set-up for Konami's elimination as she slipped while looking to leap onto the turnbuckle allowing Tora to dump her over the top. Either the slip was intentional in which case it was a unique set-up for the moment, or they reacted perfectly to a botch, so it's a win-win in my mind.
There was a spot where things got a bit sloppy as Natsu messed-up a during a TCS flurry of moves on her which led to Bobbi having to improvise and not thinking quite fast enough, but it was a moment, and nothing worth focusing on (I realise I've just focused on it, shush). These women generally have this match figured out, bouncing off each other and delivering a great combination of wrestling, fun spots and comedy (Miyagi vs Death popped me).
We got some notable eliminations too. Death caught Hazuki in a roll-up perhaps setting her up for another High Speed Title challenge while Jungle and Tora had a fantastic fight before both tumbling over the top rope together (they struggled to get over initially, but Jungle stepped back and hit a second Lariat to get the job done). Finally, the action came down to Hana and Kagetsu who, unsurprisingly, had a fantastic back and forth before Kagetsu misted Hana on the top rope and dumped her (with the help of the Oedo Tai wooden board) to the floor. Hana is going to be pissed about that.
Verdict: Three And Three Quarter Stars
Oedo Tai's show-closing promo had Kagetsu telling TCS to shine up the Artist of Stardom titles for them and Hazuki assert her wish to become a double champion before having a go at Kagetsu for her obsession with AZM and singing a song at her before slapping her across the face. That was, em, different? I can dig it, though.
Overall Show
A short show from Stardom with only four matches, however, if you're going to deliver four matches having none of them drop below three stars isn't a bad way to do it. It feels like there is a lot of momentum going into their next Korakuen show as everything has a nice bit of story backing it up. Let's see hope it lives up to my expectations.
Watch Stardom: http://www.stardom-world.com/
If you enjoyed this review, please consider contributing to my Ko-fi, even the smallest amount is appreciated.