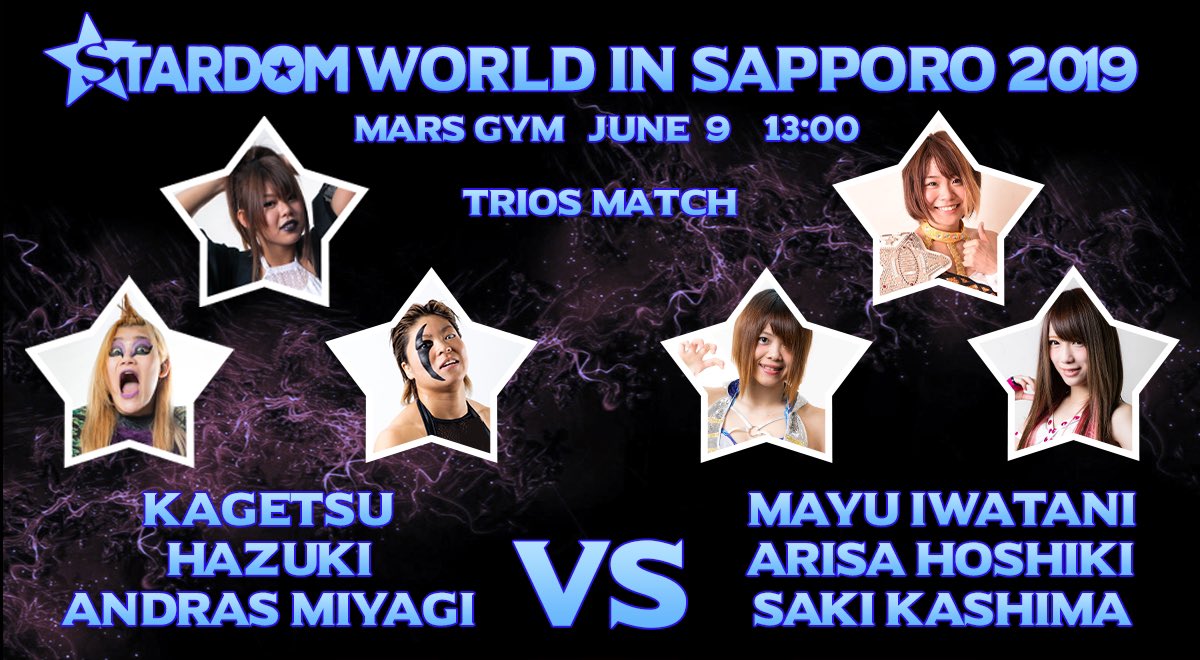 Stardom rocked up in Sapporo for a two-show day. I like the set-up of these shows with the afternoon building to the evening, but it must be exhausting for the wrestlers. Still, fun is waiting to be had, so let's go have it.
Starlight Kid defeated Saya Iida
STARS COLLIDE! See, I could have worked for the Daily Mail. Well, if I'd decided not to have pesky things like morals (yes, I'm telling myself that's the only reason I don't work at a national newspaper). Wow, that was a hell of a tangent, even for me.
Unsurprisingly, Kid and Iida did not go out and have a gruelling, bloody battle but instead kept the spirit of STARS alive by having a competitive back and forth. It's easy to forget that Iida is still a rookie and, while Kid's got a few years under her belt, she's still basically a, well, kid. They might not be perfect, but there are wrestlers a lot more experienced than these two who are having significantly worse matches.
Iida came close to getting the victory with the Iidabashi, as Kid only just managed to grab the ropes. She then followed up with a couple more flash pins, but couldn't put Starlight away and after the 180 Frog Splash was unable to kick-out. That goes down as a solid start to show.
Verdict: Two And A Half Stars
Utami Hayashishita defeated Leo Onozaki
After a decent time out, the Big Rookie returns. I imagine Stardom will be relieved to have the one million titles that she holds back on the table.
It also served as a vote of confidence for Onozaki who was entrusted with facing Utami on her return. She was always going to lose and didn't even last five minutes, but you don't send a prize asset out against any old scrub when they're coming back from injury. You want someone that will make them look good and, more importantly, not hurt them again.
The match itself wasn't much to write home about. Onozaki had some brief flurries, but Utami won convincingly with a Torture Rack. The joy of having her back was better than the match.
Verdict: Two And A Quarter Stars
Tam Nakano, Natsuko Tora and Jungle Kyona fought to a time limit draw
P-chan went on holiday at the start of they ear, but he's been back and coming out to the ring with Tam on a regular basis again. It's good to see him looking rejuvenated from his break.
Putting Tam in there with Natsuko and Jungle was a weird mash-up of two stories. Tora and Kyona have been beating on each other ever since JAN broke-up while Nakano was building up to her title match with Hoshiki. Throwing them all together felt a bit random.
However, it did lead to some decent entertainment. All three women started in the centre of the ring, shoving each other before those shoves gradually turned to strikes. From there, this evolved into a physical contest with Tam holding her own with two of Stardom's heavy hitters. She took a bit of a beating, but it only seemed to fire her up, inspiring her to leap from the top rope onto both opponents.
We also got a taste of badass Jungle as she single-handedly ran through both opponents and looked set to win before Nakano broke up the Sharpshooter she had locked on Natsuko. We were being given exactly what you'd expect to get when you place three talented wrestlers in a ring together. It was never going to be as good as a single match between any of the pairings, but it was also never going to suck.
Although, I do have to say that Stardom is starting to go overboard on the draws. It feels like every show has one at the moment, and I'm not sure it is necessary. If you don't want any of these women to take a fall, then don't book them together. It's that simple. I have no idea if Stardom has always done a lot of draws, but I'd be in favour of them cutting back on that particular outcome.
Verdict: Three And A Half Stars
Tokyo Cyber Squad (Hana Kimura, Konami and Bobbi Tyler) defeated Queen's Quest (Konami, Bea Priestley and AZM)
AZM is back! She's returned a lot earlier than I expected as it's not even been two months since her injury. Those youngsters heal fast.
Hana's gang weren't interested in giving her a smooth return to the ring, though. They took control early on, stretching AZM and having Konami kick the shit out of her. It was a welcome home present that might not have gone down particularly well.
In fact, it was a rough day for QQ all-around. With Konami gearing up to challenge Bea on the evening show, TCS dominated them. Momo had a few moments and Priestley came in hot, but this was as convincing a victory against a team containing that amount of star power as you'll see.
Which I am a huge fan of, particularly after having a moan about the number of draws the company has had. The way you get people over is by having them win matches and Stardom has done a great job of having TCS consistently do that. Wrestling is not complicated. If you beat people, you look good.
Verdict: Three And A Half Stars
STARS (Arisa Hoshiki, Mayu Iwatani and Saki Kashima) defeated Oedo Tai (Kagetsu, Andras Miyagi and Hazuki)
Mayu is back too! Although, it barely feels like she went away since she wrestled a surprising amount while being out injured. I hope the time she did take off was enough to let her heal up properly.
Saki demanded Hazuki to start the match, but Kagetsu responded by demanding Iwatani. I'm trying to pretend they're not wrestling in London at the end of the month because I am desperate to go but cannot afford it. Anyway, they didn't go at it for long before Kashima and Hazuki took over.
And Kashima was given a chance to shine in this match. The opening act saw her take a beating, bumping around for Oedo Tai, but refusing to stay down. Then, she got the chance to go toe to toe with Hazuki, wrestling that frantic pace that the High Speed champion loves, surviving Kagetsu's watery antics and rolling Hazuki up for the win. After the champ's dismissal of her initial challenge, it was a much needed victory and gave her momentum heading into their match.
It also means Hoshiki has finally been on the winning side as champion! Thank whatever Gods you believe in. Arisa wasn't the focus of this match, but she looked good regardless, as did everyone to be honest. It was that classic action-packed, star-filled Stardom main-event that it's hard to complain about. If you watch it, you'll have a lovely time.
Verdict: Three And A Half Stars
Overall Show
A solid afternoon show from Stardom. These cards nearly always build to the evening event, and that was definitely the case here as Konami and Kashima both picked up wins. As has been the norm recently I had a few minor booking quibbles, but it's all stuff that the quality of the talent can overcome, and the final two matches made up for it to a certain extent.
Watch Stardom: http://www.stardom-world.com/
If you enjoyed this review, please consider contributing to my Ko-fi, even the smallest amount is appreciated.