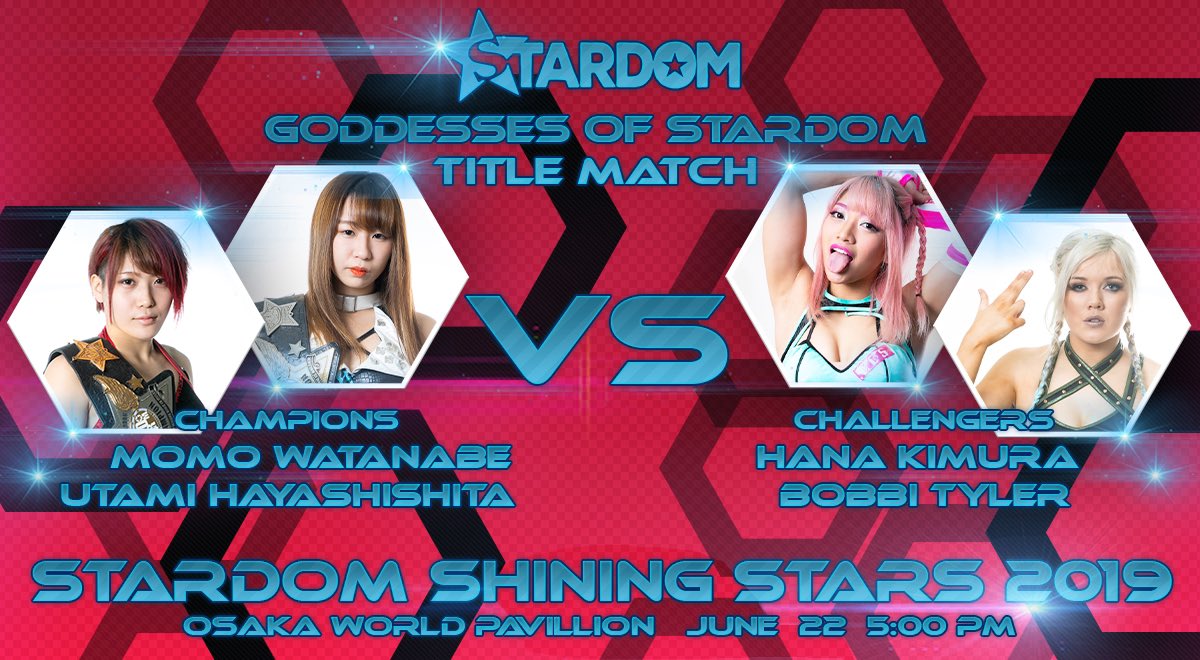 Stardom's evening show in Osaka was Tokyo Cyber Squad's chance to add a second set of belts to their ever-growing gang. Could they do it? Read on and find out.
Xia Brookside defeated Leo Onozaki
Onozaki refused the pre-match handshake, so Brookside backed her up into the corner and forced one on her. Stuff like that will always pop me as Xia got across the aggressive niceness of her character.
What followed was a decent little match. Brookside always looks solid in these showcases displaying a nice range of technical moves. The finish was a bit weird as Onozaki took a bump after she missed a back elbow setting Brookside up for the Iconoclasm into a Clutch, but it was a minor issue as this was a solid five-minute performance.
Verdict: Two And A Half Stars
Oedo Tai (Kagetsu, Andras Miyagi and Natsu Sumire) defeated STARS (Tam Nakano, Starlight Kid and Saya Iida)
Kagetsu has been on the losing side a lot recently, so it was nice to see her captain an Oedo Tai team to victory (even if she didn't personally get the pin). Unsurprisingly, they also had the entertaining match that you'd expect from these six. Starlight Kid is always a standout in these undercard tags, bringing a sprinkling of energy to the ring that makes it hard not to enjoy yourself.
Outside of that, Tam and Kagetsu were their usual brilliant selves with Tam hitting a wicked looking Avalanche Brainbuster only for Kagetsu to pop right up and continue the fight. They were going a hell of a lot harder than you'd expect for the second match on the card.
There was a fantastic close fall in the final stretch as Natsu nailed the 2.9 kick out of an Iidabashi, before fighting back and hitting her Package DDT for the win. Lovely stuff all around.
Verdict: Three And A Quarter Stars
Oedo Tai (Hazuki and Natsuko Tora) defeated Queen's Quest (Bea Priestley and AZM)
Kagetsu was trying to sneak into AZM's corner at the start of the match, much to the amusement of everyone that isn't Hazuki.
Not that it prevented AZM and Hazuki impressing as they stole the show from the off. They have effortless chemistry, dancing through complex sequences as if they are nothing and working at a million miles an hour. In fact, watching this match, you can see why Kagetsu is infatuated with AZM as she breezed past the older wrestlers out there with her.
Her and Hazuki's performance made life tough for Priestley and Tora who suffered through not being them. Don't take that the wrong way, both were good, contributing to this entertaining match, but when they were in the ring, I wanted to get back to AZM vs Hazuki. Good thing they've got a title match coming up that I'm sure will be given lots of time…
Verdict: Three And A Half Stars
STARS (Arisa Hoshiki, Mayu Iwatani, Toni Storm and Saki Kashima) defeated Tokyo Cyber Squad (Jungle Kyona, Konami, Death Yama-san and Zoe Lucas)
Tam and Arisa might have built some level of understanding by kicking each other in the head, but it didn't stop Tam teasing her by standing up rather than pulling the rope down as she entered the ring.
Toni Storm was the wildcard element in this match as she worked her first Stardom tag for a while. It's interesting watching the Stardom roster treat her like a huge star even as she moves to a more restricted schedule with the company. The STARS team were all throwing up the horns around her, and I hope that reverence is eventually leading to someone getting a huge victory over her.
In the ring, Jungle Kyona served as the foundation on which this match was built, making it great. I love Jungle and having her go face to face with the likes of Mayu and Arisa is always going to be a winner in my books. Her and Konami have settled into being a fantastic team, and I'm hoping the Goddesses titles are in their future.
I think it's also fair to say that the tag format aided Toni, blunting some of the issues I've had with her run. When she was left alone in the ring with Lucas at the end of the match, the finish seemed clear, but until that point, it could have gone either way which is a difference from her singles appearances. It also takes the edge off the Super Toni elements of her work, letting other people shine before she pops in to get the win.
So yea, all things said, I enjoyed this a lot. I'd like them to start using the attention they put onto Toni to put the rub on some others, but I'm going to give them the benefit of the doubt and assume that's the long-term plan. In the here and now, this was another fun match.
Verdict: Three And A Half Stars
Queen's Quest (Momo Watanabe and Utami Hayashishita) defeated Tokyo Cyber Squad (Hana Kimura and Bobbi Tyler) to retain the Goddesses of Stardom Titles
After an even start, Hana and Bobbi trapped Queen's Quest in the ring apron and took control of the action. From there, TCS were the dominant force, controlling their opponents and using their willingness to bend the rules to stay a step ahead of Momo and Utami. Hana, in particular, was brilliant, and there is no doubt in my mind that she's destined for the top of this company. She might not be on the in-ring level of a Watanabe, but her character makes up for that, and she's more than good enough to hold her own.
QQ wouldn't find their way back into the action until the finish, as a sudden rush of adrenaline bringing them flying back into contention. Momo was able to take Hana out of the equation leaving Bobbi alone with Utami who after a huge Lariat hoisted her into the Torture Rack, before spinning her out into a Powerbomb for the three. It was a fun couple of minutes, but after such a prolonged TCS domination, it did feel a bit sudden. I wanted to watch Queen's Quest work a bit harder for it.
Still, this was a very solid main event and continues to establish Momo and Utami's dominance. At some point, someone is going to beat them and it will be a huge deal. With Jungle and Konami coming down to get in their faces post-match, you wonder whether it might still be Tokyo Cyber Squad.
Verdict: Three And A Half Stars
Overall Show
If you were to ask me to paint a good wrestling show you'd be wasting your time, but it would like a bit like this. There was nothing that slipped over into great, but every match left me feeling pretty satisfied. Stardom has a roster that can do this stuff in their sleep, and even when they're not going all out, you know you're going to get something enjoyable.
Watch Stardom: http://www.stardom-world.com/
If you enjoyed this review, please consider contributing to my Ko-fi, even the smallest amount is appreciated.