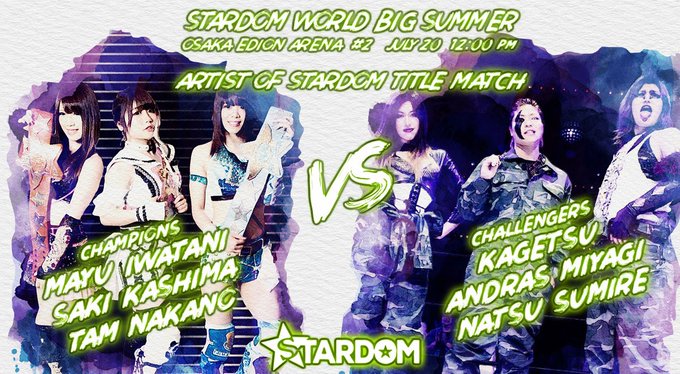 With Korakuen just around the corner, Stardom rocked up in Osaka with a bunch of title matches. The SWA, High Speed and Artists belt were on the line, and surely we got at one least switch out of that lot? I know the answer to that question, but I'll keep those of you who don't in suspense. Enjoy the review.
Bobbi Tyler defeated Starlight Kid
Bobbi's pre-match promo was awful. There appears to be a theme among the foreign wrestlers of trying too hard to come up with something witty. In comparison, the Japanese talent use the time to have a wee chat, which is infinitely better.
Thankfully, Bobbi's ring work was substantially better. It quickly became her power against Kid's speed. When the wrestlers were in close, Tyler was able to take control, but when Kid was able to create a gap and slip up the gears, her talents rose to the occasion. It's a simple match structure, but it's one that works, and they did a decent job with it in the short time they had.
Verdict: Three Stars
Oedo Tai (Natsuko Tora and Jamie Hayter) defeated STARS (Arisa Hoshiki and Saya Iida)
Once upon a time, Iida made her debut against Natsuko before joining her in JAN. You wouldn't have guessed they had a previous relationship off the back of this match, though. Oedo Tai bullied poor Saya, twisting her up and tossing her across the ring. The rookie took the brunt of their offence, and none of it was delivered with a healthy sense of fair play.
The hot tag to Arisa evened things up, as she leapt into the ring all stiff kicks and a smile. Is there a more joyous wrestler on the planet right now? She just loves kicking people. Sadly, even the champ wasn't enough to turn the tide. Jamie and Tora proved the more polished team, tagging in and out to keep each other fresh while STARS felt more like a pairing of individuals. Iida and Arisa tried, but when Oedo Tai isolated the rookie, this was only ending one way.
A solid match, and while I'm not a fan of Arisa being on the losing side, I thought they told their story well as Jamie continues to pick up the wins.
Verdict: Three Stars
Tokyo Cyber Squad (Hana Kimura, Jungle Kyona and Konami) defeated Queen's Quest (Momo Watanabe, Bea Priestley and Leo Onozaki)
Jungle Kyona seems to relish wrestling her JAN proteges. She is always looking to bring the fire out of them as that student-teacher relationship spark into life whenever she steps into the ring with one of them. Whether Leo enjoys her former unit leader trying to smack her to life, I don't know, but it's fun to watch.
Outside of that, my main takeaway from this match is how Bea Priestley might be the champion, but she doesn't even feel like the most important person in her unit. Momo is a huge shadow looming over her, and the booking reflects it. It's not Priestley that Kimura is feuding with, but Watanabe and they've even gone as far as hyping a title match on Twitter for when Momo gets her hands on the belt. I'm not the biggest Bea fan, but that kind of shit is undercutting her run on top.
The match itself was good. You weren't going to get any less than that with this line-up involved. The aforementioned Hana and Momo feud is heating up nicely, as they took it in turns to boot each other and then had to be pulled apart after the bell. It's not a match you have to see, but it's definitely worth your time if you have any going spare.
Verdict: Three And A Quarter Stars
Utami Hayashishita defeated Zoe Lucas to retain the SWA World Title
Utami is losing belts all over the place and is down to a measly two. She's a disappointment really, even Zoe Lucas has three.
Talking of Lucas, this was an improved performance from her. She did a good job targeting the knee of Utami, controlling the action by going back to it whenever the champ fired up. It wasn't perfect, the majority of her kicks and strikes look weak, and there were a couple of awkward moments, but for the first time, I got at least a glimpse of what all the companies who are putting their belts on her see.
Utami was, of course, great. In her first extended singles match since returning from injury she sold her knee well, working from underneath and giving Zoe plenty to do. I wish she'd be a bit more dominant in these matches, playing to her power advantage rather than spending the bulk of her time selling, but I suspect that will come over time. It is easy to forget how inexperienced she is.
The closing stretch had a few nice moments as Lucas reversed the Torture Rack into a Sunset Flip before Utami dropped her from the same position into a German for the three. Far from a classic, but a much better match than I expected.
Verdict: Three And A Half Stars
Death Yama-san defeated Hazuki and AZM in a Three Way Battle to win the High Speed Title
I fucking hate Three Way Battles, and I hate them even more when the title is involved. Hazuki has spent months beating people in matches that often went under five minutes, and it built to what? Her losing the title without even being pinned? At least it went over five minutes, although only by twenty-six seconds.
And don't get me wrong, those 326 seconds featured a lot of entertaining wrestling at one hell of a pace. They even managed to do a good job of keeping all three wrestlers involved, with no-one spending too much time standing at ringside (although that might also be because they didn't have enough time to stand at ringside).
However, the result was still the same. A comedy wrestler won the title. Death is a comedy wrestler that I like, but she is a comedy wrestler all the same. Now, maybe it means Hazuki is beating Arisa, or maybe they just want to put that idea in people's heads, but even then could they not have found a better way to do it? Champions losing their belt without being pinned is dumb.
As you can tell, I wasn't a huge fan of this. Actually, that's not fair, what the wrestlers did was great, and they put on fantastic performances within the structure of the match laid out for them. It's just a shame about the structure. Still, at least TCS picked up another belt.
Verdict: Three And A Half Star match, One Star booking
Oedo Tai (Kagetsu, Andras Miyagi and Natsu Sumire) defeated STARS (Mayu Iwatani, Tam Nakano and Saki Kashima) to win the Artist of Stardom Titles
Some flowers were dished out pre-match while Natsu was dressed as a cop which suits her untrustworthy nature. I love STARS' entrance robes, but I've just realised how hot those things must be. How are they not all sweating by the time they reach the ring? It's twenty-odd degrees in Scotland today, and I can barely move, so the idea of it being even hotter is making me feel a bit sick.
Talking of STARS, their determination to always offer Oedo Tai a pre-match handshake is sweet. I wonder if they discuss it in their team meeting. Tam bringing up that it has never once been accepted, but Mayu shushing her because it's the right thing to do.
'But they always throw us into the chairs!'
'They might not do that this time, Tam.'
Christ, maybe this heat is getting to me. That's got even less to do with wrestling than usual.
Em, right the match. Fucking hell.
It was good. The Artist titles are bouncing all over the place at the moment, as this was the third title change in less than three months having been held for 228 days before that. Does that mean they didn't want TCS to drop the belts to Oedo Tai? That seems the only reason to have given them back to STARS for so short a run.
In the ring, Mayu vs Kagetsu was a shitload of fun. It's a pairing which always works, and I'd watch it all day if I could. Going further than that, this was Kagetsu's match. She worked the vast majority of it and continues to be an in-ring surety. You know she's going to deliver, no matter who is standing across from her.
The final minutes saw Saki and Natsu reignite their feud, taking it in turns to hit big moves on each other with both women requiring their teammates to make the save. Eventually, it was Natsu's offence that won the day, though. After an Oedo Coaster from Kagetsu, she hit the Package Fisherman DDT and got the final laugh.
I apologise for this very rambling review, but this was an entertaining match with Oedo Tai addressing the slight slump they've been on lately by picking up some belts. I can't imagine watching it and not having fun.
Verdict: Three And Three Quarter Stars
Natsu got emotional after the match, hugging Rossy before cutting a rather genuine promo about not caring about belts in the past, but being so happy to have got to a place where she'd earned one. It was easily the most sincere I've ever seen her and was kind of wonderful because of that. Good on you, Natsu.
Kagetsu then took over talking duties and shouted out her teammates before saying that their six-man title defences will be the best we've ever seen. At that point, Hazuki, Jamie and Natsuko hit the ring to challenge them to an Oedo Tai-off. The only person not enthusiastic about it was Sumire, who suggested she would like some easier opponents.
Overall Show
I enjoyed this show a lot as everything came in at three stars or above, but it's hard to not have the High Speed Title shenanigans leave a sour note on my tongue. It's possible that the long-term plan will convince me this was a good idea, but right now, I'm a bit baffled as to what Stardom are trying to achieve.
Watch Stardom: http://www.stardom-world.com/
If you enjoyed this review, please consider contributing to my Ko-fi, even the smallest amount is appreciated.