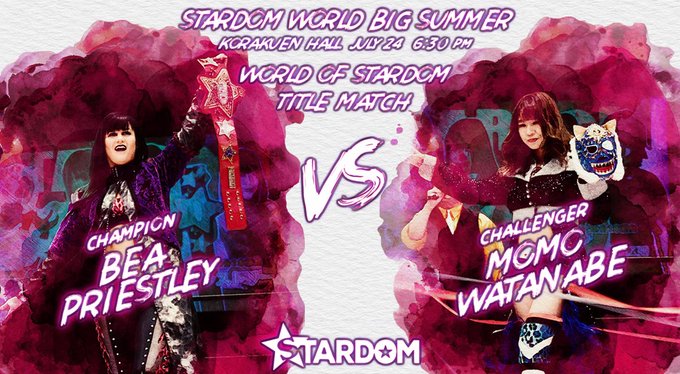 It's Korakuen time! Stardom had put together a packed card for their latest trip to that famous venue, as a lot of titles were on the line. Will they all stay where they are? Or is it time for a couple to shift hands? I've been saying Momo was going to beat Bea since Bea won the belt, so I can't back out of that now. Time to find out if I was right.
Queen's Quest (Leo Onozaki and Hina) defeated Tokyo Cyber Squad (Ruaka and Rina) and Oedo Tai (Natsuko Tora and Natsu Sumire) in a Three Way battle
I have a feeling that Natsu is rather proud of her new title, wearing it during her pre-match promo and declaring that as the champion she shouldn't be in the first match with a bunch of babies. I think she went onto say the word champion roughly one million more times.
Not only was this Natsu's first match as champ, but Rina's (aka mini-Hana) return to the ring after a three-month break. She and her fellow rookies kicked off by first ignoring Oedo Tai and then attempting to gang up on them. Sadly, the more experienced team thwarted that effort and Natsu hit an incredibly inappropriate Bronco Buster to a couple of teenagers.
I think everyone went into this expecting Oedo Tai to pick up the win rather easily, but in a sign that her recent good performances haven't gone unnoticed, it was Leo who slipped away with the pin, stunning everyone. Onozaki and Hina were a solid little team while Rina and Ruaka showed some chemistry, so this was a perfect way to highlight the rookies. Plus, Natsu and Tora weren't involved in the finish and are the kind of team that can bounce back just by being them. Nice stuff.
Verdict: Three Stars
Utami Hayashishita defeated Jamie Hayter and Saya Iida in a Three Way Battle
There was some real disrespect being directed towards Iida before this match. Jamie and Utami told her to stay out of their way on Twitter, and then Utami straight-up claimed not to care about her in the pre-match promo. I'm Team Saya in this fight.
The rudeness continued into the action as Iida started by trying to shake hands with both opponents, only for them to ignore her as they went face to face. Wee Saya was then shoved to the sidelines to allow Jamie and Utami to kick things off. There is still some tension there after Jamie won Utami's EVE International Title at Wrestle Queendom, so they wanted to be left to it.
That led to a fun dynamic as Iida almost had to demand attention. Time after time she got pushed away, but she kept coming back, refusing to be ignored. She even managed to trap both opponents in an Iidabashi at the same time, coming close to getting the three. Then, when she wasn't involved, we got some fun action between Jamie and Utami who appear to have good chemistry.
It all added up to a really enjoyable slice of wrestling. They put together a fun little story, teased a feud and gave Saya a chance to do something a bit different. It gets both thumbs up from me.
Verdict: Three And A Half Stars
Tokyo Cyber Squad (Hana Kimura, Death Yama-san, Bobbi Tyler and Zoe Lucas)
Hana Kimura has long had her eyes on Starlight Kid's mask, and that hasn't changed as she went straight for it, drawing the boos of Korakuen. Not that she seemed particularly bothered about that, if anything, she relished their hate as she brought the rest of TCS into her scheme to bring home a prize.
Kid eventually escaped TCS's clutches and this broke down into an entertaining match, that eventually pitted Hana and Mayu against each other. That was a fun back and forth with both women looking good, particularly in a forearm exchange that saw Hana unleash, leaving Mayu dead on her feet with a glazed look in her eye.
When that epic war came to an end, Death (who I'd genuinely forgotten was involved) and Kid had a quick back and forth that lasted all of thirty seconds before Starlight rolled her up for the three. Not the best way to start your new champ's reign, but I suspect that belt is not going to be on poor Death for long.
Verdict: Three And A Half Stars
After the match, Kid grabbed the mic to challenge Death who replied by saying, well, 'death'. Starlight queried what that meant, but before we could get an answer, Fuka wanted to introduce someone as Riho has arrived in Stardom. At the next Korakuen show (August 10th), it will be her, Death and Kid in a match for the High Speed Title.
Tokyo Cyber Squad (Jungle Kyona and Konami) defeated Oedo Tai (Kagetsu and Andras Miyagi) to retain the Goddesses of Stardom Titles
Jungle Kyona is desperate to clean Andras's face as she promised to wipe the 'graffiti' off her. Meanwhile, Andras spent part of her entrance torturing a poor camera guy as she seems to be getting more unhinged.
The face cleaning played into some comedy at the start of the match. Kyona had once again taken her moisturiser to the ring with her, only for Miyagi to reveal she had some too. That lead to a fight over who got to moisturise the other, a battle which Jungle won. I've written a lot of weird stuff about wrestling over the years, but those sentences are up there with the weirdest.
Once that was out of the way, this was unsurprisingly fantastic. You have four wrestlers who all brought their own flourish to proceedings. The technical talent of Konami, the power of Jungle, the uncontrolled chaos of Andras and the high impact nature of Kagetsu. That all melded together to create something great, and any match that features Konami and Kagetsu kicking the shit out of each other is going to be good.
The turning point was TCS using a bit of Oedo Tai style skullduggery against them. As Kagetsu and Andras went for synchronised Topes to the outside, Jungle and Konami met them with a pair of steel chairs. A Kyona splash followed by that awesome Powerbomb then put Andras down for the three. That dodgy finish took away from it a bit, but this was still an entertaining match with Jungle and Konami continuing to establish their place as one of my favourite teams.
Verdict: Three And Three Quarter Stars
Arisa Hoshiki defeated Hazuki to retain the Wonder Of Stardom Title
Arisa proclaiming that she's looking forward to kicking the shit out of Hazuki (I might be paraphrasing there) with a smile on her face was brilliant. She's the happiest, violent person you'll ever meet.
There was an intensity to this match right from the word go. Arisa and Hazuki went forehead to forehead, practically snarling at each other before unleashing a rain of stiff strikes. Everything was amped up, as you saw Hazuki grinding her chin into Arisa while locking in the Crossface, her mouth opening as if she'd quite happily gnaw on Hoshiki's head in an attempt to force the submission. It's impossible to look away when two people are that desperate to cause pain.
And that desperation almost cost Arisa. She hit her Twisting Splash, but as the count was being made it was her who broke it, pulling Hazuki's shoulder up to continue the punishment. Seconds later, she connected with the Brazilian Kick, seemingly knocking Hazuki out, but the Oedo Tai member refused to die. A kick out at two left the champ shocked, and suddenly Hazuki was back into the action.
It led to a breathless home stretch, with Hazuki throwing everything she had at it. Arisa's neck had come in bandaged up, so she aimed her attack there, using the Crossface and when Hoshiki reached the rope rolling it back into another hold, forcing her to make the crawl again. It was now Arisa who was surviving and an Okada-like kick out at 2.9999 on the Hazukistral had most of Korakuen thinking the match was over.
Eventually, it came down to pure will-power, Arisa powered through a Hazuki headbutt to deliver another Brazilian Kick. She then followed up with one of those incredible knees, and the challenger had nothing left. The champ's reign continues with another stunning match (although I will say that it makes the decision to take the High Speed Title off Hazuki the way they did even more stupid).
Verdict: Four And A Half Stars
Bea Priestley defeated Momo Watanabe to retain the World of Stardom Title
Wow, I did not see that coming. Since the moment Bea won the title I've been talking about Momo overshadowing her reign and predicting that, eventually, she'd be the one to take the belt. With Watanabe losing her Goddess Title, it seemed inevitable that this was to be that moment, except it wasn't, was it?
Instead, Bea Priestley won, and she won while being presented as an equal to Momo. It was Bea who took control after an even start, attacking Watanabe's arm with the help of the ring post and then controlling her via that injury. That set-up a portion of the match that was, to be honest, a bit boring, but it was all building to Stardom's Ace coming back into things.
It was that change which brought this match to life. Suddenly, we went from boredom to a closing stretch that was reminiscent of Momo's war with Jungle as these two traded big moves. There were Double Stomps and B-Drivers on the apron, stolen moves and last gasp kick-outs galore. It was a lot of fun, but it wasn't quite up with the best Stardom has to offer.
The flaw? Bea isn't Jungle. I feel like I'm harsh on Priestley, but it's because she's so close to being great. Sadly, in matches like this, you can see her flaws. Not only was her heat section boring, but her selling is inconsistent, and I don't buy her in the quasi-heel role she was trying to play. The wrestling is, on the whole, good, it's the other stuff that she hasn't quite nailed.
Still, this was a great match, and the above is probably nitpicking. These two had the fans roaring along as they battled it out in the final seconds, throwing some hellacious kicks in the attempt to get the win. Eventually, though, Priestley just did it. There was no shenanigans and no doubt, a Queen's Landing in the centre of the ring and one, two three.
Now, Stardom needs to build on this. Momo is still their current and future Ace who will one day hold that belt and be incredible (it's also worth remembering she's still a teenager), but they have a chance to make something of Priestley. They need to get her away from Watanabe and help her show some personality outside of being part of Queen's Quest. If they're going all-in on this, then give her the chance to shine.
Verdict: Four Stars
Bea used her post-match promo to challenge Utami having initially made the challenge to both Momo and her. Utami, rightly, made the point that she'd be silly to say no, so that's been set for the next Korakuen. Priestley then handed over the mic to Utami who introduced us to Saya Kamitani who will be debuting on the same show. She got a quick chance to say hello before Utami closed out the show with Queen's Quest and Riho (which was perhaps a hint at her future allegiances).
I know Bea doesn't speak Japanese, but it would be good if she could find a way to do the show-closing promo as it's become another thing that suggests she's not the most important person in her unit.
Overall Show
That was a brilliant Korakuen from Stardom with two standout matches and an incredibly enjoyable undercard. I don't think I have a single complaint, well done them and with the next big show already close, I'm excited to see what happens next.
Watch Stardom: http://www.stardom-world.com/
If you enjoyed this review, please consider contributing to my Ko-fi, even the smallest amount is appreciated.