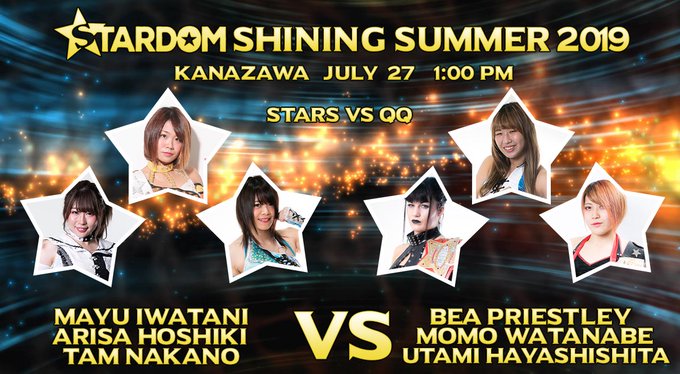 After a brilliant Korakuen, Stardom are back on the road and already building to the next one. They don't have much time for that build either, so they better get right to it in Kanazawa.
Saya Iida defeated Ruaka and Rina in a Three Way Battle
Iida is one of the top rookies, but she came into this one at a disadvantage as Rina and Ruaka are Tokyo Cyber Squad buddies. That meant poor Saya was on the back foot from the word go, as she'd get an advantage over one of her opponents, only for the other to sneak in and join the fray. And yet, Iida refused to die, battling back against both TCS members, removing Ruaka from the equation and then rolling Rina up with the Iidabashi for the three.
It wasn't the smoothest match in the world, but these three went out and told a logical story that continued Iida's growth. From that point of view, it did everything it needed to.
Verdict: Two And A Half Stars
STARS (Saki Kashima and Starlight Kid) defeated Queen's Quest (Leo Onozaki and Hina)
Leo and Hina picked up a rare win in Korakuen so were coming into this match on a high. On the other side of the ring, Kid is gearing up for her High Speed title shot and wanted to keep her momentum up.
I've been enjoying Onozaki and Hina as a tag team. They've got nice chemistry, and you can only assume they are learning together. If I was in charge, I'd be making it a permanent thing. You're not going to turn them into a star team straight away, but there's no harm in letting them stretch their legs together.
This match was set-up like you'd expect. The rookies showed some fire, sliding into some roll-ups and nearly catching Saki and Kid off-guard before eventually being out-mastered. It's the kind of match Stardom delivers on every show, and it rarely fails to entertain.
Verdict: Three Stars
Oedo Tai (Jamie Hayter and Natsuko Tora) defeated Tokyo Cyber Squad (Konami and Zoe Lucas)
Jamie almost missed the introductions because she'd found a fan at the back of the venue. I believe it is ridiculously hot in Japan at the moment, so I can only imagine the British are struggling. I'm struggling with how warm it is here, so arsed dealing with that. It's a tough time of year for those of us who like to wear black. If you see us on the street, make sure and give us some water.
In the ring, we got a solid match-up. Lucas looked more comfortable in there with Hayter than she has with some others (presumably thanks to their history), although she still needs to lean into those strikes a bit more. Natsuko vs Konami was also good, as I enjoyed Natsuko deciding that the best way to deal with Konami's kicks was to bite her leg.
It also continued the recent trend of Jamie picking up the wins. She was eventually left alone with Lucas and after a sloppy Suplex onto her knee got the pin. It was a slightly disappointing finish to a match that had been quite entertaining.
Verdict: Three Stars
Oedo Tai (Kagetsu, Hazuki, Andras Miyagi and Natsu Sumire) defeated Tokyo Cyber Squad (Hana Kimura, Jungle Kyona, Death Yama-san and Bobbi Tyler)
The gym hall this show was in must have left their equipment lying out because Natsu made her way to the ring with a couple of orange cones while Jamie and Natsuko were backing them up with some footballs. That was the first sign that Oedo Tai might be in a slightly silly mood.
The second sign was their usual sneak attack leading to Jungle and Hana being loaded onto a flat-bed trolley and pushed, screaming, into some chairs. All the nonsense went on in this one. Kagetsu had an umbrella, Natsu was hitting conelines (see what I did there?), and Oedo Tai celebrated their victory by having a dance.
Somewhere in amongst all the fun, they also had a wrestling match, which might not have been quite as entertaining, but did its job. Jungle and Andras don't appear to have settled their differences, Hazuki is pissed Death took her title and Hana is always going to hate Kagetsu. Those storylines, combined with some talented wrestlers, made a match that was always going to be worth a watch.
Verdict: Three And A Quarter Stars
Queen's Quest (Momo Watanabe, Utami Hayashishita and Bea Priestley) defeated STARS (Arisa Hoshiki, Mayu Iwatani and Tam Nakano)
As these six lined up across from each other, I realised I did not have a clue who was going to win. They are all protected, so Stardom sending them out to the ring together without an obvious pin eater was a bit surprising.
The reason they are all protected is that they're great wrestlers, who unsurprisingly had a good match as stiff kicks were on the menu. You know you're always going to get that from Arisa and Momo, but the likes of Tam were getting in on the action too, seemingly trying to boot their way through their opponents.
Then there is Mayu whose effortless brilliance is getting silly. She's not had not much in the way of storyline support recently, but her performances in tags have been ridiculously good. In the end, though, it was Queen's Quest who picked up the win. Isolating Tam (who is apparently the least protected of the protected wrestlers) so Bea could hit Queen's Landing for the three.
This wasn't a perfect match, there were a couple of moments of miscommunication, but these six were never going to do anything below good. It was a fun main event, packed with stars which, on this kind of show, is all you can ask for.
Verdict: Three And A Half Stars
Overall Show
This was Stardom house show territory. While it was good fun and easy to watch, it was far from essential. Stick it on in the background if you're doing the housework or whatever, but don't feel like you need to go out of your way to see it.
Watch Stardom: http://www.stardom-world.com/
If you enjoyed this review, please consider contributing to my Ko-fi, even the smallest amount is appreciated.