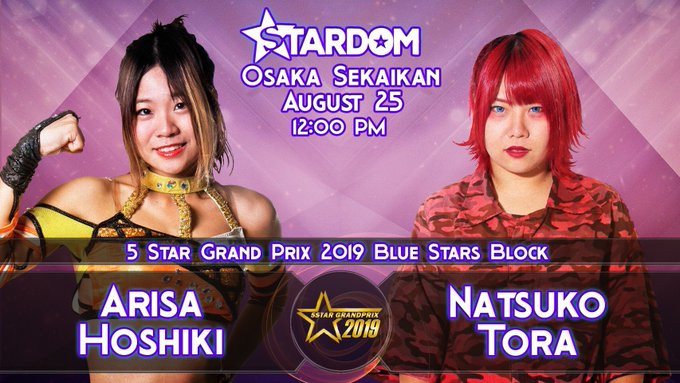 Well, this took a while to turn up, didn't it? Not only that, it's apparent some changes are going on behind the scenes in Stardom, and I don't think they're necessarily good ones. The quality of the presentation on these videos, especially the subtitles, has dropped and, by the sounds of things, Sonny (who runs the English Twitter and I believe does the subtitling) is no longer doing it. I've no idea why, but he's asked if anyone has complaints to Tweet at Stardom, so if you feel similarly to me, maybe do that.
Anyway, this is the third show of the 5STAR Grand Prix and the first of two that Stardom held in Osaka that day. Christ, just thinking about that sounds exhausting.
Starlight Kid defeated Hina and Rina in a Three Way Battle
Things kicked off with a fun little match from some of the younger members of the Stardom roster where got the win via a Moonsault. Rina and Hina have come on leaps and bounds recently, with the movement away from each other (and Hanan) seemingly giving them more opportunities to spread their wings. They are still twelve, so don't expect them to be super workers, but they're getting better all the time with matches like this serving as proof.
Verdict: Two And A Quarter Stars
Oedo Tai (Kagetsu, Jamie Hayter and Natsu Sumire) defeated Queen's Quest (Utami Hayashishita, Bea Priestley and Leo Onozaki)
There are few foreign wrestlers in Japan who appear as suited to wrestling there as Jamie Hayter. Judging by what we see in the ring, she is loving life, and her style of wrestling makes her a perfect fit. Some things are just meant to be.
It was Hayter's interactions with Utami that gave this match its spice. Those two just went at each other, hitting vicious-looking Suplexes and getting me very excited for their match. That was then followed by Kagetsu and Priestley also having a fun interaction as Kagetsu continues to get the best out of Bea.
In the end, wee Leo would pick a fight with a lion bigger than her. After an initial flurry from the rookie, Oedo Tai decided they'd had enough with Queen's Quest only just making the save off an Ebisu Drop. It was a short-lived reprieve as seconds later the Kagetsu locked in a choke for the quick submission win.
Verdict:
Red Stars: Momo Watanabe (2-1) defeated Saki Kashima (1-1)
Momo is another wrestler who fell to Saki Kashima's Revival last year, so Saki came in with a similar plan this time around. Although, it turned out that wasn't her only route to beating Watanabe, as she also attacked her leg, trying to take that out from under her.
It very nearly led to the win too, as Kashima did manage to slip into Revival, pinning Momo's shoulders to the floor. Unfortunately, it wasn't enough, and when Momo kicked out, Saki got distracted. Charging in, she ate a massive head kick before being tapped out in the centre of the ring.
For a match that went under five minutes, this was fun. They had a nice compact story that they told well, and while it's probably not going to linger long in the memory, it's a good example of why keeping things short is often an advantage.
Verdict: Three Stars
Red Stars: AZM (2-1) defeated Hazuki (1-2)
Hazuki and AZM have plenty of recent history as AZM has spent a lot of the year chasing the High Speed Title. Now Hazuki is beltless, but there is still a bit of a grudge between the two.
Unsurprisingly, they went out and had a High Speed style match, wrestling at pace and flowing from move to move. It was also good, which was even less surprising because I don't think these two have ever been bad. They're one of those pairings that always works.
Unlike their previous matches, though, it wasn't Hazuki who came out on top. For a while, she controlled the action, slowing things down with the simple tactic of booting AZM in the face. However, the youngster refused to die, finding her way back into the match with an Armbar and eventually reversing Hazukistral into a roll-up of her own for the three.
Hazuki and AZM continued the theme of this tournament by having another short, but entertaining showing. Coming off the G1, the 5STAR is proving the perfect antidote as Stardom delivers bitesize fast-paced matches that are easy to watch.
Verdict: Three And A Quarter Stars
Tokyo Cyber Squad (Hana Kimura and Konami) and Avary defeated STARS (Mayu Iwatani, Tam Nakano and Saya Iida)
Konami and Hana are very keen for you to know that Tokyo Cyber Squad have a new t-shirt that will help you 'bacome cool and cute'. That wasn't a typo, every single time they said become it was spelt bacome.
As this was a fairly standard Stardom trios match (entertaining, but without much in the way of excitement), I decided to focus in on Avary, who gave another decent performance. You can still tell she is green and she occasionally looked a bit lost out there with two people who do these matches together all the time, but she never looked out of place, and at this stage, that's the most important thing.
As I said, there's not much to say about this. It was a solid match which broke up the tournament a bit, but you could see it on nearly any Stardom show.
Verdict: Three Stars
Blue Stars: Andras Miyagi (1-2) defeated Jungle Kyona (0-2)
Jungle and Andras do not get along, to the extent that Kyona has threatened to scrub Miyagi's face on multiple occasions. For this show, Jungle did her pre-match interview in a pair of teacherly glasses as she threatened to teach Miyagi a lesson while Miyagi, em, played the recorder? Yea, I thought them bringing moisturiser to the ring was going to be the weirdest part of this feud.
They didn't constrain this unusual development to backstage either. Jungle wore her outfit to the ring while Miyagi came out wearing a school backpack with her recorder sticking out of it, making her the most terrifying pupil of all time. She even threw a temper tantrum when it was demanded she take it off.
It led to a match that was part comedy knockabout, part hoss fight. Blackboard dusters were being used as weapons while Jungle was prevented from making a pin because Andras had got her backpack back on and it was keeping her shoulders off the ground. However, in-between all of that, these two were throwing bombs, stiffing it out with each other in a total war.
Miyagi would end up slipping her gym bag (I assume) over Jungle's head to roll her up, and your enjoyment of this match will depend on your tolerance for the comedy. Personally, I think mixing things up in a tournament like this is important and smiled the whole way through, so no complaints from me.
Verdict: Three And A Half Stars
Blue Stars: Arisa Hoshiki (1-2) defeated Natsuko Tora (0-2)
Hoshiki has had a rough start to the 5STAR falling to Hayter and Utami. Tora was determined to continue that poor form and charged across the ring to take control, dragging Arisa to the floor and turning this into a brawl before the champ could get her bearings.
When they returned to the ring, Natsuko went straight after Arisa's knee, which has been a focus for more than one person recently. It put Hoshiki in the role she excels at, fighting from underneath and battling for a chance to get into this match.
Unfortunately, the crowd didn't seem quite as enthused as me, sitting on their hands and barely making a squeak during the action. It got to the point where Arisa was practically screaming at them, seemingly desperate to get some kind of reaction. It would pump them up for a second or two before they quietened right back down.
That did take away from the match, but not enough to ruin it. It was a simple story, but they told it well as Hoshiki survived being thrown around the ring and slammed on chairs to unleash a few of those brutal kicks. Then, when the Brazilian Kick looked like it had sent Tora to fairyland, she decided she wanted one more, pulling up her opponent's shoulder to deliver that beautiful Running Knee for the finish.
It all made for a weird match. What was happening in the ring was good, but the atmosphere made it hard to fully connect and if it had happened in Korakuen I suspect the star rating would be higher. Still, Arisa continues to be one of the best wrestlers on the planet right now while Tora followed up a fun performance against Kagetsu with another strong showing. I, once again, have no real complaints.
Verdict: Three And Three Quarter Stars
Overall Show
Show three didn't have the highs of the first two 5STAR nights (although a hotter crowd might have got the main event there), but it was still a damn good watch. These short and perfectly formed matches fly past, and you're almost surprised when you realise you've hit the main event. Let's hope they can keep it up!
Top Three 5STAR Grand Prix Matches So Far
Jungle Kyona vs Utami Hayashishita (17/8/19) – Four And A Quarter Stars
Arisa Hoshiki vs Utami Hayashishita (18/8/19) – Four And A Quarter Stars
Konami vs Bea Priestley (18/8/19) – Four Stars
Watch Stardom: http://www.stardom-world.com/
If you enjoyed this review, please consider contributing to my Ko-fi, even the smallest amount is appreciated.