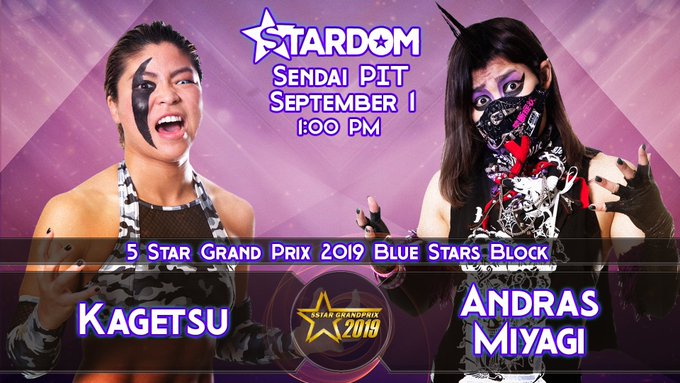 The 5STAR reviews are coming thick and fast as we keep chugging away in our attempt to catch-up. I've enjoyed this tournament so far and scrolling through this card I can't see Sendai being the place to change that opinion, onto the show!
Oedo Tai (Hazuki and Natsuko Tora) defeated Queen's Quest (AZM, Hina and Leo Onozaki) in a Handicap Match
I have no problem with sending three rookies out to lose to Hazuki and Tora, but including AZM in that team was a weird decision. She's competing in the same tournament as the Oedo Tai duo and should have moved beyond being this kind of match.
That's not to say this a catastrophic decision that will destroy AZM's momentum because it won't. She wasn't involved in the finish as Onozaki got the usual flash pins (including a 2.999 count after Hazuki accidentally caught her partner with a Springboard Dropkick) on Tora before being put away with a Frog Splash, but I'm still not sure why she needed to be there at all.
That quibble about the booking aside, I actually enjoyed the match. While there wasn't anything particularly special in there, it was well worked and I was never bored.
Verdict: Two And Three Quarter Stars
STARS (Saki Kashima, Starlight Kid and Saya Iida) defeated Tokyo Cyber Squad (Hana Kimura, Jungle Kyona and Rina)
Hana promised to kill 'fucking Saki Kashima' after she beat her in eight seconds on the previous show. Meanwhile, Starlight Kid was throwing digs at Iida as she mentioned that she's always the one getting beat up.
What followed was a fun wee match with STARS playing the heroic babyfaces to TCS's dastardly tactics. Jungle and Starlight had some particularly enjoyable interactions as Kyona based for the smaller faster wrestler before using the Giant Swing to throw her across the ring. It's a combo we don't see very often, and it instantly felt fresh.
It would eventually come down to the two rookies with an Iidabashi giving STARS the win. Not that the fight ended there, Saki and Hana had to be dragged off each other as they seemed determined to keep the battle going. One suspects Kimura is not going to let that one go.
Verdict: Two And Three Quarter Stars
Red Stars: Mayu Iwatani (2-2) defeated Avary (0-2)
Poor Mayu is confused about how many matches she has had. Normally I'd laugh at how typically Mayu that is, but with everyone having wrestled different amounts of times and the break in the uploading schedule I'm in a similar boat. I've no idea what the fuck is going on.
For example, this is somehow only Avary's second match, having been disposed of pretty quickly by Momo already. She got a couple more minutes in the ring with Iwatani and looked good for it. There was a bit of fire as they traded forearms and she draped the Icon of Stardom over the top rope to hit a Double Stomp. Mayu seemed to be going out of her way to make her look good, bumping around and giving her a lot of the match.
When Iwatani fired-up, though, this instantly became about her. Dragging herself upright up out of a bridge (which looked awesome) she let out a roar of defiance before breaking Avary with a couple of vicious kicks to the face. A Moonsault later and you shouldn't be writing Iwatani out of the narrative of this tournament yet.
Verdict: Three And A Quarter Stars
Red Stars: Tam Nakano (3-1) defeated Momo Watanabe (2-2)
Tam took a more serious approach to her backstage promo than she has on previous shows, saying that Momo's comments about her being nothing without Mayu had pushed her to a new level. She's also been doing all these pre-match segments in a t-shirt with deathmatch emblazoned across the front of it which from Tam looks like a threat.
It didn't take long for this to get kicky as these two delivered the physical match-up you'd expect from them. Tam and Momo both have movesets that look like they hurt, so as they exchanged forearms on their knees, battling back to their feet as they did, they'd earned it. You believed that even in a relatively short match, they were putting it all out there.
And Tam survived a lot to get the win. Three Somatos as she sat on the ground, followed by a fourth from the top rope weren't enough, and neither was the B-Driver. Then, in an incredible moment, Momo hit Peach Sunrise only for Tam to fire-up, coming back to her feet and kicking off a fantastic home stretch that ended with Nakano dropping Watanabe with the Tiger Suplex. 90% of this was good, and the final 10% was amazing, loved it.
Verdict: Four Stars
Blue Stars: Utami Hayashishita (3-1) defeated Jamie Hayter (3-1)
Sadly, this ended up being Utami's last appearance of the tournament (she pops up in another tag) as she injured her finger ruling her out of the rest. As she'd been in my three favourite matches going into this show, that's a bit gutting, but let's hope she heals up soon and comes back just as strong.
She went out on a good performance at least, engaging in a power battle with Hayter. Jamie came into this attempting to bully Utami, grinding her down and refusing to let her build-up a head of steam. She was locking on submissions and forcing The Big Rookie to the ground, using her strength to keep her down there and do as much damage as possible.
That put Utami in the role of the underdog, fighting from underneath and using those judo moves to turn the tide. I generally prefer badass Utami, but she is good in this role too, selling well as she was tossed her around the ring. In fact, she might have given Hayter too much, as it felt like her comeback came out of nowhere. One second she was in danger, and the next she slipped out of a suplex before hitting a slightly sloppy Torture Rack Powerbomb for the win.
Much like Natsuko vs Arisa from earlier in the tournament, this match played out in front of a weirdly silent crowd, as even when Utami hit her finish they barely made a squeak. Still, both women worked hard and put on a good performance, so let's not worry about those quiet chumps too much.
Verdict: Three And A Half Stars
Blue Stars: Konami (3-1) defeated Arisa Hoshiki (1-3)
We already had Tam and Momo kicking each other, but that didn't stop Arisa and Konami from joining in the fun. Although, there was one key difference here as Arisa's leg was strapped coming in. That gave Konami a big old target, and there was no way she was going to miss.
If one thing has been proven recently, it's that Hoshiki is a fighter and every time Konami went after that leg she'd take her licks and keep coming. The kicks these two were throwing sounded fucking sore, but they both kept getting up for more, desperate to get the points. Arisa even survived being lifted off the ground in a Stretch Muffler, that damaged leg draped around Konami's neck.
What Arisa couldn't get past was her newfound tendency to put a full stop on her victories, a vicious arrogance that is starting to hurt her. Having hit a pair of Running Knees followed by a Brazilian Kick, she was in place to get the win, but she went back for more, pulling Konami up and ending up in the Triangle Lancer instead. Suddenly, the Wonder of Stardom champ is 1-3 and in a tough spot if she has designs on winning this thing. Still, she's having great matches, so from my point of view, she's doing just fine.
Verdict: Three And Three Quarter Stars
Blue Stars: Andras Miyagi (2-2) defeated Kagetsu (1-2)
I would not have pegged Miyagi and Kagetsu as being the people to bring a technical aspect to this show, but that's exactly how they started, grappling for control. It didn't last of course, after a fairly even back and forth Kagetsu Dropkicked Miyagi off the top turnbuckle to the floor and followed with a trio of Tope Suicidas. In ten seconds, this match had gone from five miles per hour to a hundred.
From there, this was no sign of any friendship between these two as they exchanged forearms and big moves. We saw Kagetsu going to that Ebisu Drop that has been so effective for her recently while Miyagi responded by taking her off the top rope in an Electric Chair position before spinning her faction leader round into a Powerbomb. The turning point would be Kagetsu missing a big move. Having hit a Death Valley Driver, it took her a second or two too long to get to the top rope, and when she came down with the Oedo Coaster, Andras was gone. Well, not gone, she popped up a second later to drop Kagetsu on her head with a Tombstone for the three.
With another five minutes, I think this could have been truly great. As it was, it will have to settle for being merely very good as the finish coming a bit abruptly did hurt it. Either way, it was a huge win for Miyagi who started the tournament 0-2 only to battle back and beat the boss.
Verdict: Three And A Half Stars
There seemed to be no hard feelings after the match as Kagetsu (wearing a neck brace) shook Miyagi's hand before Andras closed out the show in a manner so uniquely her.
Overall Show
Another very solid 5STAR show. It only had one match that passed over into truly great, but the rest of the card was strong, and everything had its moments. These are a breeze to watch as the fifteen-minute time limit on tournament matches means that nothing goes long. As someone trying to catch up before the next set of shows, I am very grateful for that.
Top Three 5STAR Grand Prix Matches So Far
Jungle Kyona vs Utami Hayashishita (17/8/19) – Four And A Quarter Stars
Arisa Hoshiki vs Utami Hayashishita (18/8/19) – Four And A Quarter Stars
Tam Nakano vs Momo Watanabe (1/9/19) – Four Stars
Watch Stardom: http://www.stardom-world.com/
If you enjoyed this review, please consider contributing to my Ko-fi, even the smallest amount is appreciated.