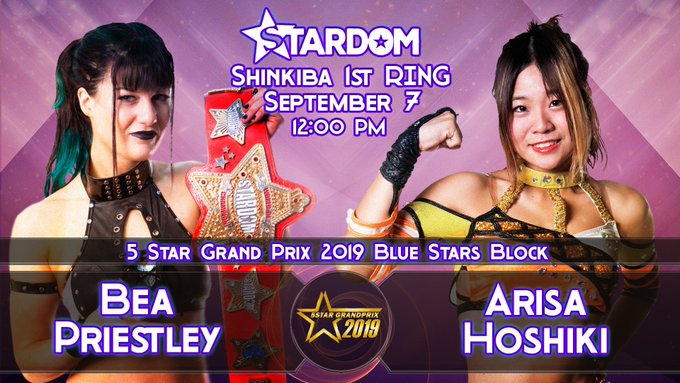 Shout out to those behind the scenes at Stardom who after all the kerfuffle over there recently, have done a fantastic job catching up on these 5STAR shows. If my complicated maths is correct (there is no maths) I should be all caught up by the time the next show goes up, which is perfect. Well done them!
Konami defeated Andras Miyagi, Saya Iida, Saya Kamitani and Rina in a Five Way Battle
Miyagi referred to Konami as 'Konami-sama' which (if my Japanese is right, and it probably isn't) is generally used as a term of respect. I'm not sure if I'd be more or less scared of Miyagi if she was showing me respect. Actually, I am, I'd still be terrified.
There were five people in this match and no match with five people in it has ever been good, particularly not when it goes under five minutes (gimmicks excluded). However, I did enjoy the pre-match handshake. That saw Miyagi ignore everyone to shake the ref's, Iida and Kamatani keep it traditional and Rina continue her transition into a cocky little badass who will murder us all by refusing Konami's to make a silly face. Who needs a review when you can have a detailed rundown of some handshaking?
Verdict: Two Stars
STARS (Saki Kashima, Starlight Kid and Riho (?)) defeated Queen's Quest (Utami Hayashishita, Leo Onozaki and Hina)
Poor Riho gets actively recruited whenever she teams up with anyone and always looks slightly baffled by the situation. Starlight and Saki decided that her costume was perfect for STARS before Saki practically forced her hands into an S position. If she doesn't choose a faction soon, she'll have them all tearing her apart in an attempt to claim her friendship.
To continue the handshake theme, STARS offered their hands only for Queen's Quest to rudely ignore them, that wasn't quite as interesting as the last match. Luckily, it didn't have to be as this was a much more contained affair that was good fun. As has been the norm on these shows, there was nothing special about it, but everyone worked relatively hard with Starlight and Riho particularly impressing. You don't need to watch it, but if you do, you'll have no complaints.
Verdict: Two And A Half Stars
Red Stars: Hazuki (2-2) defeated Natsu Sumire (1-3)
Oedo Tai's group dynamic is taking a bit of a battering as they seem to be facing off on every show. Fingers crossed it won't have any long-term effects on their friendship.
Not that Hazuki seems worried about that, as she took Natsu's offer of a handshake (I will eventually stop talking about these) as an invitation to DDT her. Natsu 'Serious Wrestler' Sumire is forgetting the tricks that brought her to the game and Hazuki was happy to punish her for it.
That didn't turn this into a cheat-off, though, as Natsu and Hazuki went out and had a fantastic five-minute match. They both worked hard with Hazuki hitting an awesome looking Codebreaker to Sumire while she was perched on the turnbuckle before Natsu almost caught her with a Hazukistral of her own. It was going back and forth between the two and was all the fun because of it.
In the end, Hazuki had too much for her partner, spiking her on the head with a Brainbuster to get the three. However, the story continues to be Natsu's attempts to play this straight, and she continues to nail it. She's having a strong tournament, and you've got to give her credit for that.
Verdict: Three And A Half Stars
Red Stars: Hana Kimura (3-1) defeated Avary (0-3)
Hana was trying to bounce back from her eight-second defeated to Saki Kashima while Avary is the only person in Red Block without a win. It may look like Hana is happy to welcome Avary into TCS, but there was going to be no friendship on display here.
Although, you could say that Kimura helped Avary to her best match yet. They had an enjoyable back and forth with Avary getting a chance to show off some of her moveset, hitting a few nice suplexes and locking in Cattle Mutilation.
Sadly, it wasn't enough to bring her that first victory. Hana survived everything she had and managed to slip out of the way when she went for a Double Stomp. A boot to the face followed by Hydrangea had Kimura back on track while Avary still languishes at the bottom of the group.
Verdict: Three And A Half Stars
Red Stars: Momo Watanabe (3-2) defeated AZM (2-3)
Between them, AZM and Momo have been wrestling for nine years which considering they have a combined age of thirty-five is saying something. I should probably have got over how young most of the Stardom roster is by now, but it still amazes me, especially when they're having matches this good.
And while AZM is responsible for more of those years than Momo, she came into this match as the clear underdog. Watanabe is her faction leader and three years older than her, so AZM had a point to prove, initially refusing a handshake before using one as a trap to pull Watanabe into a Small Package.
That might have been smart thinking, but slightly less smart was the stiff slaps she delivered to Momo's face. They were an invitation to receive a kicking, and that's exactly what she got, Watanabe booting the shit out of her young protege. To AZM's credit, she never backed down, taking those boots and coming flying back, desperate to prove herself in there with Momo.
Which meant that while she didn't win, AZM still came out of this looking fantastic. The story of the match was that Watanabe was a step or two ahead of her, but that was all. AZM kept up and towards the end gave the Queen's Quest leader a few scared before she was choked out by the boss. While anyone who has been paying attention already knew AZM was a star, this is the kind of match that puts it beyond doubt.
Verdict: Four Stars
Blue Stars: Kagetsu (2-2) defeated Jamie Hayter (3-2)
Poor Jamie is still struggling with the heat in Japan and had to nip out of the ring before they started so a fan could, em, fan her. We also continued the handshake shenanigans as she used it to pull Kagetsu in for a massive Lariat. Can no-one in Stardom shake hands like a civilised human being?
What followed was an awesome little sprint with Kagetsu and Jamie going all out with each other. I've been impressed with Hayter recently as she's got better and better and watching her toss Kagetsu around the ring was further proof of that. I sometimes think she should tone down the silly stuff, but I also respect her for being a badass with personality.
And while Kagetsu might not have been able to woman-handle Jamie in quite the same way, she did have a trick or two up her sleeve. Just as it looked like Jamie had it in the bag, the mist came out, setting up the Oedo Tai leader for an Ebisu Drop, Oedo Coaster and a Death Valley Driver for the three.
These two went under five minutes, so it's hard to throw all the stars at it, but the time they had was a shitload of fun. It was a great sprint, and sometimes a great sprint is exactly what you need.
Verdict: Three And A Half Stars
Blue Stars: Jungle Kyona (2-2) defeated Natsuko Tora (0-4)
It's safe to say that Jungle and Natsuko's friendship has had a rough year. They started it as teammates in JAN, but since that faction ceased to be, have found themselves at odds, developing a liking for hitting each other really hard.
It was a passion that it didn't take long for them to continue as Jungle didn't even make it halfway to the ring before Natsuko charged at her, slamming her into a wall. From there, this was a fight as Jungle and Tora ditched wrestling moves to focus on dishing out a beating.
It was a fight that quickly turned violent too, as Tora hung Jungle out of the ring by her sash before dragging her outside, throwing water on her and leaving her there to be counted out. Okay, that second bit was more mean than violent but still, being wet isn't nice.
Wet or not, what it all adds up to is that if you like your wrestling hard-hitting, this is a match you're going to have a good time with. Natsuko and Jungle didn't hold back one bit, and for the short time they were in the ring together, it was an all-out war that came to a head with Jungle catching Natsuko on a Spear and Powerbombing her into next week. That was the first time she'd beaten her former partner, and it was well-earned.
Verdict: Three And Three Quarter Stars
Red Stars: Mayu Iwatani (3-2) defeated Tam Nakano (3-2)
I'm beginning to think this show is cursed as even Mayu and Tam failed to pull off a clean handshake. Tam went for a kick, initiating a cool sequence that ended with their legs tangled as they went for Superkicks at the same time.
Within the confines of the 5STAR time limit, it's hard to craft a match that feels epic. By their nature, epics require time and fifteen minutes isn't long enough to get there. That's the theory anyway, Tam and Mayu seemed determined to prove it wrong.
These two put it all out there, starting with Tam attacking Mayu's leg and building from there. There were leaps from the top rope, elbow exchanges, stiff kicks galore and a Dragon Suplex that looked horrendously beautiful. This was the sight of two people who know each other inside and out, putting it all on the line to get the win.
Particular praise must go to Mayu's selling of the leg, a subtle piece of acting that came to the fore at all the right moments, particularly when she hit a Moonsault but couldn't capitalise having crashed onto her hurt knee. Tam, meanwhile, is such an emotive wrestler. Someone who you can't help but can't behind as she throws everything into every move.
Even after the bell, these two were perfect, Tam throwing herself into Mayu's arms for a hug before they made their way to the back together, holding each other up as they went. It was two friends who went to war but never for a second held a grudge. I loved it.
Verdict: Four And A Quarter Stars
Blue Stars: Arisa Hoshiki (2-3) defeated Bea Priestley (2-2)
Every time I think Priestley is beginning to impress me, she puts on a performance like this. There were periods of this match where Bea looked lost, desperately trying to figure out what to do next. She was working over Arisa's leg, but she did that by wandering around slowly and kicking it. I guess that would work, but even Arisa's selling couldn't make it fucking interesting.
It was when Arisa came to life that this shone. Where Priestley was static and slow, she exploded, firing into action as she flew around the ring. In turn, that movement brought the best out of Priestley, who is much better at reacting than she is controlling. When it became these two trading moves I was on board.
This got better as it went along, but the opening was dull, so I can't claim it was great. The finish was cool at least as Arisa got the win with a Running Double Knee, a move that isn't her finisher. It's a small thing, but it puts over the idea that matches can end at any time. Plus it keeps Arisa alive going into the second half of the tournament! That's good too.
Verdict: Three And Quarter Stars
Arisa brought up Ospreay in her post-match promo as he'd promised that if she beat Bea, she could start using the Oscutter. Although she did seem a bit unsure whether that was something she was physically able to do.
Overall Show
A show of dodgy handshakes and great wrestling, even a slightly disappointing main event couldn't take away from this one as multiple matches delivered. We're roughly at the halfway point, and there is a logjam of wrestlers on six and four points, so it feels very up in the air as to who is going to win this thing. Anyway, onto the next one!
Top Three 5STAR Grand Prix Matches So Far
Jungle Kyona vs Utami Hayashishita (17/8/19) – Four And A Quarter Stars
Arisa Hoshiki vs Utami Hayashishita (18/8/19) – Four And A Quarter Stars
Tam Nakano vs Mayu Iwatani (7/9/19) – Four And A Quarter Stars
Watch Stardom: http://www.stardom-world.com/
If you enjoyed this review, please consider contributing to my Ko-fi, even the smallest amount is appreciated.