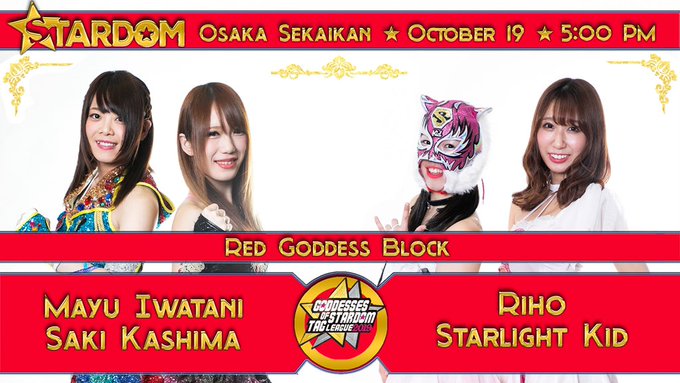 Stardom's second show from the 19th was packed with more Tag League goodness to enjoy. I don't have much else to say, to be honest. Let's find out what went down.
Konami defeated Leo Onozaki and Tam Nakano in a Three Way Battle
Arisa joined Tam for her pre-match promo and pointed out that she was looking cute today. Because those two have a very healthy relationship, that led to Tam smacking her in the head with a fan. Their Tag League is going to be all kinds of fun.
Poor Leo was sent out to be the sacrificial lamb for the second show in a row, and while she performed the role admirably, it also involved her being kicked in the head, a lot. This was a pretty standard three-way, with a few fun spots, but nothing you need to go out of your way to see.
Verdict: Two And A Half Stars
Jungle Kyona defeated Saya Kamitani
Kamitani went over ten minutes with Jungle which, to put it into context, is a longer singles match than Saya Iida has ever had. They are not only giving her a shitload of opportunities, but they are giving her time. Any doubts I had that Stardom have big plans for her are long gone.
All of which isn't to say that she's going out and having back and forth matches. Saya is still wrestling like a rookie, showing that fiery defiance and getting those flurries of offence in before being cut off. However, she's being given the space to try these things, to sell and build to her comebacks, and it's working. Kamitani has fun matches.
In the end, Jungle got the win via a Sharpshooter, but she dragged Kamitani to her feet after the bell, holding her up and pushing her hand up into a TCS salute. That was either an incredibly aggressive recruitment plan, a sign of respect or a mixture of the two.
Verdict: Three Stars
Oedo Tai (Hazuki and Natsuko Tora) defeated STARS (Arisa Hoshiki and Saya Iida)
No-one dismissively kicks someone across the ring like Hazuki, shrugging off Iida's attacks as if they're nothing to boot her in the face. It's even more effective because when it is time for her to sell an attack, she's excellent at that too.
We got another slice of Hoshiki and Hazuki letting loose on each other in this one. Time has passed since Hazuki's title shot, but bridges have clearly not been mended, with the two of them working stiff even in a nothing tag. You've got to love it.
It was that which pushed this above its roots as a pretty standard match. The final minutes, in particular, followed that formula to a tee, Iida getting a bunch of flash pins only to fall at the final hurdle with Tora getting the three.
Verdict: Three And A Quarter Stars
Blue Goddess: Oedo Tai (Kagetsu and Andras Miyagi) (1-0) defeated Drunk Queens (Natsu Sumire and Session Moth Martina) (1-1)
Kagetsu and Andras had nothing to say before the match while Natsu and Martina were drunk, but decided they wanted to go party. That manifested itself in an entrance through the stands as they continue to have all the fun.
They were having so much fun that their Oedo Tai teammates decided to attack them the second they entered the ring. Kagetsu then beat Natsu with the wooden board, dragged her into the stand and beat her some more. If that's what she does to her friends, don't make an enemy of her.
Back in the ring, with Natsu and Martina still wearing their leopard print jackets, the violence didn't calm down much. Kagetsu had a chance to win it but decided to make a point and nearly regretted it when Martina ducked out of the way of the wooden board, leading to Andras taking a shot to the head, and Natsu rolling her up. It was a final attempt to salvage something for the Drunk Queens, though, and not long after Kagetsu hit an Oedo Coaster for the three.
That was basically a squash with the serious Oedo Tai team making short work of their jokester brethren. It was fine, but the most entertaining part was probably Martina and Natsu's entrance. Still, no complaints, as I've said before it takes all sorts of matches to make a fun tournament.
Verdict: Two And A Quarter Stars
Blue Goddess: Tokyo Cyber Squad (Hana Kimura and Death Yama-san) (2-0) defeated Tokyo Cyber Squad (Bobbi Tyler and Zoe Lucas) (1-2)
The faction wars continue as Hana and Death attempted to bring, well, death on Zoe and Bobbi. Hana seems to be having a lovely old time embracing her inner metalhead, and who can blame her. It's the right way to live your life.
Hana and Bobbi did shake hands pre-match, but it was the only sign of friendship between the two group as they quickly transitioned to hitting each other. I do like that there is never even a question of people not having a proper match in these tournaments, it sells the idea that they mean something.
Sadly, the match wasn't great, as it had a clunkiness throughout which meant I struggled to get into it. Zoe and Bobbi haven't shone recently, and while I don't think they were entirely to blame, it certainly didn't help as everything felt like it was a second or two off. Still, it was short, so didn't hang around long enough to get too bad.
Verdict: Two And A Quarter Stars
Red Goddess: Bea Priestley and Jamie Hayter (2-0) defeated Queen's Quest (Momo Watanabe and AZM) (0-2)
Jamie and Bea's new thing is stealing their opponents' streamers so they can throw them at each other.
After two rather nothing matches, this was a step up in quality as these four had seemingly decided just to hit each other. There were some brutal-looking blows here, with Jamie connecting with a Running Knee on Momo which looked like it probably should have decapitated her.
AZM's speed was the wildcard, though, and she nearly got the win with a series of roll-ups. However, she also couldn't eat the damage that Momo could, so when Priestley and Hayter connected with a combo V-Trigger Lariat to set-up Jamie's Falcon Arrow Backbreaker, it was game over.
That was a fun sprint which, here's an opinion I won't share often, could have probably used another few minutes to push it up that bit higher. It was still a delightful match, though, and I want to see Hayter and Watanabe go at it again someday.
Verdict: Three And A Half Stars
Red Goddess: Starlight Kid and Riho (2-0) defeated STARS (Mayu Iwatani and Saki Kashima) (1-1)
They have piled all the likeable wrestlers into this match, haven't they? Is there a way that they can all win?
Although, Mayu did let her evil side out during the action, getting pissed off when Kid and Riho posed while holding Saki in a submission. Suddenly, Kashima was having to stop her from going after Starlight's mask, presumably pointing out that they're friends (at least I think that's what was happening, my Japanese is not that good). It was a delightful reminder that Mayu should never turn heel as she did it all with a smile on her face and got laughs from the fans rather than boos.
There was some fantastic wrestling in this match, as these four are as smooth as it gets. Although, it might be time for Mayu to put the lucha style arm drag on hiatus as for the second time recently it resulted in her taking a tumble. She styled it out, but she also nearly landed on her head in one of the rare moments where this match creaked. We'll forgive her because she's Mayu and her interactions with Riho were brilliant. Fingers crossed we get that match at some point.
Outside of that moment, it was a joy to watch these four do their thing. They're all ridiculously talented, and any combination of them is going to lead to a good time. Towards the end, there was a great near fall off Revival with the sight of Mayu grabbing Kid's ankle to stop her breaking the pin, adding to the feeling that it could be it. Unfortunately for Mayu and Saki, it wasn't to be, and Riho bounced straight back with a Running Knee for the three.
Verdict: Three And Three Quarter Stars
Maybe I'm underestimating Mayu's ability to be a heel as she shoved Saki into the ring as STARS closed the show before trying to drag her towards the middle by her hair. Has she been possessed? It's that black gear of Kashima's she's wearing. It's let out evil Iwatani.
Overall Show
A show that dipped a bit in the middle, but picked up on the home stretch as Tag League has been a nice watch so far. Stardom's inability to have everyone stay on the same number of matches wrestled messes with my brain, but that aside, I'm having a lovely time.
Watch Stardom: http://www.stardom-world.com/
If you enjoyed this review, please consider contributing to my Ko-fi, even the smallest amount is appreciated.