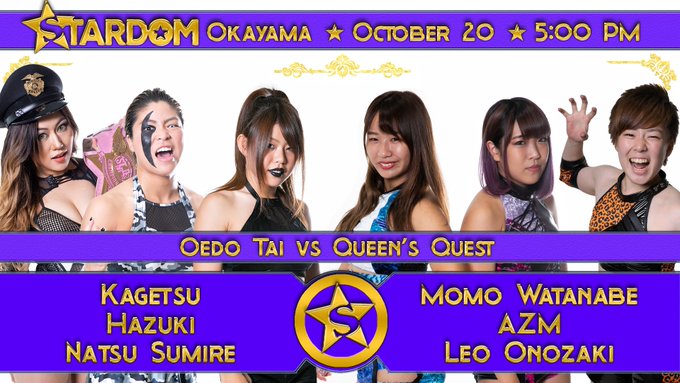 With the Goddesses Of Stardom Tag League heating up nicely, Stardom moved onto Okayama. Was the show good? Read my review and find out.
Kamitani and someone wearing a t-shirt long enough to qualify as a dress kicked us off with a sing-song as Stardom continue to promote the album they brought out. Sadly, they weren't allowed to finish said song, as Oedo Tai hit the ring to chase them off before Kagetsu and Natsu cutting promos that weren't subtitled so could have been about anything.
It was then their turn to perform, as they burst into the Oedo Tai Theme (which apparently has lyrics now) while having a dance, but not The Dance because even the need to shill CDs doesn't negate wrestling stipulations. Actually, that might make it the first thing that doesn't negate wrestling stipulations. At some point during all of that, Mayu turned up and tried to join in with Oedo Tai, for, em, reasons? Who knows what was going on, but they all seemed to be having fun.
Session Moth Martina defeated Saya Kamitani and Saya Iida in a Three Way Battle
Martina was still suffering from the night before, which isn't ideal when you're going into a match against tag team partners. She entered the ring wearing sunglasses and had a nap on the bottom turnbuckle before waking up for her introduction. In theory, she was the experienced head, but, well, it's Martina.
Jokes aside, this was your standard opener with the rookies teaming up on Moth only for her to eventually come back and get the win. All the best bits centred around the two Sayas, as they continue to develop their tag team chemistry and had some nice exchanges when they faced off. If, like me, you're a fan of the two of them, it's worth a watch, but otherwise, you can skip it.
Verdict: Two And A Half Stars
Tokyo Cyber Squad (Hana Kimura and Death Yama-san) defeated Oedo Tai (Andras Miyagi and Natsuko Tora)
As seems to be the norm on these shows, we're getting a non-tournament match before we get into the gritty action of dishing out points. Excitingly, this took the form of a metal-off as we got Andras and Natsuko in the ring with Death and Hana. Circle pits for days.
Sadly, that didn't come to pass, but it was still a lot of fun. We got some comedy as Death repeatedly ran into Big Boots from Miyagi while the action was strong throughout. It was a simple and enjoyable mid-card tag that ended when Death introduced Natsuko to a Hana boot and rolled her up for the three.
Verdict: Three Stars
Red Goddess: Bea Priestley and Jamie Hayter (3-0) defeated Starlight Kid and Riho (2-1)
Interestingly, this match featured the AEW Women's Champion and two members of the AEW roster (assuming Hayter's appearance on Dynamite means she's going to be doing more with the company going forward). It didn't happen, but it would have been interesting to see whether either of them pinning Riho would have been mentioned on AEW after they acknowledged Hayter and Priestley were partners in Stardom.
Anyway, there was only one way for this match to play out, and that was the two speedy wrestlers vs the two powerhouses. Kid and Riho obviously knew they could be in trouble as they charged across the ring at the bell, desperately trying to gain an advantage. It worked momentarily, but whenever Jamie and Bea were able to come together and bring that strength to the party, the two smaller wrestlers didn't stand a chance.
And that was what changed the action. Kid and Riho came off the top with duel Crossbodies, and the top gaijins plucked them out of the air. From there, they were cruising home, Bea eventually pinning Kid with Queen's Landing to put an end to an exciting sprint that told the story it needed to.
Verdict: Three And A Half Stars
Blue Goddess: DREAMSHiNE (Arisa Hoshiki and Tam Nakano) defeated Tokyo Cyber Squad (Bobbi Tyler and Zoe Lucas) (1-2)
Tam and Arisa are responsible for 95% of my excitement for Stardom's Tag League. Their friendship/feud is the best thing that Stardom has going at the moment, and the fact that team DREAMSHiNE had already started bickering before they made it to the ring only added to my anticipation.
There were two sides to this match, with the positive coming from that DREAMSHiNE combination. We got a fantastic hot tag from Arisa, who Bobbi and Zoe could take some lessons from when it comes to leaning into their shit. That was followed by some of their brilliant bickering extending into the action, with Tam first using Arisa as a weapon and then sandwiching her in a Double Knee Drop to Lucas. They are nailing playing a dysfunctional team that works well together but can't resist getting a few digs in. It's WWE's 'can they co-exist' bullshit, except good.
Sadly, the other side of the action was Bobbi and Zoe, who continue to disappoint. When you see them in there with two hard-hitting badasses like Tam and Arisa, their issues are only highlighted, as everything they do looks clunky and light. They can be carried to an alright match, and that happened here, but the weakest parts are always going to be when they're in the ring.
Verdict: Three Stars
Red Goddess: Tokyo Cyber Squad (Jungle Kyona and Konami) (1-1) defeated STARS (Mayu Iwatani and Saki Kashima) (1-2)
Saki and Mayu had swapped back gear and returned to their standard colours which will hopefully banish Evil Mayu (see previous review).
Konami and Jungle are fucking badasses. There was a moment where Mayu broke up a pin, and the death stare Jungle gave her was incredible. I also love the way they isolate an opponent, ripping into Kashima and working her over. They don't have to do anything fancy (although they can) because everything they do looks like it hurts.
It's also possible Mayu and Saki are the perfect opponents for them. They're two fast wrestlers who bump around like crazy and made everything TCS did look great. Whether it's Konami hoisting Mayu off the ground in a Stretch Muffler or Saki being folded up by a Jungle blow, they went out of their way to make the tag team champions look incredible.
And that's not to suggest they didn't have something to say on the offensive. It was a fantastically exciting match, the action swinging back and forth between both teams at a breath-stealing pace. I don't think they stopped moving until the final bell went, a sickening Kinniku Buster murdering Kashima for the three. Wonderful stuff.
Verdict: Four Stars
Oedo Tai (Kagetsu, Hazuki and Natsu Sumire) defeated Queen's Quest (Momo Watanabe, AZM and Leo Onozaki)
Natsu knows nothing about Okayama and loudly declared as much before the match. Queen's Quest, meanwhile, were playing off a local fairy tale involving a character called Momotaro. That took the form of Leo pretending to be a monkey, AZM a pheasant (she got the toughest role) and Utami a dog, with Momo being Momotaro, obviously. I like it when QQ mess around; they're usually so serious.
Oedo Tai weren't messing around at the start of the match, attacking QQ and dragging them into the crowd for a beating. It was the classic start to a bout that these wrestlers can deliver in their sleep. Rumours are swirling that Stardom will get a match at Wrestle Kingdom and while I get the wish to send a big title showdown out, I reckon they could do a lot worse than put out something like this. If it's early on the card and worked at a million miles per hour, they'd soon win the fans over.
As for this one, it was, of course, a shitload of fun. Hazuki was the star of the show, having great interactions with both Momo and AZM. I don't think I spend as much time raving about her as I should, to be honest. She is a fucking brilliant wrestler, who is so consistent in her brilliance that you forget she's doing it. There are very few people she doesn't have outstanding chemistry with which is always a good mark of quality.
Verdict: Three And A Half Stars
Overall Show
From the randomness at the start to the frantic main event, that was an excellent Stardom show. It continues the theme of the Goddesses Tag League so far by being incredibly watchable without bursting into brilliance (although it does flirt with it on occasion) which is no bad thing. Good wrestling is good wrestling, and while it can be better, it can also be a lot worse.
Watch Stardom: http://www.stardom-world.com/
If you enjoyed this review, please consider contributing to my Ko-fi, even the smallest amount is appreciated.