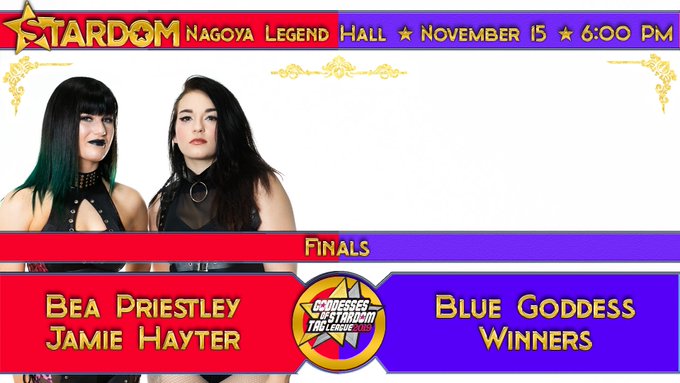 So, we reach the end. Stardom's Tag League finished up in Nagoya, and while I'm still not entirely sure who can face Jamie and Bea in the final, it's been a fun ride. Hopefully, at some point during this review, I can figure it out.
Oedo Tai (Hazuki and Natsuko Tora) defeated Queen's Quest (Utami Hayashishita and Leo Onozaki)
For the second time this year (and let's hope that it's the last), Utami returned from injury. Unfortunately, she was handed the challenge of making her comeback against Hazuki and Natsuko, two people who were unlikely to give her an easy time. She spent the bulk of the action being worked over, only tagging out for Leo towards the end.
As an actual match, there wasn't much to it. Utami was finding her way back into the action, and it ended up being a pretty convincing win for Oedo Tai as Hazuki hit a Top Rope Senton for the three. However, it was lovely to have the Big Rookie back, and that's the important thing.
Verdict: Two And A Half Stars
Drunk Queens (Natsu Sumire and Session Moth Martina) (2-3) defeated Tag 3838 (Saya Iida and Saya Kamitani (1-4)
The Martina and Natsu team is made all the more amusing by the two of them being unable to understand each other. I like to imagine them getting hammered and having completely separate conversations.
Anyway, forget all of that, for this match featured a moment of pure genius. Little Saya got her hands on a beer. Not only did she get her hands on it, but she downed it, and as she's only wee, well, it hit her quite hard. Iida then went off, chopping everyone (including Daichi and Kamitani) before staggering around the ring and passing out. Combine this with her performance as a doll at Mask Fiesta and her role as Sensei Iida later in that same show, and there's a chance Stardom have a comedy genius on their hands.
The rest of the match paled in comparison to that, but Kamitani continues to be great, hitting a beautiful Dropkick. No-one is going to remember that, though. This will forever by the match in which Iida got pissed, and I'm cool with it.
Verdict: Three And A Half Stars
Blue Goddess: Tokyo Cyber Squad (Bobbi Tyler and Zoe Lucas) (2-3) defeated Oedo Tai (Kagetsu and Andras Miyagi) (2-3)
I knew it! I've been saying all tournament that something was up with this Kagetsu and Andras team. Now, I might have been theorising that it was Kagetsu being set up for a turn as she seemed to be in a foul mood, but I was still kind of right, wasn't I? Maybe it was because she was so angry that Miyagi decided, rather deliberately, to try to bash her on the head with the Oedo Tai board. Kagetsu moved, but she was rolled-up straight after, and you suspect it won't have done their friendship any good.
The angle meant the match itself was limited, although they did build to it throughout with Kagetsu and Andras continually nearly hitting each other. Despite that, they went under four minutes, so there wasn't time for them to do anything too interesting. The intrigue comes from what happens next. Is Andras leaving Oedo Tai? Or will Kagetsu's recent streak of bad form see the rest of the group turn on her too?
Verdict: Two Stars For The Match, Three And A Half Star Angle
Blue Goddess: DREAMSHiNE (Arisa Hoshiki and Tam Nakano) (4-2) defeated Tokyo Cyber Squad (Hana Kimura and Death Yama-san) (4-2)
As beating Team Death gives Tam and Arisa the tiebreaker over them, it sends them to the final. Told you I'd eventually figure out who could win this thing (they put writing on the screen to explain it).
Anyway, this was a fun little match that didn't go too long (presumably because the winners would be wrestling again). I enjoyed Tam and Arisa's bemusement at the death shtick and, as everyone knows by now, I love watching that two team-up. Hana and Death have been a surprisingly great pairing as well, working well around their comedy.
The story, though, was that Tam and Arisa were finally able to get on the same page. There was no friendly fire (they hit a Double Knee Drop instead) and managed to go the whole match without bickering. We even saw Arisa save Tam from the Hana Boot, Death O'Conner Roll combo that had gained the TCS team most of their victories.
And that was the perfect story to tell going into the final. Yes, I love the squabbling, and it's a shitload of fun, but if you want them to be a serious tag-team who are a threat to Priestley and Hayter then getting them on the same page was essential.
Verdict: Three And A Half Stars
Red Goddess: Jamie Hayter and Bea Priestley (5-0) defeated STARS (Mayu Iwatani and Saki Kashima) (1-4)
Bea and Jamie are already in the final, which is a weird way to book a tournament. I guess you could argue that it's realistic? It did take some of the excitement out of this match, though, as it was a pretty safe bet that they weren't going to lose going into it. Maybe I'm too used to the New Japan style of booking.
Despite that, it was a fun sprint. With the match time kept short, they went out and worked at a hell of a pace, never stopping for air. I'd even go as far as saying that I liked Mayu and Bea's interaction more than I did their Red Belt match as Bea is better in this environment. She seems more comfortable heeling it up with Jamie, playing these loud and brash characters (at least I hope they're characters).
The final sequence saw Jamie clobber Saki with a trio of Lariats before hitting a Falcon Arrow Backbreaker that was closer to a Brainbuster onto her knee. I imagine Saki came away from that glad that she wasn't the one who had another match, as she and Mayu finished up with not many points, but plenty of great performances.
Verdict: Four Stars
Red Goddess: Queen's Quest (Momo Watanabe and AZM) (3-2) defeated Tokyo Cyber Squad (Jungle Kyona and Konami) (1-3-1)
Between Mayu only getting two-points and the tag champs a win and a draw, Stardom has not treated their champions well in this tournament. Although I guess Arisa and Kid both got nice runs. Still, I hope there is a plan for Kyona and Konami coming out of this because if they lose their next defence, it's going to have been an awful waste having them put this many people over.
Outside of the result, this was always going to be good, a statement that I deploy for most Jungle matches. Kyona and Momo have electric chemistry, while we saw her have a good match with AZM recently too. It did feel a bit like Konami was left on the bench, popping in for moments rather than being a regular player, but when you've got Momo and Jungle trading bombs, who is going to complain?
The final sequence was brilliant with Jungle and AZM going back and forth only for the youngster to roll up the champ and sneak away with the three. I might not be a huge fan of the champs losing as many matches as they have, but it is cool that they had AZM get the pin.
Verdict: Four Stars
AZM grabbed the mic post-match and said that usually she'd now challenge for the tag belts, but with the return of Utami, they want to go after the Artist titles. With Andras and Kagetsu being two of those champs, I'd say they've got a decent chance of winning those.
DREAMSHiNE (Arisa Hoshiki and Tam Nakano) defeated Jamie Hayter and Bea Priestley to win the Goddesses of Stardom Tag League
Having taken a few pops at Stardom's booking on this show, I should praise them for this one. Tam vs Arisa is one of their best stories, and with Jamie and Bea going unbeaten through the blocks, this defeat doesn't damage them if you don't want to keep them as a team. They've created a situation that everyone is coming out of strong, and that's impressive.
It was also an impressive match, with Jamie and Bea again playing the big bads well. They were the powerhouses here, while Tam and Arisa had to fight from underneath, using that impressive array of kicks to get into the action. Lucky for them, they're real good at kicking.
There were a couple of sloppy moments, nothing awful but moments where things didn't quite come off as planned. Still, this was a strong main event that put an end to a great tournament from nearly everyone involved, a round of applause for all.
Verdict: Three And Three Quarter Stars
Tam made sure she was the one who got her hands on the trophy, showing that while they might be on the same page now, she's still Tam. She then took the mic and reminded Arisa that she wanted to team with her to discover her weaknesses. Nakano then started to get emotional, only to be interrupted by a baby crying which she rolled with brilliantly before saying 'let's dream together' to Arise and hugging her. I'd be lying if I said I didn't have a tear at that one.
Arisa then got her turn, calling out Konami and Jungle to make their challenge. They came out and accepted the challenge, had their say and said they wanted to have the match soon without actually setting a date. DREAMSHiNE then invited everyone into the ring, which was nice in theory but Oedo Tai (they probably had other things on their mind) and TCS apparently couldn't be bothered. Tam then closed out the show, and we finished with DREAMSHiNE having a big hug.
Overall Show
The ending of that show made me so happy. I've loved the Tam and Arisa story, and that was a beautiful way to end it and close out a very good Tag League. We had a bunch of good to great matches, an interesting angle and the right champions. I have zero complaints.
Watch Stardom: http://www.stardom-world.com/
If you enjoyed this review, please consider contributing to my Ko-fi, even the smallest amount is appreciated.