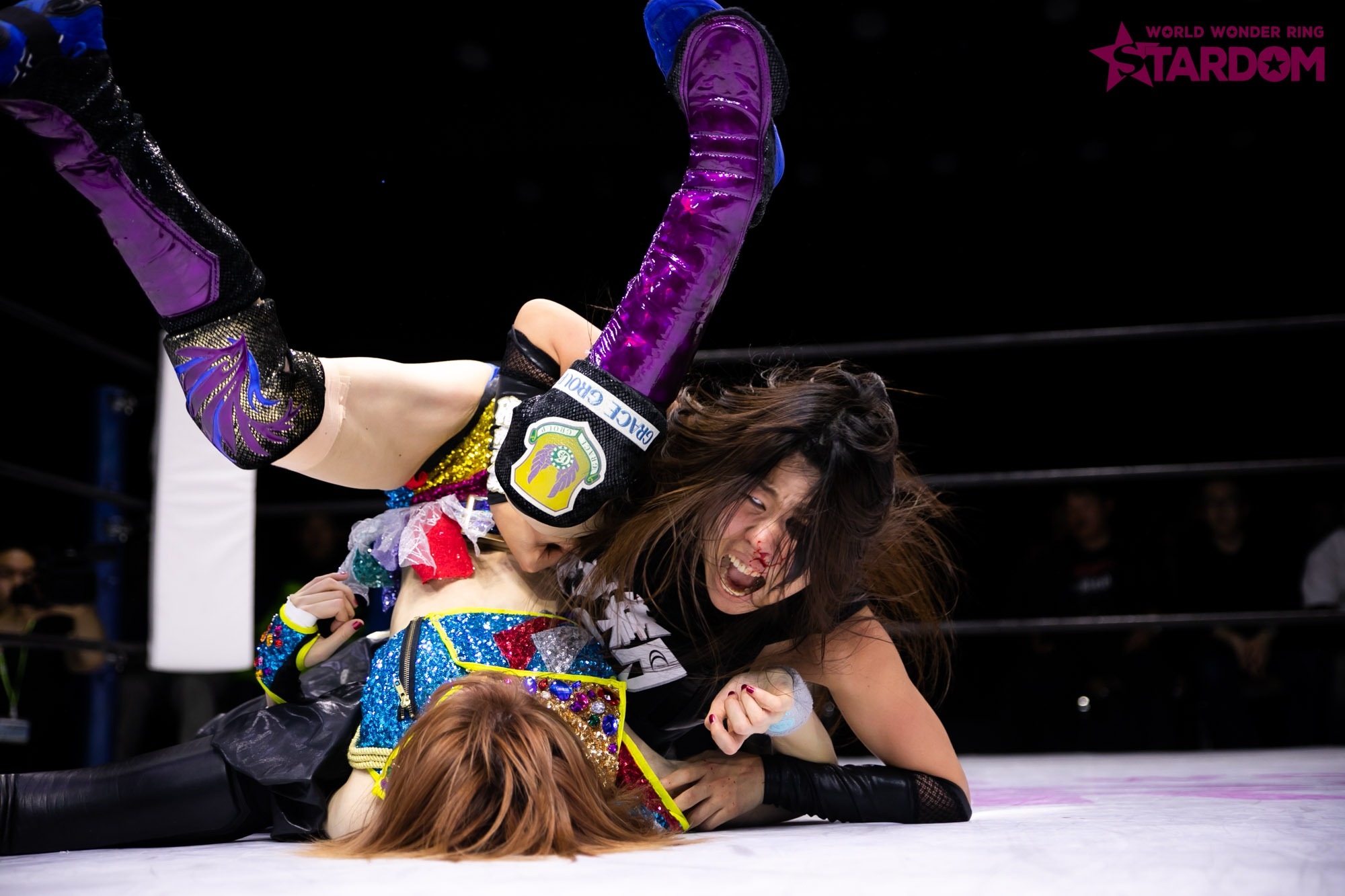 Stardom is on the road to their final show of 2019 and kicked off life post-Tag League with a doubleheader in Osaka. There aren't any big matches on these, but they'll be sowing the seeds for what is to come over the next few weeks.
We got a pre-show sing-song from Kid, Hoshino and Kamitani and wouldn't life be better if every wrestling show started with a song? I want to see Tomohiro Ishii and YOSHI-HASHI singing a duet before New Japan, Jun Kasai bursting out raps at FREEDOMS and anyone apart from Fozzy providing a nifty wee number at AEW shows. Seriously, Fozzy suck.
Andras Miyagi defeated Leo Onozaki
Leo made the ballsy move of attacking while Andras made her entrance. It was a nice plan, and she got a few flash pins, but ended up being dealt with quite efficiently, tapping out in just a couple of minutes. It was a squash, so there's not much to say. At least they gave Andras a win this time.
Verdict: Two Stars
Natsuko Tora defeated Itsuki Hoshino
Hoshino is kicking off her career by being handed around the reliable hands of the Stardom roster. As great as that will be for her development, I imagine she'd have liked to face people who were less likely to dish out a beating.
Still, this was another good showing from the rookie as she took said beating well before getting her fiery comeback in. It's literally her third match, so I'm sure you could nitpick it quite easily, but she's remarkably assured for someone with so little experience.
Verdict: Three Stars
Tokyo Cyber Squad (Konami and Zoe Lucas) defeated Tag 3838 (Saya Kamitani and Saya Iida)
For the most part, this was your fairly standard Stardom rookies vs experienced tag team. The veterans take control, only for the kid to fire back and catch them off-guard before eventually falling prey to their superior firepower. There is absolutely nothing wrong with that, I enjoy those matches a lot, but we've seen it all before.
There were a couple of cool moments, though. The main one being Kamitani hitting her Running Shooting Star Press (well, kind of, her legs were in the right postcode). With that having already been established as a move that beats people, there was a second where I genuinely thought she was going to pin Konami, which would have been fucking huge. Of course, it didn't happen, but it was a flash of excitement in a match that I thought I had figured out.
Verdict: Three And A Quarter Stars
Tokyo Cyber Squad (Hana Kimura, Jungle Kyona and Death Yama-san) defeated Oedo Tai (Jamie Hayter, Natsu Sumire and Session Moth Martina)
Hana has found a vaccine to Death Yama-san, so she's no longer Hana Death. Wrestling is great.
Moth spent the opening of the match being terrified of Jungle until Kyona offered her a beer. Sadly for Martina, that ended up being a ploy, and she got a kick to the gut for her troubles. Oedo Tai did get the last laugh, though, all three of them spitting beer into Jungle's face before performing a three-person Bronco Buster that was so vigorous Natsu was left clutching her groin… Yea, there's nothing else I can say about that.
That all set the tone for this match, which was mainly enjoyable nonsense. There was a smidgen of seriousness when Jamie and Hana beat on each other for a bit, but this was aiming for laughs. I reckon it succeeded too.
Verdict: Three And A Quarter Stars
STARS (Tam Nakano, Riho, Saki Kashima and Starlight Kid) defeated Queen's Quest (Momo Watanabe, Utami Hayashishita, AZM and Bea Priestley)
Riho teaming with Kid seems to have granted her official membership of STARS, which is a move that makes perfect sense. She's a natural fit for that faction.
In the ring, this was never going to be anything less than good. Stardom stacked the match with talented wrestlers and left them to do their thing. We got AZM and Kid flying at each other, Tam and Momo striking it out and an eventual breakdown of all semblance of order in a frantic final few minutes of non-stop action.
That chaos eventually left Kid and AZM alone where Starlight hit a Ki-chan Bomb for the three. Lovely stuff.
Verdict: Three And A Half Stars
Post-match, Kid was in a challenging mood. First, she grabbed Tam and Saki to challenge for the Artist belts, then she brought up her and Riho getting a draw with Jungle and Konami during Tag League and challenged them too. That brought out Jungle who suggested the team was only good because of Riho which earned her a slap from Kid. They were dragged apart before Konami accepted the challenge. Finally, Kid reiterated her pre-Tag League desire to challenge for the High Speed. Christ, bit greedy, isn't she?
STARS (Mayu Iwatani and Arisa Hoshiki) defeated Team Moon (Kagetsu and Hazuki)
Team Moon were rocking their old face paint as Hazuki and Kagetsu's time as a pairing draws to an end. Kagetsu genuinely seemed a bit down in the pre-match promo, and you've got to assume she's a bit bummed about that.
And while this was technically building to Mayu vs Kagetsu, it became a celebration of Hazuki. Her and Kagetsu played the greatest hits with massive smiles plastered across their faces. They were heaving the time of their lives, and the fans were firmly in their corner, throwing love onto Hazuki at every chance.
However, there was a vicious edge included in there too. I think the fantastic Arisa vs Hazuki feud has gone a bit underplayed this year, but we got plenty of it. Those two beat the shit out of each other whenever they are in the ring together, and it is glorious. It's a bit gutting that they will never have the forever feud that their talent and chemistry would have made spectacular.
All things said, this was a fantastic match, and if it's a sign of what is to come with the Hazuki farewell tour, then count me in. She's going out as one of the best wrestlers in the company and making sure we all know exactly what we're missing out on.
Verdict: Four And A Half Stars
Post-match, Arisa went and pulled Kagetsu off Hazuki before offering her rival a hand. She got a smack for her troubles, but it was quickly followed by a handshake, a hug, and what looked like a few shared words. Christ, Stardom, stop making me cry.
Mayu then tried to close out the show but got too tired, so left it to Arisa instead. She paid further tribute to Hazuki before delivering a promo that was Mayu-esque in its rambling awkwardness (they'd also managed to lose Tam who it turned out was eating). Nice to see she's learning from the best.
Overall Show
An enjoyable show with a brilliant main event which fired up the star ratings thanks to a combination of emotion and fantastic wrestling. Have I ever mentioned that I love Stardom? I really love Stardom.
Watch Stardom: http://www.stardom-world.com/
If you enjoyed this review, please consider contributing to my Ko-fi, even the smallest amount is appreciated.