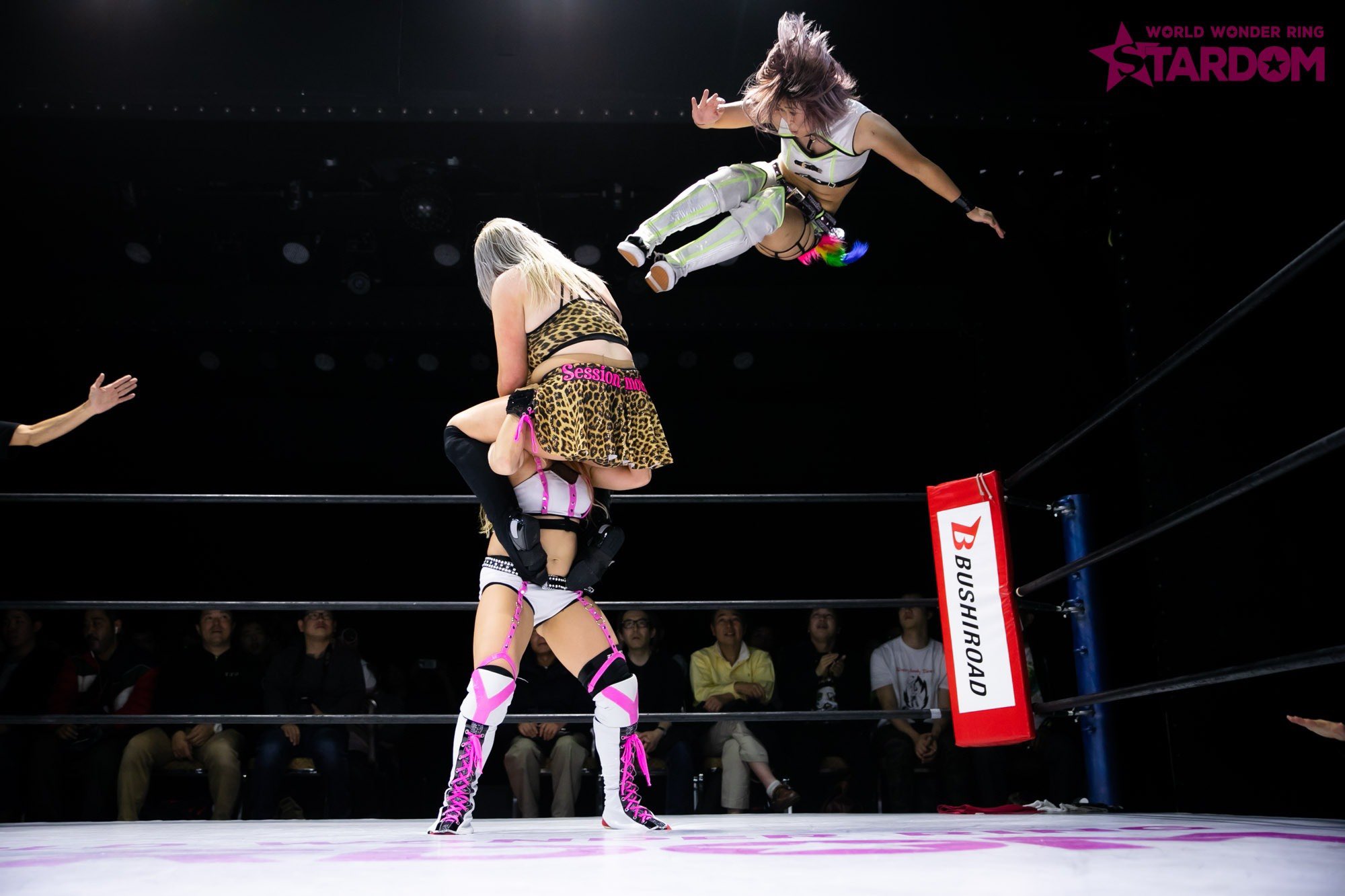 I'm working my way through my post-Tag League review backlog in chronological order, so it's only natural that the next one will be Stardom's second show from Osaka at the start of the month. Let's see what went down.
Jamie Hayter defeated Leo Onozaki
The day I'm writing this, Jamie Hayter and Karl Fredericks have been revealed to be a couple, and I want to congratulate them both because, damn, that's two beautiful people.
Away from the perving, Jamie was in an ass-kicking mood. She beat the shit out of Onozaki in this one, using her superior power to throw the youngster around. Leo got the standard hope spots, throwing elbows and Dropkicks like there was no tomorrow, but it was all in desperation. Hayter decapitated her with a Lariat and dropped her across her knee for the three. She is excellent at the whole beating people up thing.
Verdict: Three Stars
Andras Miyagi defeated Saya Iida
Arisa popped her head into Saya's pre-match promo to wish her good luck which fits into my occasionally mentioned love of wrestlers feeling like real friends. It's a niche love, but I can't help it.
While Hayter stood out in the opener, I thought Iida looked the better of these two. It was a really weirdly paced match as they started slow, Saya got her flurry, and then Miyagi trapped her in a flash pin for the three. It was almost structured like Andras was the underdog, as I continue to be utterly bemused as to what Stardom are doing with her.
Verdict: Two And A Quarter Stars
STARS (Riho and Starlight Kid) defeated Saya Kamitani and Itsuki Hoshino
Kid and Riho challenged Jungle and Konami on the afternoon show, with Starlight still gleeful about slapping Jungle while standing up for herself (proud of you, Kid).
Early on, Hoshino wasn't quite in place for a Riho Dropkick, and it looked, to be frank, a bit shitty as she sold it anyway. Luckily for her, Riho made sure the flurry of Dropkicks that followed all connected, and one suspects she won't make that mistake again.
While Hoshino probably didn't enjoy that, the match which followed was certainly a lot of fun. These four had a surprisingly back and forth encounter, the two rookies getting a lot of offence (Kamitani really needs to practice her aim on that Running Shooting Star Press) before Hoshino eventually fell to a Kid 180 Frog Splash. It wasn't perfect, and was probably the greenest Hoshino has looked, but, well, she is green, so we can forgive that.
Verdict: Three And A Quarter Stars
STARS (Mayu Iwatani, Arisa Hoshiki, Tam Nakano and Saki Kashima) defeated Queen's Quest (Momo Watanabe, Utami Hayashishita, AZM and Bea Priestley)
It never fails to amuse me how often certain members of STARS have to check how to do the STARS sign.
Tam's behaviour towards Arisa might be getting more erratic. A series of failed high-fives saw her go back to the old friendly fire tactics. However, she then insisted on tagging Hoshiki instead of Mayu, which considering her infatuation with Iwatani is quite the compliment.
Anyway, this was obviously good. We got Saki and AZM going High Speed, Tam and Utami elbowing it out and all the other delights you might ask for. We're getting to the point where I can write a review about Stardom wrestlers doing these matches in their sleep, in my sleep, and yet I never get bored of them.
I loved the finish too, as Saki Kashima's incredible flash pin talents saw her upset Momo further cementing STARS as a threat for the Artist Titles. She then grabbed the mic and told them they were the real champions; a deceleration Momo wasn't too impressed by, promising to bury STARS in return.
Verdict: Three And A Half Stars
Oedo Tai (Kagetsu, Hazuki, Natsu Sumire, Natsuko Tora and Session Moth Martina) defeated Tokyo Cyber Squad (Hana Kimura, Jungle Kyona, Konami, Death Yama-san and Zoe Lucas)
One nice thing about Hazuki's retirement run is that she's being put front and centre of all these matches. You can also tell that she's having a shitload of fun, messing around with her mates and playing to the crowd. They pulled out the old Genki Horiguchi elastic spot here, sending it flying into the face of poor Zoe.
Outside of that, we got a continuation of the Jungle vs Natsuko and Hana vs Kagetsu wars plus a shitload of frantic action that would keep even the shortest attention span hooked. All I said about QQ vs STARS applies here too. These women are fucking good at this stuff.
We'd finish up with Kagetsu vs Konami who had a short, but entertaining, back and forth that ended with them both being dragged off the apron in a bit of a brawl. Daichi ruled Konami to have won that exchange, but it turned out Hazuki was never eliminated, and she dumped her over the top for the three. That finish has been overdone, but it was a sneakily brilliant way to give Hazuki a win without taking anything away from the person she beat.
Verdict: Three And A Half Stars
Post-match, Hazuki cut a promo in which she mentioned Natsu's self-produced show which has one hell of a card. I can't imagine it will make tape, but it would be awesome if it did.
Overall Show
An entertaining if slightly inessential show from Stardom. there is nothing here you need to see, but it's worth watching for the tags and some fun lower card match-ups. You certainly won't feel like you've wasted your time.
Watch Stardom: http://www.stardom-world.com/
If you enjoyed this review, please consider contributing to my Ko-fi, even the smallest amount is appreciated.