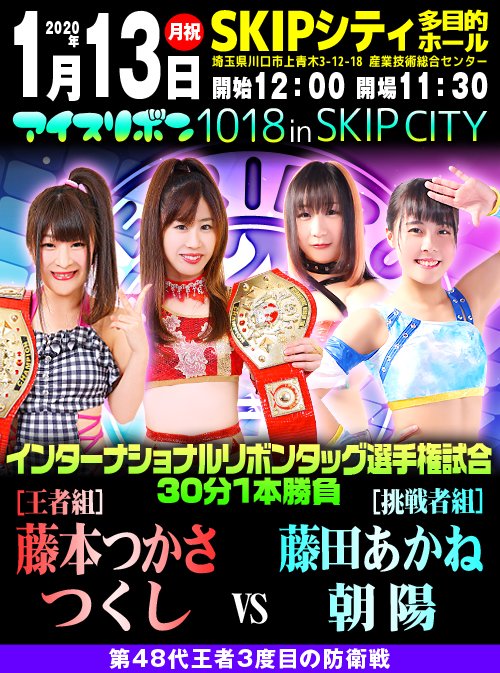 It's 2020, and a new year always brings with it a chance to dive into some new and exciting wrestling. I've made it a bit of a tradition to pick a new company to try out every January, and while this year's attempts are a bit delayed thanks to my trip to Japan, it's a tradition that shall continue. So, welcome to my first ever Ice Ribbon review. In fact, it's not only my first review but the first show I've ever watched. That means I don't have a clue what I'm talking about, so if you're a hardcore fan, please keep that in mind and be nice to me. Although, do feel free to point out any mistakes I make in the comments as I'm always happy to be educated.
Dalys de Caribena defeated Yappy
Dalys is a CMLL luchador who pops over to Japan now and then to work some dates. I'm not a particularly big fan of her work, as she wrestles like a pantomime villain, all over the top facial expressions and growling. On top of that, there seemed to be a few communication issues as there were a couple of moments where both of them hesitated, waiting for confirmation about what to do next.
Despite those issues, I got the impression that Yappy might be someone I enjoy. She had that scrappy underdog vibe that I am a sucker for. On top of that, Cagematch informs me she is 39 and has been wrestling for under a year, which is fucking awesome. Anyone who decides to give something as mental as wrestling a go at an age when most would tell you not to bother has my utmost respect. I look forward to seeing more of her in the future.
Verdict: Two And A Quarter Stars
Miku Aono defeated Banny Oikawa and Hamuko Hoshi
Despite my hatred of three-ways, I thought all three wrestlers brought something different to this match and managed to wrangle it into something worth watching.
Banny was the rookie of the group, trying to sneak out with a victory via a wide variety of flash pins. There was a particularly cool one when she rolled Hoshi up as she was trying to Suplex Aono, bringing them both over and bundling them into a dual cover. Talking of Hoshi, she brought more of a comic vibe, at one point getting a giggle when she attempted to match Aono's kicks and, well, failed. She felt like a big character, and as the veteran in the ring often played the glue that kept the action together.
Finally, we had Aono who was treated as the serious threat, throwing some lovely Dropkicks and convincing me that she's someone to keep an eye on. She'd eventually pick up the win, pinning Banny for the three as this little trio impressed me. Three-ways still suck, but good wrestlers can get them to a place where they're at least tolerable.
Verdict: Three Stars
Tae Honma and La Jarochita defeated Maya Yukihi and Matsuya Uno
Yukihi screamed star the second she walked through the curtain and backed-up that initial impression in a match that saw this card begin to tilt towards the serious. She and Uno might not have won, but they were the pairing that stood out, Uno showing some strong technical work and Yukihi having an undeniable aura.
On the other side of the ring, La Jarochita (our second CMLL luchador) felt like the weak link, her work not having the snap of the others. Honma was better, though, at one point transitioning beautifully into an Ankle Lock on Yukihi which the former did a brilliant job of selling, flinching away from the kicks she went for after she escaped.
All in all, this was another strong showing, a fun little tag match that saw the lucha import pick up the win while the Japanese talent captured my attention.
Verdict: Three And A Quarter Stars
Rina Yamashita, Maika Ozaki and Ram Kaicho defeated Risa Sera, Satsuki Totoro and Suzu Suzuki
Risa Sera tripped over some streamers while being introduced and instantly became one of my favourites. It was the first hint that this match was going to turn out to be all the fun, as they put together a great combination of comedy and action.
A lot of that early comedy revolved around Ram Kaicho as she and her teammates would attempt to hit moves at the same time. Unfortunately, while Yamashita and Ozaki were successful, Ram was not. She'd end up struggling to get Totoro (best name) up for a slam before later failing to twist her over for a Crab. When she finally managed to get some offence in, standing on Totoro's back, it quickly became apparent she was far too light to inflict the damage she wanted and was forced to call on her partners to help her out.
All of this was interwoven with some great wrestling. We got a fun hoss-off between Totoro and Yamashita before Ozaki outdid them both by getting Sera and Suzuki up for a Torture Rack at the same time. Talking of Sera and Suzuki, they showed some nice teamwork and were wearing matching gear, so I assume they have some sort of alliance. Suzu would particularly impress in the closing stretch, coming agonisingly close to beating Yamashita with some awesome pinning combinations before being caught with a thunderous Lariat to put an end to the action.
As I said, this was just a shitload of fun. A frantic back and forth that had a bit of everything sprinkled in and kept me gripped from start to finish. I didn't even mention the ridiculous Giant Swing that Sera used, apparently attempting to murder Kaicho by throwing her into space with that damn thing. All six of these women impressed, and I'm looking forward to seeing even more of them going forward.
Verdict: Three And Three Quarter Stars
Tsukasa Fujimoto and Tsukushi defeated Akane Fujita and Asahi to retain the International Ribbon Tag Titles
The story of this match was the dominance of the champions. They were presented as a flawless unit, a step above their challengers as they worked together brilliantly to control the action. It was a flurry of perfect reversals and smooth wrestling, with Tsukushi looking particularly impressive as she seemed to be pushed into the centre stage and had some enthralling battles with Asahi in particular (including the final stretch, where they danced between pinning combinations).
It was a final back and forth that showed that despite the champs looking like the better team, their challengers weren't there merely to make up the numbers. Asahi and Akane might have appeared outclassed, but they never gave up. There was a scrappy defiance to their wrestling that saw them keep coming forward, refusing to go down. While the champs were a well-drilled unit, they felt like a duo who were experimenting, throwing ideas at the wall in the hopes of taking the crown. It led to a fun dynamic, where you constantly had the feeling that they might just do it, sneaking out with a win when one of their plans came through.
Sadly, it wasn't to be, and despite surviving a vicious Diving Double Stomp, Asahi was bundled into a pin for a three. However, this was still a great performance from everyone involved and a damn fine main event to finish off my first Ice Ribbon show.
Verdict: Four Stars
My lack of Japanese means I have no idea exactly what went down in the post-match, but I think I can infer that Rina Yamashita and Ram Kaicho made a challenge for the titles. They weren't the only ones, though, as it looked like the champs challenged Dalys and Jarochita. This included Tsukushi attempting to cheap shot the much bigger Dalys and, well, let's just say that it didn't quite go to plan. She ended up cutting the rest of her promo while hiding behind her partner before the two luchadors decided they were going to steal the belts whether they'd won them or not. They did eventually give them back, but as intimidation tactics go it was quite effective.
Overall Show
I enjoyed that a lot! It was a short show, with a fun selection of matches backed-up by a fantastic main event. As usual with diving into a promotion for the first time, I'm sure there were some subtleties that I missed, but I was able to enjoy it all the same, and I'll definitely be back.
Watch Ice Ribbon on niconico: https://ch.nicovideo.jp/nicopro
If you enjoyed this review, please consider contributing to my Ko-fi, even the smallest amount is appreciated.