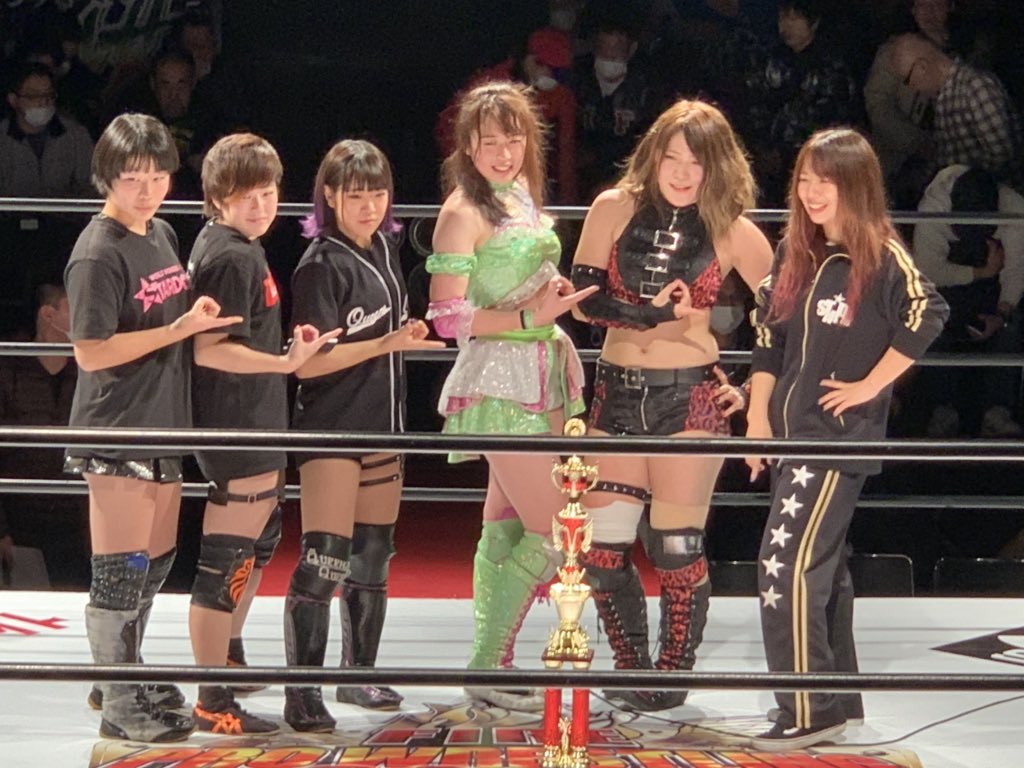 Just a few months after her debut, Saya Kamitani has earned her first singles main event, taking on Utami for the Future Of Stardom Title. Sadly, as one wrestler stepped up, another stepped away, with this show marking Leo Onozaki's retirement. So, let's celebrate her career and toast to Kamitani's future with a good old-fashioned review. I'm sure it's the present they both wanted.
Jamie Hayter defeated Hina
Hayter was fantastic in this match, embracing her role as the big bully and lapping up the boos of the crowd. You could tell she relished the chance to heel it up to the max, and with wee Hina stood across from her, she'll get few nights where it's this easy to draw the crowd's ire.
It was probably one of Hina's better single match performances too, as she was bursting with hopeless defiance. Whether it was trying to slip into a flash pin or straining to prevent Hayter twisting her over into the Crab that got the win, she wrestled like someone who knew she didn't stand a chance but was going to give it her all.
Put them together, and you've got something that sends both wresters in the right direction. Hayter comes out looking like an awful person, while Hina has all the sympathy. Not bad for a rookie match that went less than five minutes.
Verdict: Nailed It
Queen's Quest (Momo Watanabe and AZM) defeated Tokyo Cyber Squad (Hana Kimura and Rina)
Rina and Hana always seem genuinely excited about teaming together. You can tell that Rina looks up to Hana and they have a lovely sisterly vibe.
Not that Momo and AZM cared, as they made sure Hina wasn't the only twin to have a rough night. Rina did at least manage a smidge of revenge, taking Momo over with a Judo Throw before having a fun final stretch with AZM. She and Hana locked on dual submissions before Rina got the chance to nearly steal the three with a couple of flash pins.
Of course, it was never going to happen, and Queen's Quest eventually found their way back into the action, combining to put Rina away for good. However, that was two strong performances for the twins, so they can go home content with a good night's work.
Verdict: Twin Power
Jungle Kyona and Itsuki Hoshino defeated JAN (Leo Onozaki and Saya Iida)
There was no better way for Leo Onozaki's short career to end than with a JAN reunion. Unfortunately, Ruaka had to pull out of the match, but it meant Jungle got to take another rookie under her wing, teaming with Hoshino instead.
From start to finish, I loved this. I'm a sucker for sentimentality and the second Iida and Leo walked out together, big smiles on their faces at the chance to team one last time, they had me on board. Any final reservations were then dashed when Iida couldn't resist the opportunity to leap on Jungle's (and Itsuki's) back one last time, hitting the JAN Splash on poor, confused Onozaki. It was a quick love letter to a faction that went away but played a pivotal role in the development of both these young wrestlers.
And there was no way Jungle was going to let one of her own go out without a blaze of glory. Eventually, the ring cleared and it was just her and Leo, battling it out. At one point Leo got a 2.999 count that had me convinced she'd won before they engaged in a strike exchange where Jungle just stood, taking a battering from Onozaki. It's easy to read too much into this stuff, but it felt like an unleashing of emotion. Leo rained forearm after forearm into Jungle's chest while she just took them, walking forward into the blows and accepting that burden.
After the bell, Jungle held Leo for a second before cutting a genuinely beautiful promo. I won't even bother trying to capture the magic of it as you're better off just watching yourself. We then got the roster coming out group by group, paying their respects, which I always find ridiculously emotional. I wasn't the only one either as the younger members as the Stardom roster all seemed particularly teary about this one. Not that I can talk, by the time a surprise Kagetsu showed up I was weeping.
As I said in my last review, Leo was never going to be a superstar, and she's retiring after a short career, but she's also the kind of wrestler that I will always love. Someone who might not blow the world away, but performs with heart and makes me smile. I hope whatever she goes on to do next gives her all the joy in the world.
Verdict: We'll Miss You
Donna del Mondo (Giulia and Maika) defeated Tokyo Cyber Squad (Konami and Leyla Hirsch)
There were two occasions in this match where people had submissions locked on and refused to break them when someone attacked them, and I loved that. I've always disliked the idea that one, often weak, stomp or flailing arm would cause you to break any hold. So, when Giulia took a Lariat from Hirsch while hanging off Konami's back and still clung on as they hit the floor, I couldn't help smiling because it felt real. Why would she let go?
Outside of that little touch, this was just a really solid tag team match. Hirsch continues to be a strong in-ring inclusion to Stardom while we all know that Konami is brilliant. Then, on the other side of the ring, Donna del Mondo go from strength to strength, with the series of Judo Throws that Maika used to set Leyla up for the finish being particularly awesome.
It all turned a match that on paper had little riding on it into something that I enjoyed, so well done them.
Verdict: Hold Onto Your Submissions, Folks
Oedo Tai (Natsuko Tora, Saki Kashima, Natsu Sumire, Bea Priestley and Zoey Skye) defeated STARS (Mayu Iwatani, Arisa Hoshiki, Riho, Tam Nakano and Starlight Kid)
Mayu not giving a fuck about Saki and it driving her mad is a lot of fun. It has since been announced that they'll face off in an empty Korakuen, but judging by the photos I saw of the press conference, Mayu still isn't taking it seriously.
Even with Mayu's indifference, this was a much stronger performance from the new look Oedo Tai, as they worked like proper heels for the first time. There was almost a pack mentality to their wrestling, as they swarmed the ring, making it impossible for STARS to build any rhythm. At the centre of it was Natsuko, who is flourishing in her role as their badass leader.
And Natsuko joined Saki in building to a match, although her opponent seems to be taking her a bit more seriously. Arisa and Natsuko had a couple of stiff exchanges, Tora's bruiser style coming up against Arisa's kicks and earning her the win as she spun Hoshiki from a Torture Rack into a Sidewalk Slam. I'm intrigued to see how that match goes and even more intrigued to see if they'll pull the trigger and legitimise Natsuko straight away.
With who was in the ring, it should be no surprise that this was good. Oedo Tai and STARS have danced this dance a million times, and they always deliver.
Verdict: Natsuko Is Coming For You
Post-match Natsuko again demanded her title match with Arisa, a demand Arisa was only too willing to grant, saying it with a smile and earning a kick for her happiness. Saki then once again challenged Mayu, saying she didn't care about the title, only getting her hands on Iwatani. That led to Mayu agreeing, although with the caveat that she got to choose the rules.
Utami Hayashishita defeated Saya Kamitani to retain the Future of Stardom Title
For the first time since she won the Future of Stardom Title, Utami Hayashishita had a challenger who had a chance of beating her. For, in many ways, Saya Kamitani is the new Utami. A super rookie who is outstripping her peers and who the company clearly sees big things in. Even the fact she was given this match, main-eventing a show, is proof that they have faith in this young lass.
And, on her first big outing, she repaid them. This was a strong performance that showed us a side of Saya that we haven't seen before. She went after the previously injured knee of Utami, working it over with submissions and strikes. There was even a moment where Saya altered her Back Handspring Kneedrop, aiming for the leg rather than the mid-section.
That's not to say it was perfect. Kamitani played it a bit too large for my taste, expressing like she was on NXT and subtlety needed to be thrown at the hard camera to make sure that everyone understands. However, if that is your main complaint about someone who was wrestling their 44th match, then they're probably doing alright.
In the end, Utami would still prove to have too much. Firing back and hitting the Torture Rack Powerbomb for the win. I'd have liked to have seen a bit more work around the leg in the final section, as while Utami didn't necessarily stop selling it, she did push it to one side. Still, this was a very strong performance and proof that Stardom is putting their eggs in the right rookies. Wait, that sounds wrong, doesn't it?
Verdict: Saya Stepped Up
Then she had to go and ruin it.
Before we get to that, Utami relinquished the Future of Stardom Title because, well, let's face it, she's nae the future any more, but very much the present. Hopefully, they don't shove it straight onto Kamitani and end-up with the exact same situation where it's nearly impossible for anyone to take it off her.
Now we get to the ruining it bit. For Utami decided this was the perfect time to start trying to fill the holes in Queen's Quest's ranks, inviting Kamitani to join. AND SHE SAID YES! A moment that led to not only a look of utter devastation on the face of poor Tam but also, in unquestionably the biggest betrayal of all time, her turning her back on Wee Saya. I hope she gets chopped so bad.
Anyway, she tried to coax Hoshino into following her across the divide, but at least some people have an understanding of loyalty. She turned Kamitani down and said she wanted to enter STARS, earning a long hug of gratitude from Nakano. She then, rightly, rejected the offer of a handshake from that traitor before Nakano left with a very pointed, 'I'll be seeing you.' Damn right she will, she's gonna kick you in the head, you big big-stabbing betrayer!
Anyway, outrage aside, this was a huge moment for Kamitani, and while she looked rather out of place in her bright green gear surrounded by the black of QQ, I'm sure she'll find her feet there eventually.
Overall Show
That was a show built around two defining moments, Leo's retirement and Kamitani's betrayal. Okay, so Big Saya was never actually part of STARS, but that doesn't mean the blade cuts any shallower. Poor Wee Saya, fingers crossed she had friends around her as Tag 3838 came to an end.
Watch Stardom: http://www.stardom-world.com/
If you enjoyed this review, please consider contributing to my Ko-fi, even the smallest amount is appreciated.