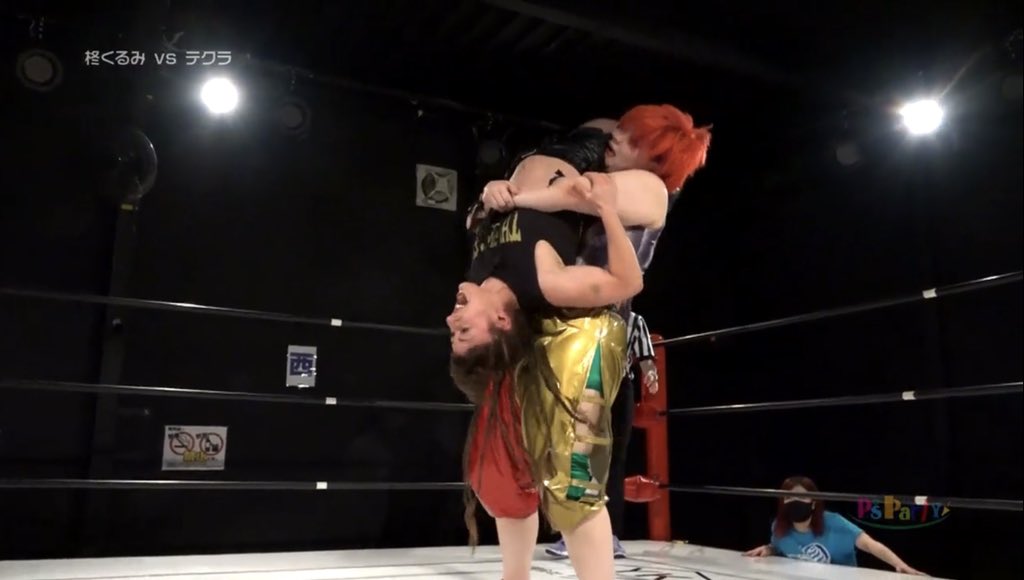 My attempts to catch-up on Ice Ribbon continue with P's Party 42. I had a lovely time at my first party with P, so fingers crossed this continues the trend.
Hiragi Kurumi defeated Thekla
The layout of this match was great as early on Kurumi's power made it look like she was going to steamroll her way to victory. Even when Thekla managed to grab an arm, trying to twist into an Armbar, Kurumi was able to power out, hoisting her up for a Powerbomb.
But, Thekla kept going, chipping away at her and eventually managing to take the bigger woman off her feet with a Spear. However, she would make a mistake, going for a Fisherman's Suplex and proving unable to get Kurumi over. It was the turning point in the match, and from there that power game took control.
It all added up to some damn fine wrestling. Yes, there were a couple of moments which weren't entirely smooth, but it never bothered me, and when the story is good enough that stuff becomes irrelevant.
Verdict: Very Well Done
Tsukasa Fujimoto and Maika Ozaki defeated Tsukushi and Satsuki Totoro
Watching this match you get the impression that Tsukasa Fujimoto gets a lot of joy out of winding up her young tag team partner. She had a big old grin on her face every time she got her hands on Tsukushi, tormenting her in whatever way she could come up. It was a lot of fun to watch plus, unsurprisingly, the wrestling was rather good too.
When you throw in Totoro and Ozaki doing hoss stuff, Tsukushi's normal antics and a pace that never gave up, there aren't many complaints to make. Any match that features Tsukushi attempting to both Suplex and Slam Ozaki (unsurprisingly, neither worked) gets the thumbs up from me, and this was a great watch.
Verdict: Whole Lotta Fun
Suzu Suzuki defeated Nao Ishikawa
Only in joshi could seventeen-year-old Suzu Suzuki be out there playing the badass veteran, at one point looking into the camera and laughing after taking a blow from Nao. It was an awesome moment and, as regular readers will know, I love a rookie match, so this was right up my street.
It was another impressive performance from Ishikawa too, as she already looks at home in there. If you're nitpicking, I think her selling is sometimes a tad over the top, as she plays it a bit too big, but that is being very harsh. I loved the moment where after a Crossbody she pinned Suzu three times in a row, each one a little more desperate as she sought to get the win.
Of course, she wouldn't get it, but she could still walk away from this with a smile on her face. If you showed this to someone who had no idea who anyone was, they would have never guessed she was as young in her career as she is, and at this stage, that's more than you can ask for.
Verdict: Rookie Power!
Overall Show
I've no idea how long this was when it was initially live-streamed, but in its edited form on Ice Ribbon's NicoNico it went around half an hour, which I'm pretty sure makes it the perfect wrestling show. Jokes aside, all three matches were a lot of fun, and if you're looking for an easy watch, then this will definitely tickle your pickle. Nope, I don't know why I said that either.
Watch Ice Ribbon on niconico: https://ch.nicovideo.jp/iceribbon
If you enjoyed this review, please consider contributing to my Ko-fi, even the smallest amount is appreciated.