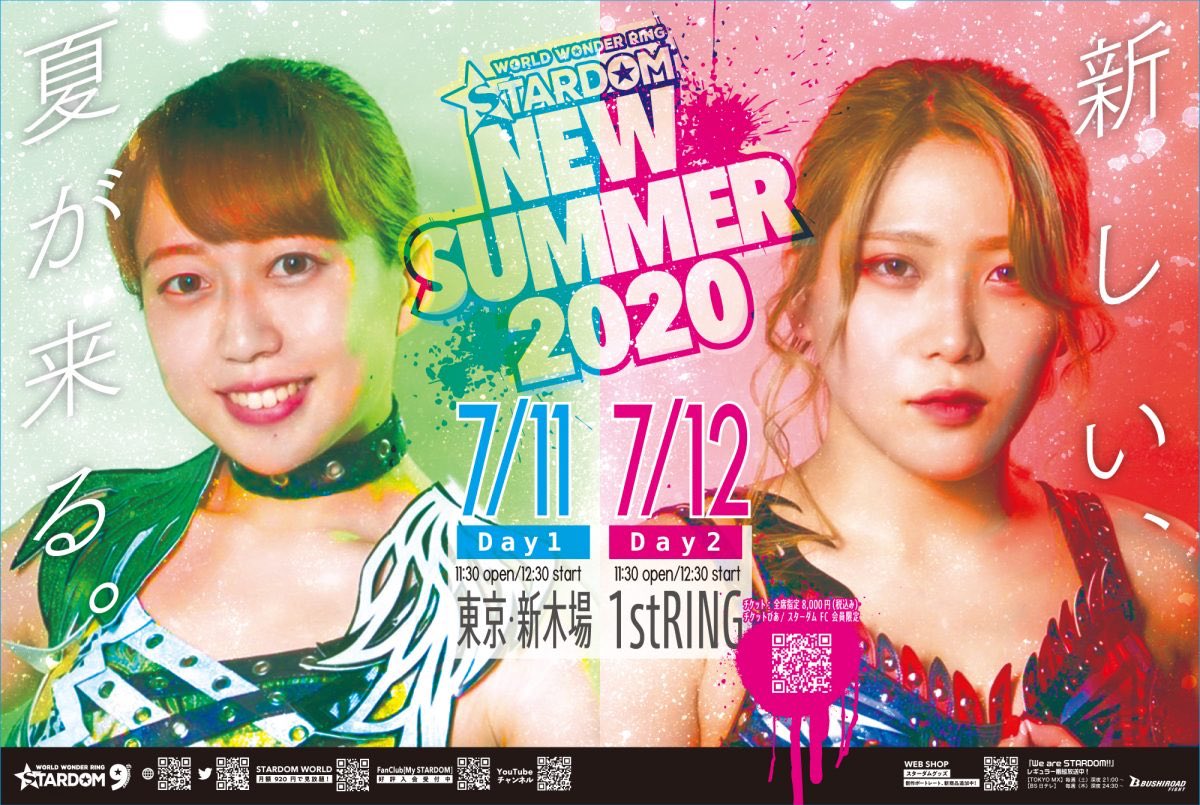 The Stardom return continued as they put together a two-show weekend to build to significant events in Korakuen, Osaka and Nagoya. While the cards were still unannounced going in, they had a lot of matches to set-up, so you could guarantee there was going to be a few interesting wrinkles.
The surprise nature of the card meant we got full unit promos rather than individual ones. Of those, the highlights were the return of a certain Screaming Woman, Giulia proclaiming that Syuri's new gear looks like outer space (she tries to be cool, but she's such a dork) and Tam still being rather angry about the black eye she got from said dork.
Tokyo Cyber Squad (Jungle Kyona and Konami) defeated Tokyo Cyber Squad (Death Yama-san and Rina)
Jungle Kyona is back, and damn is it good to see her.
I'm still not at a point where I can sit through one of these matches without crying, never mind actually look at it in anything approaching a critical manner. It was fun. You had three brilliant wrestlers in there and one rookie who I have a lot of time for, I'm not sure I can provide more than that.
Afterwards, they celebrated together, inviting Ruaka into the ring so they could salute the sky. TCS look set to continue, and I think that's the right call.
Verdict: We Love You, Jungle
Queen's Quest (Utami Hayashishita and Saya Kamitani) defeated STARS (Tam Nakano and Saya Iida)
Let's all take a second, once again, to acknowledge how awesome Tall Saya and Utami look. Done? Good.
While Tam might have her eyes (well, the one that isn't swollen shut) on Giulia, she and Gori-chan have unfinished business with Kamitani too. They're the mentor and the tag partner that she turned her back on when she decided to bugger off and join QQ.
Sadly, the anger was rather restrained in this one, a Tam and Tall Saya forearm exchange being the only moment that threatened to bubble over. Instead, the focus was on getting Utami and Kamitani ready for that title shot (although considering the current champions are stranded halfway around the world, I'm not sure when it will happen), as they picked up a convincing victory over a solid pairing.
As for the wrestling, I still find Tall Saya a fascinating watch. She's clearly prodigiously talented, but has an air of erraticism. More often than not, she'll execute something perfectly, but there is also always a chance that she's going to end up somehow landing on her head. Is it bad that it makes me like her more?
Outside of that, Gori-chan and Utami is a pairing I'd like to see more of. Then again, I want to see Iida wrestle everyone, so that's not saying much. Stop being cowards Stardom and give her all the belts.
Verdict: Good Stuff
Syuri defeated Starlight Kid
Syuri and Kid had some interesting interactions in the main event of the last show, so it was cool to see Stardom leap on that and put them together here.
They quickly proved it wasn't a fluke too. There is a natural storyline in place for these two with Kid as the plucky underdog and Syuri the mean shooter. No-one is going to call it an original match structure, but it's one that works, particularly when the wrestlers are this talented.
And you've got to think that Bushiroad's quest for marketable wrestlers (whatever that means) includes Starlight Kid. She's not only a fantastic in-ring talent with an ace mask that every kid is going to want to own, but she's brilliant at drawing sympathy. Her yells as Syuri twisted on her arm are nearly as effective as those fiery comebacks, throwing herself into the air to gain traction.
On the other side of the ring, Syuri is someone you can always rely on. She played that big bully role to perfection, booting Kid around and working at a slow, tormenting pace. In the end, she'd have too much for her younger opponent, a brutal head kick turning the tide, but this was one of those matches where both come out looking fantastic. More of that, please!
Verdict: Brilliant!
Mayu Iwatani and Riho defeated Queen's Quest (Momo Watanabe and AZM)
Riho's back! Twitter has been getting all in a tither about her not defending her High Speed title enough, so I'm sure they'll be delighted to see her.
There was some peak Mayu moments in this match, including her falling off Momo's back when she attempted to stand on it. She recovered, clambering back up to do a bit of surfing as she and Riho embraced their inner evil. Those two have a similar 'beloved babyface who is actually incredibly mean' vibe.
I can't imagine anyone will be surprised to know that this was good. Shove these four together in any combination, and you're going to come away satisfied. One this day, the focus was definitely on Mayu vs Momo and AZM vs Riho, occasionally making it feel like two separate feuds being smushed together, but they're good feuds, so I ain't complaining.
To top it off, Mayu got the win with a particularly vicious looking Modified Dragon Sleeper. Someone should definitely send it to SANADA because that's how it's fucking done.
Verdict: Talented Wrestlers Do Good Wrestle
Oedo Tai (Natsuko Tora, Natsu Sumire and Saki Kashima) defeated Donna del Mondo (Giulia, Jumbo and Maika)
I said it on the last show, but this Oedo Tai trio with the awesome remix of their theme are fucking badass. Thankfully, it looks like we're going to be seeing more of them as they set themselves up for a shot at the Artist titles.
They did so in a match that saw DDM get a taste of Oedo hospitality. Giulia, in particular, found herself on the end of a rough beatdown, being slammed on Natsuko's chain.
Despite that, it was the DDM team that stood out in-ring. Jumbo had another strong showing, getting Natsu and Saki up into a Torture Rack at the same time and powering out of her introduction to Natsu's crotch. Maika, meanwhile, went to town on Saki with the judo throws, tossing her around in a way that looked fucking painful.
If there is one thing we've learnt about Saki over the years, though, it's that she can win at any moment. Giulia looked like she was in control, but that Revival is a get out of jail free card. Saki wriggled away and bundled her shoulders to the floor, inflicting Giulia's first pinfall defeat in the process. The DDM leader certainly wasn't happy about it, Jumbo and Maika having to drag her away from both the ref and Kashima afterwards.
That was an enjoyable main event. I'm repeating myself here, but DDM are a breath of fresh air in these matches. They curb that Stardom urge to take-off and charge wildly into the frantic, which I think suited this version of Oedo Tai. People like Natsuko are more at home at this pace and were able to look all the better for it.
Verdict: Lovely Stuff
Saki made the challenge for those titles official in the post-match before slapping Giulia across the face and heading to the back. It was left to Syuri to talk her boss down (leading to Giulia amusingly claiming that she was calm seconds after she'd be screaming for the 'old hags' to get back out here). The upside was that Giulia's mood left Syuri to close us out, giving her perhaps her first chance to show some personality in Stardom. Unsurprisingly, she rose to the task well.
Overall Show
That was an impressive show. Stardom is still trying to steady the ship after everything that has happened, but they are starting to figure things out and plug in the various gaps caused by COVID etc. They're in the blessed position of being able to rely on a talented roster to deliver in the ring, giving them plenty of chances to sort out the rest.
Watch Stardom: http://www.stardom-world.com/
If you enjoyed this review, please consider contributing to my Ko-fi, even the smallest amount is appreciated.