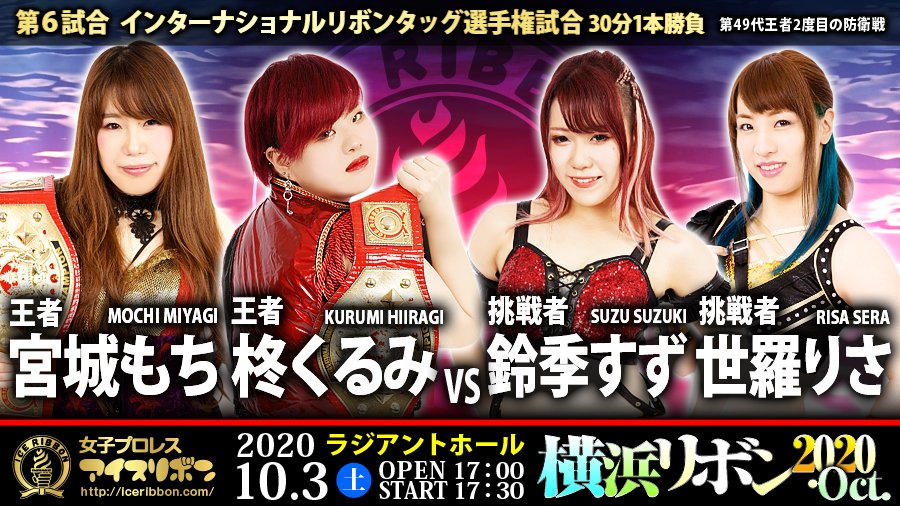 It was a bit of a busy weekend for the old joshi, wasn't it? Everyone seemed to be running shows, and nearly all of them delivered something noteworthy. Why was that the case for Ice Ribbon? Well, read on to find out.
Sadly, the show opened with Asahi announcing she'll be stepping away from wrestling to focus on her studies. She got emotional, which caused me to get emotional, and there were tears. The good news is that it wasn't a retirement as she wants to return, so fingers crossed we see her again.
Spring Meteor (Tsukushi and Ibuki Hoshi) defeated Hamuko Hoshi and Satsuki Totoro
Ibuki vs Ham is always a good time as they perfectly capture Ibuki's teenage frustration and her determination to show Hamuko up. Then again, they probably capture it because Ibuki is a teenager wrestling her mum, so there must be at least a slither of real-world angst in there.
It was also a match in which Skoosh spent a lot of time wrestling people twice her size who, in theory, could squash her like a bug. Of course, they can't actually do that because she's Skoosh and she's brilliant. Alright, that's not strictly true, she did get a little bit squashed. She avoided the biggest one, though, slipping away when Totoro came off the second rope with a Senton, so that's the important thing.
It was a fun opener, Spring Meteor once again proving to be a golden pairing. Ham also had some words for Ibuki afterwards, but nothing that I was able to pick-up on so that chat will have to remain a mystery. Oh, by the way, if anyone wants to buy me that Totoro Totoro t-shirt, I will be eternally grateful and give you nothing in return. I've already given Ice Ribbon far too much money recently.
Verdict: Fun Opener
Joint Army (Matsuya Uno and Tae Honma) defeated Maya Yukihi and Yappy
Joint Army are down one Syuri which is a sizeable hole to fill. Thankfully, they're still really cool, so it's not going to hurt them too much.
It was Ice Ribbon's other ridiculously cool wrestler that shone here, though. Coming off her first-ever match with another company, Yappy was fired the fuck up. There were hints of it early on, the way she repeatedly leapt into the air to come crashing down on Tae's chest being our first notice. However, it was the long back and forth she had with Uno that let her really shine. Maya and Tae essentially became passing figures, chasing each other in and out of the ring while those two went at it, a fantastic showing that continues to prove how far Yappy has come.
Then, even though she'd lost, Yappy decided she'd had enough with these pesky Joint Army types, charging into Uno as she celebrated, desperate to keep the fight going. Fingers crossed that leads to a singles match between the two because it would rock.
Verdict: Yappy Is So Cool
Rina Yamashita defeated Maika Ozaki
After a brilliant performance in a recent tag, I was looking forward to watching Ozaki again. It was, in theory, a hoss match, but a hoss match in which one wrestler was much more of a hoss than the other.
For this almost felt like Rina was testing Ozaki. Long parts were her bullying the younger wrestler, sending shuddering blows into her chest as she overpowered her at every turn. Ozaki proved hard to keep down, though. Rina would send her to the ground, but she kept getting up, refusing to be a punching bag and making sure she wasn't going to be the only one waking up sore.
And while Ozaki's not a rookie, this felt a bit like a breakout performance from her. She went out there with one of joshi's premier hosses and stood her ground, trading blows and looking like a badass in the process. Yes, she did eventually stay down, but she made Rina fight for it, a giant Crucifix Bomb needed to see her off. Having previously made little impact on me, it's fair to say Ozaki has now won me over.
Verdict: Ozaki Steps Up
Ram Kaicho defeated Akane Fujita and ASUKAMA in a three-way match to retain the Triangle Ribbon Title
ASUKAMA is an Asuka parody who I believe wrestles a lot in 666. It wasn't someone I recognised (unless I was being dumb) and I don't follow 666, so have no idea if they appear under a different name too. They're clearly attached to the gimmick, getting very annoyed when Fujita accidentally pulled off their wig, dealing out a vicious kick in response.
When she wasn't de-wigging people (it happened more than once), Fujita spent a decent amount of this match trying to teach Ram some manners. Everyone's favourite wee goth was being her usual belligerent self and dishing out two-finger salutes, so Akane decided to work over those fingers, dishing out a lesson and trying to win the match, that's multi-tasking.
Despite having her most important fingers bent in all manner of nasty ways, Ram did manage to come away with her title intact, a Flying Thesz Press getting the three on ASUKAMA. Her title reign is proving to be a lovely combination of good wrestling and nonsense, a pairing that I will always have time for.
Verdict: It's Spooky Season
Ram's post-match promo was interrupted by Fuminori Abe coming out in a, em, unusual get-up which included a bald cap. A whole lot happened, a lot of it amusing, that I won't bother recounting, but Lady Koju popped up again, and I think they're Ram's next challengers? Honestly, who knows. (People who speak Japanese better than me, that's who.)
Tsukasa Fujimoto defeated Saori Anou
The match billed as Tsukka vs X ended up being Saori Anou making her way into Ice Ribbon. She has appeared before but this time she's sticking around.
Her debut saw her handed both a blessing and a curse. Fujimoto has proven she can have a decent match with a broom, so there was no chance she was going to look bad (not that I'm saying Anou is a broom, she's good in her own right). However, you're up against the Ace, so it wasn't going to be a nice easy warm-up to get you in the groove. Tsukka was happy to welcome her to the company with open arms and a beating.
Anou refused to be overwhelmed, though, taking her opportunity to shine. She went toe to toe with Tsukka, matching her at moments as they traded Enziguris. It felt like a benchmark-setting performance. She's come into the company and pushed the Ace, coming close, but ultimately falling short when Fujimoto flipped out of a Bridging German at the last second (seriously the timing was immaculate). Anou now has a target to hit, and I'm looking forward to seeing if she can do it.
Verdict: Brilliant Match
The Frank Sisters (Hiragi Kurumi and Mochi Miyagi) defeated Hyakkaryoran (Suzu Suzuki and Risa Sera)
Suzu and Risa came armed with lightsabers because why not. They're a more effective weapon than The Frank Sisters' franks, that's for use.
It's probably not ideal as tag champions to have the company's two single champs standing across from you. Especially when that pairing is no thrown together team, but two wrestlers who have teamed together before and have the gear to prove it. Suzu and Risa presented a significant challenge to the Frank Sisters, moments like Suzu climbing onto Risa's back so they could hit a Double Double Knee Drop coming very close to getting the win.
What Suzu and Risa didn't have was a tank. In the end, this felt like it came down to pure power. Mochi and Suzu basically went one on one for the final stretch, Risa and Hiragi only popping in at opportune moments. It was an awesome back and forth, pulling off multiple spots where I thought the match was over. What made the difference, though, was muscle. Mochi and Hiragi were able to keep their opponents at bay better, and when the chance came to strike, they struck hard.
What was interesting was that it was Suzu who took the fall, the big champ rather than the weird champ. It's an intriguing move that perhaps hints Ice Ribbon aren't going to be afraid to make her look vulnerable. She's seventeen, on her first reign and has been shown to be beatable. It's the kind of thing that opens up opportunities, an idea expanded upon in the aftermath.
We're here to talk about the tag title match, though, and it ruled. These four went hard, so it's no surprise they delivered because they're all rather good as this wrestling malarky.
Verdict: Brilliant
A hell of a lot happened in the post-match, and I'm not even going to try to fill you in on it all. I recommend you watch it to get the full effect. We should, however, spare a thought for poor Yuki who challenged everyone and ended up with nothing. It left her not only questioning herself on Twitter but also being insulted by, well, herself. Anyway, as far as I could tell Ozaki and Rina challenged for the tag titles, Fujita and Ram booked a match, Mochi challenged Suzu and, most surprisingly, so did Haruka Umesaki who hit the ring in her Diana tracksuit. That's a whole lot of potentially great wrestling, so I ain't going to complain.
Overall Show
I mentioned the other day that SEAd don't really do bad show, but can we say the same for Ice Ribbon? This was another fantastic outing with a bunch of great matches and a whole load of entertainment. Then, to add to the fun, everyone decided to challenge everyone else, so the future looks bright too. I am indeed happy with pro-wrestling.
Watch Ice Ribbon on niconico: https://ch.nicovideo.jp/iceribbon
If you enjoyed this review, please consider contributing to my Ko-fi, even the smallest amount is appreciated.