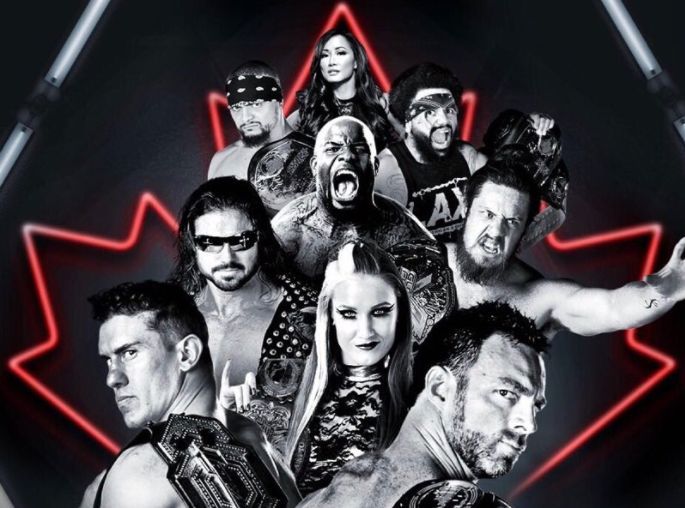 The last time I reviewed Impact, I said it would be exactly that, the last time. However, since then there has been more creative changes and the company seems to be heading in the right direction. So, once again, we step into the breach. It's Bound For Glory time and Impact's biggest show of the year is getting another chance to impress me. Let's dish out some stars.
Trevor Lee defeated Petey Williams, Sonjay Dutt, Desmond Xavier, Matt Sydal and Garza Jr to retain the X Division Title
This was a six-man under twisted Lucha rules. Two men were in the ring and while you could tag in you could also jump in without a tag if someone left the ring.
Garza Jr was competing with an injury as his shoulder was strapped up and he was protecting it all the way through the match. It was pretty stupid to let him wrestle if he could barely move his arm.
That aside, this was what you'd expect, an enjoyable car crash. The crowd was hot for Petey Williams and it was a nice move to give them the Destroyer but not the victory as Lee stole it away from the local hero.
Verdict: Three Stars
Taiji Ishimori defeated Tyson Dux
Taiji Ishimori was flown to Canada for an unannounced five-minute match during which the camera spent more time looking at a 'drunk' Laurel Van Ness than him. I don't care if he works the tapings, that's a horrible waste of talent.
This was a TV match masquerading as a PPV encounter. It wasn't bad, it was just a lot of nothing.
Verdict: Two Stars
I don't give a flying fuck that Alberto El Patron was found to be not guilty of domestic abuse. Taking something that serious and turning it into a wrestling angle is not on. It's a disgusting promotional tactic and everyone involved should be ashamed of themselves. Patron has proven himself to be a liability time after time and yet Impact keeps going back for more.
Even ignoring the content this was an awful promo as he rambled on incoherently for far too long. If Impact wants people to stick around this isn't the way to do it.
Abyss defeated Grado in a Monster Ball match
My affection for Grado meant I didn't hate this. However, if it had been anyone else in this match with Abyss, I'd have called it what it was. A garbage match with several unfortunate botches.
Going in, I was hoping that we were going to get a Borash special filled with pre-recorded backstage bits and unusual goings-on. Instead, we got the same Abyss match we've been getting for years with added Laurel Van Ness and Rosemary. Barbwire and thumbtacks are not enough anymore.
It's possible to have this kind of match and make it work. I've actually seen Grado do it before when he lost the ICW World Title to Chris Renfrew. Sadly, this was a fraction of the match that was.
Verdict: Two Stars
Team Impact (Eddie Edwards, James Storm and EC3) defeated Team AAA (El Hijo del Phantasmo, Pagano and El Texano Jr)
If you didn't check out Eddie Edwards' match with Marifuji in NOAH a few weeks ago, it's definitely worth a look. Figured that was worth mentioning.
This a bit less so. EC3 was acting like he didn't care while Pagano clearly didn't care. Then EC3 was back to caring, but by that point, I'd stopped.
The whole thing never clicked and I don't think the fans in attendance felt a big enough connection with Team Impact to make it feel important. They spent at least some of the match chanting Lucha. I appreciate Impact working with other companies and bringing in their talent, I just wish they'd use them better.
Verdict: Two And A Half Stars
oVe (Dave and Jake Crist) defeated LAX (Santana and Ortiz) to retain the Impact Tag Titles in a 5150 Street Fight
It's never good when you have fans chanting 'we can't see shit'. Still, that Santana dive was scary.
This was a better brawl than Abyss Grado, but it takes something special to make me care about this kind of match in 2017 and – while everyone worked hard – this wasn't enough. People think it's easy to go out and hit each other with stuff and get a reaction, it's not. You can't ditch storytelling for chair shots. Jake Crist superplexing himself onto some chairs was funny, though.
I've mentioned before that I don't have much time for Sami Callihan the wrestler which combined with his alleged history of domestic violence makes me incredibly unexcited to see him debut in Impact. Even taking the chosen wrestler out of the story, it was a weird finish. Are oVe now heels? It certainly felt heelish. However, the announcers didn't sell it that way and the crowd responded by doing nothing. It was a flat finish to an enjoyable enough brawl.
Verdict: Two And A Half Stars
Gail Kim defeated Allie and Sienna to win the Knockouts Title
The first match since the opener that I have no major complaints about. I know some people think putting the belt on Kim rather than having her put someone over is a mistake, but there's still a chance she does the job before she goes. Even if she doesn't, it's a worthy reward for an incredibly underrated talent.
The match itself was solid from start to finish and sometimes that's all you need. All three women gave their all and while I'm not entirely convinced by Sienna, this was the best performance I've seen from her so far. It's unlikely this hits up any match of the year lists and yet while it was on it was perfectly enjoyable.
Verdict: Three Stars
Getting Jimmy Jacobs in post-WWE firing makes perfect sense. However, the crowd reaction here suggested that the people who are watching Impact aren't the ones who care about that stuff. In a savvy indie company this works, in Impact, I don't think it does.
Lashley and King Mo defeated Moose and Stephen Bonnar in a Six Sides of Steel match
This made you appreciate Matt Riddle all the more didn't it? Being an MMA fighter doesn't mean you can instantly wrestle. They filled this with shenanigans and even allowed the two of them to work an MMA match in the middle of the fight and they still looked terrible. Dan Lambert might cut a good promo, but his fighters can't do pro wrestling.
This was a mess of a match, and the one upside was that Moose worked his arse off. Combine this with his recent showings in RevPro, and I've done a full 180 on him. It's just a shame it was surrounded by crap.
Verdict: One And A Half Stars
Eli Drake defeated Johnny Impact
The more things change, the more they stay the same.
This was a TNA main event, and no, I didn't just forget the name of the company this month. It was the kind of thing we've seen from them for years. A smorgasbord of interference and shortcuts rather than a straight-up match between two relatively talented wrestlers.
Don't get me wrong, it had its moments. Impact had some crowd pleasing offence and his slide under the barrier was cool. I also think Eli Drake has charisma even if he isn't the greatest worker in the world. When it was just those two, it was a decent match. It was when Adonis and Patron got involved that it became a problem.
In the end, this wasn't about Impact vs Drake. It was about Patron, a man who not that long ago embarrassed the company. If that's how you choose to end your biggest show of the year, don't be surprised if those giving you a chance don't come back.
Verdict: Two Stars
Overall Show
I'm an idiot. I heard Impact had been alright recently and I went back to the dog that bit me. I could have spent the hours I've put into watching and writing about this show checking out Dragon Gate or practically any other wrestling company in the world. Instead, I went back to the plate of shit that I'd tasted before. Well, this time it truly was the last time and it's going to take more than Bound For Glory to have me come back to Impact again.