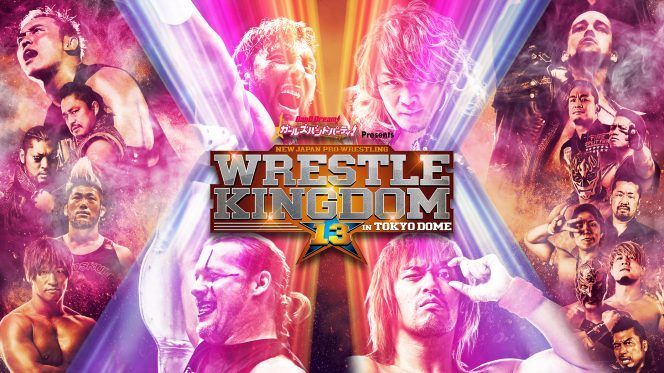 Now we've got all that Christmas and New Year malarky out the way we can get down to the real business. It's Wrestle Kingdom season, truly the most wonderful time of the year. Last year I put together a little preview/prediction post intended for people who haven't watched much NJPW, and I've decided to do it again. I'm going to dive into the background of each match, how I think they'll go and who should come out as the winner. WRESTLE KINGDOM!
Pre-Show Gauntlet Match – CHAOS (Chuckie T, Beretta and Hirooki Goto) vs Jeff Cobb, David Finlay and Yuji Nagata vs Ryusuke Taguchi, Togi Makabe and Toru Yano vs Suzuki-gun (Minoru Suzuki, Lance Archer and Davey Boy Smith Jr.) vs The Elite (Marty Scurll, Hangman Page and Yujiro Takahashi)
The winner of this match will be the number one contenders for the NEVER Six-Man Titles which are currently held by Tama Tonga, Tonga Loa and Taiji Ishimori. I suspect that will take place at New Year Dash, but I don't think anything has been confirmed.
Beyond that, there is no central story although there are a few issues among the various teams. Yano, who is a member of CHAOS, is teaming with Taguchi and Makabe (who are Taguchi Japan/GBH guys) after Makabe came to his aid during a Bullet Club beatdown. This is continuing a recent theme of New Japan blurring the line between the CHAOS faction and the independent members of the roster while Makabe and Yano have been a team in the past. It will be at least mildly interesting to see how those three interact. I can tell you one thing for certain, with Yano and Taguchi on the team, you can guarantee it won't be taken seriously.
Then there's The Best Friends and Goto pairing. Chuck Taylor has been working a storyline that sees him flip out in matches, going all hardcore and beating people's asses. I suspect we'll see him do that again, either to set up their victory or cause a DQ. Whether it proves to be the end of the story or not remains to be seen, but we'll definitely get a chapter in it.
As for who wins? No idea, those titles would be worth more as scrap than they are at the moment so it could be anyone. Because of the Taylor story, I'm going to go with CHAOS, though.
Prediction: CHAOS (Chuck Taylor, Beretta and Hirooki Goto)
Kota Ibushi vs Will Ospreay for the NEVER Openweight Title
That's one hell of an opener, isn't it? The NEVER Openweight Title is unique in New Japan as both Juniors and Heavyweights can challenge for it. Or at least that's the theory. In reality, that's rarely been the case making this a bit of a unique match-up, although all signs point to Will stepping up to Heavyweight so you could argue it's still not being used properly.
Either way, Ibushi and Will have been openly flirting for a while now. Kota has shown intrigue at the idea of getting into the ring with Ospreay, an idea that Will (for obvious reasons) was behind. Sadly, Ospreay's recent injury issues meant we had to take a twisty path to get here – they were unsure how long the injury was to keep him out, so they put the belt on Goto for a bit just in case – but get here we have. Now, the only thing that can stop this being great is people expecting too much. It's the opener, and they will have a time limit, so bear that in mind. There's a chance their magic will be slightly restrained.
Traditionally in New Japan, Juniors never beat Heavyweights, but if Will is making a move to Heavyweight, this would be the perfect time to announce him. I'm also of the opinion that Kota vs Kenny Omega should be the Maddison Square Gardens main event, meaning he needs to drop the NEVER belt at some point. With that in mind, let's go with a Will Ospreay victory.
Prediction: Will Ospreay
Suzuki-gun (El Desperado and Yoshinobu Kanemaru) vs Roppongi 3K (SHO and YOH) vs Los Ingobernables de Japon (Shingo Takagi and BUSHI) for the IWGP Junior Tag Titles
Roppongi 3K won the Super Junior Tag League in a final contested by these exact same teams. That earned them a shot at the champions (Suzuki-gun) and then New Japan added LIJ because, well, there wasn't a reason really. Let's be honest, it was a mess and invalidated the whole tournament.
However, this will still be a great match. Look for them to get around ten minutes and just go balls to the wall with it. These three teams (although with Hiromu Takahashi in Shingo's spot at the start of the year) have faced off a lot recently, and they all work well together. Look for Roppongi to be fiery, Takagi to be a strong boy, Suzuki-gun to cheat and BUSHI to be BUSHI. It will be a lot of fun.
That should also lead to the second title change in a row. Suzuki-gun has held those belts for a long time, and while they've done a good job, it's time for a change. Who they go to depends on the long-term plan with Shingo. I'd like to see him pushed as a singles wrestler, but I suspect NJPW might wait until Super Juniors to do that. A run with the tag belts would be the perfect way to tide him over until then, so let's go with Takagi pinning Kanemaru setting up a feud between LIJ and RPG3K.
Prediction: Los Ingobernables de Japon (Shingo Takagi and BUSHI)
Tomohiro Ishii vs Zack Sabre Jr. for the British Heavyweight Championship
This will be a cool moment for RevPro as their World Title is defended at Wrestle Kingdom. Ishii took this title from Zack over WrestleMania weekend before trading it with Sabre's Suzuki-gun boss, Minoru Suzuki. Now, ZSJ is stepping back up to the plate, as he looks to revenge his mentor, and something tells me these two will have one hell of a match to determine if he succeeds or not.
The winner will probably come down to who is free to spend more time in RevPro and, weirdly, I have a feeling that might be Ishii. ZSJ works a packed indie schedule alongside his NJPW commitments, regularly heading off to the US etc. Big Tom, meanwhile, only really does New Japan and the occasional ROH tour. It wouldn't be that hard for him to jet to the UK every now and then to appear in RevPro.
It's possible I'm overthinking this, and the obvious will occur with Sabre taking his title home. For one thing, he's the pushed man in NJPW while Ishii can lose every match he has and be over. Still, I'm going to put my neck on the line and stick with my original call. On you go, Ishii!
Verdict: Tomohiro Ishii
Guerrillas of Destiny (Tama Tonga and Tonga Loa) vs Los Ingobernables de Japon (Sanada and EVIL) vs The Young Bucks (Matt and Nick Jackson) for the IWGP Heavyweight Tag Titles
Much like the other tag title bout, the build to this made no sense. Guerrillas of Destiny and LIJ faced-off in the final of World Tag League with LIJ getting the win. That should have earned them a shot at GOD's titles on this show. However, the Bucks wandered down to ringside and demanded they be added, despite missing the gruelling tournament that had just occurred. You ever get the impression that famous tag team wrestler Gedo doesn't care much about tag teams?
As much as that annoys me, The Young Bucks will make this better. For one thing, they have heat with GOD as the Guerrillas turned on them early in the year, forming the new look Bullet Club. Plus, anything that limits GOD's involvement is a godsend because fuck me are they dull. Fingers crossed this is built around LIJ and the Bucks with GOD popping in and hitting a couple of moves every now and then. If that's the case, it should be at least good.
Unfortunately, I suspect that no matter how it's built Tama and Tonga will leave with the straps. The Young Bucks sound like they are going to be a bit busy over the next few months while LIJ both have bigger fish to fry at this point (2019 should be Sanada's year). It's not the exciting pick, but it makes sense.
Prediction: Guerrillas of Destiny (Tama Tonga and Tonga Loa)
Cody vs Juice Robinson for the IWGP US Title
Cody beat Juice for the title in the US a few months ago and, as far as I can remember, hasn't done much with it. In fact, outside that daft three-way with Kenny and Kota, I don't think he's had a match. Then again, it's easy to forget three-star Cody. Anyway, Juice wants the title back and beat Beretta at Global Wars in what was essentially a number one contender match to get a second shot at it.
This is the one pairing on the card that might flop. Juice is a good wrestler who gets the fans behind him, but Cody is, well, Cody. He's as likely to pull out an average performance as he is a great one. Despite that, he has shown that with the right wrestler he can be pulled up a level or two while his psychology is second to few. If he goes out there with the sole intent of getting Juice over and making him look great, they could do enough to at least get pass marks.
Which leads to the fact that Cody has to lose this match. The poor US Title has struggled this year, and with Cody joining the Bucks in having a busy few months ahead, it needs a champion who will be around. Juice is a popular talent in both Japan and the US, so he seems the perfect guy to carry it. Let Robinson and the belt work together to elevate each other.
Prediction: Juice Robinson

KUSHIDA vs Taiji Ishimori for the IWGP Junior Heavyweight Title
I'm not really sure there is a story for this one. Ishimori pinned KUSHIDA during the Super Junior Tag League and demanded a title shot, job done. In NJPW's defence, Hiromu Takahashi suffering a neck injury while holding the title has obviously derailed their plans.
In what is a recurring theme, that shouldn't stop you from tuning in. KUSHIDA and Ishimori are the kind of wrestlers who don't have bad matches. When you put two of those guys together, you're generally going to get special. There are also rumours swirling that KUSHI is on his way out, and he's the type who will want to leave on a high.
That kind of foreshadows my prediction for the winner. However, even if KUSHIDA is sticking around, I still think they should make the switch. KUSHI has done everything he can with that belt, while Ishimori is a fresh face. Slap the strap on him and let's see what he can do.
Prediction: Taiji Ishimori
Kazuchika Okada vs Jay White
Now, here's a match with a story. At last year's New Year Dash, Jay White rejected an offer to join the Bullet Club. He then joined a CHAOS a few days later with the caveat that he promised Okada that he would stab him in the back. While it would take a while for that to happen, White spent the rest of the year sowing distrust in the group, turning them against each other. Then, after Okada lost to Tanahashi at Destruction, he attacked, leaving CHAOS, revealing that Okada's manager Gedo was on his side and joining the newly Eliteless Bullet Club. He was only making good on his own promise.
All of which leads to this, the biggest match of White's career. Last year at the Dome, Knife Pervert fell flat against Tanahashi, so this is his moment to make up for it. He needs to show what he can do in the ring with the best wrestler on the planet. The shenanigans have to be left at the door, as this is his chance to go out there and put on an NJPW style classic.
He also has to win because otherwise, this is all pointless. Okada is still on his post-Heavyweight Title downward spiral, and while I understand the temptation to start his comeback here, this should actually be his lowest moment. He needs to be left lying in the centre of that ring while the Bullet Club celebrates his downfall. That's the moment that will make White and transform Okada's comeback into something truly special.
Prediction: Jay White
Chris Jericho vs Tetsuya Naito for the IWGP Intercontinental Title
Chris Jericho burst into New Japan over a year ago challenging Omega at Wrestle Kingdom and losing. Then, at New Year Dash he attacked Tetsuya Naito only to vanish afterwards as rumour swirled that NJPW were unable to agree to a new contract with him. Well, that turned out to be fake news as Jericho returned, beat Naito for the IC Title and then beat EVIL too for good measure. Suddenly, this was personal.
Because here's the thing, Naito despises that title. Whenever he's got his hands on it, he's either trashed it or left it at home. It means nothing to him, because it's not the Heavyweight Title, and the idea of him chasing the champion is weird. However, Jericho has pissed him off, and while Naito preaches Tranquilo, there is a part of him that is anything but. With this being made a no DQ match, expect this to be a wild brawl, with plenty of shortcuts to hide Y2J's physical limitations. While I'd normally dread that, Jericho's history in NJPW suggests it will be fantastic.
And in the end, whether he wants it or not, Naito will get his hands on that big white belt once again. Then, he should go on to have the exact same first half of the year that Kenny Omega did in 2018. He can start by losing the belt to Jay White at some point in the next few months before going onto win the even bigger one at Dominion. Look at that, not just a prediction for January 4th, but for the six months after it too. I spoil you.
Prediction: Tetsuya Naito
Kenny Omega vs Hiroshi Tanahashi for the IWGP Heavyweight Title
Gosh, the build to this has been a bit of a mess, although it all began fine enough. When Tanahashi lost his Heavyweight Title shot to Okada earlier in the year, people wondered whether Father Time had finally caught up to The Ace. Then the old fucker went and won the G1, before revenging his defeat to Okada in a defence of the briefcase. So far so good, but that's when things got strange. Suddenly, this became a battle of philosophies. Tanahashi and Omega weren't cutting wrestling promos, they were shotting, discussing their dislike of the way the other constructs matches. While it was an attempt to sprinkle in some of the real-life tension between the two (Tanahashi thinks Omega's wrestling lacks subtlety while Omega feels Tanahashi's is slow and boring) into the feud, I don't think it worked. It mainly ended up being a bit confusing. Then there was Kenny's Quest which is an Undertale style video put out by Omega, that was fucking weird. Anyway, the point is that the story is a mess, but we have ended up with something that you can at least pretend is simple. This is the old school of New Japan, Hiroshi Tanahashi, going up against the new, Kenny Omega.
And, it is going to be absolutely incredible wrestling match. They might look at this stuff differently, but that doesn't stop Omega and Tanahashi being two of the best to pull on a pair of boots and some tight spandex. This will be the wrestling equivalent of opera, an over the top spectacle of action and excitement. That rivalry between the two is what will push them to continually raise the stakes and make this truly breathtaking.
I know people want Tanahashi to win, particular as Kenny's been a bit of an arse lately, but he's not going to. Omega makes money. He's younger, more marketable outside of Japan and has been on fire for the last two years. While you can moan about him all day, those facts remain facts. Tanahashi's time has come to an end and his final hurdle will come at the Tokyo Dome and for the first time he's going to stumble and, ultimately, fall.
Prediction: Kenny Omega