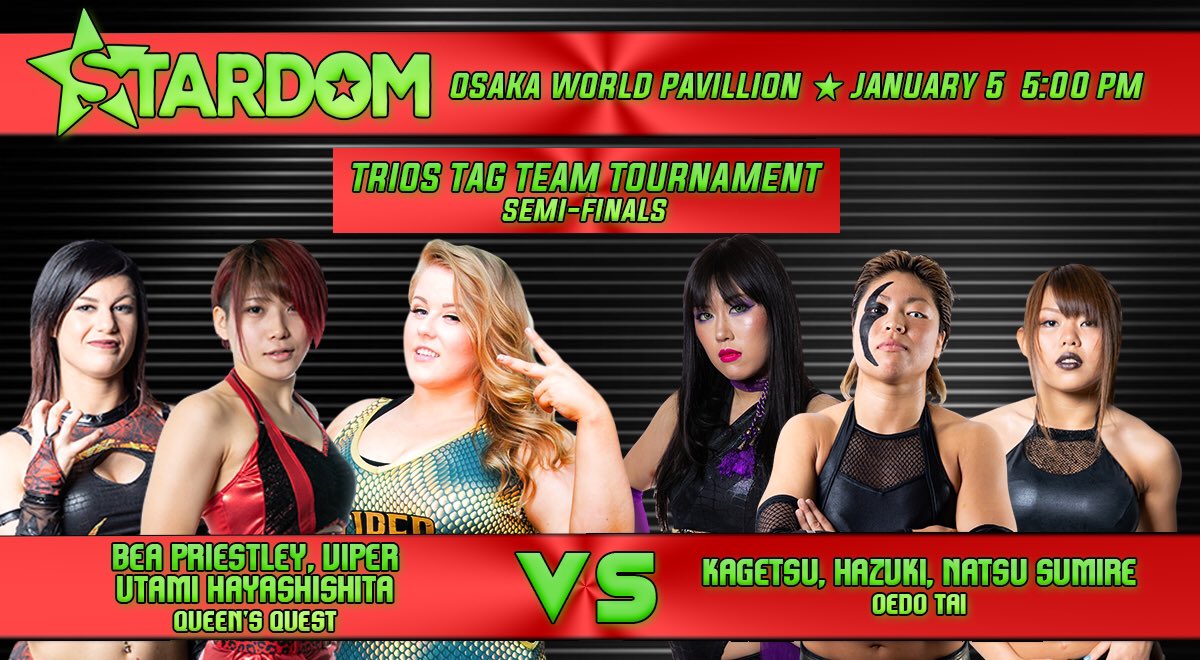 This was Stardom's fourth show of the year and their second to take place on the 5th of January. That's one hell of a work rate. It's also served as a perfect introduction to the company for me as I already feel like I'm getting a grip on who everyone is. Now watch as I make some massive mistake during this review.
Sadie Gibbs and Jamie Hayter fought to a time limit draw
Sadie Gibbs' entrance theme is atrocious. It starts off as 'Amazing Grace' before descending into a weird discordant guitar sound. I listen to a lot of music that people would (wrongly) describe as noise, but that's painful.
We kicked things off by channelling Finlay vs Regal at The Great American Bash 2006 as Hayter and Gibbs engaged in a very long lock-up. They grappled out the ring and into the crowd before returning to the apron where they broke it up.
That was used to set-up a shockingly physical match-up. This might have been the opener, but Gibbs and Hayter went all out to impress, throwing stiff strikes and hitting aggressive moves. There was a Powerbomb onto the apron and a Neckbreaker across a knee that looked particularly painful.
It wasn't perfect, Gibbs had an awkward tumble over the top while Hayter's follow-up knee was openly delivered to the ropes right in front of the camera. However, when two wrestlers are working this hard, that feels irrelevant. You could see they were doing everything to prove themselves and when the bell was rung for a time limit draw it felt like the perfect result. Neither deserved to lose.
What really made it stand out what the little things. The way they wrenched on chin locks or how their strikes in the closing minutes were thrown with desperation rather than precision. This was the first time either of these wrestlers made me think they had a potential to be a star.
Verdict: Four Stars
Queen's Quest (AZM, Konami and Momo Watanabe) defeated Hanan, Hina and Rina
Two of the teams that fell at the first hurdle of the Trios Tournament go head to head as Queen's Quest got a chance to get their win back against the rookies.
The way they have these kids work is hella enjoyable. You never buy that they're better wrestlers than their more experienced opponents, but they are quick and wrestle as a team. Most of the damage dished out to Queen's Quest was done to each other as a rookie would duck out of the way at the last moment causing a boot to connect with an unintended target.
Not that it ever does them much good. While the sisters battle hard, it's never enough. Still, it was a fun match while it lasted.
Verdict: Two And Three Quarter Stars
Tam Nakano, Bobbi Tyler and Mary Apache defeated JAN (Jungle Kyona, Natsuko Tora and Ruaka)
Hana could not have looked less impressed during her team's pre-match promo. This is another face-off between two of the losing teams from earlier in the day as they fight to regain some of that elusive pride stuff that I kept hearing about.
There isn't much to say about this one, it was a perfectly acceptable match that never rose about that level. The highlight was Tam Nakano and Jungle Kyona going at it. Kyona stealing the show in the mid-card is becoming a recurring theme. She's rather good.
Bobbi got the win after her team locked on a trio of submission moves and Ruaka tapped. If you're in a rush, you can happily skip this.
Verdict: Two And A Half Stars
Stars (Tam Nakano, Saki Kashima and Arisa Hoshiki) defeated Stars (Starlight Kid, Alex Gracia and Natsumi) in the semi-final of the Trios Tag Team Tournament
Tam's shtick of having absolutely no time for Hoshiki is wonderfully entertaining.
Further proof that Stardom is going all in on Starlight Kid wasn't needed, but this provided it anyway. After a pacey start, she ended up working the bulk of this match, facing off first with Nakano and following up by tangling with Hoshiki. Both sections stood out, as it becomes more and more apparent that whatever it is, she has it.
The final act would leave Hoshiki in the ring with Natsumi as the rookie stole several near falls. Unfortunately for her, she wasn't able to get the job done, even with the aid of her partners. A Hoshiki Brazilian Kick saw her off and Stars gained the victory over, well, Stars. It's safe to say that Stars were the real winner in the whole thing.
Bad joke aside, this was dominated by Starlight Kid who was fantastic once again. At seventeen it's almost scary to think that she is only going to get better.
Verdict: Three And A Half Stars
Queen's Quest (Viper, Utami Hayashishita and Bea Priestley) defeated Oedo Tai (Kagetsu, Hazuki and Natsu Sumire) in the semi-final of the Trios Tag Team Tournament
Oedo Tai's pre-match promo consisted of a delightfully awkward rap. You've got to applaud them trying.
They looked a lot more vicious when they attacked before the bell and ended up dragging Queen's Quest into the crowd to torture them with chairs. This was a proper beatdown, and while I often complain about these things, it's been kept to a minimum in Stardom, making it more effective when it is employed. Poor Viper took a horrible looking chair shot.
When we returned to the ring, these women turned on the talent. There wasn't a single second where something wasn't happening as bodies tumbled around. The highlight came when Viper was getting her revenge on Kagetsu for said chair abuse. I already knew Viper was great, but Kagetsu is firmly establishing herself as a favourite of my Stardom watching so far. She's got it all, from the way she carries herself to the actual wrestling.
Bea would get the win over Natsu to set-up a Stars vs Queen's Quest final as this tournament continues to quietly deliver.
Verdict: Three And Three Quarter Stars
Queen's Quest (Viper, Utami Hayashishita and Bea Priestley) defeated Stars (Tam Nakano, Arise Hoshiki and Saki Kashima) to win the Trios Tag Team Tournament
No rest for the wicked as these women competed in their third match of the day. You've got to assume those legs were beginning to feel a bit heavy.
Stars tried to overwhelm Viper at the start, but she ended up taking all three out, and Queen's Quest went to work on Kashima. Viper is like a friendlier version of WALTER. Much like The Ring General, her opponents realise that if they're going to win, they have to neutralise her. Sadly for them, it rarely works.
I'm not sure if there was a story running through this match, but it was wonderfully entertaining. Much like the previous contest, it was a constant whirlwind of activity with people sliding in and out of the ring. Everyone was given a moment to shine as they dug deep and threw everything they had left into the action.
Utami was the star, though, right up to getting the win. It ended with her and Kashima, and I loved the way they were throwing themselves at each other. The strikes might not have had the snap they did earlier in the day, but that wasn't going to stop them from throwing them. Of course, that might have been because they were actually exhausted, but it worked either way and was a perfect end to a great bout.
After the bell, Utami challenged her stablemate Viper at Korakuen Hall before Queen's Quest closed out the show.
Verdict: Four Stars
Overall Show
Another thumbs up for Stardom. Two four-star matches put this up as one of my favourite show yet, and I'm still in slight shock at how great Gibbs vs Hayter was. I'd be fascinated to see if other people felt the same, so if you do watch it, let me know!
Watch New Year Stars: http://www.stardom-world.com/
If you enjoyed this review, please consider contributing to my Ko-fi, even the smallest amount is appreciated.