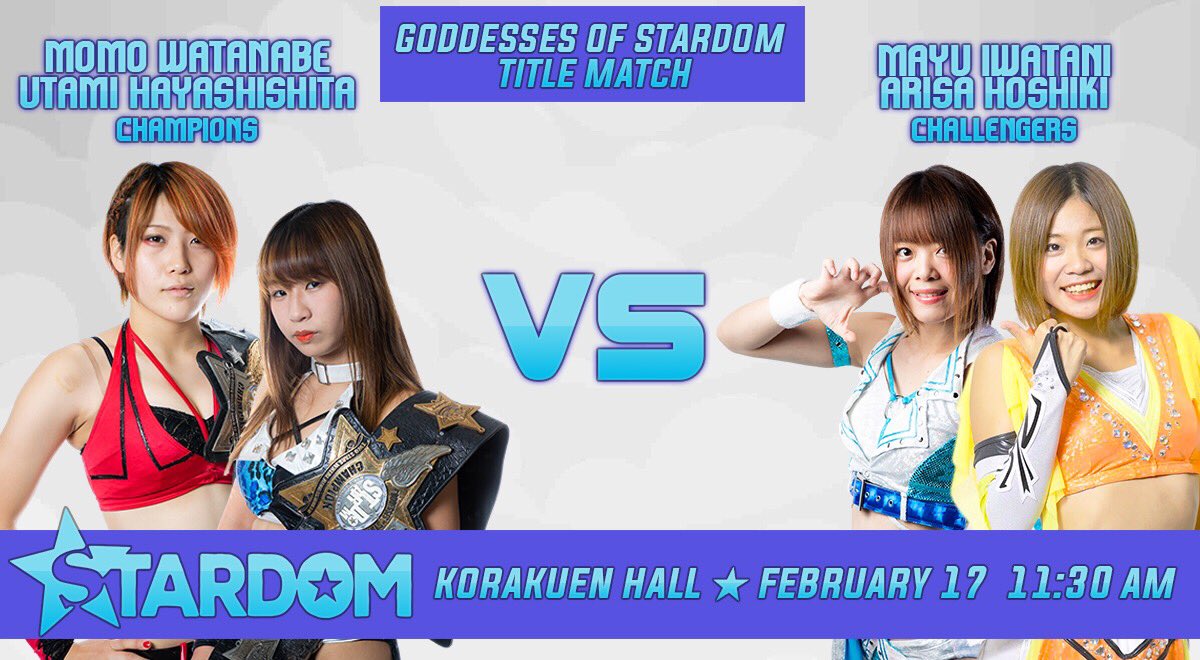 Stardom's February trip to Korakuen Hall brings with it a new member for Oedo Tai, another youngster going after Hazuki's High Speed title and a big tag team main event. On paper, this show had the potential to be very good, did it live up to that? Time to find out.
STARS (Starlight Kid and Hanan) defeated JAN (Leo Onozaki and Saya Iida) and Hina and Rina in a Three Way Tag
Leo Onozaki has been injured for the past three months which means this is my first time seeing her. Unfortunately, she's returning to the ring in Ruaka's spot as she'll be out for a bit.
Onozaki's time on the shelf didn't earn her any sympathy as Hina and Rina quickly joined forces with their big sis and her STARS' buddy. Saya and Onozaki were forced to deal with all four opponents, as it seems like the sister' connection to STARS has been cemented.
Eventually, things broke down as this turned into a fun little match. Starlight Kid was pivotal as someone who is clearly a step or two ahead of everyone else in the ring. You got the feeling she was directing traffic and would eventually pin Iida with her 180 Frog Splash. Entertaining while it lasted, but nothing you need to see.
Verdict: Two And A Quarter Stars
Hana Kimura and Bobbi Tyler defeated Pink Dream Team (Saki Kashima and Alex Gracia)
Having bonded over their love of pink, Kashima and Gracia have been branded Pink Dream Team. Judging by Gracia's social media, they've become genuine friends. I love shit like that, all wrestlers should be friends. Especially wrestlers that don't really speak the same language, that only adds to the wholesome nature of it.
I can happily report that Bobbi seems to have finally nailed her half of the Double Romero Special. They pulled it off without a hitch again, while Tyler went on to have a lot of fun beating Saki up while posing for the cameras. I talked about Kashima and Gracia's friendship, but from the outside looking in it feels like being placed with Kimura has really helped Tyler settle into this tour.
Outside of all that, this was fun. I didn't have much good to say about Tyler vs Gracia at the last show, but even they brought it here, although Kimura vs Kashima was the highlight. Hana never seems to half-arse these things, and she's always throwing elbows like she hates her opponents. It brings a sense of urgency to her matches that helps elevate her in-ring.
Kimura would end up putting Alex away with a Missile Dropkick to continue Team Hana's good form.
Verdict: Three Stars
Konami defeated Jamie Hayter
Hayter has consistently delivered recently, and this proved no exception. After being out-wrestled by Konami early on, she was able to brute force her way into control and began pulling out every dirty tactic in the book. Her submission always included a fistful of hair or an arm across the throat. It was a perfect example of how to be an utter prick in the ring.
Despite that, Konami was never out of this. She's a fantastic wrestler, and when Hayter gave her an arm, she locked on an Armbar. Time after time she'd find a way to do a little bit more damage, setting herself up for that Triangle Lancer.
And then, just as looked like Jamie was going to win, she struck. Hayter had Konami on her shoulders when something woke-up inside of her. Desperately, she battled out before pulling Jamie to the floor and into the death move. Within seconds, Hayer was tapping.
This was really good. The finish was a bit sudden for my tastes, as it slightly came out of nowhere, but they'd done enough setting up for it that it wasn't a total disaster. As mid-card singles matches go, this nailed it.
Verdict: Three And A Half Stars
Hazuki defeated AZM to retain the High Speed Title
Hazuki and AZM are always hella entertaining and this proved no different.
We opened with AZM using that incredible speed to try and catch Hazuki off-guard. She's ridiculously light on her feet, and there is an effortlessness to the way she moves around the ring that looks astonishing. Unfortunately for her, she was in there with someone a bit meaner than her. Hazuki responded to her elegant wrestling by booting her in the chest and kicking her in the face a load of times. Simple, but effective.
That set-up the dynamic of the match, as AZM played the plucky underdog, desperately trying to win her first singles gold against the bullying Hazuki. At points, Hazuki was no-selling AZM's offence, walking into Dropkicks and mocking her younger opponent as she took control.
But AZM never gave up. She was able to create distance and fly across the ring, taking Hazuki off her feet and focusing on her strapped up shoulder. That had the potential to be the difference maker, and AZM was determined to take advantage of it. While her offence wasn't perfect, she slipped out of a La Mistica style set-up for an Armbar, the wrestlers responded brilliantly, sliding seamlessly into a series of close falls before doing it again. It was the best response to an awkward moment.
Let's give some credit to Hazuki too, who is almost too selfless. I spoke in my last Stardom review about how much she gave to the sisters, and once again she was in a generous mood. Hazuki made AZM look great here, as she's happy to drop onto the backfoot and let her opponents show what they can do. In the cut-throat world of wrestling, it's so refreshing to see someone go out of their way to elevate others.
In the end, though, Hazuki would have too much. Power would trump speed, as a duo of Axe Kicks, a hard Powerslam and a vicious Brainbuster stole the day. Still, this was another top title defence from Hazuki and an impressive performance from AZM. I think everyone can go home happy.
Verdict: Three And Three Quarter Stars
Oedo Tai (Andras Miyagi and Kagetsu) defeated JAN (Jungle Kyona and Natsuko Tora)
The Oedo Tai dance ended with the unmasking of X, and as she stood there, I remembered that I know absolutely nothing about Joshi outside of what I've seen in the last month or so, so had no clue who she was. Some of the fans certainly seemed to recognise her, and she was introduced as Andras Miyagi. I'm off to Google her and find out more. Back in a bit.
Okay, so Miyagi was formerly Cassandra Miyagi and is one of Satomura's lot, so Sendai Girls is her home promotion. Or was. She left at the end of last year. From what I can gather she's worked an unhinged rocker gimmick in the past, so we'll see if we get that from her in Stardom too. Right, back to the match.
The focus of this was Miyagi. We quickly got to see a bit of that character I alluded to as she launched Kyona into the crowd and then later dragged Tora into the middle of the ring by her hair before forcing her to headbang. Kagetsu and her felt like a natural team as they both seem to embrace the ancient art of shithousing. It's a skill set that I can appreciate.
Outside of that, she's got a good look, as it looked like she was taller than everyone else in the match, but still moved around the ring nicely, hitting a beautiful Missile Dropkick and selling well for the JAN comeback. There wasn't enough here to make a definitive decision on her abilities, but it was a positive first impression.
Outside of that, Kagetsu, Jungle and Tora were their usual brilliant selves. They're three reliably great wrestlers who rarely if ever drop beneath a certain level. If you're going to make your debut in a promotion, you couldn't pick three better people to share the ring with.
All things said it was a damn fine back and forth match where Miyagi picked up the win with a Senton Bomb. Then, after the bell, Kagetsu introduced Oedo Tai's latest member to the Korakuen crowd, job done.
Verdict: Three And A Half Stars

Queen's Quest (Momo Watanabe and Utami Hayashishita) defeated AMA (Mayu Iwatani and Arisa Hoshiki) to retain the Goddesses of Stardom Titles
We're getting the big match introductions as we followed both teams from the back to the ring. It's a simple touch, but an effective one.
Momo wanted to start the match with Mayu, but Hoshiki wasn't having any of that. Good for her. Too often wrestlers just accept that their opponent isn't interested in fighting them. Hoshiki went out with the intention of kicking Iwatani until she acknowledged her.
It worked for a bit too, but ultimately neither team was able to control this match. The action danced between them with everyone putting in one hell of a shift. We might be more than a week removed from this show, but I can only assume that their bodies are still complaining about the ordeal they put them through. At one point, Mayu drew a groan of sympathy from the Korakuen crowd when she delivered a forehead to forehead headbutt to Momo. It's the kind of move I'd normally condemn, but I suspect their hair hid the fact that she pulled it at the last moment because there wasn't the clunk or the concussion symptoms that you'd expect from such a spot.
And while the interactions between Iwatani and Watanabe were as fantastic as you'd expect, I'm going to give this match to Hoshiki because while everyone worked hard, she took it a step further. I don't have the stats for who spent the longest in the ring, but I can safely assume it was her. She never seemed to stop moving, constantly turning up with a new flurry of kicks or being suplexed onto the back of her head. I've liked her since the start, but this was the best performance I've seen yet.
The fact I haven't even mentioned Utami sums it up. She'd play a pivotal part in the finish, twisting Iwatani round from a Torture Rack into a German Suplex which crumpled her up like a discarded sweetie wrapper. Meanwhile, Watanabe was finishing the job with Peach Sunrise as the champs retained. This was one hell of a match, and a fantastic way to cap off Stardom's latest trip to Koarkuen.
Although, we weren't quite done. After the match, Watanabe called out Jungle Kyona and challenged her to a match for Momo's Wonder of Stardom Title. How exciting.
Verdict: Four And A Quarter Stars
Overall Show
A successful trip to Korakuen for Stardom, at least in the ring, I have no time how it did business wise. The title matches were the obvious highlight, but Oedo Tai's new member and a solid win for Konami meant there was action all across the card. Stardom continues to be new favs, long may it remain that way.
Watch Stardom: http://www.stardom-world.com/
If you enjoyed this review, please consider contributing to my Ko-fi, even the smallest amount is appreciated.