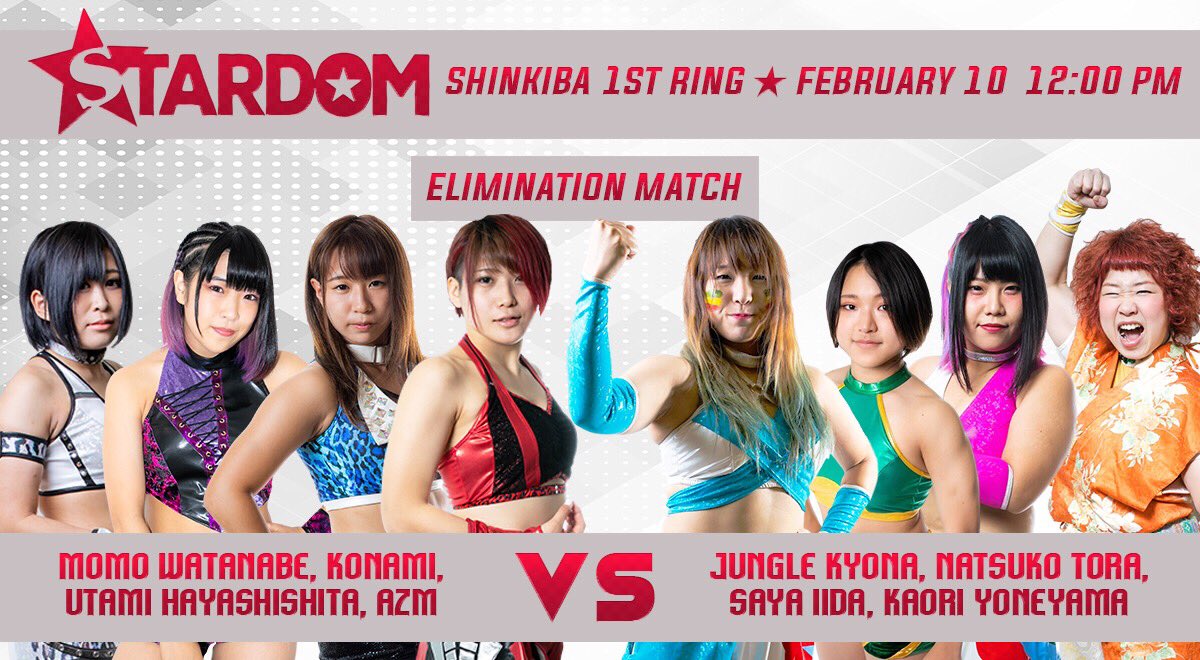 On their final stop before February's trip to Korakuen Stardom gifted us a trio of singles matches. Wasn't that nice of them? I guess we should get on with talking about them.
Saki Kashima defeated Ruaka by referee stoppage
Today I learnt that people call Kashima The Pink Beansprout and that's my new favourite wrestling nickname.
Sadly, said joy was shortlived as this match ended due to Ruaka suffering an injury. She came down awkwardly off a throw and instantly grabbed hold of our shoulder. Kashima continued for a few seconds before the ref realised something was wrong and called for the bell.
I'm not going to be rating this and just hope that Ruaka gets better soon! All the best to her.
Verdict: NA
Bobbi Tyler defeated Alex Gracia
This was a bit of a nothing match as they went for six minutes and spent the majority of that running through some basic chain wrestling. The action that followed was nowhere near enough to make up for the fact it was all a bit dull.
Still, it was another win for Tyler who is building some momentum.
Verdict: Two Stars
Oedo Tai (Kagetsu, Hazuki and Jamie Hayter) defeated Hanan Shimai (Hanan, Hina and Rina)
Kagetsu continues to poke fun at Tam Nakano during her entrances. She was sporting a panda mask and wielding a 'sword' this time around. She followed up by once again mimicking Iwatani during her introduction. Always stirring the pot is our Kagetsu.
Oedo Tai started the match feeling hard done by as the ref checked them beforehand, but took the sisters' word that they weren't packing heat. That anger gave the rookies a chance to attack and go to work on Hazuki, with Hanan getting her in a Boston Crab and Rina a Camel Clutch.
Hazuki would then go on to give her opponents a hell of a lot in this one. There were multiple moments where I assumed the tide was about to turn, only for her to end up right back on the mat, selling for the sisters. Even a run in from Yamaguchi wasn't enough to get Oedo Tai back into this as the High Speed champ put on a selfless performance. It allowed the sisters to put have one of the best matches I've seen from them as a couple of near falls even got me to the edge of my seat.
Hazuki would end up never leaving the ring, as it came down to her and Hanan battling it out. The rookie had a couple more scares in her before Hazuki would finally manage to lock on the Crossface and force a submission. That was a hell of a showing from her that made her opponents look fantastic. Great stuff.
Verdict: Three And A Half Stars
Hana Kimura defeated Starlight Kid
Starlight Kid was looking for revenge as Hana ripped off her mask the last time they faced off. Apparently, she refers to Kid as 'Loli Mask' which as far as I can tell (via Google) is essentially a Lolita reference.
Starlight Kid was in hurry to enact that revenge too, as she flew out the gates, dropkicking Hana's leg out from under her. With Kimura having just come off a match where Konami focused on the same leg, that was a lovely bit of continuity.
Sadly for her, she wasn't on the front foot for long. Kimura escaped to the floor and Starlight tried to leap after her, only for Hana to step aside. She then dragged Kid to the top of the stand, kicked her down the stairs, slammed poor Iida onto her and tied her mask to the ring post. It was some fantastic character wrestling as it all basically amounted to her bullying Starlight Kid.
Back in the ring, Hana continued her mean ways, going after the mask. Eventually, though, Kid had enough. She fired-up and stood her ground, exchanging strikes with Kimura before leaping onto her back and locking in a choke. It was a choke that she clung to desperately, resisting multiple attempts made by Hana to stand-up and fight her off. This was an angry Starlight Kid, and she was determined to punish the bully. Sadly, the bad guys sometimes win. Kimura would escape the submission and a couple of suplexes followed by a vicious Missile Dropkick gave her the win.
This was great. There was a couple of moments towards the end where things got a bit sloppy, but it almost worked with their story. These two were laying into each other, so their inability to hit moves perfectly sold their exhaustion. Make an effort to check this out.
Verdict: Three And Three Quarter Stars
Queen's Quest (Momo Watanabe, Utami Hayashishita, Konami and AZM) defeated JAN (Jungle Kyona, Natsuko Tora, Kaori Yoneyama and Saya Iida) in an Elimination Match
This was your standard Japanese Elimination rules, so going over the top rope could also take you out the action.
And AZM came extraordinary close to having an early shower. Jungle punked her out after offering a handshake at which point JAN rushed the ring and tried to throw her over the top. She frantically grabbed onto the ropes and then needed to be caught by her teammates when JAN came back to finish the job.
Even after that sneak attack, this was another impressive performance from AZM. She got a rare chance to play the dominant wrestler against Iida, and took to the role well, eventually eliminating her. Then her own elimination would only come around when Yoneyama grabbed hold of her and convinced Kyona to knock them both off the apron.
Kyona would follow that up with a fun showdown against Konami, one that she would eventually come out on top of, which left her and Tora to face off once again with the Goddesses of Stardom champs. That led to a particularly ferocious battle between Jungle and Utami. It's a recurring theme that anything those two are involved in is good, so it really wasn't a surprise that them beating each other up was also enjoyable.
Although, truthfully, everything in this final period was great. Jungle and Momo had a terrific back and forth on the apron, both teetering on the edge of elimination before Watanabe came out on top. She'd then return to the ring to do battle with Tora, who I don't think I rave about enough. It often feels like her job is to make other people look good, but she's a fantastic worker in her own right and would eventually revenge Kyona's elimination only to fall after a fun battle with Utami.
This match felt a bit random. AZM is facing off with Hazuki at Korakuen while Momo and Utami take on Stars, so there didn't seem to be a reason for them to be in the ring with JAN. However, it made up for that by being a whole load of fun. The final section was particularly enjoyable, and if you make the time to watch this, you will not regret it.
Verdict: Three And Three Quarter Stars
Overall Show
Another solid show from Stardom backed up by two standout closing matches. Kid vs Hana is well worth going out of your way to see, and while we've seen similar action to the main event before, it was still a hella lot of fun. The rest of the show is skippable, but also watchable, so if you've got the time, check it out.
Watch Stardom: http://www.stardom-world.com/
If you enjoyed this review, please consider contributing to my Ko-fi, even the smallest amount is appreciated.