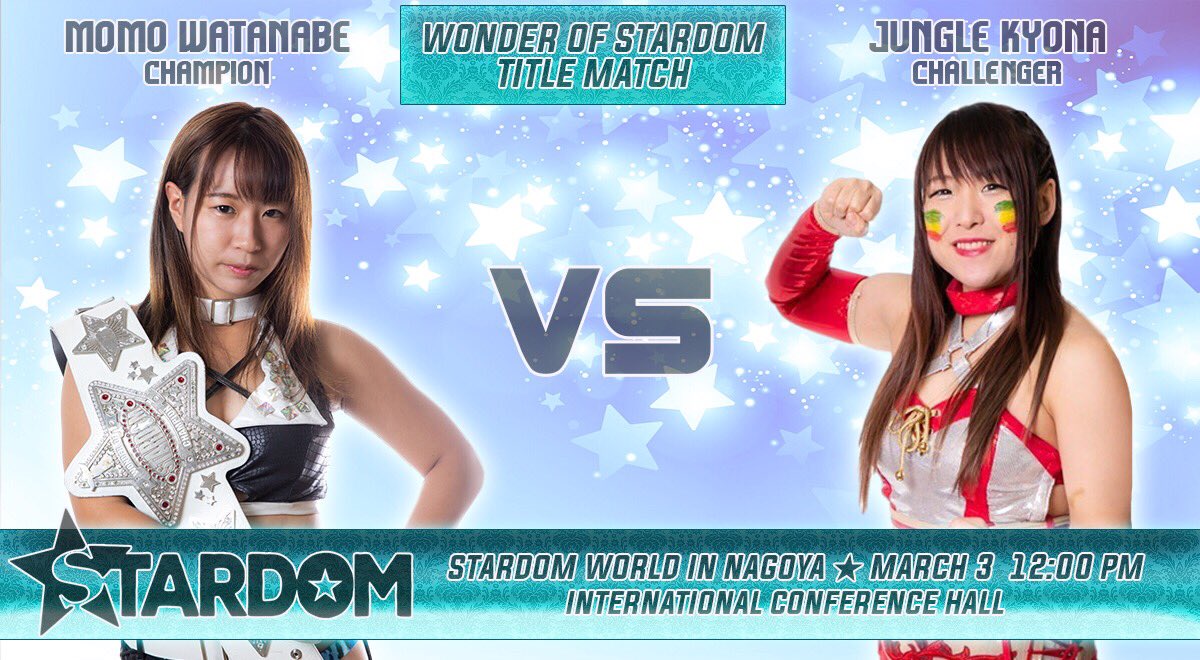 Stardom ventured to Nagoya where they'd put together a fantastic card for the occasion. Not only did they bless us with Kyona vs Watanabe (a match which has been getting all the hype), but it was backed-up by Artist Of Stardom and SWA Title matches. It's fun for all the family.
JAN (Leo Onozaki and Kaori Yoneyama) defeated Hina and Rina
Yoneyama took her usual spot putting the rookies through their paces/corrupting them. For such a smiley lady, she is not afraid to bend the rules and rile the crowd up. She even got in a bit of foot stomping When Rina made the mistake of lording the fact that she's taller than Yoneyama over her.
Outside of that, this was your standard Stardom opener. A simple match designed to give the rookies a run out before Yoneyama pinned both twins after flattening them with a Senton. Decent, but utterly forgettable.
Verdict: Two Stars
Hana Kimura defeated Hanan
Hana thinks that Hanan's name is too similar to her's, so decided that if she won Hanan would have to be rechristened N. Something tells me that wasn't an official stipulation…
Whether she was fighting for her name or not, Hanan was not messing around. She sprinted to the ring and went straight after Kimura with a series of dropkicks. Sadly, while it might have been the right idea, Hana was in no mood for messing around. Kimura responded by dumping the rookie to ringside and slowing the pace right back down.
What followed was about as dominant a performance as you'll see. Kimura took Hanan to school, cutting off her comebacks with ease and happily driving her boot into her face. She even started blowing bubblegum while she had the rookie up in a Romero Special.
Kimura would get the win with her Modified Octopus Hold which may well have a name, but I don't know it. Either way, it looks vicious, and this was an enjoyable squash.
Verdict: Two And A Half Stars
Queen's Quest (Konami and AZM) defeated JAN (Natsuko Tora and Saya Iida)
A match defined by two highlights. First up we got Tora and Konami facing off in a battle of brawn vs brains. Natsuko was determined to try and pound Konami into the ground while she responded with trying to tie her foe's arm up. It wasn't a long battle, and it won't blow your mind, but while it lasted, it was entertaining fare.
We then got the finishing sequence between AZM and Iida where they ran through their flash pin collections. That was a load of fun, with there being one moment where I genuinely thought Saya had powered AZM down to the mat for three. It was two young wrestlers grabbing their moment to shine, and they did a great job.
Those two moments added up to a decent match. There's not much more to say.
Verdict: Three Stars
Arisa Hoshiki defeated Starlight Kid
Amazingly, this is Hoshiki's first singles match since she returned from injury at the end of last year. She's featured heavily on the tag side of things, so it hadn't even occurred to me that I've never seen her in one on one action.
The advantage of holding off on this match was that Hoshiki had long ago worked off her ring rust. These two were smooth as hell, slipping between moves and making it all look ridiculously easy. Starlight Kid has dropped down the card a bit after a hot start to the year, but she's still bringing it in-ring, and she dominated large portions of this with her high-flying offence.
Hoshiki's strengths are simple, though, and when she starts kicking everyone is in trouble. A flurry of offence towards the end followed by a big knee to the face was more than enough to leave Kid staring up the lights.
The lack of time prevented this from excelling, but it was still an entertaining little match. Hoshiki has been in a position to impress recently and consistently does; you can't ask for more than that.
Verdict: Three And A Quarter Stars
Utami Hayashishita and Bea Priestley was ruled a no contest after both wrestlers failed to answer a 10 count. Utami Hayashishita retains the Eve International Title
Judging by her actions, Utami was sympathetic to her team mate's efforts to take her belt as she gave her a hell of a lot of this match. Early on Priestley went after the arm of the champ, stamping it into the mat. From there, she was dominant, restricting Hayashishita to hope spots and looking like she was heading to an easy victory. For the vast bulk of the action, Utami was hanging on.
However, Bea wasn't able to get the job done, and over time she began to pay for it. Utami's burst of power started to add up, and while you can swat off the first rally, by the third and fourth you are beginning to struggle too. Going into the final act, it looked even between the two.
And, ultimately, even is what it was. With both women reeling they collided in the centre of the ring with dual Lariats. As the ref counted, it became clear that neither one of them was getting up. Which, was a bit of a flat ending. I get it. Stardom can now go back to this at a later date, and it protects Bea while keeping the belt on Utami, but it felt like this was just about to take off, and then it was over. Still, it was solid while it lasted.
Verdict: Three And A Quarter Stars
STARS (Mayu Iwatani, Tam Nakano and Saki Kashima) defeated Oedo Tai (Kagetsu, Hazuki and Natsu Sumire) to retain the Artists Of Stardom Titles
Oedo Tai did their usual and jump started the match before brawling into the crowd. Is it law in Japan that every promotion must have a faction that does that? It certainly feels like it.
Thankfully, it didn't go on too long as Hazuki brought Iwatani back to the ring and started a period in which she was the star. That probably shouldn't be a surprise as it's becoming the norm for Hazuki to stand out. She had sequences with all three champions, and each one brought something different to the table. Her strike off against Tam was particularly impressive as the High Speed champ continues to cement herself as one of my favourite wrestlers.
When she finally left the ring, this broke down into your usual trios chaos. People were bouncing in and out, aiding their friends or walking into moves. Both of these groups seem to have worked on wrestling as a three, and it stands out. In a lot of other companies (cough New Japan cough) their equivalent of these belts are nearly meaningless as matches and teams are thrown together willy nilly. By having these wrestler work together as trios, it is a lot easier to believe they care about the belts.
The final seconds saw a mix-up in Oedo Tai turn the day. Kagetsu ended up spraying Natsu with water, and when Tam leapt from the top to the floor, she wiped out the rest of Oedo Tai. Back in the ring, Iwatani hit a Moonsault and got the win. That was an enjoyable bout that won't go down as a MOTY contender but still delivered.
Afterwards, Kagetsu grabbed the mic off Iwatani and told STARS this was part of her plan. She then declared that her, Hazuki and Miyagi were the real Oedo Tai team so they would still be coming for the Artist belts. Poor Natsu, she not only got pinned, now her teammates are ditching her. We weren't done yet as both AZM and Konami challenged Hazuki for the High Speed title. She accepted both, declaring that it would be a three-way-dance, ugh. Give us singles matches! Anyway, after all that STARS finally got their chance to celebrate.
Verdict: Three And Three Quarter Stars
Momo Watanabe defeated Jungle Kyona to retain the Wonder of Stardom Title
Stardom went all out to give this a big match feel, starting both competitor's entrances from the back and having hometown hero Jungle Kyona presented with enough flowers that she could probably open a shop.
After the pomp and circumstance was over, the early portion of this match got across the idea that these two women were, talent-wise, inseparable. Kyona would take control, going after the leg of Watanabe, before Momo would rally, attacking Jungle's mid-section only to be hit with a vicious Powerbomb onto the ring apron and have the hometown star transition to attacking her back. Every time it looked like one of them was about to pull away, the other found a way into it. It felt like it was going to come down to who fucked up rather than who the better wrestler was.
And the first fuck-up came from the champ. Watanabe had successfully hit a Missile Dropkick before, but she made the mistake of going back to the well. This time, Kyona was ready, and she met her on the top rope, before deciding there was only room for one of them up there. A Splash followed by a Sharpshooter racked up the pressure on a back which not long before had been driven into the apron.
Watanabe would not quit, though. She dragged herself across the ring to reach the bottom rope and battled on. In fact, she didn't just battle; that moment seemed to give her the fire to enter the next act as suddenly these two were throwing everything at each other. They stood in the ring trading bombs and desperately seeking a way to put the other down. At one point, Momo managed to hit Tequila Sunrise, only for her injured back to give up as she attempted to bridge into the pin, giving Kyona a chance to fight on.
Somehow, after all of that, these two still found another gear. The final moments were big move after big move. Kyona hit a Muscle Buster, Watanabe a B Driver. Both were being spurred on by the desperation not to lose as the Nagoya crowd screamed for Jungle. And, in the end, it came down to, as predicted, a mistake. Kyona went up top and came crashing down as Watanabe rolled out of the way of the Splash. While she would go on to kick out of a Tequila Sunrise that sent her halfway across the ring, the Peach Sunrise would prove a step too far. Jungle Kyona was finally put to rest.
What an incredible performance (Stardom's own Twitter have gone as far as naming it as one of the best matches in the company's history). These two started simple and then layered moment after moment on it. From what I've read online it was packed with callbacks for those long-term fans (which it's worth reminding people, I am not) with the bitter disappointment of Kyona not winning the big one in her hometown also playing into a recurring theme. I had a few minor quibbles, I felt like Watanabe's selling was a bit inconsistent, but that's being picky. While this might not have been perfect, it was damn close.
Verdict: Four And Three Quarter Stars
Overall Show
A show that built as it went on before culminating in a Match Of A Year standard main event. Watanabe and Kyona smashed it, but this entire show felt like a biggie and was a fantastic watch. While I'd have to go back and check, it's probably my favourite Stardom show so far, so make sure and watch it.
Watch Stardom: http://www.stardom-world.com/
If you enjoyed this review, please consider contributing to my Ko-fi, even the smallest amount is appreciated.