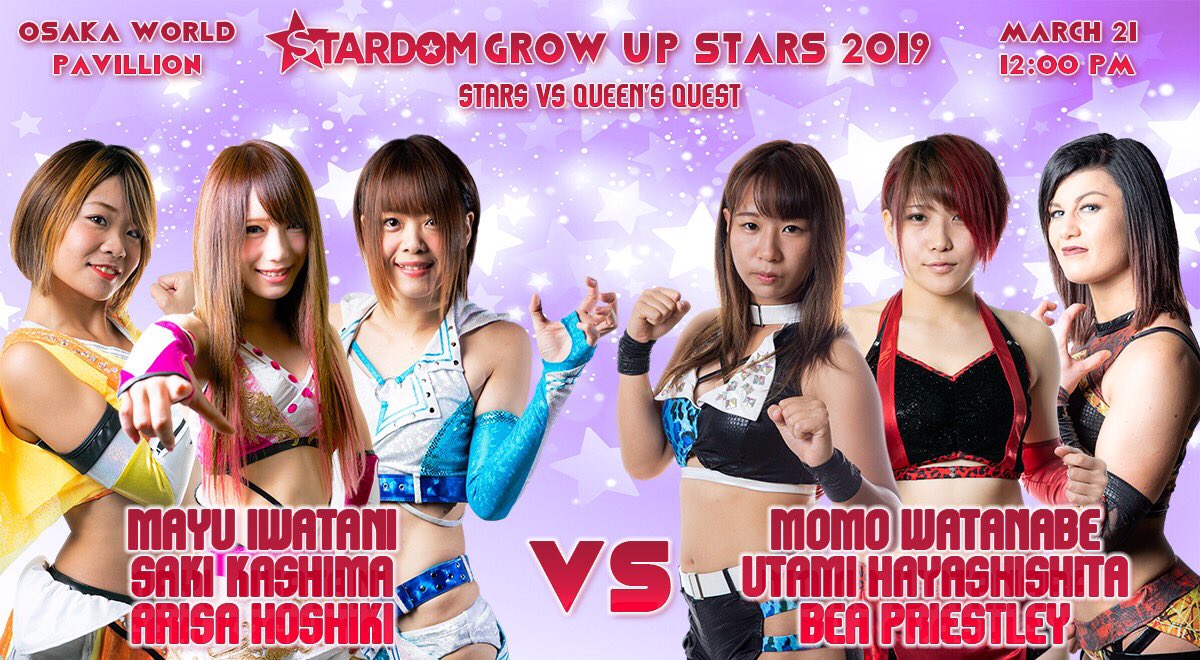 After a bit of a break (although there was a lucha show during which some Stardom talent put on a decent match), Stardom is back with two shows in one day. Nothing like being eased back into it, eh?
Konami defeated Natusko Tora and Leo Onazaki
Unfortunately, these three never seemed to click. Everything was a second or two off, and there was no flow to the action. Whether it was a lack of chemistry or just one of those days, it's hard to say. It is probably better forgotten. There were some entertaining moments, with Onozaki dictating things to her elder teammate Tora, much to Natsuko's apparent bemusement. Not that it did the rookie much good as she tapped out to the Triangle Lancer.
Verdict: One And A Half Stars
STARS (Starlight Kid and Xia Brookside) defeated JAN (Jungle Kyona and Saya Iida)
Nothing much to report on here, it was pretty standard tag team action with Iida spending a lot of the match being worked over by STARS. Kyona getting involved raised the quality, but there wasn't enough of that to elevate it beyond anything past decent. It was a chance for Brookside to pick up another win ahead of her High Speed title match, though, so in that sense, it did its job.
Verdict: Two And A Half Stars
Oedo Tai (Natsu Sumire and Hazuki) defeated Queen's Quest (Viper and AZM)
Natsu has sniffed out a conspiracy theory as she believes Stardom are trying to kill her by putting her in the ring with Viper the afternoon before her title match. She valiantly passed the responsibility of dealing with Viper to Hazuki because that's good leadership.
Sadly, Viper hadn't been informed of that delegation, as she seemed intent on causing pain to poor Natsu. The upside of that is that we got to watch a bit more of AZM vs Hazuki which is becoming a reliably impressive flurry of action whenever they're in the ring together.
In fact, this whole match impressed. The four wrestlers worked at a decent pace and kept the action flowing. We even got a couple of great false finishes with AZM leaping from Viper's shoulders with a stomp which I thought for sure was game over. In the end, though, Sumire warmed up for her title match, not by dying, but by rolling up AZM for the three.
Verdict: Three Stars
Rebel Kel and Goya Kong defeated Oedo Tai (Kagetsu and Andras Miyagi)
Rebel Kel is a newbie about whom I can't find much. My initial impressions are that she's tall (she appeared to have an inch or two on Miyagi) and could use relaxing a bit. Both her wrestling and her pre-match promo were a bit wooden. However, it's only Kel's first show in a new company in a whole new fucking country, so I think it's harsh to form too strong an opinion early on. We'll give her some time.
This match wasn't about her anyway. It was all about setting Goya Kong up for her shot at Kagetsu. I was intrigued about that particular confrontation as it seemed a sudden elevation for Kong, but everything they did here suggested it could be a hell of a fight. They're putting the blocks in place to tell the story of whether Kagetsu can overcome the pure power of her challenger.
On this day, she most definitely couldn't. Kong hit her with a Sit Out Package DDT… something like that. She had Kagetsu in a Package DDT, but Kong sat down with it rather than falling back. Whatever it was, it fucking worked, alright? It worked so well Kagetsu was put in a neck brace post-match. Although, she did then walk out of the arena. The point is, the champ might be in trouble.
Verdict: Three And A Quarter Stars
Queen's Quest (Momo Watanabe, Utami Hayashishita and Bea Priestley) defeated STARS (Mayu Iwatani, Arisa Hoshiki and Saki Kashima)
STAR's pre-match promo turned into them having a little dance. In case anyone thinks I'm joking when I praise these things, I want to make it clear that I genuinely love how unashamedly awkward they are. You get more attached to the wrestlers from three minutes of Mayu being Mayu than you would from twenty minutes of scripted nonsense.
This match is already infamous for kicking off Japanese Ocean Cyclone Suplex-gate. Bea Priestley using it has pissed off its creator Manami Toyota leading to her and Ospreay throwing a lot of snark Toyota's way. Now, I think wrestlers whining about people using their moves is fucking daft, but Will and Bea regularly prove themselves to be total bellends, so I don't particularly want to take their side. It's all stupid, let's talk about wrestling instead.
Although, there isn't that much to say about it. It was a good match! These six-women tags very rarely fall short. Stardom packs the ring with great wrestlers and lets them do their thing. Inevitably, they do that thing very well and put on exciting contests. Any match that sees Mayu and Momo face-off, even momentarily, is going to get the thumbs-up.
In the end, said controversial move got the win while I should probably mention that Priestley put in a good showing (since I was mean about her earlier). I'm still not entirely convinced by Bea, but she has come on leaps and bounds since the first time I saw her wrestle, and if she keeps going, her talent will be undeniable.
Verdict: Three And A Half Stars
Overall Shows
This show felt like the set-up for the more interesting one in the evening. We got some build-up to our title match, and while only one bout failed to deliver something decent, no-one was going all out. It was fun without being incredible.
Watch Stardom: http://www.stardom-world.com/
If you enjoyed this review, please consider contributing to my Ko-fi, even the smallest amount is appreciated.