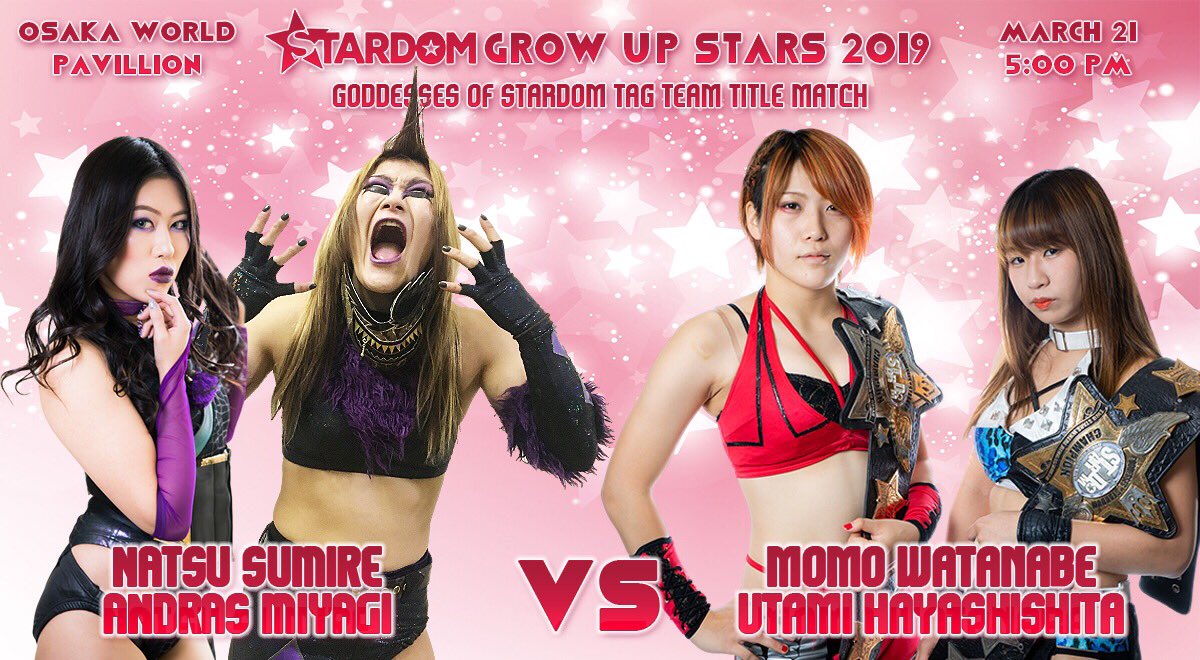 Stardom's second show from the 21st had an intriguing card. Not only did we get Natsu and Miyagi challenging for the Goddesses' Titles, but Stardom put on a 'Battle of the Super Heavyweights' between Viper and Goya Kong. Throw in a decent undercard, and this had the potential to be a load of fun!
AZM defeated Natsuko Tora and Saya Iida
AZM was the star of this short three-way-dance. Her pacey offence is hella fun, and she came up with some entertaining ways to take out both opponents at the same time. I've been singing her praises recently, and performances like this are why.
Verdict: Two And A Half Stars
Xia Brookside and Rebel Kel defeated STARS (Saki Kashima and Starlight Kid)
Rebel Kel seemed a tad more relaxed in her pre-match promo but did get a bit WWE in her delivery. It felt like something she'd learnt beforehand rather than an off the cusp chat with the camera.
On the whole, though, Kel's performance was an improvement over the afternoon show. Both Kid and Kashima looked tiny in the ring with her, but she managed to work well with them despite the size difference. You can tell she's green, with her bumping and selling needing some work, but she seems to have a decent base upon which to build. Stardom gave her the win over Kid with a vicious Chokeslam, so they see something in her.
Elsewhere, Brookside has returned to the company and looks like she never left. Kashima and her worked well together, and that's a match I wouldn't mind seeing in the future.
Verdict: Two And A Half Stars
Queen's Quest (Konami and Bea Priestley) defeated JAN (Jungle Kyona and Leo Onozaki)
Onozaki's enthusiasm to aid her friends has a tendency to cause them pain. Her attempts to help Kyona escape from a Camel Clutch in this match just saw Konami lean back further causing her teammate added agony. It's perhaps not a character trait that will lead to great success, but it is entertaining.
Outside of that, Konami and Jungle are two of my favourites, so this was always going to be good. They are the kind of wrestlers who you can put in the ring with anyone and be pretty sure that what you'll get will be good. It was a mid-card tag match, so there was nothing incredible, but they made sure it never got boring either.
Verdict: Two And A Half Stars
STARS (Mayu Iwatani and Arisa Hoshiki) fought Oedo Tai (Kagetsu and Hazuki) to a time limit draw
Hazuki and Hoshiki do not get along. We got a glimpse of a different side of Hoshiki as she seemed determined to slap the High Speed champion into next week. Assuming that Hazuki's title defence against Brookside went to plan, we have got to see that match sooner rather than later. On this evidence, it will be fantastic.
Throw in Kagetsu vs Iwatani, and this was one hell of a tag team match. They build their portion of the action around Mayu's knee, with Kagetsu zeroing in on it. Later on, that would prevent Iwatani from getting the win as she came off the top with a Double Stomp only to have her leg crumple underneath her, leaving the WOH champ unable to capitalise.
Our final stretch saw STARS take control of Hazuki and after hitting a flying kick, it looked like Hoshiki was set to get the win. However, just as she went for the cover, they hit the twenty-minute time limit, and this was a draw.
Not that it stopped Hazuki and Hoshiki from going at it. Those two kept this fight going and were laying into each other while seemingly setting out the challenge for a hair vs hair match. Yurie (the ring announcer) then threatened to cut her hair off to prevent that happening. Even that didn't completely stop the drama. Iwatani tried to drag Hoshiki away, but Hazuki wasn't happy. She laid out the challenge for a match, and it looks like it's happening one way or another.
Anyway, in among all that drama, this was awesome with a thrilling conclusion. I kept of slept walked into it, not even registering who was in the ring until they kicked things off and I realised just how much talent was present. Unsurprisingly, they delivered, and this is a sleeper that you'd be wise to check out.
Verdict: Four Stars
Goya Kong and Viper were both counted out leading to a draw
With Viper and Goya Kong on the same tour, you had to figure they'd eventually face-off. The surprise was that it happened so soon, although, the result of the match went some way to explaining that.
Before we get to that, the action was what you'd expect it to be, a good old-fashioned hoss fight packed with brutal strikes and high impact moves. If you are looking for beautiful wrestling, you should head elsewhere, but if you're looking for a fight, then it will be a treat.
They ring would prove incapable of containing them as they brawled to the outside, leading to the amusing image of the likes of Onozaki, Iida and AZM standing between the two heavyweights and the crowd. Something tells me that if Viper or Kong had flown their way, they would have merely become part of the mass of humans crashing into the fans. Anyway, the brawl would quickly spiral out of control, leading to a count out. Although, once again, it wouldn't stop the action as the two kept at it, eventually fighting their way backstage.
I'm in two minds about this as, on the one hand, the match was decent, and they protected both women. However, it felt weird to have two draws back to back. I guess that adds to the unpredictability of it all (I wondered going in whether they'd do a dodgy finish, and dismissed it because it came straight after the draw), but it does have the potemtial to leave fans feeling unsatisfied. Still, it was fun while it lasted and I'm sure it will be fun next time too.
Verdict: Three And A Half Stars
Queen's Quest (Momo Watanabe and Utami Hayashishita) defeated Oedo Tai (Andras Miyagi and Natsu Sumire) to retain the Goddesses of Stardom Titles
Miyagi was not impressed by the flowers presented to her pre-match. She then went on to make everyone who had to stand next to her during the photos very uncomfortable – big fan of that.
That would prove to merely be the start of Miyagi's big day as she was given the ball in this match and left to run with it. Teaming with Natsu put her in the position where she was going to have to carry the bulk of the in-ring action, and she did great. We not only got some lovely offensive flurries, but she sold more than she has in her Stardom career so far and looked solid all-around.
Although, I should point out that Sumire had a good match. While it's weird seeing her in a title situation where she's forced to put the silliness to one side, she stepped up and delivered. The final sequence was her vs Momo and was some of the best in-ring work I've seen from Natsu. They told a logical story as while Miyagi was a match for the Queen's Quest pair, Sumire couldn't go the distance when she was isolated.
As for that QQ pair, they were, of course, great. Utami and Watanabe are always great. They've got some of the best offence in the company and work perfectly together to deliver consistently brilliant matches. I don't know what else to say. Good wrestlers are putting on entertaining performances. No-one is going to be surprised at that, are they?
Verdict: Three And Three Quarter Stars
Overall Show
A show that started with a run of decent matches and then picked up going into the second half. If you were in a rush, you could skip the first half, but nothing was bad, it just won't blow your mind. Make sure and catch the last three, though.
Watch Stardom: http://www.stardom-world.com/
If you enjoyed this review, please consider contributing to my Ko-fi, even the smallest amount is appreciated.