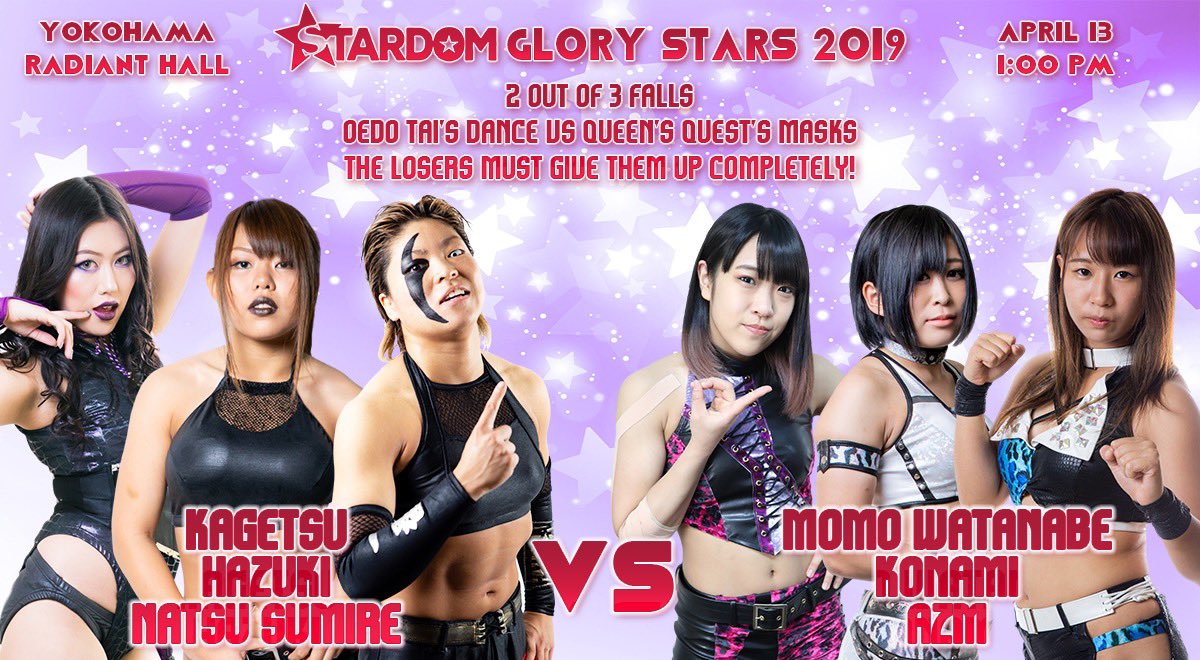 Stardom may have just made it back from the good old US of A, but there was no time to rest tired bodies. Night two of this weekend was set to be the big one as the Stardom Draft took place, but the first show wasn't without consequences itself. The main event saw Oedo Tai put their dance up against Queen's Quest's masks as one will be lost forever. Which one? Read on to find out.
Hanan, Hina and Rina defeated JAN (Kaori Yoneyama, Saya Iida and Leo Onozaki)
The opener marked Hanan's second anniversary as a pro wrestler, and she only turned one recently, so well done her (I think she's fourteen, but that's only slightly less ridiculous). If she decides to stick with wrestling, she'll be an eight-year pro at twenty.
Hanan marked the occasion by having the match you'd expect her to have. It was the typical youngsters' run-out with Yoneyama teaching them a few of the more disreputable sides of wrestling. From blowing raspberries to stamping on feet, a beginner's guide. The only shock was that Yoneyama's side didn't get the win as Hanan tapped Onozaki out. These matches are always fine, and that's what it proved to be.
Verdict: Two Stars
Saki Kashima defeated Starlight Kid
Ahead of the Stardom Draft STARS IMPLODE! Or Kid and Kashima had quite a friendly match. You decide what the real story is.
It wasn't just friendly, but a whole load of fun too. They told the story you'd expect with the more experienced Kashima trying to ground Starlight and negate that speed advantage. However, when Kid was able to escape Saki's clutches the match turned in her favour, taking her within seconds of winning.
In the end, Kashima had that extra edge. As Kid went for the Code Red, Saki slipped out and rolled her up, trapping her shoulders to the floor for the three. Saki Kashima got one chance, and she took it, proving that while Starlight Kid is close, she isn't there yet.
Verdict: Three And A Quarter Stars
Bea Priestley defeated Hana Kimura and Rebel Kel in a Three-Way-Dance
Hana Kimura is now a fully signed up member of the Stardom roster although she's made it pretty clear that the move won't be leading to a change in attitude. As if to cement that she very kindly started the action by saying 'fuck you' to Bea before requesting Rebel do the same.
Not that Hana and Rebel stayed on the same page for long. Kel made the mistake of showing independent thought, a decision that Kimura wasn't best pleased with it. Sadly, it wouldn't be the only mistake she made in this match as she dragged the in-ring quality down too. Rebel Kel is still very clunky and wrestles like someone who is not entirely comfortable in the ring. Neither Priestley or Kimura are super workers, but they were leagues ahead of their opponent.
Still, the match managed to battle past that, and it was fun enough. Kimura tends to stand out in these things, and she was no different here. From losing her temper at Rebel to briefly aligning with Priestley only to betray her at the first opportunity, her charisma shines off the screen. The finish would see her come close too, as Bea just dodged out the way of a Missile Dropkick which connected with Kel instead. A Superkick to Hana left Priestley free to Curb Stomp Rebel and win the day.
Verdict: Three Stars
STARS (Mayu Iwatani and Tam Nakano) defeated JAN (Jungle Kyona and Natsuko Tora)
Iwatani is taking some time off after the draft to let her knee heal up, and Tam seemed a bit emotional about this being their last tag together for a while. It was rather sweet.
Poor Mayu's first involvement in the match would see her do a bad job of returning that devotion. As JAN set-up for their Double Splash, she slipped into the ring, kicked Tora and leapt on Jungle's back for a Sleeper. Unfortunately, JAN recovered and figured out that she'd provided them with the perfect opportunity to add another person to the Splash. I say poor Mayu, but Tam was probably the one more inconvenienced by the situation.
Not that it damaged their teamwork. When Nakano was able to make the hot tag, Iwatani came in fiery, and those two always look great together. I've no idea how bad Mayu's knee is, but she has not been wrestling like someone carrying an injury and continued to look fantastic. If the lass going toe to toe with Jungle Kyona is doing so with a bum knee, then it's hard to imagine what she could do when fully fit.
A fun final stretch saw Tora shine as she powered up in the ring with Nakano. A lethal flurry of forearms seemed to have turned the action in her favour, only for a Tam kick to bring that shuddering to a halt. A hard-fought Suplex later (Nakano struggled to get Natsuko over, and they came down a bit awkwardly) saw STARS pick up the three.
You can have very few complaints about that. It's a shame the killing blow didn't come off perfectly, but even then it wasn't a disaster, and this was a hella fun match.
Verdict: Three And A Half Stars
Queen's Quest (Momo Watanabe, Konami and AZM) defeated Oedo Tai (Kagetsu, Hazuki and Natsu Sumire) in a Two out of Three Falls Mask vs Dance Match
It's the end of an era as Oedo Tai shall dance no more. I'd love to wax lyrical about the history of the dance, but as someone who has only been watching Stardom for four months, I'd just be Googling it and relaying the information. What I do know is that they bet their moves against Queen's Quest masks and lost to the god damn cops.
The first fall started evenly with Oedo Tai only taking control when AZM made the mistake of venturing too close to their corner and giving them a chance to strike. That led to a heat section on AZM in which Sumire drew the ire of the crowd by kicking her in the head while she 'cried'. Although, as AZM was trying to fool Natsu by crying, who is the real heel? Things then broke down and we had a great flurry of offence which ending with Kagetsu flipping out of Peach Sunrise and sunmitting Momo with an Armbar.
The second fall would see AZM and Natsu continue their hostilities as they played out the whole thing. Sumire even tried to throw AZM's tactic back at her by bursting into tears when she said something nasty. Sadly, AZM responded in kind and slapped her across the face. After a quick back and forth, Queen's Quest levelled things up when Natsu tapped out.
The last fall saw the intensity ramp up a notch or two as the addition of the stipulation brought this to the next level. We've seen these two teams fight a lot, and while the matches always impress, having them compete for something pushed them up a level. We also saw Hazuki once again prove that she is awesome, having a fantastic sequence with Watanabe.
The action came down to the faction leaders, Kagetsu vs Watanabe. For a second, it looked like the tricksy one had a trick too many, spraying blue mist in Momo's face. However, perhaps from pure instinct, Watanabe was able to lock on a choke and drag Kagetsu to the floor. From there, she had no choice. She had to tap.
Another great Queen's Quest vs Oedo Tai match, at this point, it's no surprise. It will be interesting to see how Oedo Tai adapt to the lack of dance and if it sees a shift in attitude going forward, but they refused to dance one final time despite Watanabe giving them a chance.
Verdict: Four Stars
Overall Show
This was a solid show with a standout main event. It was the appetiser to the next day's main course as the factions get shaken up (or in one case disbanded), so make sure and come back in a few days to see what I thought about that.
Watch Stardom: http://www.stardom-world.com/
If you enjoyed this review, please consider contributing to my Ko-fi, even the smallest amount is appreciated.