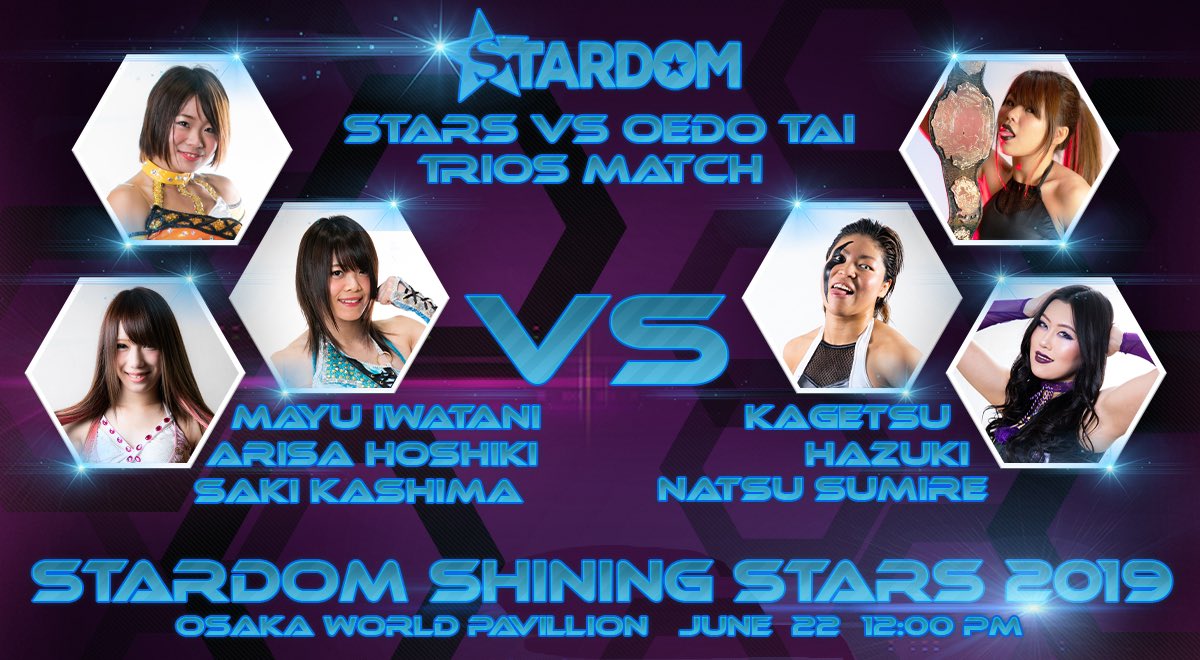 After a fantastic Korakuen, Stardom is back on the road for a two-show day in Osaka. As usual, the afternoon is building to the evening, so there is nothing standout on this card, but there is enough going on that I expect it to be good. Let's go find out.
Death Yama-san defeated Saya Iida
There might come a day when Death Yama-san stops amusing me, but this was not that day. She has embraced that gimmick with what looks like glee, and it's a delight. Combine that with the always improving Iida, and we got a fun opener. There was nothing must-see about it, but these two had a watchable match that eventually saw Death reverse the Iidabashi into a roll-up of her own.
Verdict: Two And A Half Stars
Oedo Tai (Andras Miyagi and Natsuko Tora) defeated STARS (Tam Nakano and Starlight Kid)
KidTam seemed slightly concerned about facing 'the demon from hell' (which is 100% a nickname WWE is going to use at some point if they haven't already), but at least they had P-chan to back them up as Kid adorably held his hand throughout their promo.
Despite the wee panda's assistance, it would prove to be a rough outing for the STAR's duo. They struggled to get into the match, having a couple of moments where they managed to fight back, but ultimately spending a lot of the action on the backfoot. Natsuko and Miyagi proved too big and powerful for them, and that was decisive despite KidTam working together well as a team.
It added up to an enjoyable slice of wrestling. For the second match on the card, there was a lot of talent in that ring, and it shone through. Throw in that they were given a decent chunk of time, and you were always going to get something decent from these four.
Verdict: Three And A Quarter Stars
Toni Storm defeated Xia Brookside
So Stardom is now producing matches you could see on NXT UK? That's weird. I've made my feelings about WWE clear recently, so I won't get into that, but it's an unusual move to put these two up against each other rather than using them to put over your talent, no? Oh well, onto the match.
Storm and Brookside first wrestled each other in 2016, so they had an easy chemistry and kicked things off with some friendly back and forth technical wrestling. Eventually, Toni had enough of that and upped the aggression, ripping off the streamer Xia had tied around her head and turning this into a slugfest. From there, she dominated most of the action, taking Brookside to school and getting the win with Strong Zero.
And that's been the problem with a lot of Toni's recent Stardom work. I don't buy that anyone is pinning her, certainly not someone who is at best a mid-card act on NXT UK. She has decent matches, but they lack anything approaching a competitive edge and therefore heat. Storm's work is always an easy watch, but this was at best alright.
Verdict: Three Stars
Tokyo Cyber Squad (Hana Kimura, Jungle Kyona, Konami, Bobbi Tyler and Zoe Lucas) defeated Queen's Quest (Momo Watanabe, Bea Priestley, Utami Hayashishita, AZM and Leo Onozaki)
Hana and Bobbi had a shot at the Goddesses Titles on the evening show which Kimura was clearly fired up for as she flew across the ring to attack Momo while The Ace was being introduced. Their last meeting ended with the two of them having words, so it looks like Stardom is continuing to build the tension between the faction leaders.
It was also marked Lucas's first outing with TCS as she turned on STARS during a previous show. She looked decent enough, delivering a lot of kick-based offence. Her movements were a bit over the top for my taste, but there was enough there for me to accept her into my beloved TCS.
Outside of that, Jungle was her usual brilliant self with Bea made the mistake of trying to stiff it out with her and getting knocked into next week in revenge. Unfortunately, the whole thing did rather suffer from too many wrestlers, not enough time. It never stopped being entertaining, but ten people competing in a match which just sneaked over ten minutes left a lot of them feeling surplus to requirements. The likes of Onozaki, Tyler and even Utami had little to do.
It was still a fun outing with TCS getting the momentum building win heading into the evening show. For a mid-card tag, you could do a hell of a lot worse.
Verdict: Three And A Half Stars
STARS (Arisa Hoshiki, Mayu Iwatani and Saki Kashima) defeated Oedo Tai (Kagetsu, Hazuki and Natsu Sumire)
Natsu is still winding Saki up, as she possesses an innate ability to get into her head. At one point, the two of them gave up on the wrestling to have an argument. I have no idea what was said, but it started heated before they seemed to come to an agreement. Of course, Sumire used that as an opportunity to try and sneak a roll-up victory.
That set-up a match that was more about the pairings than it was the teams as Mayu vs Kagetsu and Arisa vs Hazuki became the focus of the action. Both groupings delivered plenty to get excited about as all four women worked hard, throwing a liberal number of stiff kicks into proceedings as they built for later matches.
We'd end as we began, though, with Natsu and Kashima in the ring. Except, this time, it was Saki who came out on top as a misfiring Hazuki booted Sumire in the head and set her up to be bundled up into a pin. It turns out that Natsu isn't the only one who can play silly buggers and get away with it.
Verdict: Three And A Half Stars
Overall Show
No-one is going to look back on this as one of Stardom's better shows, but it was still an easy watch. While nothing sucked, those of you who are not blessed with the gift of free time, can probably skip it and go straight to the evening show.
Watch Stardom: http://www.stardom-world.com/
If you enjoyed this review, please consider contributing to my Ko-fi, even the smallest amount is appreciated.