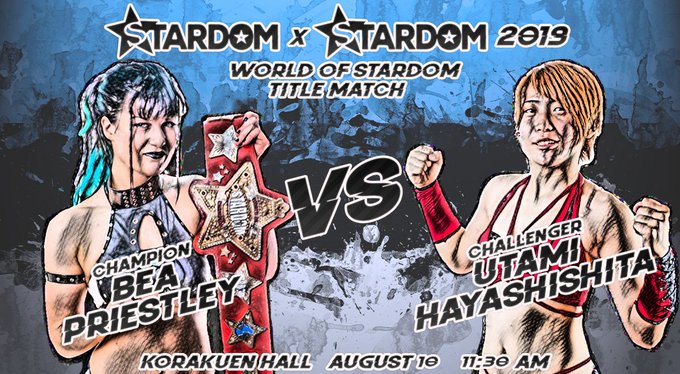 A quick note before we start, the hard camera for this show was all over the place. It hadn't been stabilised and was wobbling about. There also appeared to be a couple of people having a quiet chat right next to it which was picked up on the microphone at times. Neither issue was a disaster, but if you are annoyed by things like that, you're going to have a rough time.
Anyway, it's Stardom at Korakuen which is almost guaranteed to be a good time at this point. Throw in Jungle Kyona vs Arisa Hoshiki, and you can probably upgrade the good to lovely.
AZM defeated Rina, Hina, Ruaka and Leo Onozaki in a Five-Way Battle
Stardom World has a new intro video, so I'm going to have to learn a new time to skip forward to before every match (it's 36 seconds). Why must you make my life harder, Stardom?
Having five people in the ring, four of whom are rookies, is never going to lead to wrestling gold. However, AZM deserves all the credit in the world for the way she controlled the action. The story was that she saw herself as above her opponents and they, subsequently, wanted to kick her ass. They didn't have the time to expand that past its basic level, but the fact there was a narrative at all is worthy of praise.
And yes, it wasn't a great wrestling match. You can't put that many people in the ring and expect one. What it was, though, was fun. For six-odd minutes it was all-out action that never slowed down. Sure, there were a couple of sloppy moments, but most of these people have been wrestling for under a year and/or are children, what do you expect? For what it was, it was good.
Verdict: Two And A Half Stars
Momo Watanabe defeated Saya Kamitani
Saya Kamitani was making her debut and danced her way to the ring (I believe she has a background in it) showing, at least on the surface, little to no nerves.
And she proved justified in doing so because this was a hella impressive first outing. Kamitani showed some nice athleticism, moving around smoothly, and backed it up – perhaps more importantly – with a lot of fire in the face of Momo's veteran bullying. These two were given just under ten minutes to work with and to get that on your debut in Korakuen Hall against one of the company's top wrestlers suggests that Stardom see something in Saya Kamitani.
Of course, Saya was never going to win. Eventually, Momo had enough and bent her so far back on a Crab that poor Kamitani was almost kicking herself in the head. However, as debut matches go, this was a damn good showing. Was it perfect? No, there were a couple of moments where you could see her brain whirring away, but if you're nitpicking someone's first proper match, you're probably being a dick.
Verdict: Three And A Quarter Stars
Tokyo Cyber Squad (Hana Kimura, Konami and Bobbi Tyler) defeated STARS (Mayu Iwatani, Tam Nakano and Saya Iida)
Saki Kashima was supposed to be in this match but for reasons that went unexplained was replaced by Saya. It was also Bobbi's last appearance of the tour while Mayu spent the STARS' promo with a tissue up her nose. Maybe she had a nosebleed? Maybe she was being Mayu.
Saya's involvement in the match gave TCS someone to beat the shit out of, although whether that's a good thing or not probably depends on whether you're Saya Iida or not. At one point Hana was pulling her hair to bend her neck over the rope while gnawing on her forehead. That's just cruel.
When the match broke down, things took off, as Konami and Hana have great chemistry with Mayu while Tam never fails to entertain. It's another Stardom mid-card tag, to be honest. They're always good, a point that I think I make in every review.
Verdict: Three And A Quarter Stars
Riho defeated Death Yama-san and Starlight Kid in a Three Way Battle to win the High Speed Title
Riho is making her Stardom debut while Starlight Kid was (rightly) a bit put out by her turning up and being added to a match that she had to win her way into. It also makes it a three-way which, as usual, I have little to no time for. Give me singles matches!
The final caveat was that it was for the High Speed title, so it was given nowhere near enough time but was still entertaining. These three came out and worked at a ridiculous pace, flying across the ring and managing not to get caught up in the intricate wrestling they were doing. The best bits were all Kid vs Riho, and it was a shame Starlight took the pin as a rematch between those two could be great.
I have no problems with Riho winning the belt as she's a fantastic wrestler who is getting attention in both the Eastern and Western spheres of wrestling, but this division continues to frustrate me. There is so much potential there, and they deliver some of the best five-minute matches you'll see, I just wish they'd get a chance to do more.
Verdict: Three And A Half Stars
Oedo Tai (Kagetsu, Andras Miyagi and Natsu Sumire) defeated Oedo Tai (Hazuki, Jamie Hayter and Natsuko Tora) to retain the Artist of Stardom Titles
It's an Oedo Tai off, and no Oedo Tai off would be complete without a sneak attack. As the champs made their entrance, Jamie, Natsuko and Hazuki charged the stage to get us started. That lead to a brawl around the ring where it became clear these teammates were not going to be going easy on each other.
In fact, working together seemed to bring the best out of Oedo Tai. This was a hard-hitting match, with Jamie seeming to take pleasure in throwing Natsu around. It was reminiscent of Hazuki vs Kagetsu from earlier in the year, as these six relished getting in the ring to fight it out, leaning into everything with the knowledge that their friends were cool with it.
And like most Artist matches it was non-stop action from start to finish. People were always on the move with something constantly happening up until Kagetsu hit the Oedo Coaster on Natsuko for the win. It wasn't complex or deep wrestling, but it was a shitload of fun, and that's enough for me.
Verdict: Three And Three Quarter Stars
Arisa Hoshiki defeated Jungle Kyona to retain the Wonder of Stardom Title
It sounds weird to say this about the person who lost, but the story of this match was that Jungle Kyona is awesome. She was fucking outstanding here, wrestling like a machine and beating the shit out of Arisa. Jungle waged a one-person war on Hoshiki, first attacking her leg and then later her back and it was awesome moment after awesome moment. Whether it was catching Arisa in mid-air to slam her back first into the apron or hoisting her off the ground in a Stretch Muffler, carrying Hoshiki round the ring while twisting her up, this was the Jungle Kyona show.
And while that is undeniable, Arisa shouldn't be ignored. Jungle looks pretty damn good by herself, but Hoshiki went out of her way to make her look like a star. She flopped around for the challenger, screaming as Kyona ripped at her leg before hobbling across the ring and letting it collapse out from underneath her. A lot of people are going to be pissed off that Jungle didn't win this match, but fuck me, if that lass hasn't turned into one hell of a champion.
You can't fail to get behind her either. In the final act, she was beaten and broken, but she refused to die. It didn't matter what Jungle did, she kept coming back, letting out roars of defiance, and throwing everything she had at Kyona. Not that Jungle was any easier to kill, it would take a brace of insane Bicycle Knees followed by a Brazilian Kick and only then did Jungle hit the mat for three. What a fucking match, though. This was as good as anything you will see in any company in the world.
After the bell, Hoshiki approached Jungle for a handshake, but Kyona decided instead to honour her with a salute, receiving one in return. It's gutting to see Kyona once again fail in a title challenge, but anyone who watches this match and doesn't appreciate that she's one of the best wrestlers on the planet is just being a dick. Belt or no, it's still the Jungle Kyona show.
Verdict: Four And Three Quarter Stars
Bea Priestley defeated Utami Hayashishita to retain the World of Stardom Title
Utami has been wrestling for a year, A YEAR! Imagine spending millions on a performance centre while these Japanese Dojos are producing talent like that, bloody hell. Meanwhile, Bea's pre-match promo was awful, which is becoming a recurring theme. I've been calling for her to talk more, but when she does, it becomes clear why she tends to hand the mic over to Momo or Utami.
Unfortunately, the match wasn't much better. Maybe it struggled to follow Arisa vs Jungle, but a lot of it was fucking dull. Priestley controlled the bulk of the action, heeling it up against the underdog Utami. Sadly, that mainly involved a lot of wandering around, not doing much and it was only when Utami started to come into things that the tempo picked up.
And at that point, things did improve a lot. The Big Rookie provided the fire that was missing previously, trying to use Sleepers to neutralise Bea and set her up for the Torture Rack or one of those devastating Germans. This is the stuff that Priestley can do, and as they traded big moves, ramping up the stakes, it was impossible not to get absorbed by the action.
Bea turned the tide with a trio of Bicycle Knees (a move she should really stop doing in a company with Arisa Hoshiki), and then connected with Queen's Landing for the win. Much like the Momo match, this was as definitive as it gets. There was no epic back and forth, Priestley just won, one, two, three. Stardom continues to show that they are well and truly in her corner, I'm just not sure the performances in the ring are currently backing up that commitment. This was good, without ever being great and when you're following the match that came before, that might not be enough.
Verdict: Three And A Half Stars
Bea did cut a post-match promo and did that simplified English thing which makes me cringe so hard. I am willing to be corrected by a Japanese speaker if it does make things easier to understand, but fucking hell, it sounds ridiculously patronising.
Utami got a chance to talk too, saying she wanted to get revenge in the 5 Star. We then got a deluge of wrestlers hitting the ring to talk up their chances. That included Hana singing a song, Kagetsu being her usual brilliant self, Mayu hitting some peak-Mayu levels of excited and Natsu licking an ice cream like she's going to lick her opponent's face. Yea, I didn't get that one either. We then got the announcement that Kasey Owens (whose visa got lost in the post) would be replaced by AZM.
It was good fun anyway, and very polite as they all gave each other a chance to talk. It's a hell of a collection of wrestlers and with the G1 over and done with I can't wait to get started.
Overall Show
Everything I expected to deliver on this show did exactly that, and we even got the bonus of an exciting debut. Arisa Hoshiki is having one of the best runs on the planet as, like Momo before her, she outshines the World Title. Stardom doesn't seem too bothered about it, but in the long-term, they might want to start giving their top belt the same attention. Anyway, that's the future, and this was a great Korakuen, which is well worth your time.
Watch Stardom: http://www.stardom-world.com/
If you enjoyed this review, please consider contributing to my Ko-fi, even the smallest amount is appreciated.