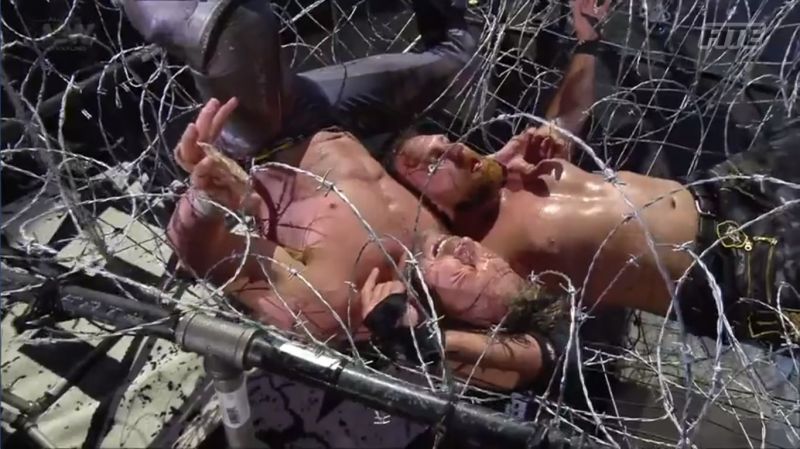 AEW returned to PPV for the first time since Dynamite arrived on TV, and it came in a week that saw NXT close the gap in the rating war. There is a strong argument to be made that they needed a big show, and I guess it is time to find out whether they pulled it off.
The Buy-In: Britt Baker defeated Bea Priestley
Did you know that Britt Baker is a dentist? I don't think they'd mentioned it before.
It's now been widely accepted that Britt is bad, to the extent that I think some people are being too harsh on her. She's not total dog shite. She's, much like this match, inoffensively rubbish.
I did appreciate the attempts to treat it like a blood feud as Bea and Baker spent a lot of time trading strikes. Sadly, these two aren't exactly the masters of strong style. Bea is the better wrestler, but she's not good enough to carry someone to something special, and she's never been able to throw stiff strikes as well as she thinks she can. They had a match that at its best was okay, and it's worse bad. Sadly, I suspect her victory means Britt is going to continue to be the focus of this division, and I have no idea why.
Verdict: Two Stars
Post-match, Awesome Kong came out with Brandi Rhodes to beat up Bea and steal some of her hair. Brandi as Kong's manager is a good thing because it means she's standing at the side of the ring rather than getting into it.
Proud and Powerful (Santana and Ortiz) defeated The Young Bucks (Matt and Nick Jackson)
Wow, this was fucking frustrating.
Let's start with the positives. Proud and Powerful won, which is 100% the right decision. The former LAX have a shitload of upside, and The Bucks can bounce back from a thousand defeats particularly when Nick sold his leg to the extent that he deliberately flubbed the springboard for the Meltzer Driver (another positive).
The negatives? The bulk of it was fucking boring. Seriously, if you'd asked me to come up with a hundred words to describe what I expected to get from this match, I'd have come nowhere near dull, and yet, I found myself struggling to pay attention. A lot of it just happened, and a fast-paced sprint to kick off the show would have been 99.99% better.
That said, it wasn't an awful match, merely an average one. The post-match angle where Ricky Morton saved The Bucks from a further beatdown with a Destroyer and a dive to the outside was probably the best thing about it. Which, when you put it like that, probably tells you all you need to know.
Verdict: Two And A Half Stars
Hangman Page defeated PAC
Well, we're heading in the right direction at least. PAC has been one of my favourite wrestlers in 2019 as The Bastard King gets it. He doesn't always go out to have five-star matches, but he almost always delivers what he needs to.
And that's what we got here. At times, this was a bit slow, with PAC looking to negate Hangman's fiery start by grinding him down. However, that played into the story, as Hangman battled through every dirty trick of PAC's to get the win. PAC went for low blows, Brainbustered him on a chair and attacked his eye, but Page kept coming back, surviving the assault to hit Dead Eye for the three.
Despite those positives, I'm not sure I'd have rushed through Page's redemption arc quite this quickly. He's a great wrestler with a bright future, so let him struggle until it's his time. Especially when PAC is the perfect guy to build for a title shot. Still, that's a booking complaint that could be argued either way, and this was still a good (nearly great) match.
Verdict: Three And Three Quarter Stars
Shawn Spears defeated Joey Janela
Joey Janela went out of his way to make Ten Guy look like a badass. He was working his arse off, taking stupid bumps all over the place and trying to get a peep out of a crowd that appeared not to give a solitary fuck.
Because Spears ain't it. I'm sure he's a nice guy, and he has a reputation as a good hand, but he's not a star, even with Tully Blanchard in his corner. No-one cared about him and judging by this performance they were putting the wrong guy over.
Spears and Blanchard hit a Spike Piledriver on the outside to set-up the win, and the fans went mild. In a company that has been defined by hot crowds, Ten Guy managed to kill this one, and that's a bad sign.
Verdict: Two And A Quarter Stars
Kip Sabian and Penelope Ford cut a heel promo backstage that I didn't buy for a second. They were hamming it up to the max as they took digs at Janela which has the potential to be an awkward feud thanks to the real-life complications.
SCU (Frankie Kazarian and Scorpio Sky) defeated The Lucha Brothers (Pentagon Jr and Rey Fenix) and Private Party (Marq Quen and Isiah Kassidy)
You have to question why The Lucha Brothers deserved a title shot after losing the Tag Tournament Final to SCU. They at least had Private Party win a battle of the losers against The Dark Order (not exactly a great way to set-up a title challenge), but Fenix and Pentagon appear to have made this match on name value alone.
Anyway, this was weird. It was packed with cool moments, as people flew around the ring at a hundred miles an hour. However, I'm not sure it added up to a cohesive match. It felt like a lot of stuff just happened, and while I enjoyed that stuff, I was never emotionally invested in it.
My main takeaway was that Rey Fenix better get a singles run in AEW. That guy is brilliant, and while I love watching him do these wild tags, It would be great to see him get a chance to shine on his own.
Verdict: Three And A Quarter Stars
The Lucha Brothers decided they weren't happy with that, attacking SCU post-match. That brought out a second Pentagon Jr who beat down the brothers before unmasking as Christopher Daniels. Was he hanging around backstage dressed as Pentagon in the hopes that this happened? Because that's weird, Chris.
Riho defeated Emi Sakura to retain the AEW Women's Title
We got a pre-match video explaining Sakura and Riho's history together which featured footage from Gatoh Move and Kenny Omega putting over them over. Why wasn't that on TV? It was a succinct intro to their feud and rather than showing it to people they left Emi Sakura to build the hype single-handedly on Twitter.
They followed that package with the perfect match as Sakura played the wily old veteran brilliantly. She was always a step ahead of Riho, attacking her back and pulling every little trick out of her pocket. It was the Joshi veteran's best performance in AEW so far, as she brought a fantastic stream of brutality to proceedings.
Riho was equally great, though, once again shining in that underdog role. JR might be obsessed with talking about how small she is, but she doesn't wrestle like it, throwing herself at Sakura in a desperate attempt to put her sensei down. That combination of hard stomps, sharp knees and flash pins is such an exciting wrestling style, and she'd eventually slip into a pin to escape with the win.
Hopefully, AEW learns from the fact that this was the best match on the card so far and doesn't leave Sakura to do the hype in the future.
Verdict: Four Stars
Chris Jericho defeated Cody to retain the AEW World Title
Dean Malenko, Arn Anderson and The Great Muta (who looked like he'd raided the merch stand to get as many free clothes as possible) were our championship judges. Also, why is he The Great Muta and not Keiji Mutoh? Do they not trust an American audience to know who he is? I've answered my own question there, haven't I?
I feel horrible for saying this, but Cody face-planted onto the ramp early in the match, and it was hilarious. He got the angle of his dive all wrong and connected with a diving header to the presumably metal entranceway. Rhodes had controlled the opening action, with Jericho doing a lot of stalling, but as the blood dripped down his face, the tide turned.
To give this its credit, they nailed that big fight feeling. Both men were focused and aggressive, treating it like the most important match of their careers. Unfortunately, it also gave the action a pedestrian pacing. They were going for epic, but it felt more like it was empty, as there was more time spent playing to the crowd and stalling than wrestling.
It did have its moments, little flare-ups where they'd find a rhythm and run with it, but they were few and far between. I was left wanting it to push on and become something great, but it never did. That meant that MJF throwing in the towel felt unnecessary (although Jericho did a fantastic job of making the Liontamer look vicious as hell), as we hadn't gone through the kind of war where it was needed.
Verdict: Three Stars
You could, of course, argue that MJF throwing in the towel early was explained when he booted Cody in the balls afterwards. Honestly, I'd have saved that turn for a few months down the road, but I get it, and it got real heat from the crowd (although the person who drenched him with a beer was definitely a plant).
Jon Moxley defeated Kenny Omega
The best writers, film-makers and musicians all have one thing in common. They have editors, people who tell them where to cut and trim and when enough is enough. Kenny Omega vs Jon Moxley was a perfect example of what happens when you don't have an editor. It was a colossal shit heap of over-indulgent nonsense.
Don't get me wrong. These two men beat the shit out of each other. Whether it was Omega doing a Phoenix Splash onto wooden boards or Moxley crawling through glass shards to reach the ropes, this was a match full of cool images that looked sore. (Although it was nowhere near as violent as some people are making it out to be, mid-card Big Japan matches are doing more.) The problem is that those images came one after the other, without a second to breathe between them. For Christ sake, they went nearly forty minutes! No-one needs a forty-minute Omega vs Moxley deathmatch.
What would have been cool was if they'd picked one or two of these spots and worked a hard-hitting fifteen to twenty-minute brawl, a match where the Suplex onto the barbed wire spider web or the mousetrap board could flourish in front of a crowd that's never seen that shit. Instead, they were lost in among the chaos, as Moxley and Omega were already off doing something else, giving no-one time to breath. The spots need to sink in!
I respect these two for going out and taking those bumps and doing that shit. They're two brilliant pro-wrestlers who did a lot to give the fans a huge main event. Sadly, it just didn't work. If Cody vs Jericho felt light on action, this felt stuffed with it. It was a gluttonous monster of a beast, crunching through weapons and bodies like they were nothing. I'd have much rather seen it stripped down and lithe, making every spot mean something.
Verdict: Two And A Half Stars
Overall Show
Wow, I did not love that show. Right, some moments were good. PAC vs Hangman and Sakura vs Riho were impressive matches while I can respect moments in nearly everything else, but it did very little for me. The stage looked cool, although JR was fucking awful. Oh well, the reviews I've seen elsewhere have been slightly more positive, so maybe it's just me, but this was a weak return to PPV for AEW in my book.
Watch AEW (in the UK) on ITV or at: https://www.itv.com/hub/itv
If you enjoyed my ramblings, then please consider contributing to my Ko-fi, even the smallest amount is appreciated.