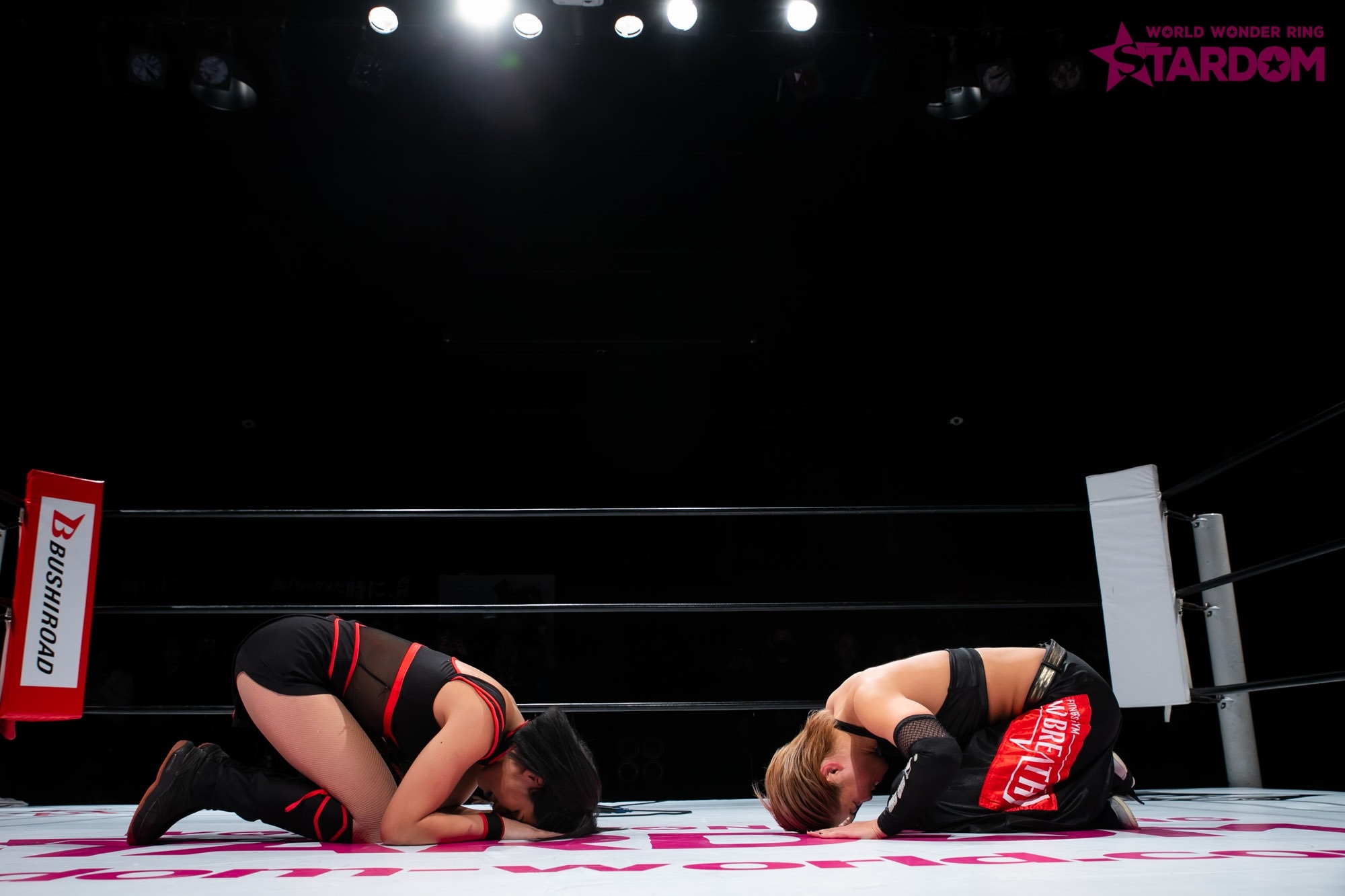 A quick note before I get started, I am going to be cutting down on the number of shows I review this year. I'll still be doing a decent amount, but I want to write about some other things, and it's hard to do that when you're trying to keep up to date on multiple promotions. With companies like Stardom, I'll pick and choose the exciting or noteworthy events while I wouldn't expect in-depth reviews of every New Japan tournament (cheerio, Tag League). It's a small change, but one I thought was worth mentioning.
Anyway, today I am going to have a look at Stardom's second show of the year, which ended on an angle that saw them give the hornet's nest a boot before 2020 had properly woken up.
Starlight Kid defeated Natsu Sumire and Ruaka in a Three Way Battle
Natsu had decided that she was taking on a sisterly role with her young opponents and was keen to perform the pre-match handshake. Wisely, Kid and Ruaka saw right through that and ignored her, as she'd also hinted she was looking forward to introducing both of them to the Bronco Buster.
Unsurprisingly, that rejection led to the Natsu we all know and love coming out, whip and all. What she couldn't do was get either of her opponents trapped in the corner, and her obsession with doing so ultimately cost Sumire the match. Her attempts were repeatedly thwarted, and while she was recovering on the outside, Kid hit a Moonsault for the win.
It was a fun little story for an opener and put the focus on Kid both outsmarting the more experienced wrestler and getting a three. Fingers crossed that's a sign 2020 will be a big year for her because she's more than ready to take advantage of it.
Verdict: Three Stars
Saya Kamitani and Itsuki Hoshino defeated Leyla Hirsch and Rina and Queen's Quest (Hina and Leo Onozaki) in a Three Way Tag
Leyla Hirsch had no idea what was going on in her backstage promo with Rina as it's always fun watching newbies settle into that. Elsewhere, there seemed to be some friction between Kamitani and Hoshino, although it was slightly undercut by their desperate attempts not to start laughing.
Amusingly, Leyla is a decent amount shorter than thirteen-year-old Rina, but once again looked impressive, showing off a lovely combination of power and speed. She's built like a junior powerhouse which is a style of wrestler that Stardom could use more of, so fingers crossed this tour works well for both parties.
She wouldn't be given the win here as Kamitani's strong booking continued with a Running Shooting Star to Leo. Any tension there is between the two rookies didn't come out in the ring, but their celebrations were muted. I've no idea if this is an actual story they're pushing or if I have imagined it, but it's something I'd like to see. Anyway, the match was fine. A solid showing from all involved.
Verdict: Two And Three Quarter Stars
Giulia and Andras Miyagi defeated Oedo Tai (Natsuko Tora and Zoey Skye)
Natsuko confirmed that Zoey is part of Oedo Tai while Miyagi commented that her former faction would regret firing her. That seems like a unique way to interpret her beating them all up, but I guess it's not technically untrue.
However you view it, she and Natsuko had some fun together, working through the tension by hitting each other. That was easily the highlight of the match as poor Zoey didn't get much of a chance to impress on her second outing. She was given a quick flurry, working well with Tora, before Giulia slipped out of the way of a Double Stomp and hit the Glorious Buster for the win. Still, she didn't look bad in the time she had, I've just been left thinking I need to see more.
It was a match designed to put Giulia and Andras over, so in that sense, it worked. Stardom are all in on their newest toy and, so far, she's stepping up to the challenge.
Verdict: Three Stars
Tokyo Cyber Squad (Jungle Kyona, Konami and Death Yama-san) defeated Jamie Hayter, Bea Priestley and Session Moth Martina
Priestley is still an awful promo, and her backstage 'confrontation' with Martina made me want to press mute. I like her and Jamie as a pairing, but they need to let Hayter do the talking. Also, Stardom dubbed their entrance music without mentioning it, as the Bushiroad acquisition seems to have brought with it an adherence to copyright law.
In the ring, we're building to Bea and Jamie challenging for the tag titles with Konami vs Priestley and Jungle vs Hayter being the focus. Unsurprisingly, I preferred the latter pairing, as those got down to hitting each other quite hard. Outside of that, Martina and Death served as comedy wildcards before closing the match with a surprisingly serious back and forth that Death won.
It all worked as a solid build-up to what has the potential to be a good title match. There was nothing meaty to get your teeth into storyline-wise, but I'm willing to follow Jungle and Konami into any battle, so I won't hold that against it.
Verdict: Three And A Quarter Stars
Queen's Quest (Momo Watanabe, Utami Hayashishita and AZM) defeated STARS (Arisa Hoshiki, Tam Nakano and Saya Iida)
The build to the Anniversary Show continued as we got a preview of Utami vs Arisa. Momo graciously declared that while she is aiming for Iwatani at the moment, she was willing to knock Tam down a notch or two in this match. Isn't she lovely? Meanwhile, Iida declared Utami her rival which is the kind of punching up that I enjoy (although as she still amusingly holds the Future Of Stardom belt it does make some sense). Arisa followed Momo's giving mood by saying that she'd let Saya have Hayashishita despite having previously vowed to crush her. You know, I might start reviewing Stardom pre-match promos and forgetting about the matches. They're almost as much fun.
It was a dynamic that played into the match as its arguable Iida had more success against Utami that Arisa. They started together, and poor Saya ended up taking a beating, but when she was later tagged in, she brought the fight to the Big Rookie. At one point, Saya pulled out a nice Wheelbarrow Arm Drag that I believe is new, all while peppering Utami with Dropkicks. Sure, she eventually got destroyed in a Torture Rack, but before that happened, a Momo save was all that stopped the Iidabashi getting the three.
Outside of that cool little story, AZM and Tam were the other standout pairing as they had a fantastic back and forth. Meanwhile, it felt a bit like we were holding back on the big feud, but I'm cool with that because we know Utami vs Arisa is going to be great. They got a chance to have a wee chat post-match, both vowing to win the match before Hoshiki shoved the title in her opponent's face and ran off. That was a very Mayu move.
Verdict: Three And A Half Stars
Oedo Tai (Kagetsu and Hana Kimura) defeated STARS (Mayu Iwatani and Saki Kashima)
For the second stop in her retirement tour, Kagetsu wanted to team with her old pal, Hana Kimura. Now, since leaving Oedo Tai it's safe to say that Hana hasn't much good to say about her former teammates, so this was going to be interesting. Would she get into the spirit of things? Why, yes she would, not only coming out in her old gear but with her hair dyed black as well. For one night their differences were put aside so that Hana and Kagetsu could say goodbye.
Do you know who didn't get into the spirit of things? That traitorous scoundrel Saki! Actually, considering they were saying goodbye to Kagetsu, perhaps turning on Mayu to join Oedo Tai was getting into the spirits of things. Still, how dare she!
We'll get to that, though. This match was going great at the beginning. Hana and Kagetsu looked like they'd never been apart before Mayu came in and turned the tide back in STARS' favour. Unlike the tag fun with AZM, there wasn't much in the way of comedy. Instead, these four merely seemed intent on having an outstanding match and were on their way to achieving that.
Then, Mayu hit a beautiful German on Hana and came crashing down with one Moonsault before setting up for a second. Hana would respond by grabbing the Oedo Tai sign in a desperate attempt to save her skin. Kashima would put a stop to that, only to turn around and use it herself, leaving Kimura to finish Mayu off with the Package Piledriver. Scoundrel!
Post-match, it was made clear this was a Saki plan, not one concocted by Kagetsu, as she and Hana sat on the ramp watching the aftermath play out. That explains away why they and Kashima would spend over fourteen minutes beating each other up when she planned to turn on her partner.
Saki, meanwhile, was incredibly mean calling Mayu a failure before talking about how frustrating it was to stand next to her. She declared she would no longer be in the supporting role and said she doesn't want to do 'stupid glittery wrestling' like STARS. Unsurprisingly, Natsu was delighted by all this, pointing out that she'd been telling Kashima that for a year. It inspired Sumire to offer Saki a place in Oedo Tai and with it her hand, a position she took (after telling Natsu she wasn't going to take her crap) as the rebuilding of Oedo Tai under the stewardship of our overlord Natsu Sumire began.
While the lack of a clean finish hurt that, it was still a very enjoyable match.
Verdict: Three and Three Quarter Stars
With all that excitement out the way, Kagetsu called Hana back to the ring and called her 'my most encouraging, strongest and best tag partner'. Hana then spoke about being proud of her time in Oedo Tai, but said she knew that she'd be alone when she betrayed them and that she teamed with Kagetsu today for revenge on Mayu and Saki, nothing else. That may have been the case, but it didn't stop her bowing down before Kagetsu before the two shared a long hug (and some unheard words) in a lovely moment.
Overall Show
That was a fun show that was packed with enjoyable matches (although thankfully it didn't have anything that made me seriously regret going to DDT that night instead). Stardom is on the build to the Anniversary, so there was a lot of focus on that which is no bad thing. We've got two title matches where it feels like changes are possible (although I'd rank Utami's chances better than Momo's), so it's an exciting show to build towards. Fingers crossed they stick the landing.
Watch Stardom: http://www.stardom-world.com/
If you enjoyed this review, please consider contributing to my Ko-fi, even the smallest amount is appreciated.