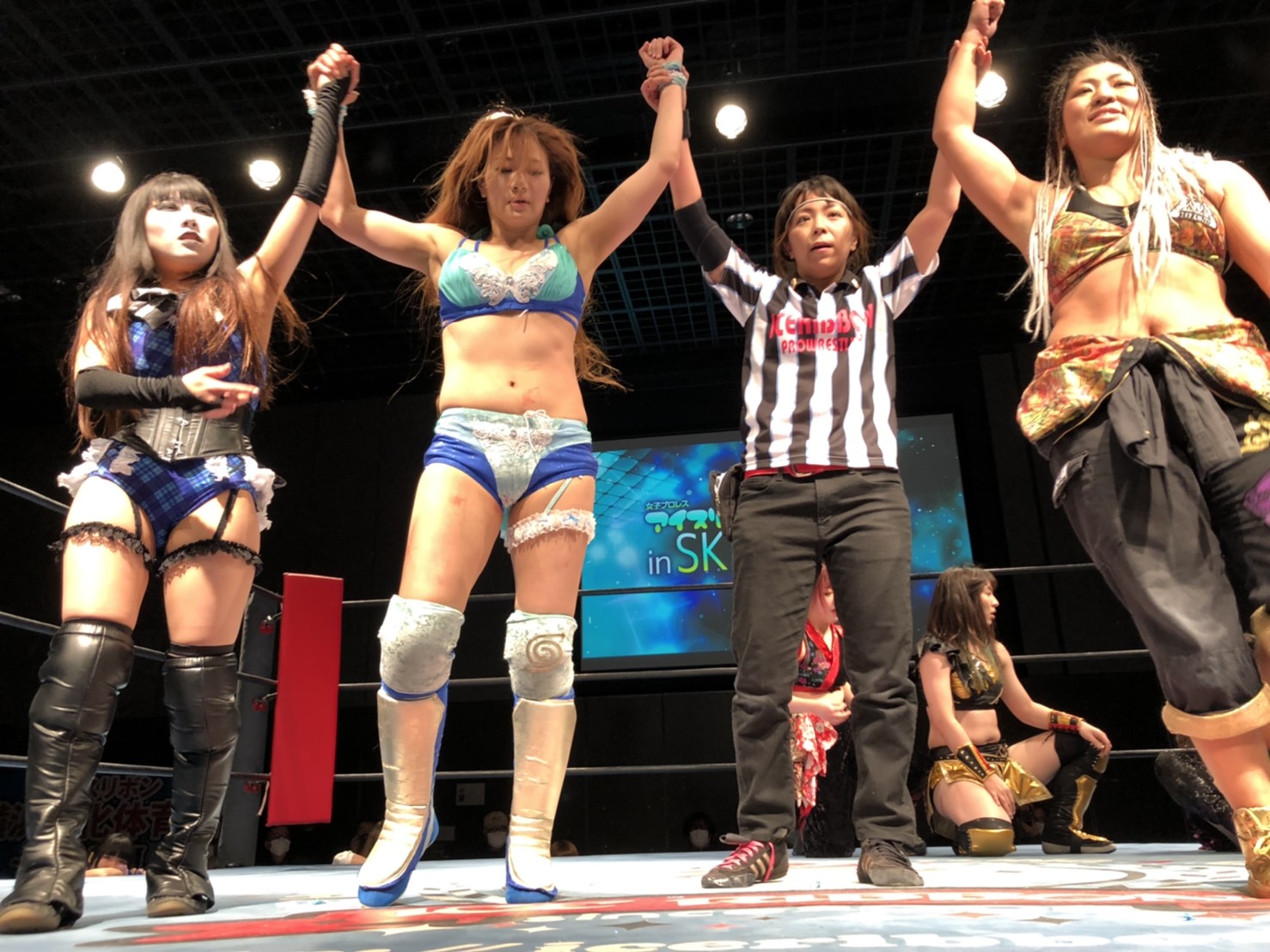 Suddenly, we're getting all the Ice Ribbon shows nice and promptly. Then again, considering we're about to enter a Japanese wrestling dry period, maybe we should ask them to slow it down? Hm, well, that's not an option now, and we've got a fun show from Skip City to look at, so let's get to it.
Madeline defeated Thekla
Madeline was making her Ice Ribbon debut, and this did feel a bit like a try-out. She got to open up by showing off some of her grappling talents, rolling around with Thekla in a way that successfully bridged the gap between feeling real and being entertaining.
Sadly, when they stood up, this did stumble. They still did some things that I liked, the exchanges of leg kicks were cool, but there were also parts where they didn't quite seem to be clicking. There was a hesitation to their movements as if they weren't entirely sure what they were supposed to be doing. It's not the end of the world, Madeline is inexperienced while I suspect Thekla is too (I can't find out much about her), so in their first match together you'd kind of expect them not to be perfect.
We also got a weird moment towards the end where Thekla decided to go all Bray Wyatt and start spider walking. It seemingly came out of nowhere and made Madeline look a bit daft as she stood and watched her do it. The fact it was the set-up for the finish made it stand out all the more, and it felt like an unusual way for these two to take things home.
All of which sounds very negative, but it wasn't that bad. I enjoyed the opening exchanges, and they had some nice ideas, it just didn't quite work. It's entirely possible with a few more laps under their belts that these two could come back and do this again with much better results.
Verdict: It Had Its Moments
Hamuko Hoshi defeated Honori Hana
Hamuko Hoshi is quickly earning wrestler who will always make me smile status. Being honest, this was mainly a solid rookie match with Hana getting her moments before eventually being put away, but Hamuko's antics raised it above that and had me grinning throughout.
And calling it a solid rookie match is by no means an attempt to be dismissive of Honori. I love a rookie match, and I thought she showed some fire. I enjoyed her series of pins on Hoshi, each one that little bit tighter as she desperately tried to keep the veteran's shoulders on the floor. It was a small touch that turned an often pointless spot into something with meaning.
Of course, she lost, but that doesn't matter. It was a fun wee match, and both women could head to the back with the knowledge that it was a job well done.
Verdict: Fun And Rookies
Maika Ozaki and Yappy defeated Satsuki Totoro and Banny Oikawa
I loved the start of this as Totoro and Ozaki charged into each other repeatedly. They'd then tag out to Banny and Yappy, with Banny fired-up to do the same thing. Of course, she's a wee bit smaller than everyone else, so her attempts to collide with Yappy didn't quite go to plan.
The big girl wars would continue, with Ozaki having a particularly impressive performance. Her and Totoro had a cool back and forth, that ended with Totoro being hoisted up into the Argentine Backbreaker. Poor Banny, meanwhile, ended up playing the whipping bag, her own partner even deciding she was more useful as a weapon than a wrestler.
The home stretch would then shift the focus onto Banny and Yappy, letting them have a fun exchange before Yappy's power won out. It all added up to a strong mid-card match where everyone got their moment, and the rookies were given space to breathe. I'll always be a fan of that.
Verdict: Good Stuff
Tsukushi defeated Miku Aono
Tsukushi seemed to come into this match without a care in the world. She effortlessly sidestepped Miku's first attempt at an attack and seemed to be having fun as she took control of the action.
Unfortunately for her, Aono wasn't going to make things that easy. Suddenly, Tsukushi's leisurely afternoon was being interrupted by a rain of Dropkicks, each one that little bit more vicious than the last. What looked like a stroll in the park, had been interrupted by a storm.
And that's the kind of simple wrestling storytelling that I like. Tsukushi came in expecting to win but was caught off-guard by someone who wasn't willing to go down without a fight. Ultimately, she was still the better wrestler, but she was forced to work that little bit harder for it, stepping up to a gear she didn't expect to use.
She would get a bit of revenge post-match, responding to Miku slapping away her offered handshake with one final Dropkick. It's enough to make you think we might see this again down the road, and I certainly won't complain if that's the case.
Verdict: Big Fan
Joint Army (Syuri, Tae Honma and Matsuya Uno) defeated Tsukasa Fujimoto, Hiragi Kurumi and Ibuki Hoshi
Having picked up a momentum-building win in the opening match of the last show, it was time for Joint Army to come up against some stiffer opposition.
And their opponents certainly stepped up to that plate. Fujimoto was, unsurprisingly, brilliant, gnawing her way out of their group submission and at one point Dropkicking all three at the same time. She was not only providing a stiff test herself but dragging her teammates forward with her, refusing to go down without a fight.
What was on display, though, was the rise of Joint Army as a team. They're young in their run as a unit, but already they're clicking together, working through the occasional hiccup to produce a performance that showed them off as a group. If this is going to be the norm, they might be even better than expected.
Verdict: Joint Army!
Post-match, Tae had some words for Fujimoto (she was going after her all match) and seemed to be setting up a showdown between the two (that's guesswork because I still don't speak Japanese).
Enemy Army (Maya Yukihi, Rina Yamashita and Ram Kaicho) defeated Suzu Suzuki, Risa Sera and Mochi Miyagi
It's possible the Korakuen that this match was building towards has already been cancelled, but we're going to plough ahead as if it that's not the case. Suzu is coming for Maya, and this was her chance to show what she can do.
And even though her team lost, Suzu can probably chalk this one down as a personal success. She and Maya paired up for large chunks of the match, and Suzuki more than held her own against the champ. In fact, their final confrontation ended with them both having to crawl to their corners, having worn each other out.
Outside of that, it was a blast of a tag. They worked at a million miles an hour and never took their foot off the accelerator. It also included one of the fastest Giant Swings I've ever seen, as Risa seemed intent on sending Ram into orbit. I'm not sure it's anything that will linger, but like most of this show, I had a lovely time while it was on.
Verdict: An Easy Watch
Miyagi was fired-up after the match, getting in Maya's face and cutting what sounded like an impassioned promo. Whatever she said, it led to Ram responding before Rina and Risa got a chance to build to their upcoming match. Maya and Suzu then had their interaction, with Suzu appearing to be rather pissed off. It's weird trying to write about stuff where you have no idea what's actually happening. Whatever it was, it ended with Suzu closing out the show.
Overall Show
That was a solid show, nothing spectacular, but full of nice easy to watch matches. I certainly have no complaints as it was another chance for me to get a grip on the Ice Ribbon roster and see them all do their thing.
Watch Ice Ribbon on niconico: https://ch.nicovideo.jp/nicopro
If you enjoyed this review, please consider contributing to my Ko-fi, even the smallest amount is appreciated.