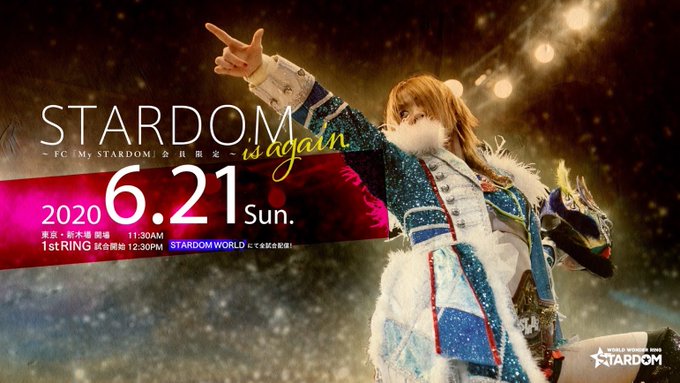 I don't think a wrestling show has ever kicked off my anxiety as much as this one. A lot has happened since Stardom last ran, and while I was delighted to have them back, there is no denying that there is a large shadow over their return to the ring. Hana Kimura's death is still being processed by many, and the thought of Stardom without her is going to take a long time to get used to.
With the card being unannounced, there weren't pre-match promos. We did, however, get quick snippets from all the units, most of which were pretty straightforward. Konami mentioning Hana and saying TCS will protect the Stardom ring marked the first tears, though.
The tears weren't quite over as the show opened with a ten bell salute to Hana followed by Jungle announcing that while she had planned to compete, she wasn't ready. Kyona promised to return, and I hope she takes all the time she needs.
Rina defeated Natsu Sumire and Hina
I've thought a lot about Rina in the last few weeks, the image of her bursting into tears of joy when Hana drafted her proving a hard one to shake. She's thirteen, a literal kid, and picking herself up after that can't have been easy.
So, for her to come out, still dressed like mini-Hana before winning with Hydrangea, well, it was perfect. It also means you'd have to be an utter cunt to look at this with a critical eye. I generally approach the kids' matches differently anyway, but nitpicking anything Rina is involved in at the moment is bellend behaviour of the highest order.
What I will say is that I'm glad Stardom sent her out there with the people they did. She got in the ring with her sister and Natsu who, despite playing the big bully, is always brilliant with the kids. It was a match they've done a million times before, and they slipped into that groove, Natsu blending together mean old Sumire and the goof that the twins could get the better of. It was fun, and it made me smile.
After tapping out her sister, Rina couldn't hold back the tears and who can blame her. She wasn't the only one.
Verdict: Beautiful
Death Yama-san defeated Saki Kashima
On a completely unrelated point, if you haven't been watching Kaori Yoneyama's ChocoPro run I'd get on that. She's been brilliant, and it's all on Gatoh Move's YouTube for free.
I love that the narrative around Death Yama-san is that she's impossible to hurt because she's too busy shouting 'DEATH!'. Even the ref got involved, pulling out his version of her taunt.
It meant that while Saki, and her new golden hair, controlled the bulk of the match, Death never seemed particularly bothered. She was out there doing her thing and eventually bundled up Kashima with for the win. Honestly, no-one is going to call this a classic as it felt like Saki was working off the rust, but Death was fun, and that's all I needed.
Verdict: Meh Match, Top Notch Death
Konami defeated Natsuko Tora by Disqualification
Natsuko, Saki and Natsu looked fucking badass making their entrance together. If Oedo Tai were to slim down to just those three, I'd be alright with it. We can slot Jamie in somewhere else and blast Bea into space. 'Tis merely a suggestion.
There must have been a lot of stuff going on in Konami's head coming into this, but you'd never have guessed. This was all about her trying to match up physically with Tora, trading strikes and letting loose with those kicks. At one point she was letting out growls of frustration as Tora chopped her, repeatedly stepping into the blows and forcing Oedo Tai's big bad to put her down properly.
Unfortunately, it turned out Natsuko was more interested in making a statement. Having hit a Frog Splash onto Konami with that chain draped over her, the ref refused to count the pin. So, Tora tossed him across the ring, hit a chain assisted Lariat and choked Konami over the ropes for the DQ.
When the Stardom Twitter account posted the result of this match, they described Tora as hanging Konami, which made me groan. To be clear, this wasn't really that. Konami's feet were still on the apron, which somewhat removed the unpleasant connotations that such an action might have had. It's perhaps a finish that I would have avoided with some of the wider world shit going on right now, but it wasn't as shocking as it could have been, and it's an established Oedo Tai trope.
With that worry removed, this was a good match. Tora looked like a ruthless badass and Konami's Konami. She's always brilliant. Fingers crossed this is the start of Natsuko going on a rampage because I want to see her become the big bad that Stardom is lacking.
Verdict: Big Bad Tora
Queens Quest (Momo Watanabe and AZM) fought Queen's Quest (Utami Hayashishita and Saya Kamitani) to a time limit draw
Kamitani and Utami have new gear and look insanely cool. There's a bit of a Xena Warrior Princess thing going on, and it brings Saya in line with the Queen's Quest aesthetic. It also hints that those two are going to be a focused act going forward.
Unsurprisingly, this kicked ass. Three of these wrestlers know each other inside and out, so they weren't afraid to lay into the strikes, and the work was generally flawless. On top of that, we got an extended run of Utami vs Momo, and we know those two have insane chemistry.
What was interesting, though, was getting to watch Saya interact with her new faction. She'd only just joined QQ pre-lockdown, so this felt like our first chance to see her in that world. While the new gear definitely helped, I still feel like she's missing that Queen's Quest viciousness, as she requires that snap to her work that will make all the difference. However, if she's going to learn it from anyone, the three people she was in the ring with aren't bad choices. It's easy to forget how early into her career she is, and I've no doubt it will come.
The draw came around with Momo and Utami still going at it, Watanabe delivering a kick to the head as the time expired. Honestly, I'd have happily watched another ten minutes (although after their long break they both looked knackered), and this was a hell of a showing.
Verdict: Brilliant
Afterwards, Utami got on the mic and asked how everyone enjoyed her first time teaming with Tall Saya. She reiterated their pre-lockdown goal of winning the belts together before Momo passed on her blessing.
Donna del Mondo (Giulia, Syuri, Maika and Himeka) defeated STARS (Mayu Iwatani, Tam Nakano, Starlight Kid and Saya Iida)
Wow, there is a lot to unpack from this one. The obvious place to start is the debut of Himeka who left Actwres girl'Z a million years ago (aka pre-Corona chaos). Jumbo made her impact known by towering over Gori-chan and, later in the match, getting the chance to dish out a beating. There was a Powerbomb that was particularly brutal, poor Iida handing over her body in an attempt to make the newbie look good before tapping out in a Torture Rack.
On top of that, Tam and Giulia's feud moved from social media to the ring. Giulia has been mocking Tam's kawaii content throughout lockdown and tensions were running high between the two with Tam attempting to get at Giulia before she'd even been tagged in. Honestly, their interactions were a little bit sloppy, but it was the good kind of sloppy. It felt like two people who despise each other, going all out to inflict as much pain as possible. We also saw Tam pull out Arisa's 1339, making it clear DREAMSHiNE won't be forgotten.
It all added up to a great main event. DDM bring something a bit different to Stardom as rather than the wild, roller-coaster thrills these matches often deliver, they slow things down and work a more methodical style. Now, often, methodical is a code word for boring, but with them, it's hard-hitting and submission-based, playing into their backgrounds. It's a move that works, particularly against the shiny glitz of STARS. It curbs STARS' more extravagant impulses, and while I generally have little issue with those impulses, it is nice to see them pushed into a different mould now and then.
As a final note, Giulia used Hana's signature running on the spot before charging across the ring to deliver a boot in the ropes. It was a lovely wee tribute, and I hope she keeps doing it. She and Hana were being tied together, and there is something right about Giulia taking a little bit of Kimura forward with her.
Verdict: Closing It Out In Style
Giulia used her promo to welcome the fans back and introduce Jumbo Princess, Himeka. She spoke about having to pick themselves up, lifting Stardom with them and then, post-pose, paid one final tribute to the person who should have been there, all four taking a moment to look up and Giulia lingering in the ring just that little bit longer.
Overall Show
I cried a lot throughout that show and yet, even so, my anxiety turned out to be for nought. Stardom and their roster handled that incredibly well. I can't imagine how difficult it was for those women, some of whom are still kids, to come back and do their thing, but they were a credit to themselves. Welcome back, Stardom, I missed you.
Watch Stardom: http://www.stardom-world.com/
If you enjoyed this review, please consider contributing to my Ko-fi, even the smallest amount is appreciated.