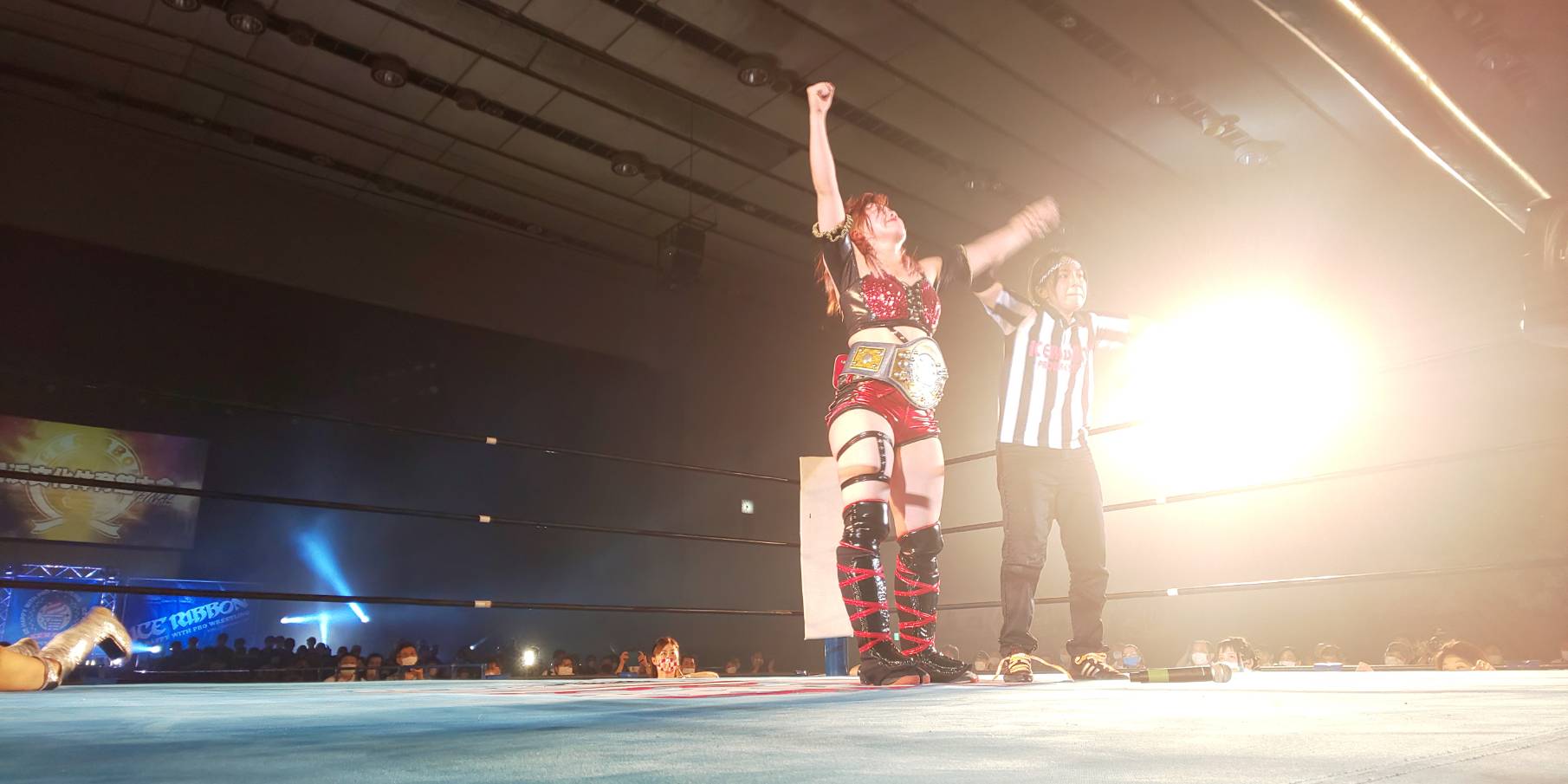 Ice Ribbon's final trip to Yokohama Bunka perhaps hasn't gone as smoothly as they'd have hoped. COVID threw more than one spanner in the works, and there were moments where you wondered if it was ever going to happen. Thankfully, they made it, packing the card and getting a fair number of people into the building as they saw the old place out.
Maika Ozaki, Thekla, Ibuki Hoshi and Riko Kaiju defeated Satsuki Totoro, Banny Oikawa, Yappy and Yuki Mashiro in an Elimination Match
We kicked things off with a match involving two very different rookies. On the one side, we've got the former Trainee White, who had been building up to this with chops so hard they appeared to damage her hand more than her opponent. Then we've got The Beast Kid, Riko Kaiju, SEAdLINNNG's new super-rookie who has everyone excited.
They would both impress in very different ways. Kaiju is clearly being earmarked for big things as she packs a Dropkick that looks ready to decapitate. She was even given a pinfall, taking Yappy out of contention after an assist from Ozaki. By my count, this was only the third match of her career, and if she's had more it's not many, so to have her pinning people and going toe to toe with the likes of Totoro (whose toe did prove to be bigger in the end) is quite the statement.
As for Yuki, her impact was, well, less immediate. She spent a lot of the action ineffectually trying to get involved, only to be rebuffed by those in the ring. It kind of played to her favour, though, as she ended up being the last member of her team, facing off with Ozaki one on one. What followed was very amusing as her scrappy but, em, let's go for unprepared, shtick is not so much up my alley as living in my house.
I suspect I'm going to enjoy the careers of both these rookies a hell of a lot.
Verdict: The Rookies Take Centre Stage!
Orange Sunrise (Akane Fujita and Asahi) defeated Miku Aono and Mio Shirai
Mio Shirai is back! Having worked an exhibition match, this was her return to the ring proper and a chance to see whether she could still go.
The answer to that was yes. She can. Mio looked great out there, despite all those years away. They played some of her ring rust into the story, Orange Sunrise going after her from the bell, but honestly, if you hadn't known she'd been gone, I doubt anyone would have guessed.
In the end, it wasn't Shirai's need to shake off the rust that lost them the watch, but Orange Sunrise being a more polished team. Aono and Mio felt like two singles wrestlers put together while Fujita and Asahi were always in the right spot at the right time. It gave them the edge and allowed Asahi to pick up the win.
As I've mentioned, Mio was before my time, so I lack the emotional connection others have. From what I've seen elsewhere, though, long-term fans came out of this one with a smile on their face.
Verdict: An Impressive Return
Cherry defeated Matsuya Uno to retain the WUW Title
I'm not quite sure what they were going for with this match. The WUW title has become a hybrid hardcore grappling belt, so it seemed natural that Uno vs Cherry would lean towards the grappling side of that style.
However, Uno clearly come out intending to make this a fight, air guitaring on a chair. It was Cherry who kept bringing it the floor, proving successful in keeping Uno in place and blunting her desire for violence. It was only after interference from Thekla, the person who brought this obscure Austrian title to Ice Ribbon, that Uno was able to find an opening at which point she finally reverted to her grappling style only to end up tapping out all the same.
Don't get me wrong, there was some good wrestling in there, the two of them more than proving their mat credentials, but it still left me not quite sure what the narrative was supposed to be. Perhaps I'd missed something in the build that would make it more clear, but I came out the other end feeling slightly unsatisfied with what I'd seen.
Verdict: Didn't Work For Me
Ram Kaicho defeated Tae Honma and Chon Shiryu to win the Triangle Ribbon Title
Occasionally, just occasionally, spending your life with a middle finger defiantly raised in the direction of everyone you come across comes back to bite you. As Ram was running around the ring being chased by both her opponents, she might have considered it one of those moments.
That was the start of what turned out to be a really fun three-way. This trio worked well together, slipping a lot of nice spots into the usual ever-changing landscape of alliances and break-ups. They were all given a moment or two to shine, playing to their strengths as the action unfolded.
And despite Ram's nefarious ways initially getting her into trouble, they would also earn her the win. A well-placed handful of chalk turning things in her favour, taking Shiryu out of the action long enough for her to leap from the top and pick up the three on Tae. Sometimes turning everyone against you bites you on the arse, but on other days, it just might workout alright.
Verdict: Bad Goths Finish First
Hamuko Hoshi defeated Makoto to retain the IW19 Title
There is a lot of history between these two. They first wrestled back in 2008 as Hamuko's second-ever appearance went to a three-minute draw in the Ice Box (now known as Chocolate Square).
That closeness showed in the early going, both having answers to the other's signature offence. Makoto even matched Ham's sexy poses, frustrating the champion into attempting a rather uninspired Big Boot before showing her how to do that too. On the whole, though, these two proved evenly matched, Ham able to eat up a lot of Makoto's offence, but Makoto's reach advantage meaning she was happy to keep dishing it out.
In the end, it would be a flash pin that stole the victory. Makoto looked to be building up a head of steam when Ham rolled her way into position and trapped her shoulders to the floor, stealing away with her belt. It was a well-worked finish to an enjoyable match, but probably not one you'll ever go back to. Either way, Ham's come a long way since 2008 and Makoto begrudgingly granted her a handshake in light of her efforts.
Verdict: Good, But Not Incredible
Risa Sera defeated Rina Yamashita to win the FantastICE Title
Rina came out wielding a bundle of light tubes on the back of a motorcycle driven by Manami Toyota, and I don't care who you are, you'll never be that cool. Sera couldn't quite match that, but she was carrying a big fuck off light tube fan thing, so you'll probably never be that cool either. I think this one is going to get violent kids.
It didn't take long at all for things to break down as we got a glimpse as to what crowd brawling looks like in the COVID era. A group of staff surrounded the two, working both to maintain social distancing and to disinfect everything they left in their wake. One of the poor fuckers would end up being Rina's choice of weapon, getting a kick in the balls before being Suplexed onto Risa. Yamashita was a lot politer to Toyota when she gave her a lift for a motorbike assisted Lariat.
Back in the ring, this became two badass women wailing on each other, neither holding back when they started swinging chairs. For the most part, they stayed in hardcore rather than deathmatch territory, but they did occasionally dip a toe over that line. As is usually the case, your enjoyment of that will entirely depend on taste, but it was the rare hardcore match that retained my attention, the feeling that these two were beating the shit out of each other keeping me engaged.
Of course, after the entrances, there was only one place this was going, and Chekov's Light Tubes did indeed come into play. At that moment, you got a glimpse of how moderation can be effective. I've seen a hundred matches where the broken shards of light tubes have littered the ring as their crunch has lost its power. By holding off and only pulling them in for the final act they became deadly again, the blood staining Rina's face helping play into that image. It led to a thrilling conclusion that had the generally rule-abiding fans unable to keep themselves from gasping with delight and horror as they brought this home with Risa jumping off a very tall ladder. Lovely violent stuff!
Verdict: Unleash The Violence
The Frank Sisters (Hiragi Kurumi and Mochi Miyagi) defeated Dropkickers (Tsukasa Fujimoto and Tsukushi) to win the International Ribbon Tag Titles
Another match with history as Kurumi and Tsukushi have previously held these tag belts together on four separate occasions. While they were now on opposite sides of the ring, the pre-match video was tinged with an air of reflection.
And in many ways, this became Kurumi's match. When she entered the ring, the aggression of it notched up, Fujimoto kicking her in the head after backflipping out of a German. It felt like Dropkickers had their sights on her, and while Miyagi was by no means a bystander, Kurumi was the one they saved their most vicious barbs for.
It was an interest that might have been to their downfall. Kurumi is a wrestler who can eat a lot of damage, sucking it up and giving it back tenfold. Dropkickers threw a shedload at her, but she refused to topple, surviving the onslaught and eventually hitting a Big Splash on Tsukushi for the three.
That felt like Hiragi's match as they built the action around her before ultimately handing her the big moment. She looked awesome, but she always does, so that's no surprise, and she got one over her old partner in the process, so you've got to call that a good day's work. Unfortunately, I do think its card placement hurt it a little, the bloody spectacle beforehand leaving those watching in need of a rest.
Verdict: The Kurumi Show
Hiragi had words for her former partner afterwards. They were words that sadly didn't fall into the realm of my Japanese knowledge, but they were delivered from one knee with a tinge of emotion, so I doubt it was a chat about the weather.
Suzu Suzuki defeated Maya Yukihi to win the ICExInfinity Title
Two months ago, when Suzu challenged Maya for the second time, she did nearly everything right, but it wasn't enough. She let just a touch of frustration into her game and Yuki was able to sit back and pick her off, waiting for that perfect moment to strike and take her out. The question was whether, in the short time since that match, Suzu had learnt enough to take that next step.
From the start, it was clear she wasn't going to let anything stop her from doing so. She stalked to the ring, new gear but no pomp, a direct contrast to Maya who, also wearing new gear, stood at the top of the ramp, a smile on her face. Then, when she convinced Maya to come forward for a handshake, she struck, pulling her into a German and throwing her over before the bell had even rung. There wasn't an inch of give in Suzuki. She was going to leave it all in that ring if it killed her.
And yet, while Suzu was undeniably brilliant, it was Maya Yukihi across from her and you need to be more than brilliant to put her down. Suzuki was once again doing everything right, working over that leg and shoving her way into opportunities. However, Maya was never out of it. Every inch she could take she gobbled up greedily. That leg work might have forced her to hesitate before taking off to hit the ropes, but it didn't stop her kicking Suzu in the head.
It led to a final act that balanced on a tightrope, moment after moment feeling like it could be the end. 2.99 counts swung between Suzu and Maya, both having me convinced they'd done it time after time. When Yuki hit the Tiger Driver, I was so sure it was over I reached over to click out of the full screen, disappointment flooding over me. Somehow, though, Suzu fought on, kicking out as the ref's hand was a millimetre above the ground.
Because for all Maya's brilliance, this was Suzu's time, and when the opening came, there was no chance in hell she wasn't going to take it. She knew the first German wasn't going to be enough, so she floated over, bringing Maya along and sending her crashing down once more. On the third time of asking Suzu had proven she could do it.
Verdict: Brilliant
Unsurprisingly, young Suzu was a wee bit emotional afterwards. It got on top of her for a bit, but she managed to retain her calm and grab Maya before she could head to the back, pulling her back into the ring to close the show. I'm sure some deep shit was said, but as usual, I don't have a clue what it was.
Overall Show
That was a show of the year contender and a half. Not only did it have a load of good matches, but it built brilliantly throughout which with something that went well over three hours is kind of important. There was a lot of shit in there that will linger in the mind from light tube fans to Suzu's moment. Now, let's all go be happy with wrestling together.
Watch Ice Ribbon on niconico: https://ch.nicovideo.jp/iceribbon
If you enjoyed this review, please consider contributing to my Ko-fi, even the smallest amount is appreciated.