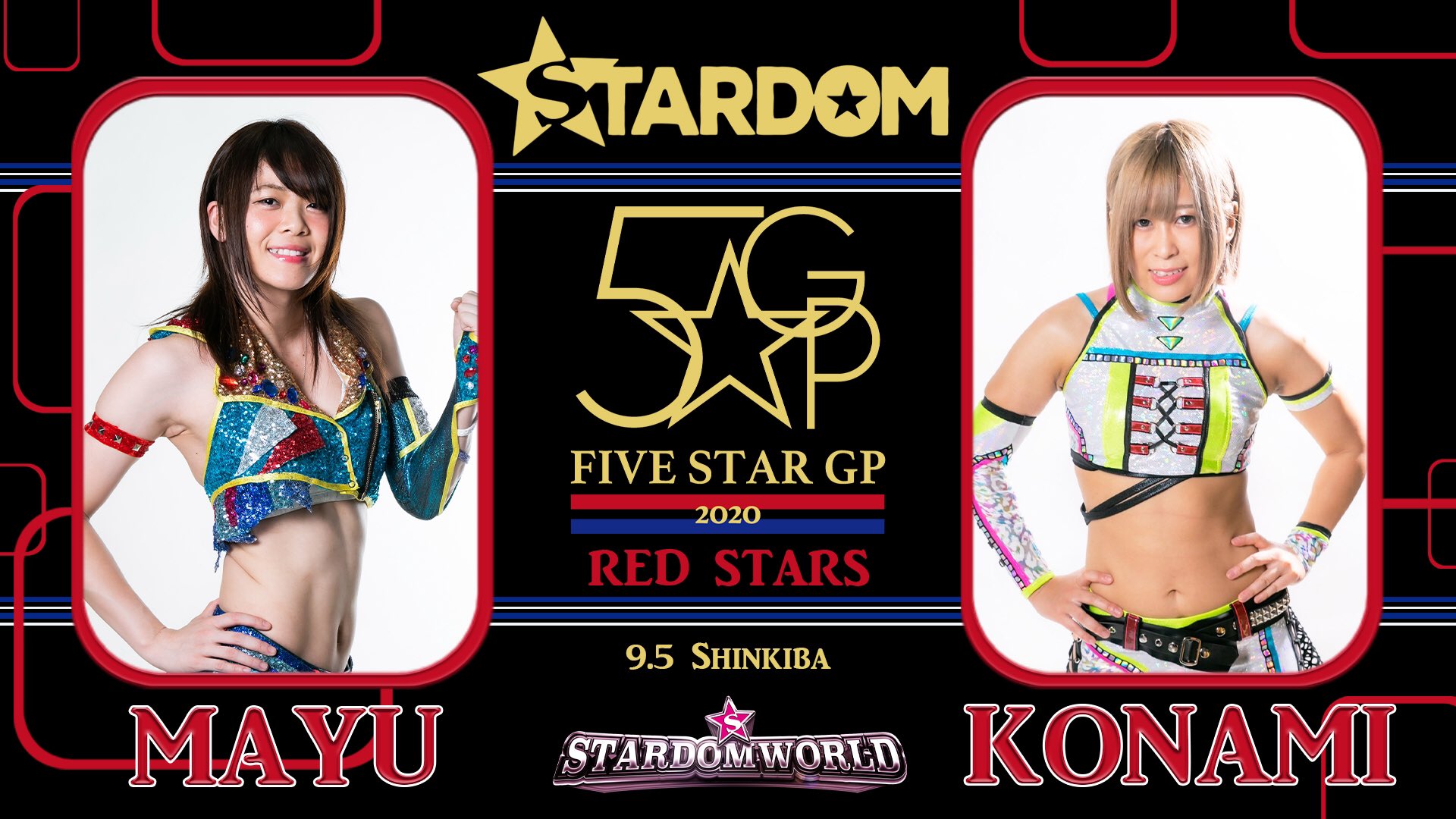 After an enforced break the 5STAR returned over the weekend with a packed show. COVID tries to knock wrestling down, but it keeps getting up again.
Maika defeated Saki Kashima and Rina in a three-way
Maika has never been in a three-way before, which seems incredible until you remember this was the 36th match of her career. That's nearly fifty less than thirteen-year-old Rina and a nice reminder of just how quickly she's picked up this wrestling malarky. Lass is talented.
She would also prove to have decent chemistry with said thirteen-year-old, their judo backgrounds combining nicely. It was a five-minute match, so their interactions were limited, but they seemed to be enjoying throwing each other around, adding a bit of pep to each one.
Finally, it was nice to see Saki healthy after she was forced to pull out of the 5STAR. Having started off pointedly inspecting her nails, she found herself with a target on her head, but ultimately felt a bit like the third wheel as she watched on while Maika pinned Rina. Still, this was a fine opener, and Maika vs Rina is the match I didn't know I wanted.
Verdict: Nice Opener
Queen's Quest (Utami Hayashishita and Hina) defeated STARS (Saya Iida and Hanan)
Hanan is back! It feels like forever since we've seen the oldest sister and she looks a lot older because, well, that's what teenagers tend to do. Oh god, did I just turn into every elderly friend of your parents?
And with all that ring rust to work off, I'm sure she was delighted to be back in the gentle hands of Utami and a wee sister who wanted to show off what she's learnt. This was no easy reintroduction, but Hanan looked good. She was always going to take the fall, but she got some nice offence in before doing so and didn't look too far off the speed of things.
Getting Hanan some minutes under her belt was the main focus, but the rest of it was enjoyable too. Anything that features a little bit of Gori-chan is going to get the thumbs up from me.
Verdict: Welcome Back, Hanan
Red Stars: Tam Nakano (2-1) defeated Death Yama-san (0-2)
Tam has previously described herself as being slow speed, so she had to avoid letting Death get up to pace in this one. Lucky for her, this was shtick Death, not the version that flies around the ring at a million miles an hour. We got a lot of poses, the repeated running into the boot spot and a handful of roll-ups that Tam was able to survive.
I enjoyed this because it was Tam Nakano vs Death Yama-san both of whom I love dearly, but I can't sit here and tell you it was some incredible match. It was short, sweet and had Tam nearly decapitate Death with a Superkick. If, like me, you're a fan, give it a watch. If Death's shtick grates, it's one you can skip.
Verdict: Enjoyable For What It Was
Red Stars: Jumbo (3-0) defeated Starlight Kid (1-2)
I've been banging the Starlight Kid is a star drum for a long time (and I'm hardly alone), but this match was perhaps the purest depiction of why I believe that to be the case yet. To say Jumbo out-gunned her is putting it lightly, but Kid was brilliant here, responding to Himeka's dismissal of her attempt at an initial lock-up with a slap of defiance.
And she was born to play that underdog babyface role, trying to slip into the gaps in Himeka's armour. There wasn't a chance she could beat her in a straight fight, but she could outpace her, dancing around looking for openings. Then, when she got her off her feet, Kid proved to be no weakling herself, taking Jumbo over for a Northern Lights Suplex.
Sadly, sometimes the mountain is just a bit too big. Kid was defiant to the end, desperately bundling Jumbo up for multiple great two counts, the potential for an upset hanging in the air. At least it was until a thunderous Lariat took her head clean off. She crawled her way to the ropes to escape the subsequent Crab, but the damage was done, a Torture Rack leaving her with no choice.
The best wrestling has both performers come out the other side better than they came in. This made Jumbo look like a badass and Kid like a superhero, so job done.
Verdict: Lovely Stuff
Blue Stars: Jungle Kyona (1-2) defeated AZM (1-2)
Jungle doesn't have Jumbo's size, but AZM was still facing a similar challenge to her old rival. She came into this with a hit and run mentality, charging around the ring before sneaking in and slipping into submissions designed to go after Kyona's arm.
It was a solid tactic too, and one that seemed to be working. Kyona was struggling to get a hold of the High Speed champ, AZM successfully playing keep away. Unfortunately for the grizzled youngster, when you can hit like Kyona, you only need one opening. AZM leapt up the ropes, but when she took flight Jungle was there to meet her with a thundering forearm.
It was a moment that changed the entire match, and while AZM tried to sneak into a couple of flash pins, Jungle had found her momentum. However, like Kid before her, this was proof (as if we needed it) that AZM is more than capable of playing at the highest level. She wrestled this match as Jungle's equal, and at this point, I'm not even sure that's a surprise.
Verdict: AZM And Kid Are Threatening To Steal This 5STAR
Red Stars: Giulia (2-1) defeated Saya Kamitani (0-2)
It was time for Stardom's two shiny new toys to share a ring. One is a product of their system while the other came from elsewhere, but both have had the metaphorical jetpack strapped to them.
And this was perhaps Tall Saya's most complete in-ring performance yet. She's become a much more rounded wrestler, which isn't always a good thing (I enjoy a bit of erraticism) but does mean she's less likely to land on her hand. Giulia's jetpack is a bit faster than hers, so she was the underdog here, but showed good fire working from underneath and has begun to expand what she can do in the ring. All the pieces of the jigsaw that we saw before are starting to come together.
That meant she and Giulia had a very solid in-ring match. It was the kind of performance you could have dropped onto any show in the world and people would have clapped while saying how good it was only to have forgotten all about it a week later. They did nothing wrong, but what they did was ultimately unmemorable.
All of which sounds very harsh and maybe I'm just being a grump, but I like these two a lot, and this failed to spark anything in me. I'm not even sure I can adequately explain why, but there was some soul missing, and I hope that roughing off the jagged edges of Tall Saya isn't going to see that become a recurring theme.
Verdict: It Didn't Click
Blue Stars: Natsuko Tora (1-2) defeated Momo Watanabe (1-2)
I am in two minds about this. On the one hand, we've all been bemoaning Natsuko's results, and I'd all but giving up any hope that she was going to start picking up points. On the other, I picked Momo to win this thing, and she is coming out the blocks slow.
The match itself was an Oedo Tai special as Tora barrelled her way through Momo with a bevy of underhand tactics. She attacked as Wanatabe made her entrance, beating her with chairs and getting a helping hand from Saki at ringside. It wasn't quite Gokuaku Domei swarming the Crush Gals, but it wasn't a nice way to treat the QQ leader either.
Not that Watanabe went down without a fight. She tried to boot her way through Tora, kicking that chain away and surviving the first handful of cheating attempts. A top rope Somato even looked like it could pick up the win as things slowly turned in her favour. Or, it would have if she'd only kicked that chain a bit further. It came back to bite her, adding some pep to a Lariat while Saki distracted the ref and then being wrapped around Momo's throat as Natsuko choked her over the ropes. By the time she was rolled back in, she was out, Tora left to lazily stand on her for the three.
I loved the finish to that match, Tora dismissively pinning one of the company's biggest stars, the fact she'd cheated almost irrelevant to the badassery of it. Now, fingers crossed Stardom keep this momentum going, but also give Momo some wins. I've got to get some predictions right.
Verdict: Badass Tora
Red Stars: Konami (2-1) defeated Mayu Iwatani (1-2)
Mayu came out without her title, which seemed to be a choice, but also wouldn't be the first time she'd forgotten it. She did have her tail, though, so she'd remembered the important stuff.
Unfortunately, tail or not, this was a rough afternoon for Mayu. Konami had promised pre-match that she was going to take things at her pace, and she kept her word. From the second she almost slipped into the Triangle Lancer out of the opening exchange, Mayu seemed rattled. She escaped that time, reaching the ropes before fleeing to the floor, but it was a sign of what was to come.
For while Iwatani did have her moments in this match, it was without a doubt Konami's contest. She was able to pick away at the champ, going after her arm and neck while teeing off on her with kicks. Mayu was constantly on the back foot, never able to sparkle her magic over the action and turn it her way.
It meant that this was perhaps one of the more dominant Konami performances we've seen recently. She looked like a badass, dismantling her opponent and grabbing the opportunity to force the submission, taking home the points in a commanding fashion.
Verdict: 100%
Konami wanted to close down the show with all of Tokyo Cyber Squad, but Jungle first told her to have a drink of water because she's a good friend. There were ulterior motives, as Kyona also called out Oedo Tai, setting up the much talked about showdown which could see TCS disband if they lose. I'm still not sure how I feel about that, so more on it later.
Overall Show
The break didn't do Stardom too much harm as the 5STAR came back strongly. A great main event, another couple of standout performances from Kid and AZM and Tora finally getting to be the badass we all know she is. Plus, we got Hanan returning in the undercard! The rest of the matches could have sucked (none of them did) and I'd have gone home happy.
Watch Stardom: http://www.stardom-world.com/
If you enjoyed this review, please consider contributing to my Ko-fi, even the smallest amount is appreciated.