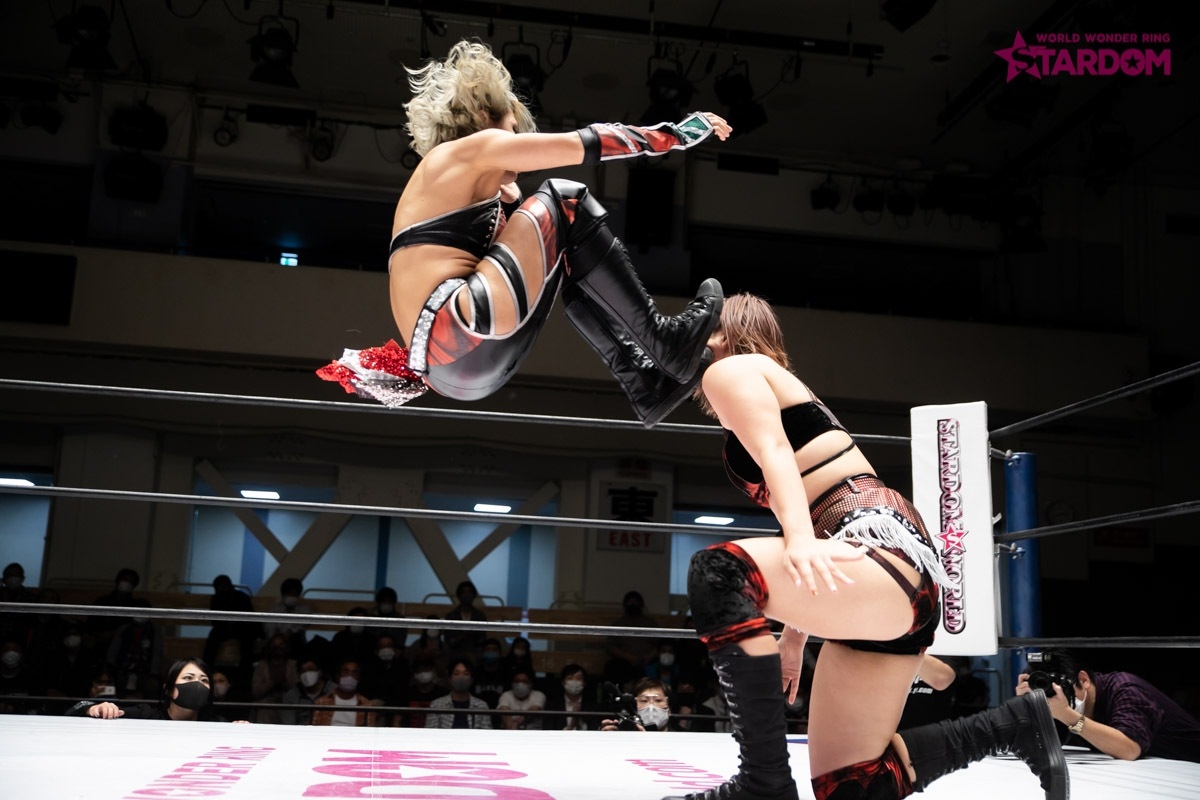 I managed to avoid the temptation to lock myself into reviewing all of Stardom's Tag League, but a Korakuen is a Korakuen, and I'm honestly not sure when I last failed to ramble about a Stardom trip there. With this being Giulia's third anniversary, she was defending against one of her own, Jumbo cashing in her 5STAR victory over the boss.
Rina defeated Saki Kashima, Gokigen Death, Ruaka and Hina in a five-way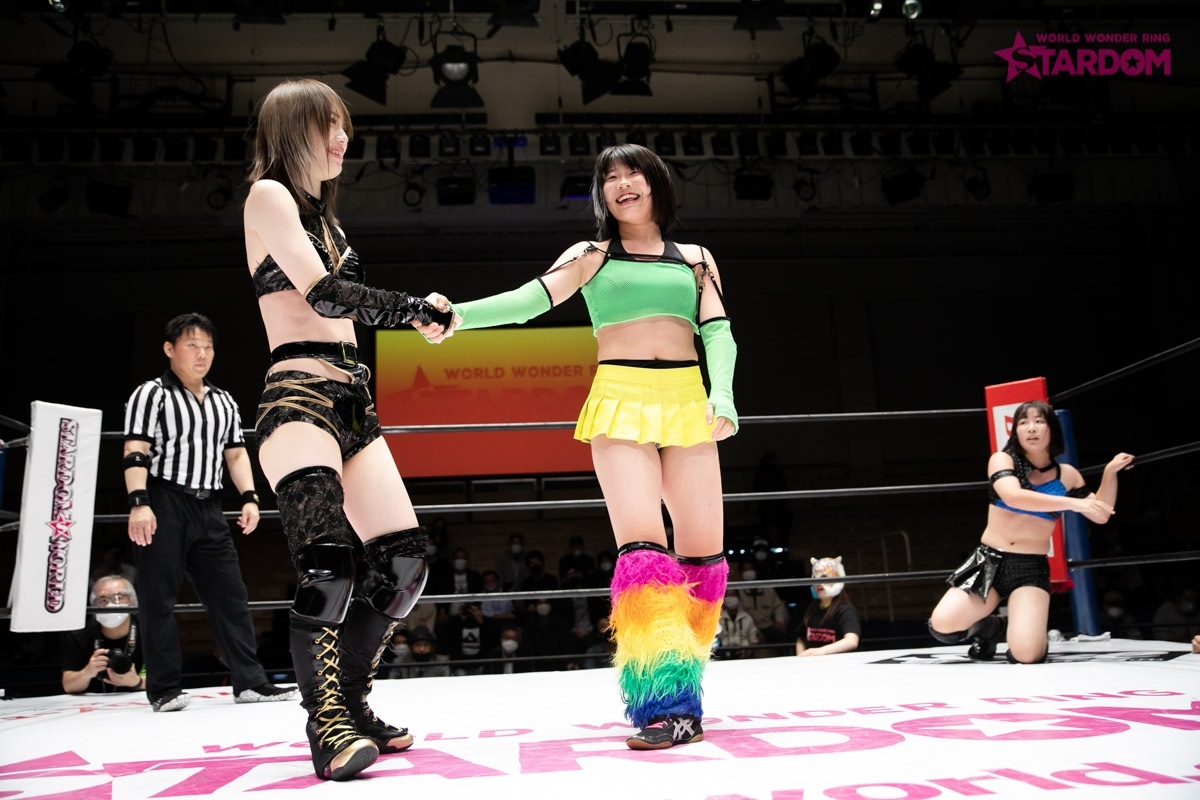 As one of life's few STARS' defenders (I like the shiny, happy, people, shoot me), I usually react badly to people betraying them. However, Rina turning not long after joining and walking out hand in hand with the last great betrayer is fine by me. She developed an edge during her time in Tokyo Cyber Squad and has come on a lot as a wrestler. Having her in Oedo Tai under the tutelage of Natsuko, Saki and Konami (fingers crossed she ignores the other one) is a brilliant move, and I want to see that wee rebel embrace the darkness.
The actual in-ring was about what you'd expect from a match which had as many minutes as it did wrestlers. It was nice to see the former TCS trio get one last chance to work together, while Ruaka looked solid enough on her most recent return. Ultimately, though, this was all about Saki booting Hina into a Rina roll-up and then choosing not to break the pin. She's off to be corrupted, let's hope they do it well.
Verdict: Off You Go, Lass!
Dream☆H (Tam Nakano and Mina Shirakawa) (2-1) defeated wing★gori (Saya Iida & Hanan) (0-3)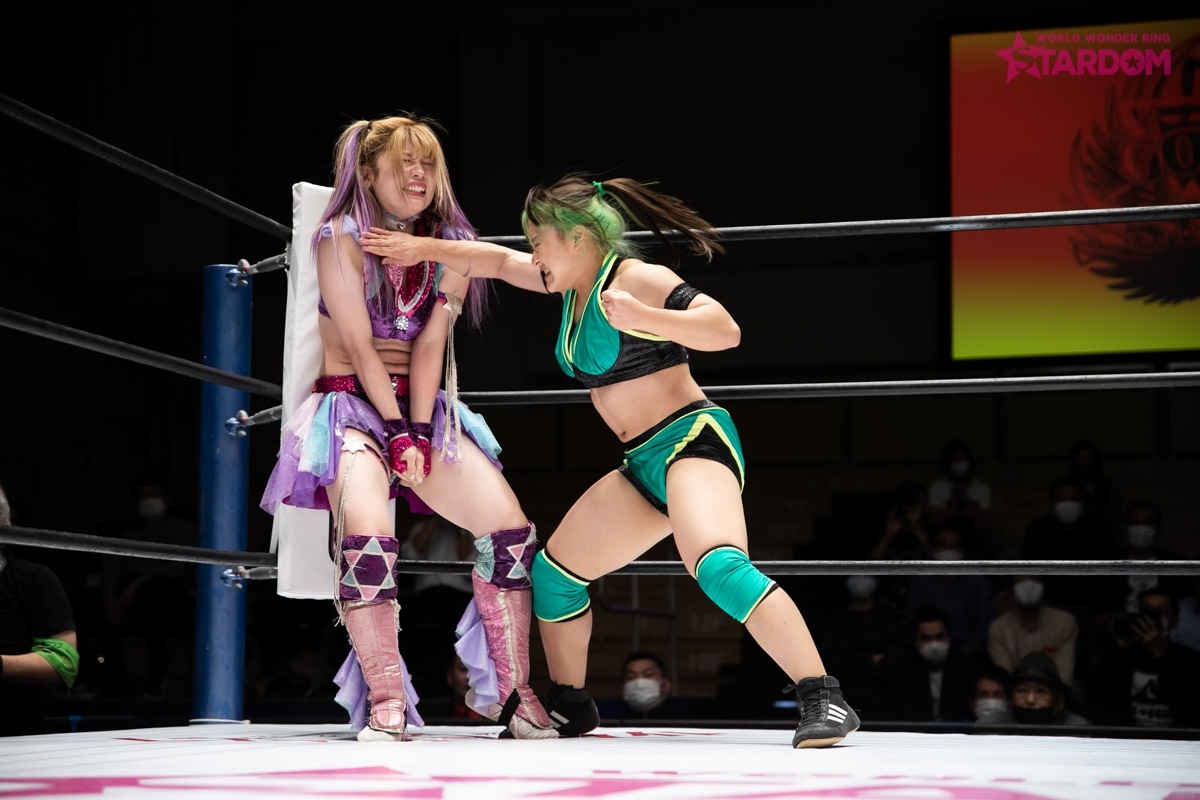 I've said it before, but Tam's groping hands makes me uncomfortable. Her and Mina were doing a pleasant pre-match promo, right until her fingers wandered over to grab a feel. Why? Did Stardom decide they weren't seedy enough already?
On a happier note, Hanan and Iida have quickly become a brilliant team. They took a surprising amount of this match, looking the more fluid pairing as Tam and Mina sat back and let them dominate the action. They've got a nice dynamic, Iida as the bruiser and Hanan working limbs, as she went after both Tam's leg and arm. Stardom will be missing a trick if they don't make them a regular pairing coming out of this.
Of course, they weren't going to walk out with the win, a Mina Spinning Backfist taking Gori-chan out before Dream H finally came together and put Hanan away. Then, in the aftermath, Tam managed to keep her hands to herself long enough to announce that ZZ will be debuting soon, a wrestler who is almost certainly Himawari Unagi.
Verdict: wing★gori for the win
Queen's Quest (Momo Watanabe & Utami Hayashishita) and Riho defeated Oedo Tai (Natsuko Tora, Konami and Bea Priestley) by disqualification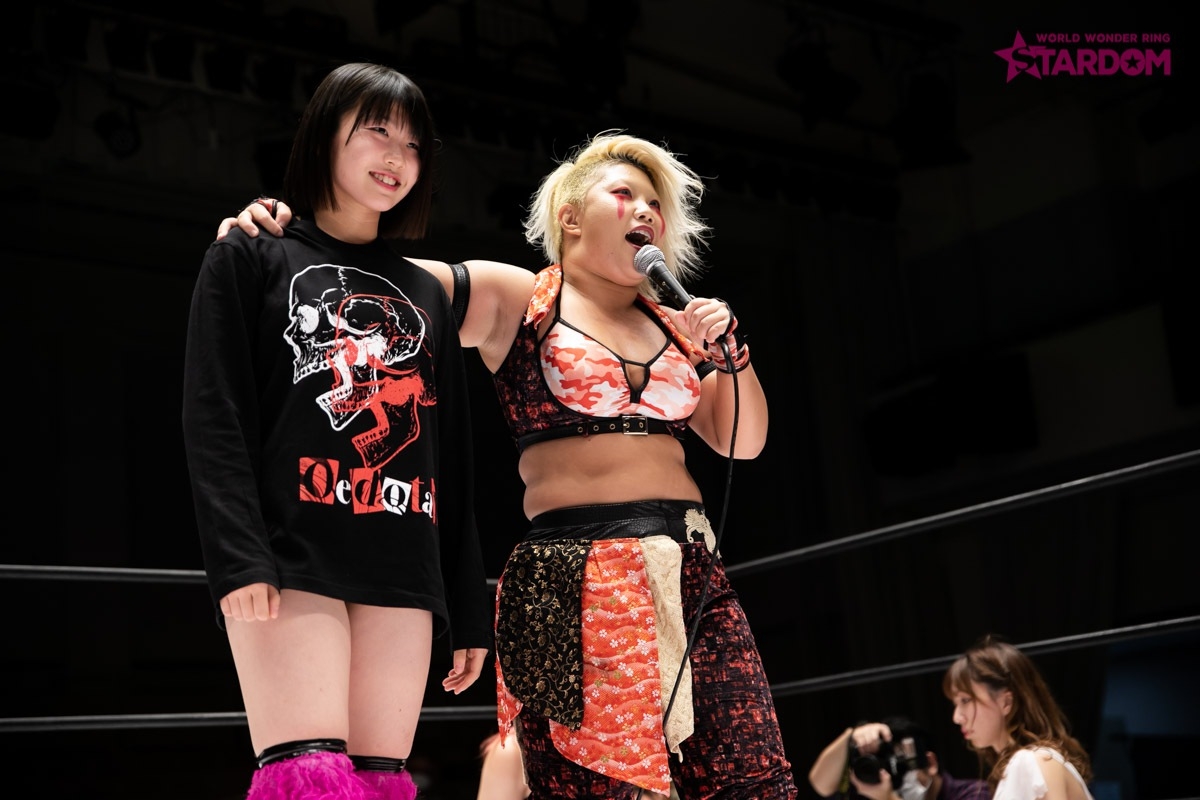 A lot of people are fed-up of Natsuko and her DQs, but they're all wrong. I like the element of chaos she brings into a company that often lacks it, and while she's not quite Dump Matsumoto, it's the closest thing Stardom has to that.
It also can't be overstated how important having someone like Tora in Stardom is. Their roster, on the whole, is made up of women who are all roughly of the same look and build. Yes, there are differences, but most of them are superficial. Natsuko is the rare exception that proves the rule. She's a hint towards diversity, and wrestling is better when it's diverse. That's not to say it's the only reason she's there, it's not, she's a badass, but if Stardom isn't talking out their arse when they claim to want to attract more female fans (and evidence suggests they might be), then Natsuko is going to be incredibly important.
If you're wondering why this is a ramble about Natsuko rather than a review, it's because I've chosen to use Bea Priestley matches to talk positively about someone else in them. Those of you who want opinions on the action will be able to find them elsewhere.
Verdict: Natsuko Rules
In the aftermath, Natsuko introduced Rina properly as a member of Oedo Tai before Bea proved that she's a shitty promo in Japanese as well as English.
Maika defeated Saya Kamitani to retain the Future of Stardom Title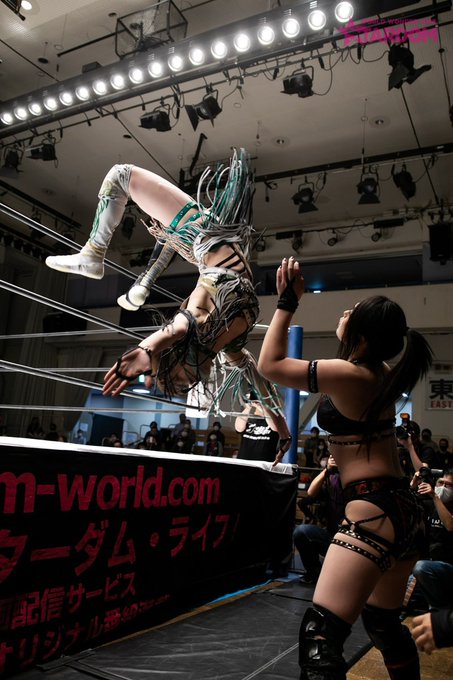 The only thing these two have in common is their remarkably quick ascent up the roster. It's Kamitani's flips and frills vs Maika's grounded, judo background.
Unsurprisingly, that pairing made for a great match. The Future Title has always felt a bit of an afterthought, but from the opening strike exchange, Maika and Saya were out to make it feel important. This wasn't two rookies running through basic sequences but established wrestlers fighting it out for a belt.
If I have a complaint, it's that Saya needs to pull it back a tad. I'm not talking about the high-flying, which I actually think she's done a great job of slowly eeking out, introducing new moves in big spots (we got a Moonsault off the apron here). No, I'm talking about the fact that she tends to dominate 90% of the match. She's in danger of going full Ospreay, someone who can kayfabe do it all, and that's just not interesting. She's saved at the moment by her still somewhat erratic execution, but a slither of weakness in that game would go a long way to making her a better wrestler.
Despite that, they did turn things around towards the end and give Maika a fairly dominant victory. She almost took it home easily, a desperation flash pin being Tall Saya's last gasp after a Superplex flipped the momentum towards the champ. It was a decisive first defence and one that once again confirms that Stardom think they've got something special with this lass.
Verdict: These Kids Are Good
As Maika celebrated, Gori-chan made her entrance, shoving into her and making a challenge. Maika responded with a fist bump, and this might be my bias speaking, but I reckon if they give that time, it could easily top the match we just saw.
Donna del Mondo (Syuri and Natsupoi) defeated MK☆Sisters (Mayu Iwatani and Starlight Kid)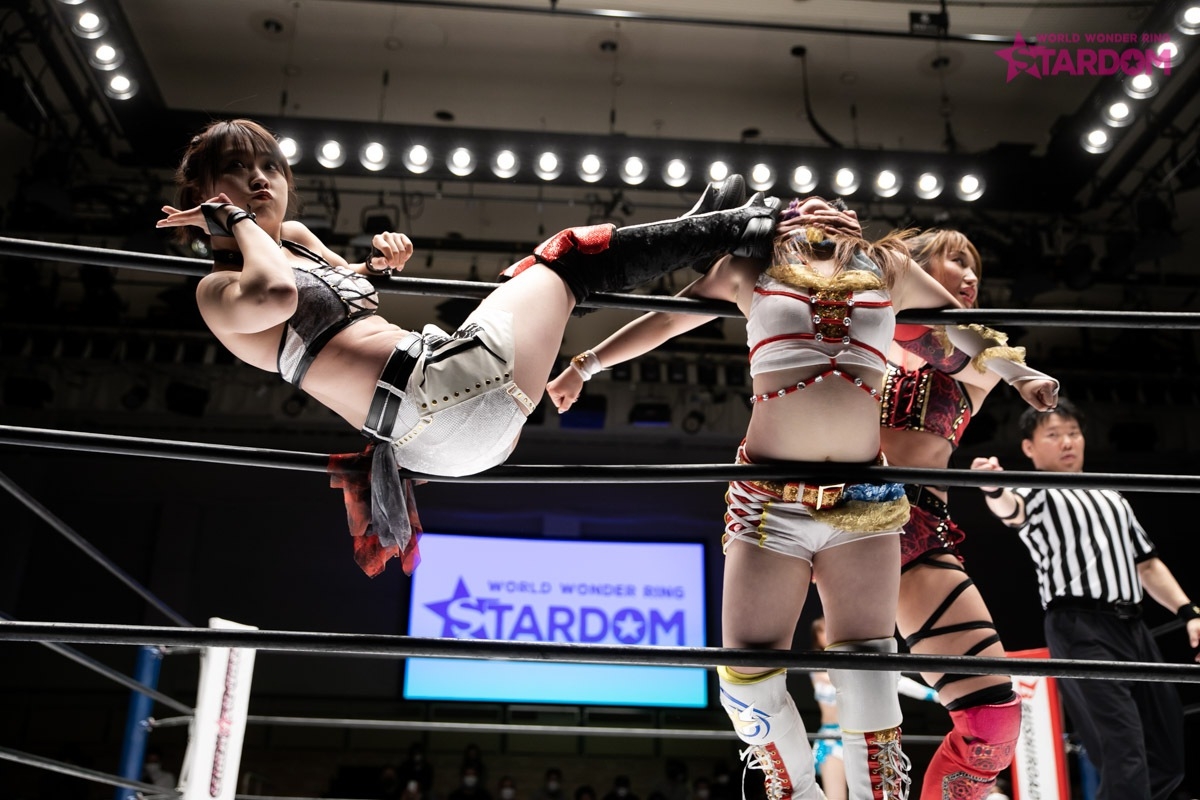 While Stardom choosing to continue booking random tag matches over their actual tag league is a bit weird, I am down for it if it gives us stuff like this.
These teams threw up a whole bunch of fun pairings. The obvious ones were Mayu vs Syuri and Kid vs Poi, which, unsurprisingly, delivered. Kid and Poi showed some strong High Speed chemistry while Mayu vs Syuri's quick interactions clicked with me more than their drawn-out title match did.
It wasn't just the obvious pairings that did great work, though. Kid looked great in there with Syuri, roughing it out with someone bigger and kickier than her. Meanwhile, the actual teams seemed like a natural fit. That's no surprise with Kid and Mayu, who have always been a brilliant pairing, but Poi and Syuri have spent a lot less time together and have already found their groove.
Syuri would get the win, tapping Kid out while emitting some of those goblin shrieks that she loves so much. It may have seemed like a bit of a random match, but there was a hell of a lot to enjoy, so don't skip it.
Verdict: Lovely Stuff
For reasons known only to her, Syuri decided to celebrate officially signing for Stardom (sad face) by challenging Bea Priestley. Well, I'll get to write something nice about Syuri, so that's good.
Giulia defeated Himeka to retain the Wonder of Stardom Title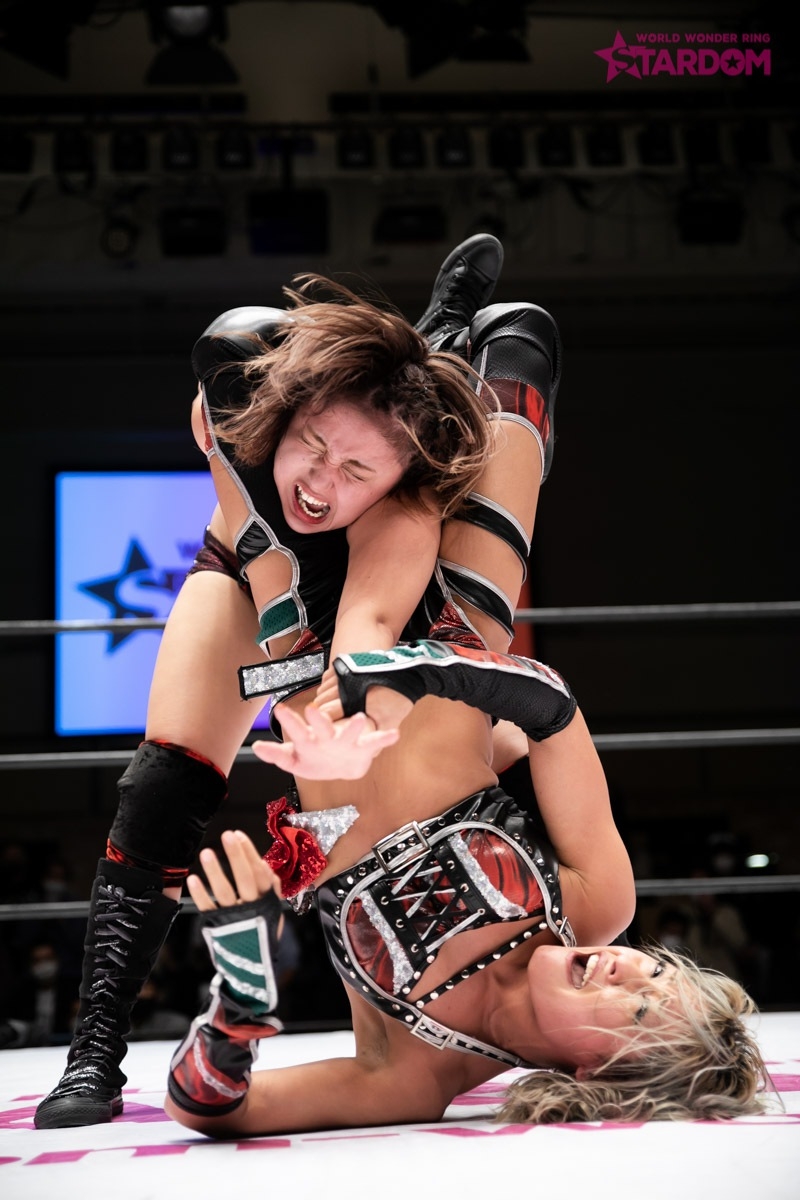 As a general rule, I am higher on Giulia than most. I don't hold the way she came into Stardom against her and think she's got all the right attributes to be fantastic. However, someone needs to realise that she's not, at least at this point in her career, suited to working these epic style main events. Because fuck me, a lot of this was dull.
And there is no shame in that. The number of wrestlers who can do epic is tiny, and the number of occasions where epic is called for is about the same. Giulia excels in other roles, her defence against Tam working as perfect proof of that. It's when they have her aim for these big, New Japan style main events that things start to fall apart. If anything, it's that she's too ambitious, aiming for the grandiose as she looked to tell the story of her chipping away at Jumbo.
It makes even less sense when the opponent is Jumbo, someone who isn't exactly suited to that style either. For both of them, the best parts of this match were when it felt like a fight. Yes, the two taking it in turns to exchange slaps while kneeling was silly, but it was the right kind of silly, while the Powerbomb that Jumbo hit Giulia with looked vicious. What I saw here suggested that a tighter battle between them would have been great.
Sadly, we didn't get that, as this is becoming a recurring theme in Stardom main events. It's doing them no favours, but then again, it is a style that I, in the last six months or so, have come to dislike a lot, while plenty others adore it, so maybe I'm in the wrong. Either way, this one wasn't for me and left me craving the days of Arisa and her violent, pacey defences.
Verdict: There Was A Decent Match In There, But We Didn't See It
Giulia called out Konami afterwards, setting up her third defence. Konami said yes, or at least that seemed to be the message, it's hard to tell with her sometimes. Honestly, that's a bit of a relief. I was worried going full heel would see her revert to boring QQ Konami.
Giulia then took a moment to reflect on her third anniversary, a slither of emotion breaking through as she talked about her entry into Stardom and the reaction to it before thanking those who stood by her. Lotta people could probably use remembering there is a young woman making decisions for herself behind that stuff, not the anti-christ come to ruin their wrestling bubble.
Overall Show
That was a strong Korakuen with a slightly disappointing main event. It seems Stardom is trying to lower the importance of Korakuen in their calendar, as events like their upcoming Sendai show are getting the packed card treatment. Even with that, there was more than enough good wrestling here to make it worth a watch.
Watch Stardom: http://www.stardom-world.com/
If you enjoyed this review, please consider contributing to my Ko-fi, even the smallest amount is appreciated.