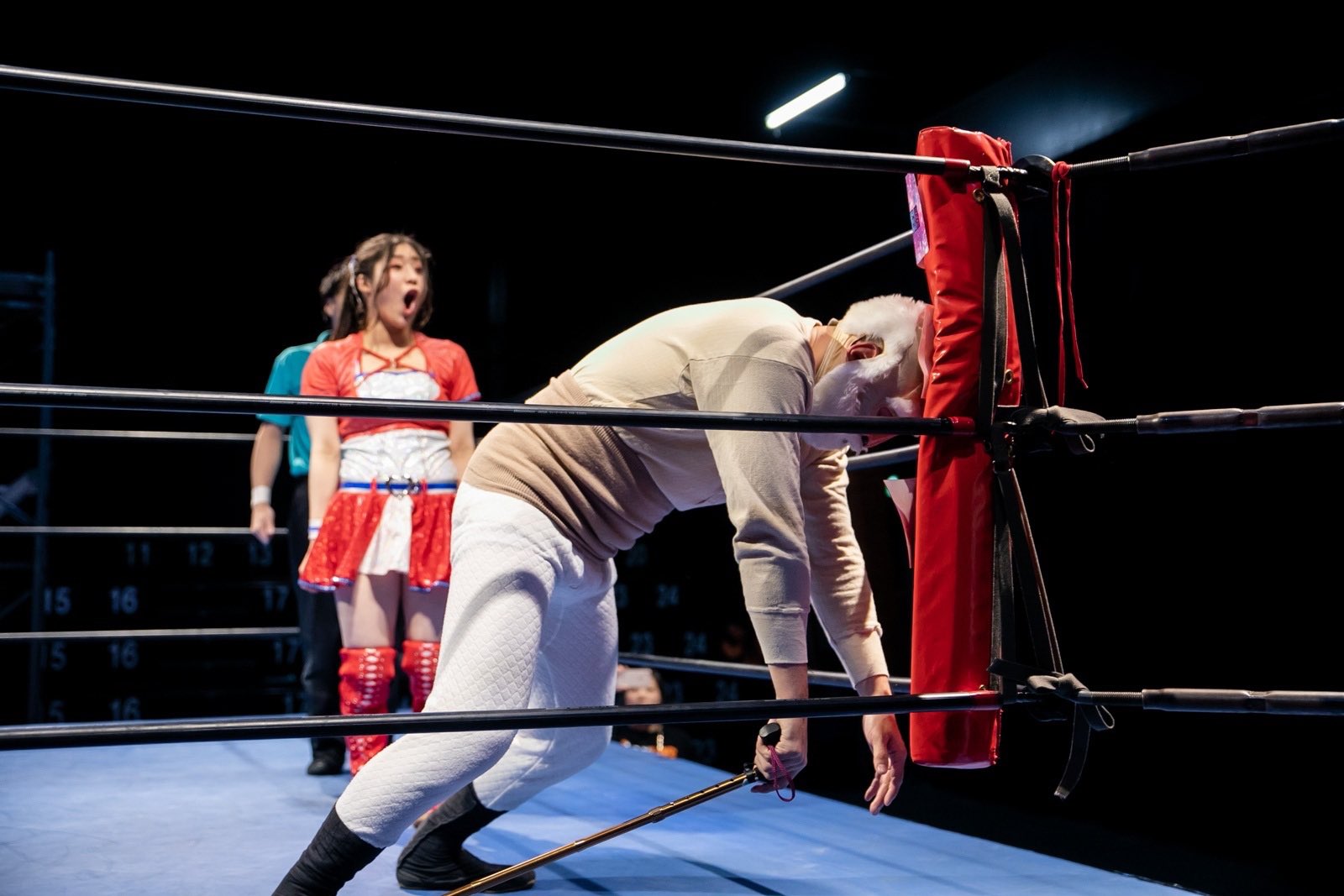 The calendar has ticked over, and we are into 2021, bringing with it, em, well, much of the same so far, but fingers crossed it gets better! It does mean we're into a fresh year of wrestling, though, with a whole new set of opportunities for people new and old to impress. With it comes, of course, my monthly round-ups of my favourite matches, where I bring you a taste of all the stuff I've been enjoying. So, what are we waiting for? Let's dig in.
Emi Sakura vs Minoru Fujita, ChocoPro 78 (3/1/21), ChocoProLIVE!
The highlight of ChocoPro's New Year Livestream was when Minoru Fujita turned up proudly clutching his Independent Wrestling MVP award. Not only was Fujita clearly delighted to have been given such an honour 23 years into his career, but it led to one of those beautiful moments where Emi Sakura's oni facade breaks, as she burst into tears of joy for her old friend. Of course, such things rarely last when it comes to Emi. A few days later, she was dressing him down, angry at him for losing his BJW Deathmatch title and making himself less valuable to ChocoPro. When Fujita pointed out he wasn't the only person to have lost a belt recently (Emi having dropped the Asia Dream Tag Titles to Best Bros), this match was inevitable.
And what I loved about this is that it felt like two veterans going to war. We tend to celebrate older wrestlers still being able to move like they could twenty years ago (and there is no doubt both Emi and Fujita can do that on their day), but there is something even more satisfying about watching them wrestle their age. These two are beat-up old warriors, both still able to go, but relying on their brains rather than the physical gifts they might have had when they were younger.
It made for a match that was a touch slower but incredibly physical. Emi and Fujita were hitting each other hard, every move delivered for maximum impact. Those years paid off not just in those smarts, but in their immaculate timing. It was a joy to watch these two work together, getting to appreciate all the little things that they do so well. There is no denying that I still want to see someone like Emi rollback the clock (she also hit a 450 Splash this month), but this was a nice reminder that wrestling is not solely a young person's game. These veterans have lasted as long as they have for a reason, and they can still compete with the best when they want to.
Antoni Honda vs Choun Shiryu, DDT New Year Special! (3/1/21), DDT
It's easy to forget how good Antonio Honda is. Part of that is his worrying Twitter history, but it's also that he's been pigeonholed as the comedy guy. People believe he can't be a good wrestler because he's a bit silly, so is therefore presumably incapable of being serious. However, to paraphrase Terry Pratchett, the opposite of funny has never been serious. The opposite of funny, is not funny, a very different thing indeed. To bring that back to wrestling, being silly does not mean you are untalented. In fact, Honda's silliness only works because he is incredibly talented.
And now and then Honda gets it into his head to go out and remind people of that. It was a decision he and Choun made on the eve of Honda's 16th anniversary as a wrestler and the day after his 43rd birthday because while they were second on the card of this DDT show, they wrestled as if they were in the main event. We even saw Honda pulling out a rare dive to the outside, taking flight with a perfect tope.
What I love about Honda, is that he also believes funny doesn't have to be the opposite of serious. Yes, he wrestled his arse off here, showing off the fact that he is in perhaps the best shape of his career, and looking brilliant while doing so. But you know what he did after hitting said dive? He went back to the ring, got the mic and started telling his Gon story, declaring that having pulled off the tope he had no more regrets, so would be on his way. He will go out and put on a hell of a match, but he'll never stop being Antonio Honda, getting so fired up that he not only pulled down his strap but pulled it up so he could pull it down again. Those tastes of 'serious' wrestling only work to make the funny all the funnier, and I wouldn't have it any other way.
Maki Itoh vs Miyu Yamashita, Tokyo Joshi Pro '21 (4/1/21), TJPW
Maki Itoh and Miyu Yamashita's long-running feud is one of wrestling's oldest stories. An unassailable Ace being chased by the up and comer, desperate to catch up with them and prove they're not only their equal but perhaps even their better.
What makes Maki and Miyu's version of this story so fantastic, is that it doesn't only cover Maki's move up the card from a storyline perspective, but her improvement as a wrestler full-stop. When Itoh entered Tokyo Joshi as the fired idol, she was, to be generous, a limited in-ring worker. She's always been a fantastic character, which is why she got the opportunities she did, but I don't think anyone ever expected her to become an incredible wrestler. Except, she has.
And that's not a new thing, she's been brilliant for a while, but watching this, it became clear just how far she's come. This wasn't a case of Miyu dragging Itoh up to her level, something she is undeniably capable of, but Itoh showing that she is capable of getting there by herself. It was a battle between the coolest Ace on the planet and someone who is willing to give it her all to pull her from that perch. Maki threw everything she had at Miyu, new and old moves alike, trying to put her away before ultimately being crushed by the fact that Yamashita is just too good.
The cherry on top came from an outstanding finish. It would have been the easiest thing in the world to have Miyu kick Itoh's head into next week and pin her once more, but they didn't do that. Instead, Yamashita won by knockout, Itoh's bloody-minded determination to keep going hitting a wall as the onslaught became too much. It was a move that worked on every level, the shock of it catching you off-guard, but also in that it shows the only way to stop Maki is to knock her out. Yes, it means Yamashita dominance over her continues, but it hints that it might not last forever.
Rika Tatsumi vs Yuka Sakazaki, Tokyo Joshi Pro '21 (4/1/21), TJPW
The only finish this month that was better executed than Maki vs Miyu happened in the main event of the same show. It was the moment in which Yuka Sakazaki's year-plus reign finally came to an end as, having had her leg worked all match by Rika, she lay flat on her back in a Figure Four and realised she wasn't going to be able to make the ropes. As the tears streamed down her face, it was clear she wouldn't quit, but that there was no way she could go on. The decision was left to the referee, as he called for the bell and played his part in one of the most beautiful, heartbreaking ends to a match that I've ever seen.
Such a finish could easily overwhelm the rest of the action, but there was no chance of that. Rika and Yuka put on a hell of a showing as they saw out an incredible title reign in style. Ultimately, it was also a selfless performance from Sakazaki, as she allowed Rika to rip that leg out from under her, cutting her off at every turn. All the things that had given her the edge over Tokyo Joshi's best were pulled away by her old friend, Tatsumi countering every weapon in Yuka's arsenal, proving that, unlike last time she challenged for this belt, she was more than ready to be champion.
It added up to a near-perfect title change, one that not only saw Yuka go out on a high but put Rika in position to have a reign that's just as good. There was a lot of history and expectation coming into this, birthed from both Rika and Yuka's friendship and the January 4th show being Tokyo Joshi's big one, but they proved more than worthy of living up to it.
Team Marvelous (Mio Momono, Rin Kadokura and Mei Hoshizuki) vs Team Sendai (DASH Chisako, Chihiro Hashimoto and Mika Iwata), Marvelous Road To GAEISM (12/1/21), Marvelous
With the GAEISM reunion show on the horizon, it feels like the start of 2021 will be defined by Chigusa Nagayo and those she's trained. If you've any complaints about that, then you're probably in the wrong place, but I recommend you watch this match before you see yourself out.
For if this is a taste of what that show will be, we are in for a treat. Coming off the back of an epic gauntlet match on a Sendai Girls' show, this was three of Chigusa's best vs three of Meiko's and the tension was thick in the air. Before the bell had even rung, the ordinarily mild-mannered Rin was being held back by Tommy, her desire to start scrapping bubbling over.
She'd get plenty of opportunity for that as this was a brilliant example of how to lace a feud with animosity. Company vs company matches often sound more exciting than they are, as, in reality, the random pairings of wrestlers lack the bite needed to create truly great bouts. Here, however, you felt the anger pouring off these women, every kick or Hashimoto throw making sure to leave a mark. By the time Mio Momono bundled Big Hash up for the win, you were left with no doubt as to how these people felt about each other.
It gave us a match that not only proved to be a great watch but left me incredibly excited as to where they are going next. I believe that counts as a job well done.
As a bit of additional reading on this feud, George Twigg of the Puro Pourri Podcast wrote a really interesting article about how it's being put together, so I'd recommend checking it out.
AZM vs Kaori Yoneyama, Stardom 10th Anniversary (17/1/21), Stardom
Kaori Yoneyama spending most of her time in Stardom dressing up as a clown and goofing off is one of my favourite things as it's a wonderful encapsulation of one of wrestling's most unique talents.
However, that didn't stop me being very excited about her ditching the make-up for this match. AZM is brilliant, with the one flaw in her high speed career coming from the lack of suitable opponents in Stardom. So, to see her face-off against one of the greats, was a bit of a dream match, even if she has wrestled Yone's various personas on multiple occasions.
And while I've seen very little hype about it, they gave me what I wanted. From the second the bell rang, Yone made it clear she was here to work, and in the five minutes that followed, she and AZM showed off why high speed wrestling is as exciting as it is with intricate sequence after intricate sequence linked together perfectly. It was just a lovely old time, and that's exactly what I needed it to be.
Now, let's get AZM over to SEAd and settle her in under Taiyo's wing for a bit.
Sakura Regina Hirota vs KAORU, Marvelous (18/1/21), Marvelous
Our new Regina is on a bit of a roll at the moment, as she followed up taking the belt with a brilliant defence against Mikoto Shindo. It didn't make this list because I only have so many spots, but I would highly recommend giving it a go.
Instead, I have decided to talk about a mid-card muck around with KAORU, one that, when you strip it all back, was basically two old friends having a lovely time. KAORU and Hirota have shared many rings in many companies, and even if you didn't know that, I think you could have guessed after watching them make each other laugh.
And I love that kind of wrestling. I love watching two people who know each other that well, go out and do things that are mainly designed to pop the other one. It's self-indulgent and silly, but it makes me feel warm and fuzzy. KAORU running through the spots Hirota has been doing for years, not even bothering to hide the laughter, gives me the same feeling that sitting in a warm pub surrounded by my friends does. Pulling Chigusa into the nonsense, getting both her and Iroha involved, only strengthened those feelings.
With KAORU announcing that she'd be retiring this year, she and Hirota are only going to share the ring so many more times. These moments now have to be savoured because soon we won't have them at all, and while it might not be everyone's idea of what makes great wrestling, I will certainly miss them when they're gone.
Oni Ni Kanabo (Yoshiko & Sareee) vs Arisa Nakajima & Nanae Takahashi, SEAdLINNNG Shinkiba Night (22/1/21), SEAdLINNNG
SEAdLINNNG's tag team division has been a masterclass in how to book something interesting and exciting with just a handful of wrestlers. Sure, it helps that those wrestlers are some of the best on the planet, but it also shows that you don't need a whole lot to do something great. This month alone they had this match and the Best Friends' one vying for a spot on my list.
In the end, I plumped for this because while it was another brilliant SEAd main event (which are almost so reliably great that they're hard to write about), it brought with it the emotion of the WWE Countdown coming to an end. Sareee's second farewell tour reached its conclusion as she headed off to join Nakamura on the beach (that's why wrestlers move to America, right?), giving this an emotional edge that bumped it above the other for me.
Ultimately, though, it doesn't really matter what SEAd tag main event you're talking about because they're all fantastic. This group of wrestlers seem incapable of getting into a ring together and giving anything less than 100%, as they beat the living shit out of each other in these epic, back and forth encounters. It's a style that I often claim to dislike, but SEAd prove (much like with many things in wrestling that I have claimed not to be a fan of) that's it not the idea that's the issue, but the people doing it. When handed to these four women, that drawn-out, big match feel doesn't hinder, but adds, making for one hell of a watch.
Best Bros (Baliyan Akki & Mei Suruga) vs TropiCalamari (Chris Brookes & Yuna Mizumori), ChocoPro 85 (29/1/21), ChocoProLIVE!
The twisted threads of history that came together to make this match are quite something. You have the long-running story of Mei and Yunamon, two peers who have wrestled countless times and bring the best out of each other. Then you have Akki and Brookes, wrestlers who have found a home in Japan and view each other as rivals, even if Chris has tended to get the better of their exchanges. That's not all, though. Since Brookes stepped into Ichigaya, he and Mei have been at loggerheads, developing a sibling-style relationship of competitiveness and snide comments. Then there's Akki and Yunamon, a feud that has lingered throughout ChocoPro, with Akki's shoulder injury that took him out of a chunk of last year coming in a match against the Tropical Girl. These threads weren't so much intertwined, as tangled beyond any hope of getting them apart again.
Not that I'm complaining. Everyone in this has outstanding chemistry with everyone else, and it made for a hell of a ride. Since coming back together after Akki's injury, Best Bros have been on the run of a lifetime, great match after great match, coming close to the SEAd tag division I was just eulogising. Akki and Mei seem to adore teaming together, pushing each other to reach greater heights and putting on displays of incredible skill. Every piece of their matches feels like it's in the exact right place, perfectly positioned to lead to the next, as their intricate puzzles come together.
And when you're that good, something going wrong often only makes it better, the skill of those involved covering for any slip-ups. A perfect example of that was Akki struggling to get Mei over for the Dolphin Star Splash, a moment that didn't appear to be deliberate and, if it had been the finish, might have led to them being disappointed that the execution was off. Here, though, it worked to their advantage because as the count was made, a wild Chris Brookes appeared to make the save, turning a genuine mistake into a kayfabe one. That extra second or two that Akki and Mei took to hit the move, now felt like it was responsible for them not getting the win, and the fact that wasn't the intention is irrelevant to the narrative.
It all plays into the idea that the very best create their own luck, and while they continue to deliver matches like this, there is no doubt that these four are some of the very best.
Mei Suruga vs Gabai Ji-chan, ChocoPro 86 (31/1/21), ChocoProLIVE!
Any match that opens with a Mei Jump causing someone to have a heart attack and Mei to burst into tears, thinking she'd killed the old bugger, is going to get the thumbs up from me. To add to the joy of that moment, not only did Mei start crying, but she also tried to pin Gabai Ji-chan because while she isn't a heartless person, she does like to win. She can't help it. She's an Apple Goblin.
It set up a match where Mei was grappling with her instincts (that it's bad to beat-up an old man) and her desire (that she wants to beat up an old man). In the opening, she was patient and respectful, helping him when he got confused and worrying as he struggled to get to the ring. By halfway through, she was grabbing the camera so she could bring it in closer and everyone could see her dishing out a beating. It's the perfect realisation of the Mei Suruga secret that becomes less of a secret with every match, that while she is that bubbly apple girl, the goblin is always there, lying just below the surface and ready to emerge at any moment.
This match couldn't be more different to Best Bros vs TropiCalamari, but they both served as further proof that Mei Suruga is incredible. Filmed on the same day, where that one was a thrill ride of back and forth action, this was Mei at her comedic best, providing enough material for a thousand reaction GIFs in the first five minutes alone. On top of all that, it's just really fucking funny. It's Mei Suruga fighting a grandad, how can you not want to see that?
If you enjoyed my ramblings, then please consider contributing to my Ko-fi, even the smallest amount is appreciated.