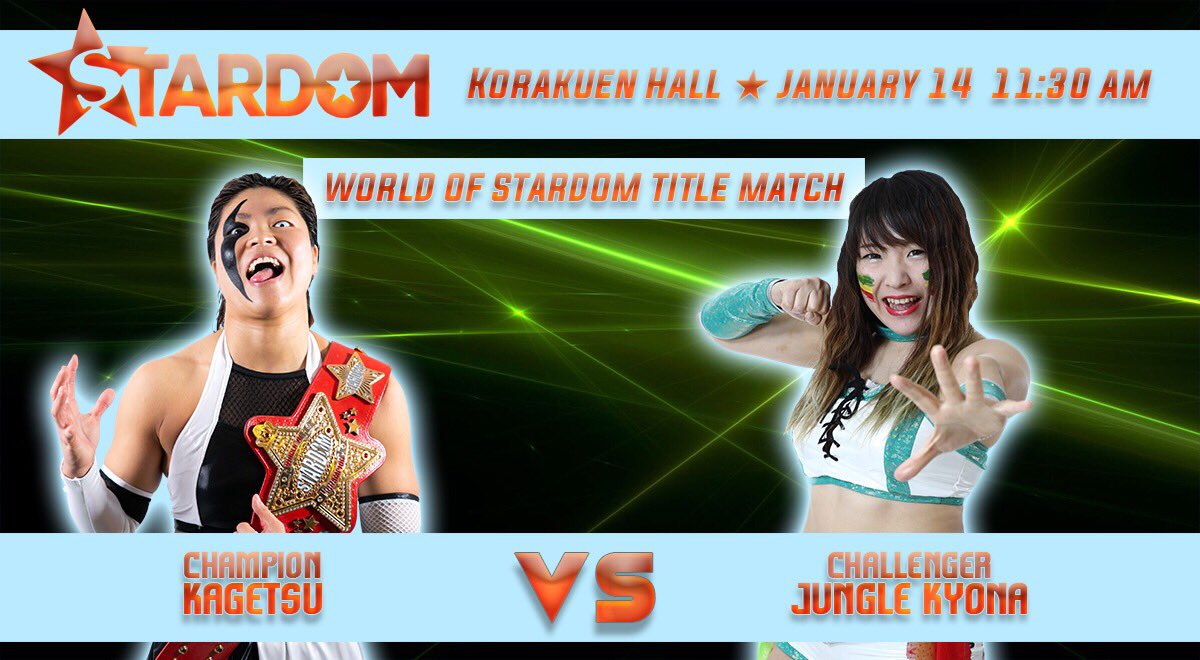 For the first of their two anniversary shows, Stardom put together one hell of a card. We got debuts, title shots and more, with a couple of matches that had the potential to be real special. Did they live up to that? Well, let's go find out.
Natsuko Tora defeated Saya Iida
This is Saya Iida's debut, and it's happening at Korakuen Hall. How awesome is that? Or, alternatively, how terrifying would that be?
Despite the potential nerves, she produced a good performance. They didn't do anything fancy or move beyond a simple match structure, but you would never have expected them to. It was a solid six minutes contest where Iida did everything that you'd hope she would. You could see her settle into the action as her nerves fell away and she started to look more natural in the ring. That's a good sign for the future.
Credit must also be given to Natsuko Tora. I've never wrestled anyone in their debut, yet I suspect it's a challenge. You have the responsibility of walking them through it, keeping them calm and ensuring they don't get carried away. Time will only tell how big a part Tora played in this performance, so we'll just stick to giving her the thumbs up for the moment.
After suffering defeat, Iida said that while she might be small, she is aiming to become a more complete wrestler before asking to be let into JAN. Said request was graciously granted, and she posed with her new stablemates to end the segment. How lovely.
Verdict: Do star ratings matter in a debut? She did good, that's the important thing.

Mary Apache and Natsumi defeated Hanan and Ruaka, Stars (Starlight Kid and Alex Gracia) and Hina and Rina in a Gauntlet Match
Gauntlet matches are tough spots to produce greatness in, especially when they're low on the card. You end up with a series of short bouts, each of which struggles for the time to shine.
Despite that, I was able to take some positives from thi. I think I'm finally getting a handle on which twin is which (Hina blue and Rina pink, am I right?) and I discovered that Natsumi is Mary Apache's daughter. Her complete disinterest in teaming with Mum was fun, although Mary got the final word by pushing her away following the big victory.
Outside of things Stuart learnt today, the action in the ring was all solid without being spectacular. The majority of the people out there were rookies, and the more time they spend between those ropes, the better. It got them on the card, gave some of them the time to work with the veteran Apache and delivered a solid match in the process. Let's not over analyse it.
Verdict: Two And A Half Stars
Hana Kimura, Sadie Gibbs and Bobbi Tyler defeated Oedo Tai (Hazuki, Jamie Hayter and Natsu Sumire)
This feud has been bubbling away all tour after Hayter turned on Hana's gang to join Oedo Tai. That personal edge meant it didn't take long for things to get violent. People were being dragged through the crowd and treated rather cruelly.
What followed was a solid match with the gaijin wrestlers getting plenty of time to impress. Hayter was the standout, as she looks like the complete package, but Gibbs' athleticism is astonishing. With a bit more in-ring experience, she could be special. Sadly, that leaves Bobbi, who hasn't done it for me this tour. She had an awkward spot while attempting to put on a double Romero Special with Tam which summed it all up. She's never looked comfortable.
Still, I enjoyed this and Gibbs being chosen to get the win over Natsu suggests Stardom see something in her too. Now, if we could only convince her to change that entrance theme.
Verdict: Three Stars
Stars (Mayu Iwatani, Saki Kashima and Arisa Hoshiki) defeated Queen's Quest (AZM, Konami and Bea Priestley) in Mayu Iwatani's Eight Anniversary Match
As well as being her Eight Anniversary as a wrestler, this was Mayu Iwatani's return from injury.
Her return wasn't made easy either. It didn't take long for Queen's Quest to attack her knee, going after it with glee. That established the flow of the match, with QQ dominating large parts of it. After Iwatani tagged out, they moved onto the arm of Kashimi and seemed to have this firmly in control.
It would be Iwatani who changed that. This was my first time seeing her, and you can see why she is held in such high esteem. Everything about her screams star, from the seamless way she moves around the ring to her selling. She also hit a Superkick here that put the Bucks to shame. This was merely a taster – and she spent more time selling than she did on the offensive – but it was a taster that left me craving more.
Iwatani would end up fighting back from the damage and hitting a Moonsault on AZM to cap off her return. If this is what she's like coming off an injury, I can't wait to see what the future holds.
Verdict: Three And A Half Stars
Utami Hayashishita defeated Viper to win the Eve International Title and the SWA Undisputed World Women's Title
There was a distinct whiff of goodbye to Viper's pre-match promo. She spoke about wanting to soak in wrestling at Korakuen and said she believes Utami is a future Ace. Rumours are swirling about her signing on with WWE, but I don't know anything for certain. The events of this match certainly won't quash them, that's for sure.
That shouldn't be the focus, though! The focus should be on Utami picking up her third and fourth title with another standout performance. According to Cagematch, she made her debut in August of last year. That is astonishing! The lass is a wrestling prodigy.
In the ring, it became apparent that while Viper was all kind words backstage, she wanted to teach a lesson. For the bulk of the action, Viper was dominant, twisting her young stablemate up, and using that superior power to slam her around.
Utami never stopped, though, and every little mistake Viper made was seized gratefully. When she got adventurous and tried a Cannonball into a chair or a move off the top rope, Utami was ready to strike. She'd twist out of the way and come flying back, selling her injuries, but desperate to grab a hold of the rare chances that she had.
And grab a hold she did. Having tried multiple times throughout the match, Hayashishita finally got Viper over for the German and with it the three. Once again, Utami had gone out there and put on a compact (it went about eleven and a half minutes) and exciting title fight. She's a genuine marvel.
Verdict: Four Stars

Momo Watanabe defeated Tam Nakano to retain the Wonder of Stardom Title
Tam came into this one as the underdog, determined to prove that she's more than Mayu Iwatani's friend. Momo was looking to prove that's exactly what she is.
That set Nakano up to work from underneath. Like Utami in the match before, she was forced to make the most of her opportunities, going big when she got the chance. The perfect example of that was when she escaped a Watanabe move on the floor. There was no time to think, she had to do, and a German Suplex onto the hard ground was the perfect response.
But while it might have been the right idea, that didn't mean it was enough. Tam tried everything, kicking Watanabe in the head time after time. Multiple times she went for the Tiger Suplex, only for it to be blocked. Then, when she Nakano hit it, Momo went and kicked out! She would not stay down.
So, Tam went high-risk. Pulling Watanabe up to the second turnbuckle, she once again went for that Suplex. This time it went wrong. Watanabe shoved her off and flew after with a Somato. Tam defiantly kicked out a couple more times, but it wasn't long until she was dropped on her head and put down for three.
Not all was lost, though. Afterwards, Momo got on the mic and told Nakano she could feel how much she wanted to win, and that while Tam wasn't on Watanabe's level yet, she was challenging her to catch up. I think that's a little thing called the earning of respect.
That was then followed by even more talking as Jamie Hayter and Sadie Gibbs came out to make separate challenges. Momo accepted both, although she made clear to clarify that she meant one at a time. She ain't Kenny Omega.

Anyway, this was another superbly executed title match. So far, Stardom hasn't let me down on that account. Let's hope it continues.
Verdict: Four Stars
Kagetsu defeated Jungle Kyona to retain the World Of Stardom Title
I've been looking forward to this one all tour, and it did not disappoint. These two went out and delivered an epic.
It was a match built around two injuries. Kagetsu came in with her upper back/neck strapped while Kyona's arm was her weakness. Both women quickly moved to zero in on those body parts, although Kagetsu had the advantage of a sneaky pair of brass knuckles to shift the tide in her favour.
That set up a period where she went to town on Jungle's arm, dragging her around Korakuen, bouncing her off signs and twisting her around barriers. She even ended up draping herself off the entranceway, dangling in the air with an Armbar locked onto poor Jungle Kyona's arm. It was a fucking awesome visual.
It was on their return to the ring that this took off, though. Suddenly, these two were throwing everything at each other as they battled to come out on top. It was a gruelling slugfest, but one determined by the little touches. There was a fantastic moment where Kyona had Kagetsu trapped in a choke with her legs, but was still reaching out and grasping her injured arm, unable to get comfortable thanks to the pain running through it.
In the end, Kagetsu couldn't resist. While she went into this telling Kyona that she'd wrestle a clean match, that was never her intention. As she was lifted up for a Powerbomb, she raked Jungle's eyes (I think, the camera angle wasn't perfect, something definitely happened to the eyes), before spitting something in them shortly after. A 450 Splash might have been enough, but she put the exclamation mark on it, a Death Valley Driver picked up the three.
This was wonderful. It was the first epic Stardom main event I've seen, and it delivered as even the slightly unclean finish wasn't enough to put me off. These two are fantastic, and I can't wait to see what they do next.
Verdict: Four And A Half Stars
Overall Show
A big-time show packed with big-time performances. The three title matches that closed this out were outstanding, while the undercard was very watchable. This is second only to Wrestle Kingdom on my show of the year list, and it will take something special to knock it out that slot.
Watch New Year Stars: http://www.stardom-world.com/
If you enjoyed this review, please consider contributing to my Ko-fi, even the smallest amount is appreciated.