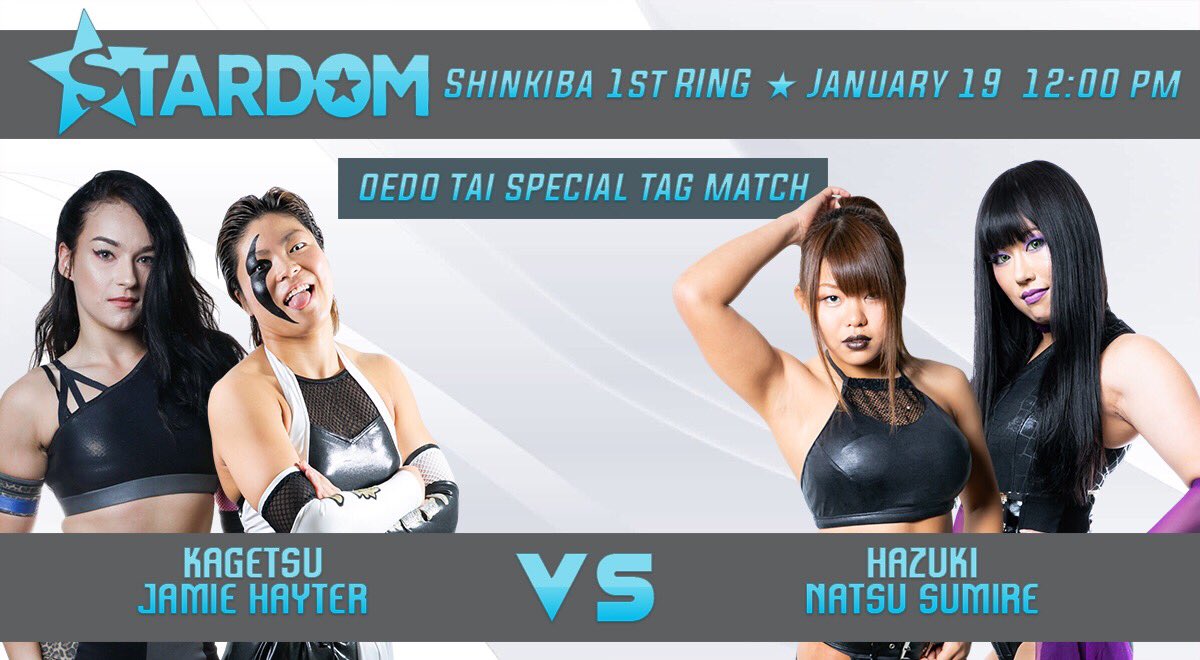 Stardom's fifth New Year Stars event of 2019 was all about building towards their Anniversary show in Osaka, and while there wasn't much in the way of big singles matches, we are getting an Oedo Tai showdown in the main event. Throw in Hanan challenging for the Future Of Stardom Title, and there was every chance this would be an entertaining show.
Stars (Saki Kashima and Alex Gracia) defeated JAN (Kaori Yoneyama and Ruaka) and Rina and Hina
Kashima describing Yoneyama as the 'happy old lady' is the kind of smack talk that wrestling doesn't have enough of. Friendly insults, they're the future.
You know what you're getting with this match, but it had its fun moments. Rina convinced Kashima to align with her and then used that as an opening to roll her up at every opportunity. That was followed by a group submission at which point Yoneyama entered the ring and decided that rather than joining in, she was going to walk over everyone. Good tactic.
There were some awkward moments between the rookies, but it was still a decent match with Kashima eventually tapping out her unfaithful ally for the win.
Verdict: Two And A Half Stars
Queen's Quest (Momo Watanabe, AZM and Konami) defeated JAN (Jungle Kyona, Natsuko Tora and Saya Iida)
It consistently amazes me how young Stardom wrestlers are. I hadn't realised that Momo and AZM are still teenagers. They're so good that the idea they would be anything other than seasoned pros never crossed my mind. Then again, they both made their debuts at ridiculously young ages, so they are seasoned pros.
Anyway, there was more to this than me being surprised at how old people are. We're building to Jungle Kyona and Natsuko Tora challenging for the Goddesses of Stardom Titles, while also getting a second runout for Iida. By which I mean Queen's Quest beat her up for a bit. Konami was particularly enjoying dishing out some lessons. Considering some of the blows she took, the rookie showed a lot of heart in her comebacks, even if they did prove ineffective.
Outside of that, it's becoming the norm that everything Jungle Kyona does is fantastic. Her teamwork with Tora has a natural vibe, and their interactions with all three opponents looked great. Everyone involved in this one could go, and it showed in the clean and crisp action that ended with a Double Stomp to Iida from AZM.
After the bell, Momo got on the mic and said JAN lost because they let a rookie fight their battles. She then promised to get the win and went head to head with Kyona before Tora promised their power would see them come out victorious. Nice hype for the match.
Verdict: Three And A Quarter Stars
Hana Kimura, Sadie Gibbs and Bobbi Tyler defeated Stars (Mayu Iwatani, Tam Nakano and Starlight Kid)
Sadie Gibbs has been at the centre of a lot of nonsense recently, hasn't she? Will Ospreay might be a wonderful wrestler, but it's long been clear he's a bellend of a human being. While I can't comment on Gibbs' attitude behind the scenes, she's impressed between the ropes.
In less controversial (and more adorable) news, we learnt in the pre-match promo that P-sama (Tam Nakano's toy panda) has gone into hiding post-Korakuen. She suspects he's off on a trip, but if anyone finds him, please point him in Tam's direction. Thank you.
Tam's rough day continued into the intro of the match, as for whatever reason, she was refused the streamer treatment. I've no idea what happened, but she was roundly mocked for it by Hana's gang until Mayu was kind enough to give her some of her's.
All of that set up a lovely old-school heel and face dynamic with Hana and co relishing their evil role. They even kicked things off by refusing a handshake with some rather rude hand gestures and were gurning for the fans/cameras throughout. It was a shitload of fun, and the three Stars' wrestlers were the perfect babyface foils for them.
The finish put the spotlight on Gibbs as she hit that incredible Twisting Sasuke Special to the outside before throwing Starlight Kid back into the ring and connecting with a Frog Splash for the three. That's another big win for her, and whatever Billy Twatface may think, it seems Stardom sees something in her. Let's hope that after she has the proper time to deal with the loss in her family, she's invited back, and we get to see what she can do.
Verdict: Three And A Half Stars
Utami Hayashishita defeated Hanan to retain the Future Of Stardom Title
This went around six and a half minutes and served more as an enhancement match for Utami than anything else. However, Hanan was given a chance to go on the offensive and show what she can do, and in those periods she gave the most complete performance I've seen from her yet.
The bulk of that was built around her Judo background. The two started by grappling and some tricksy rolling saw Hanan gain the advantage over Utami at which point she went for it, hitting a couple of dropkicks and a flurry of elbows before attacking the arm to set up for her Armbar.
That Armbar would prove her most effective weapon in the final third of this match, as the crowd got genuinely excited when she managed to slip into it. Utami would escape, but the damage done looked like it might cause her trouble. She struggled to get Hanan up for the Torture Rack and was caught in a series of flash pins.
Of course, it wasn't to be enough. Hanan got wrapped up in emotion and made a mistake. In her desperation to throw herself at Utami, she got trapped in a Sleeper and the second attempt at the Torture Rack was successful.
This won't go down as a classic, but it was a nice win for Utami and gave Hanan a chance to shine. No complaints.
Verdict: Three Stars
Oedo Tai (Hazuki and Natsu Sumire) defeated Oedo Tai (Kagetsu and Jamie Hayter)
As we build-up to Hazuki vs Kagetsu, we've got a bit of an Oedo Tai civil war going down. Although they made their entrance as a group and did the dance together, so they didn't intend for tensions to run too high.
And, to begin with, that plan seemed to be working. We were getting chain wrestling and Natsu shenanigans. It was all very pleasant as they competed in the spirit of fair competition.
Then, Natsu saw the chance to go for broke, and she took it. At that moment, things went from friendly fun to Kagetsu throwing Hazuki into the crowd. It was quite the switch, almost like she ain't a fan of keeping things clean…
While Sumire was still being Sumire, this had become a very different match. Hazuki and Kagetsu were going at each other hard, as it became apparent this title fight could be something great. There was a crispness to their work which only comes with familiarity, and we quickly discovered that they seem to like kicking each other. That's always going to get me on board.
The final few seconds were great, as Hazuki came within milliseconds from pulling off the upset, with Hayter's intervention being all that stopped Atomic Bombs Away from getting the three. She then survived a run of offence (including a Golden Lover style Double Knee) from Hayter and Kagetsu before dodging the 450 Splash and rolling up the champ for the three. She's going into her title match strong.
After the bell, she asked Kagetsu if she had any second thoughts about making the challenge. Kagetsu responded by saying she'd lost on purpose only for Hazuki to point out that Kagetsu had previously told her backstage that she uses that line to catch people off-guard. That got a chuckle from me. They then went on to promise a great match before closing out the show.
That was good! A solid main event that built my excitement for the two teammates facing off. If it lives up to the promise shown here, it should be a show stealer.
Verdict: Three And A Half Stars
Overall Show
There wasn't anything on this show that will blow you away, but it wasn't that kind of evening. It was designed to build up to the anniversary show in Osaka, and in that sense, it succeeded.
Watch New Year Stars: http://www.stardom-world.com/
If you enjoyed this review, please consider contributing to my Ko-fi, even the smallest amount is appreciated.