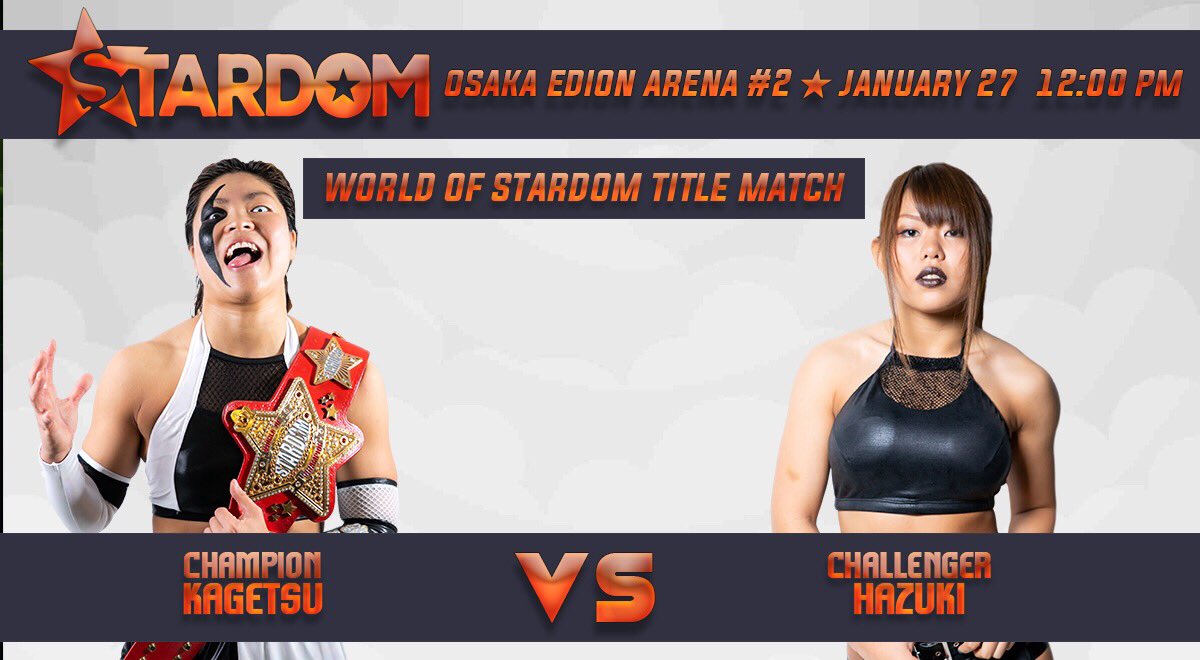 With the birthday celebrations out of the way, Stardom were back in Osaka with a card that had the potential to match the big day. Did it? Well, you'll have to read on to see.
JAN (Kaori Yoneyama, Saya Iida and Ruaka) defeated Hanan, Hina and Rina
We start with the rookies backed-up by the calming presence of Mama Yoneyama. Not that she's an attentive parental figure. After a cordial start, it was Yoneyama who led the sneak attack on Hina that caused things breaking down.
From there, we got the standard rookie fare although Iida continues to impress. She's slightly sloppy (although not in a way that appears dangerous), but there's a snap to her moves that makes her standout. Her dropkick is the perfect example of that as she really throws herself into opponents.
Iida also got to be on the winning side for the first time! JAN would pick up the three as Yoneyama survived a run of Hanan offence to roll her up.
Verdict: Two And Half Stars
Oedo Tai (Jamie Hayter and Natsu Sumire) defeated Stars (Saki Kashima and Alex Gracia)
I love a Stardom pre-match promo, and my favourite ones involve an English speaker teaming up with a Japanese speaker. No-one has a clue what is being said which only makes the whole thing more entertaining. Kashima and Gracia have developed a method around it, though, as they just shout the word pink at each other.
The start of this was pure comedy. Natsu stole attention away from Stars by lip-syncing along with Kashima's banger of an entrance theme before engaging in some verbal sparring with Gracia. I say sparring, it was more Kashima telling Gracia what to say while the Japanese crowd giggled. I was as clueless as Alex as to what they had her parrot.
Kashima's entrance theme wasn't the only thing grabbing attention, as she was the star of this match. There's no getting past the fact Gracia is hella green, and Natsu is Natsu, so the actual wrestling was left to her and Hayter. There wasn't much of it, but what we did get was good with Kashima's fiery energy grabbing the eye.
We got a touch more comedy towards the end as Kashima was held in the corner by Hayter who demanded a tearful Sumire hit the Bronco Buster. Unfortunately, the move seemed to do more damage to Hayter than their adversary as her sacrifice left her open to a string of Star's offence all of which she was forced to valiantly kick out of.
Jamie would fight back from that, finishing the match with, well, if I'm honest, I'm not sure what. It was a Suplex where I assume Gracia was supposed to come down across Hayter's knees, but it ended up looking like she'd reversed it into a Crossbody. They went to the pin anyway, closing out an alright showing on a dud finish.
Verdict: Two Stars
Queen's Quest (Konami and AZM) defeated Stars (Arisa Hoshiki and Starlight Kid)
Konami and Hoshiki kick. I like wrestlers who kick. Let them kick each other some more.
After two matches with less experienced talent, you could instantly feel the difference when these four were in the ring. There's a purpose to what they do, as they never look like they're thinking it through. Every step is natural which pulls you into the action.
They built the action around Konami and AZM attacking the arm of Kid, who plays a fantastic babyface in peril. You want to roar along with her as she shouts her defiance. Hoshiki's hot tag worked in perfect contrast as she came charging in and got down to what she does best. Some good old fashioned kicking.
Even after all that wonderful kicking the spotlight was still stolen by Kid and AZM who took us home with an exhilarating sequence. I pity anyone who was trying to record that move by move, as they flowed seamlessly from spot to spot before AZM got the win with a cool roll-up. A lovely ending to the best match so far.
Verdict: Three And A Half Stars
Stars (Mayu Iwatani and Tam Nakano) defeated Hana Kimura and Bobbi Tyler
This was originally a trios match for the Artist Titles, but with Sadie Gibbs having to return home due to a family emergency (all the best to her), it was changed to a tag. Thankfully, Hana and Bobbi weren't too bothered. They had a trip to Disneyland planned for after the show.
In past reviews, I'd picked out Bobbi Tyler as the weakest of the British wrestlers on this tour, so it's only fair that I point out that she's beginning to improve. Her heel act with Hana seems to be helping her to relax into working in a Stardom ring, and her performances are heading in the right direction. I sometimes forget that while it's easy to sit at home, reviewing this stuff, these wrestlers are travelling to a foreign country, to compete in new places against people who don't speak the same language. That must be nerve-wracking, and with it in mind, mucking up the Double Romero Special seems trivial.
Outside of Tyler, this was everything I wanted it to be. Hana and Tam have great chemistry, with Kimura's charisma shining through every time they face off. Then there's Iwatani who you don't have to watch much of to tell has it, whatever it might be. In a small quibble, the Running Knee from Nakano which finished Tyler off looked weaker than a lot of stuff that preceded it, but it wasn't like she completely fluffed it. I'd have just liked a bit more snap. Still, a damn fine match.
Verdict: Three And A Half Stars
Queen's Quest (Momo Watanabe and Utami Hayashishita) defeated JAN (Jungle Kyona and Natusko Tora)
Someone was making bizarre noises off camera during the Queen's Quest pre-match promo. Whoever it was succeeded in their quest to throw Momo off her stride for a second.
JAN's promo made it clear there was a personal edge to this match. It was a factor which bled into the action right from the start, as they attacked before the bell. Kyona was desperate to be in the ring as much as possible, tagging in just moments after she'd escaped a beating as she was determined to get her hands on the Queen's Quest team.
She wasn't doing a bad job either. Jungle Kyona is one hell of a wrestler, and her battles with Utami were particularly ferocious. Then, when she was willing to tag out to Tora, her partner would hit the ring at a million miles an hour. Clearing up with her high impact offence.
The problem is that Momo and Utami? They're really fucking good. Too good some might say. JAN would have beaten 98% of other teams, but that combo? Nah, you need something special to put them down. They countered JAN's fire by seamlessly transitioning from one awesome tag move to the next, unstoppable as they built momentum. It was enough to leave Watanabe alone with Tora, and a Peach Sunrise got the three.
This was every bit as good as you'd expect it to be. I loved the story of Jungle Kyona's desperation to get her revenge on Queen's Quest ultimately being the thing that let her down as she was too beat-up to save her partner from the ruthless efficiency of their younger opponents. That's good wrestling.
Verdict: Four Stars
Kagetsu defeated Hazuki to retain the World Of Stardom Title
It didn't take long for this to go from a confrontation between two teammates into a war. The turning point? Hazuki cutting off a Kagetsu dive by launching a chair into her face.
That moment summed up the Hazuki we got in this match. She wasn't happy to go out there and make up the numbers before being beaten by her more decorated faction leader. This was her chance to prove herself, to show that she was on Kagetsu's level. It was an opportunity that she threw herself into. Hazuki was wrestling with passion and fire, driving elbows into Kagetsu's head and being pushed forward by her desperation to win.
It was also a moment that seemed to dictate how Kagetsu wrestled. Unlike Hazuki, this wasn't about pride for the champ. It was about showing her younger friend that she's better than her. When she took control, she was ruthless in her teaching. Launching Hazuki into the fifth row, beating her with a chair and returning to the ring to wrap her up in complex submission holds. If Hazuki was fire, Kagetsu was ice. The teacher dishing out lessons to show the rookie ain't ready yet.
And, she wasn't. But she gave Kagetsu a damn good scare before coming to that realisation. A fact that was never more apparent than when she slipped out of the way of the 450 and wrapped her up in the same Small Package that had gotten the win on the previous show in Tokyo. For a second, she looked like she'd done it, and ultimately she was punished for that.
Because when Kagetsu is scared, she goes into her bag of tricks. As Hazuki climbed the turnbuckle, Kagetsu shoved the ref into the ropes, knocking her off balance. A few seconds later Hazuki was brought thudding down to Earth before eating the same 450 Splash/Death Valley Bomb combo that put Jungle Kyona away. Unlike against Kyona, though, Kagetsu had an extra message to send. Locking Hazuki up in a choke she forced the ref to call for the bell. Giving up for Hazuki when it was clear she wouldn't
There was one lovely moment of production that really summed up the story of this match. As Kagetsu went looking for a steel chair with which to beat Hazuki the camera zoomed in on Natsu Sumire, and her expression showed only fear. It was the look of someone watching two friends tear each other apart, and that's what this was. Two friends, destroying each other in a fantastic display. In an interesting note, Hazuki refused Kagetsu's handshake after Oedo Tai closed out the show. It's possible the wounds were still fresh and will heal over time, or perhaps, they went too deep to ever be closed up.
Verdict: Four And Three Quarter Stars

Overall Show
You aren't ever going to badmouth a show when the main event is that good. When you throw in the tag and a few decent undercard bouts, you can only recommend everyone go and watch it. The final two matches are the clear highlights, but there were enjoyable moments sprinkled throughout. Stardom is fast becoming my favourite promotion which in a world with New Japan in it, really is saying something.
Watch Stardom: http://www.stardom-world.com/
If you enjoyed this review, please consider contributing to my Ko-fi, even the smallest amount is appreciated.