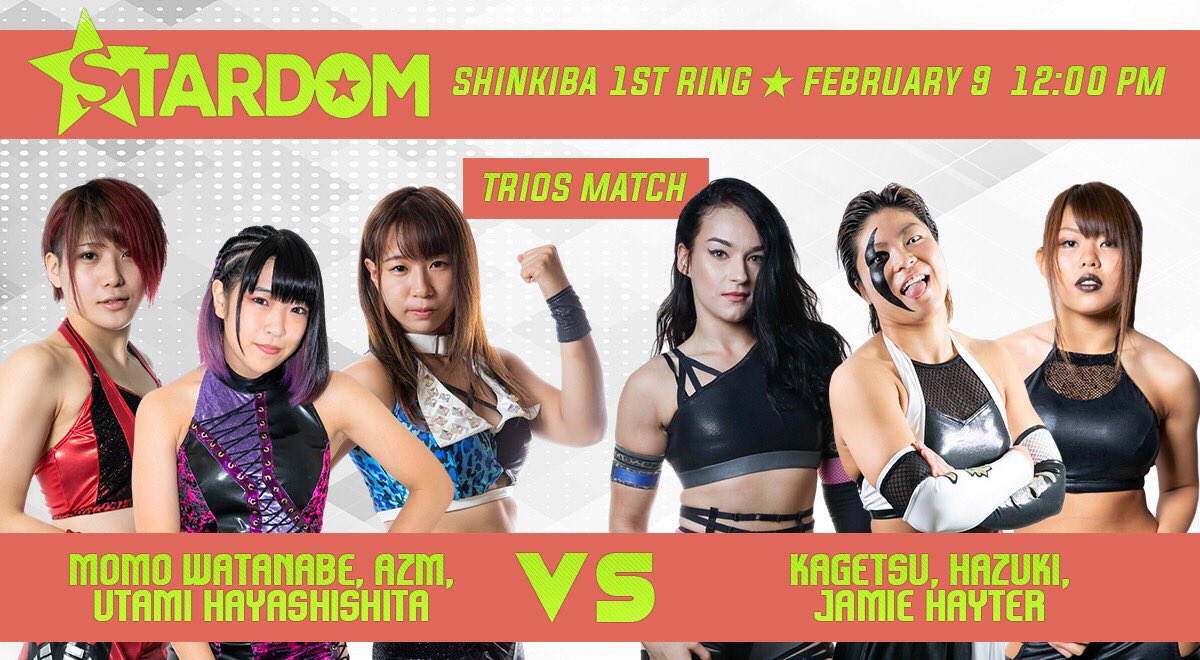 As Stardom continued the build to their next Korakuen show, there was intrigue in the air. Who is the mysterious X that Kagetsu has been talking about? I'm going to go out on a limb and say that it's not going to be the same X that LIJ teased last year. Although, I would love to see Shingo Takagi take his place in the pre-match dance number.
JAN (Kaori Yoneyama and Ruaka) defeated Hina and Rina
I am starting to suspect that Yoneyama is a bad influence on the younger members of the roster. She started beating up poor Barb Sasaki, and on his birthday too! One has to respect his professionalism. Even as he was being ground into the corner, he remembered to make the rope break count.
Shenanigans aside, this was pretty standard fare from the younger members of the Stardom roster. The twins' interactions with Yoneyama are always fun as they have to figure out how to deal with the more unhinged parts of her offence. It barely scraped over the five-minute mark, so unless you're very precious with your time, give it a watch.
Verdict: Two Stars
Bobbi Tyler defeated Hanan
Tyler and Kimura have been taking a lot of falls recently, so this was a chance for Bobbi to beat up a rookie and get a win. Although, her cockiness did get her in trouble at one point. Her condescending beatdown wound Hanan up, inspiring a fiery comeback. While Bobbi would still get the win, finishing things with an Axe Kick, she got a scare for a second.
Another short match that's perfectly watchable even if there wasn't much to write home about.
Verdict: Two And A Quarter Stars
JAN (Jungle Kyona, Natsuko Tora and Saya Iida) defeated STARS (Saki Kashima, Starlight Kid and Alex Gracia)
Poor Kashima. Before the match, she was lamenting the fact that she took the JAN team splash in their previous meeting and had no intention of doing so again. Of course, she would end up having all three members come crashing down on her at the same time.
This was Iida's best showing so far. I realise that's not saying much when she must have had less than ten matches, but it's still a good sign. For someone as inexperienced as she is, she looks very comfortable in the ring. I particularly enjoyed the way she sold for Starlight Kid, working well with the faster wrestler.
Outside of that, this was about what you'd expect. Another short match-up that brought the fun until Natsuko pinned Gracia with a Frog Splash. There was enough talent around the two rookies that it was always going to be entertaining.
Verdict: Three Stars
Hana Kimura defeated Konami
Hana sung 'Do You Want To Make A Snowman' to Bobbi through a door for her pre-match promo. She looked like she was having a lovely time.
This quickly became a battle of the limbs. Konami kicked Hana's leg out from under her and began wrenching on it, so Kimura retaliated by going after the arm. It's a simple story, but it's one that works.
Unfortunately, the selling was a bit of a mixed bag. Some of it was way over the top with Hana, in particular, screaming in a way that made it sound like she was being gutted. It was all the more frustrating because she was combining it with some brilliant little touches. She'd lash out with a kick only to stumble back, her leg going out from under her as she had to take a second to gee herself up before going for the next one. Moments like that told more of the story than a cry of anguish ever could.
The final moments were great as they battled over their various submission holds. The advantage of a shorter match was that they were never sat in anything for too long, preventing boredom from settling in. In the end, though, it would come down to a moment of fire. Hana would find something deep down inside to pop back to her feet off a Modified DDT and roll Konami up for the three. I'd have been happy to watch another ten minutes of this.
Verdict: Three And A Half Stars
Queen's Quest (Momo Watanabe, Utami Hayashishita and AZM) defeated Oedo Tai (Kagetsu, Hazuki and Jamie Hayter)
Kagetsu was throwing all the shade. First, she mocked Tam Nakano during her entrance, then she went after Mayu Iwatani during her introduction. Meanwhile, Detective AZM has assigned herself the case of figuring out who X is. Mainly because a lot of people suspect it's her.
Talking of AZM, she and Hazuki got two chances to impress in this, and they grabbed both eagerly. I'd go as far as saying that it was AZM's match as they started fast, dancing across the ring. That was brought to a shuddering stop and she spent some time selling like there was no tomorrow before getting the chance to show a more aggressive side, attacking Hazuki's arm and going for the submission victory. This was a big-time performance from her, and perhaps the best I've seen her put out yet. It was capped off by her getting the win as she rolled up the High Speed champion ahead of her title shot.
Elsewhere, the talented wrestlers delivered good wrestling. Hayter had another run out with Momo, looking strong in the process while Utami and Kagetsu did enough to hint that any future big-time single matches between the two will be special. This was a stacked match, and they delivered accordingly.
AZM took a bit of time to celebrate post-match before getting down to the business of asking who X was. That brought out someone with a piece of paper covering their face, a person who the Queen's Quest team were quick to point out had a Jungle Kyona hoodie on, which made it all the more shocking when it was revealed to be… Jungle Kyona. Except, she's not X and doesn't think there is one because Kagetsu is always shooting her mouth off.
Kagetsu wasn't having that and brought out X who is a person in an Oedo Tai jacket and a Scream mask. They slowly made their way to the ring before hitting a Double Dropkick to Kyona and Natsuko Tora all while still masked. Kagetsu then revealed that we'd find out who X is at Korakuen Hall. How exciting.
A great match followed by a fun angle. Ain't nothing to complain about here.
Verdict: Three And Three Quarter Stars
Overall Show
The final two matches are the ones I'll remember, but this was a typical Stardom show in that it was all enjoyable. They're going into Korakuen with their hot streak intact, and I'm excited to see what happens.
Watch Stardom: http://www.stardom-world.com/
If you enjoyed this review, please consider contributing to my Ko-fi, even the smallest amount is appreciated.