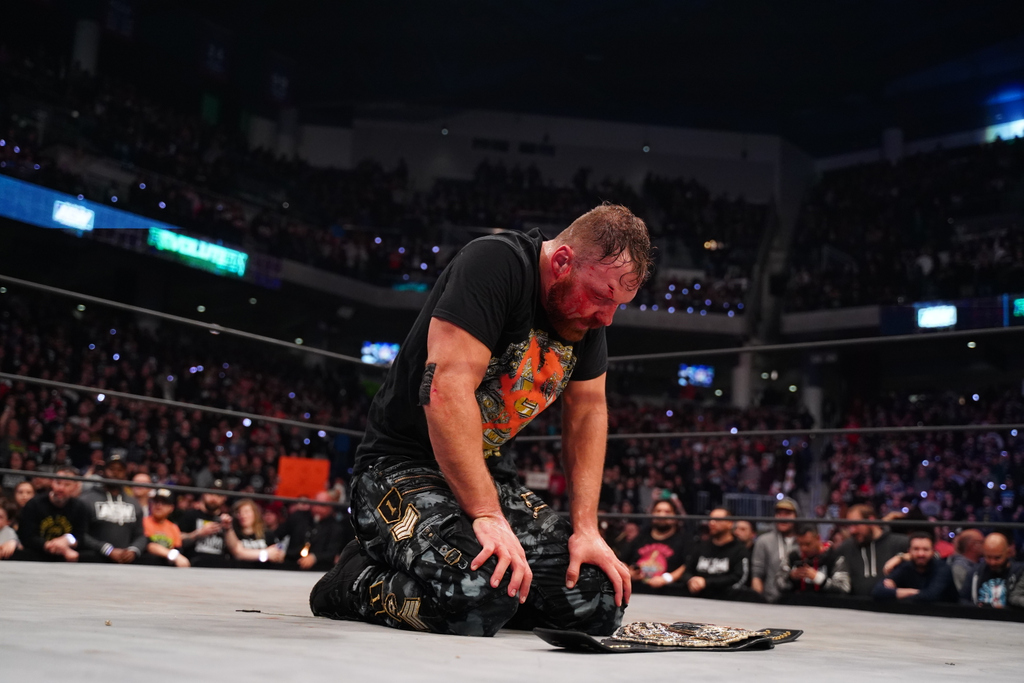 Cards on the table, I honestly can't remember the last time I watched Dynamite. Week three? The last AEW show I saw was probably the PPV, but I have kept an eye on what they've been up to, and people seem to be enjoying it. While that doesn't mean Western TV wrestling has stopped being the Devil, I figured I'd tune in for Revolution and give them the chance to convince me otherwise.
Buy In: The Dark Order (Stu Greyson and Evil Uno) defeated SCU (Scorpio Sky and Kazarian)
Pre-match we got a backstage promo with SCU where Daniels was fired-up. Well, he was until Sky suggested he stayed there, as the Dark Order's advances have dented he and Kazarian's trust in their old pal.
The match itself was solid, as they built around a Sky hot tag. However, with The Dark Order gimmick having struggled to get over since day one, I'm not sure solid was enough. There was no great storytelling or ridiculous action here. Instead, it was decent tag wrestling, perfectly acceptable, but nothing you're going to remember in a week.
They also suffered from an incredibly flat finish as a distraction from the Dark Order goons let Uno hit a Lariat to the back of Sky's head, opening him up to being bundled into a Grayson pin. That came out of nowhere, and I can't imagine I was the only one caught off-guard because of the assumption that Daniels would be showing up.
Verdict: Decent
The Dark Order weren't finished, continuing their assault after the bell which brought out Colt Cabana to make the save. That initially seemed incredibly random, but then I remembered they were in Chicago, and it made a bit more sense. The numbers game still proved tricky until Daniels came out wearing the kind of cloak someone called the exalted one might wear, before ripping it off and clearing the ring. I like to imagine Daniels rushing to change into it is what forced Colt to be the first one through the curtain. Still, Cabana deserves good things, so I'm willing to forgive a bit of silliness.
Jake Hager defeated Dustin Rhodes
Hager brought some horny energy to his entrance, stopping to have a smooch with his wife. They then made sure we got plenty of shots of the dastardly heel's worried spouse because everyone hates a loving relationship.
This match sadly broke one of AEW's smarter booking decisions. By having Hager stand around looking menacing rather than wrestling, people have managed to forget that he's a charisma void, sucking it out of the room and boring people with his mediocre matches. His one attempt to show some personality, licking Dustin's face Tyson Fury style, was let down by the fact Rhodes wasn't bleeding.
Dustin tried, bumping around and pulling out a Code Red, but he also forced a kiss on Hager's wife, which is an action I associate with all my heroic figures (actually, it is worryingly prevalent, but that's a conversation for another day). Anyway, whether that bothers you or not, the match sucked and was an underwhelming way to open the main show.
Verdict: Boring!
Darby Allin defeated Sammy Guevera
Darby Allin might be the only person in this company who is actually cool and the decision to open with that borefest rather than these two idiots (said with love) was ridiculous.
Allin didn't even wait for the bell, charging across the ring and hitting a Tope Suicida. He'd then drape Guevera across a barrier and, in a moment of beautiful stupidity, attempt another dive into him. It was never going to work, and he ate shit, but I love him for trying it. There was also a Sammy 630 from the ring to put Darby through a table on the floor, and the bell still hadn't fucking rung! How can you not enjoy this shit?
Unsurprisingly, a ding ding didn't convince them to calm things down as these two showed no concern for their bodies. Watching Darby get the shit kicked out of him is one of life's great pleasures, and it gets him over. The pop when he hit the Coffin Drop for the win made you realise just how quiet this crowd had been for the opener and I think we should all probably pretend that this was the start of the show.
Verdict: That's More Like It!
Kenny Omega and Adam Page defeated The Young Bucks (Matt Jackson and Nick Jackson) to retain the AEW Tag Team Titles
Right, I want to get the serious shit out of the way before we get into the action. AEW running what appears to be an alcoholism angle with Hangman worries me. I have some personal connections to that shit, and it feels like there are a lot more ways for this to go wrong that there are for it to go right. To be clear, I'm not saying that it's inherently wrong or that they can't do something with it, but wrestling's history with this stuff ain't great, and they'll have to win me over.
Whatever I think, you can't deny that it is working for Hangman. He was the most over person in this match, with the Bucks even getting some boos during their introduction. On top of that, he became central to the story, as he and Matt Jackson pushed each other's buttons, escalating the violence. At least that was one of the stories. We also got Matt Jackson's recurrent back injury, two teams who know each other inside out and a weird strand of move-stealing both from each other and, randomly, Marty Scurll.
It added up to a match, that when it was working, was fantastic. These are four great wrestlers who can do some ridiculous shit. However, at its worse, this was NXT levels of melodrama and brought to mind the worst aspects of the Bullet Club split in New Japan. There was a moment where Matt did the 'why am I so violent?' stare at his hands, and I don't think it was to poke fun.
Finally, it went far too long and contained a frankly ridiculous number of false finishes. They made the right decision by having Page be the man who got the win, but it could have happened ten minutes earlier and would have had the same, if not more, impact. It's also clear the story isn't over, as not only did Page not make up with the Bucks post-match, but they teased him turning on Kenny too.
Verdict: Partly Great, Partly Bollocks
Nyla Rose defeated Kris Statlander to retain the AEW Women's Title
The fans, who had been rabid for the previous match, died during this one, taking a long time to wake-up. It wasn't until Statlander escaped from the Guillotine Knee Drop by walking on her hands that they started making some noise.
I'm not entirely sure I can blame them either. These two are still works-in-progress and by putting them in the ring together, AEW didn't give them a chance to hide their weaknesses. When you combine that with Statlander coming off a bout of flu, they had an uphill battle and it led to a clunky match. They never quite found their flow as there a couple of ugly spots including a dangerous Superplex. They also need someone to teach Nyla to lean into her strikes. She's got presence, but she hit some Lariats that looked like they were merely tickling Statlander. These were the hosses of the AEW Women's Division, and it never felt like a hoss fight.
Still, it wasn't awful. There were moments where you could see what they could do with a few more loops under their belt, but I feel like AEW went to this match too quickly. Give us this again a year down the road, and it could be a lot better.
Verdict: They Weren't Ready For It
MJF defeated Cody
Downstait played Cody to the ring and were fucking awful. The guy's vocals were painful and holy shit I just saw Cody's new tattoo. Em, well, I hope he likes it. It's very American? Yea, let's stick with that.
That was probably the most entertaining part of the match as Cody and MJF worked a slow, methodical borefest. Look, there is every chance that my lack of emotional involvement was responsible for me not liking this. If you've watched every episode of Dynamite and are hooked into Cody's journey, then him dragging himself to the ropes to break a submission with his teeth might feel like a life or death moment for you, but it didn't for me.
Throw in a barrel load of outside nonsense, MJF blading off a shitty looking Disaster Kick where Cody wasn't even wearing a boot and the continuation of these two's whipping fetish, and this didn't click. The fans in attendance seemed to enjoy it, so I'm sure it will work for some, but I wasn't one of them. Brilliant storytelling can make the dullest match incredible, but this match gave me neither and a finish that involved a garish ring that means nothing to me kind of summed it up. That was a lot of fuss with little substance.
Verdict: Not For Me
PAC defeated Orange Cassidy
This seemed like weird placement, but AEW only went and pulled the rug out from under my feet by letting Freshly Squeezed have the breakout match he deserves. They kicked off with the comedy shtick, Cassidy wrestling with his hands in his pockets and PAC getting pissed off and beating the crap out of him.
After that, though, this just became a fantastic bout. Cassidy is brilliant at never breaking character, spending part of the match slowly rolling away from PAC, giggling as The Bastard King got more and more frustrated. However, seconds later he exploded, living up to Taylor's promise that this time he was going to try.
On the other side of the ring, PAC was the perfect opponent, the prick who didn't give a shit what the fans or anyone else thought. He wanted to swat the annoyance that was OC but was continually frustrated by him and found himself in a fight he wasn't expecting. At one point, he even had to steal a play from Cassidy's playbook, rolling out of the ring to escape him.
The finish was a bit weird, a random Lucha Brothers attack on The Best Friends distracting Cassidy long enough for PAC to lock on The Brutaliser, but this was a damn fine match. The fans already adore Orange Cassidy, and any that weren't convinced will surely have been won over by his performance.
Verdict: Freshly Squeezed!
Jon Moxley defeated Chris Jericho
Mox was hanging out on the streets of Chicago pre-match, which raises the question of how he knew it was time to make his entrance? Did someone call him? Was he watching on his phone? Am I thinking about this too much? Almost definitely. In a perfectly executed contrast, Jericho then had a choir sing 'Judas' which a worrying number of people have decided is a good song.
The fight started with a brawl into the crowd, all illusions of a straightforward match launched out the window. By the time they returned to the ring, Mox had been Powerbombed through a table and was bleeding. Jericho, meanwhile, was focusing in on that already injured eye, heeling it up with the help of the Inner Circle at ringside.
It set-up a simple story as Mox was the badass face trying to overcome the dickhead and his merry band of twats. How much you enjoy this will directly correlate to how much you buy that story. For, truthfully, the action was nothing special. They brawled and worked hard, but it was all about the build to Moxley overcoming the odds.
As for me, well, I enjoyed it more than Cody vs MJF. Mox has an aura of cool that Cody will never have (at least in my house) and I find him a lot easier to root for. However, the finish was dumb as fuck as Moxley waited to the last second to reveal his eye was fine all along. I mean, I guess it's impressive that he chose to wrestle the main event half-blind for 99% of it, but it's not what you'd call smart, is it? Still, he won, and people were happy, so that was nice.
Verdict: It Was Alright
Overall Show
Hm, how did I feel about that show? It was much better than their last PPV, so that's something. I'm still not sure it was good, though. A combination of overblown storytelling, weird decision making and boring wrestling kept it from anything I'll remember particularly fondly. I'm glad other people are enjoying it, but I've yet to be convinced it's for me.
Watch AEW (in the UK) on FiteTV: https://www.fite.tv/watch/aew-revolution/2p56c/
If you enjoyed my ramblings, then please consider contributing to my Ko-fi, even the smallest amount is appreciated.