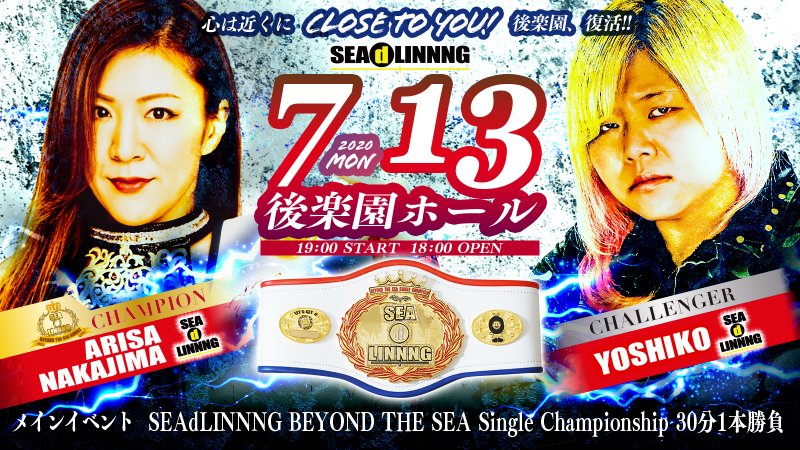 The Korakuen returns continue as it's SEAdLINNNG's chance to step into that iconic room. Although it's worth saying that this happened before the other Korakuens I've recently written about, it just aired later. Still, that's not particularly important, and with a big title challenge on top, it promised to be a good show.
Tsukasa Fujimoto defeated Rika Kaiju
I love a wrestling debut. There are few things more exciting than seeing a young wrestler who has been working their arse off finally get the chance to go out and show what they can do, giving us a glimpse of all that potential as they battle the nerves to make a statement.
Our newest Kaiju, who has picked up the nickname The Beast Kid, certainly impressed on her first showing. Riko flew out the gates, crashing into Fujimoto with a Dropkick and hammering her way out of the headlock that Tsukka grabbed in an attempt to slow her down. She was a bundle of frantic energy, desperate to make that first impression a positive one.
However, energy runs out, and the story of this debut was that Riko hit a wall. Towards the end, she was still throwing Dropkicks, but they were delivered with Fujimoto's permission, Kaiju having to drag herself to her feet for each one. While you could see her limbs were heavy, she refused to give up, barrelling on in the hope that one of them would strike true and put down her formidable foe.
They didn't, it would be a Fujimoto that won the day, but this was a hella good debut. I'm a sucker for an impressive rookie, and Rika Kaiju has already caught me eye. She earned herself some words of encouragement from Fujimoto afterwards and a well deserved hug from Nanae. You love to see it.
Verdict: Hello, Best Kid!
Tsukushi defeated Kaho Kobayashi and Ayame Sasamura
Time for the High Speed four-way! Sorry, three-way, Natsuki Taiyo is definitely just a ref. Getting annoyed at Kaho and Sasamura teaming up to attack your favourite goblin child and leaping up the ropes in a way most full-time wrestlers could only dream of doing is all within the remit of the ref's job. Right?
You can't blame Natsuki for wanting to help as Skoosh was having a rough afternoon. It's almost like antagonising everyone you come across is not the best way to make friends. Long parts of the match were focused on making the goblin pay, beating her down and putting her in a sticky situation.
However, you should never bet against Tsukushi as she somehow turned things in her favour, switching the match around to the extent that Kaho found herself the victim of a three on one attack. Of course, Sasamura would then learn that aligning yourself with Tsukushi is never a good idea as a series of flash pins later this was over. The goblin child leapt into her favourite ref's arms, and they skipped to the back together, which definitely seems like fair and impartial officiating.
Verdict: We Must Not Look At Goblin Child
Las Fresas de Egoistas (ASUKA and Makoto) defeated Yumiko Hotta and Honori Hana
I believe this was Hotta's first match post-AgZ resignation as she teamed up with Hana to take on those damn strawberries.
And Hotta being a badass was central to its story. Makoto and ASUKA had a plan, a plan that mainly involved Hotta being involved as little as possible. The final act literally had ASUKA hanging off her, desperately trying to prevent her coming to Hana's aid.
It made for a match that was more about putting Las Fresa de Egoistas over than anything else. They were a well-oiled team, working together to get the win, and while it maybe didn't make for the most thrilling spectacle, it achieved its goals.
Verdict: Keep Those Strawberries Strong
MAX VOLTAGE (Ryo Mizunami, Miyuki Takase and Itsuki Aoki) defeated Hiroyo Matsumoto, Rina Yamashita and Yuu
MAX VOLTAGE time! Much like the High Speed three-ways, a MAX VOLTAGE tag is something you can hang your hat on, and they had a trio of hosses to battle.
Unsurprisingly, it gave us a match where a lot of people hit each other very hard. There was something satisfying about it, as these six worked fast and stiff, going all out to put on something that was a shitload of fun.
Mizunami was particularly great, as she spent a lot of time in that ring. While I can't claim to have watched that much of her career, I'm not sure I've ever seen her have a bad match. She's just a damn good pro-wrestler, and the home stretch of her battling it out with Yuu was unsurprisingly tasty.
As I said, MAX VOLTAGE tags always deliver, and this was no different. You can put it on, sit back and enjoy.
Verdict: Whole Lotta Fun
Matsumoto had words with Mizunami and Takase afterwards. I am now getting Japanese lessons, but sadly they weren't talking in the kind of straightforward sentences I was likely to understand (aka, no-one asked anyone's name). If I had to guess, I'd assume the tag titles were the topic of conversation.
There was more to come, though, ASUKA and Makoto turning up afterwards with a chair and cleaning house, presumably adding their name to the mix. In response, Rina returned and had her say, sending those pesky strawberries packing. She then proceeded to cut what appeared to be a rather emotional promo before bickering with Takase about who got to celebrate with Ryo. I've no idea what was going on there.
Yoshiko defeated Arisa Nakajima to win the Beyond the Sea Title
Yoshiko is bigger and stronger than Arisa Nakajima. However, you wouldn't have thought it just from watching this match. The champ entered with the swagger of the unbeatable, at one point literally grabbing Yoshiko by the hair and slapping her repeatedly across the face. She was in full badass mode, looking like she was determined to get this over and done with as quickly as possible.
The advantage of Yoshiko being bigger and stronger, though, is that she can also take a lot more damage. Arisa threw a lot at her, stiff blows and vicious suplexes sending her to the mat again and again. However, Yoshiko kept getting up. She wrestled like someone who refused to lose, firing up again and again even if it was repeatedly cut-off.
Key to the outcome, though, was that when Yoshiko did attack, she hit hard. A German from the second rope and repeated Sentons were chipping away at Arisa's supposedly unbreakable armour. Yoshiko wasn't only eating up a lot of damage, but she was dishing it out too, and as the match went on, things began to turn in her favour.
It was, in many ways, the perfect way to present Yoshiko. She's proven her charisma, there is a reason she's become TikTok famous, but there is no denying that her wrestling is uncomplex. Sympathising and getting behind someone who barrels through people, brute-forcing their way through situations, is hard. Arisa's dominance allowed her to be more than that. She became sympathetic, refusing to die and finally coming away with the win.
The result was a brilliant title change that put Yoshiko as the triumphant new champ but left Arisa looking like the badass she is. Putting the title on Yoshiko was always going to incite some tiresome discourse (a conversation that has morons on both sides), but with her surprise internet popularity, it feels like the right call. She's someone who could genuinely draw new eyes to SEAdLINNNG, and that will never be a bad thing.
Verdict: Brilliant
Overall Show
An exciting debut, goblin fun and a big main event, what more can you ask for? SEAdLINNNG returned to Korakuen on impressive form and set the company in a new direction while doing so. Exciting times are ahead.
Watch SEAdLINNNG on niconico: https://ch.nicovideo.jp/nicopro
If you enjoyed this review, please consider contributing to my Ko-fi, even the smallest amount is appreciated.