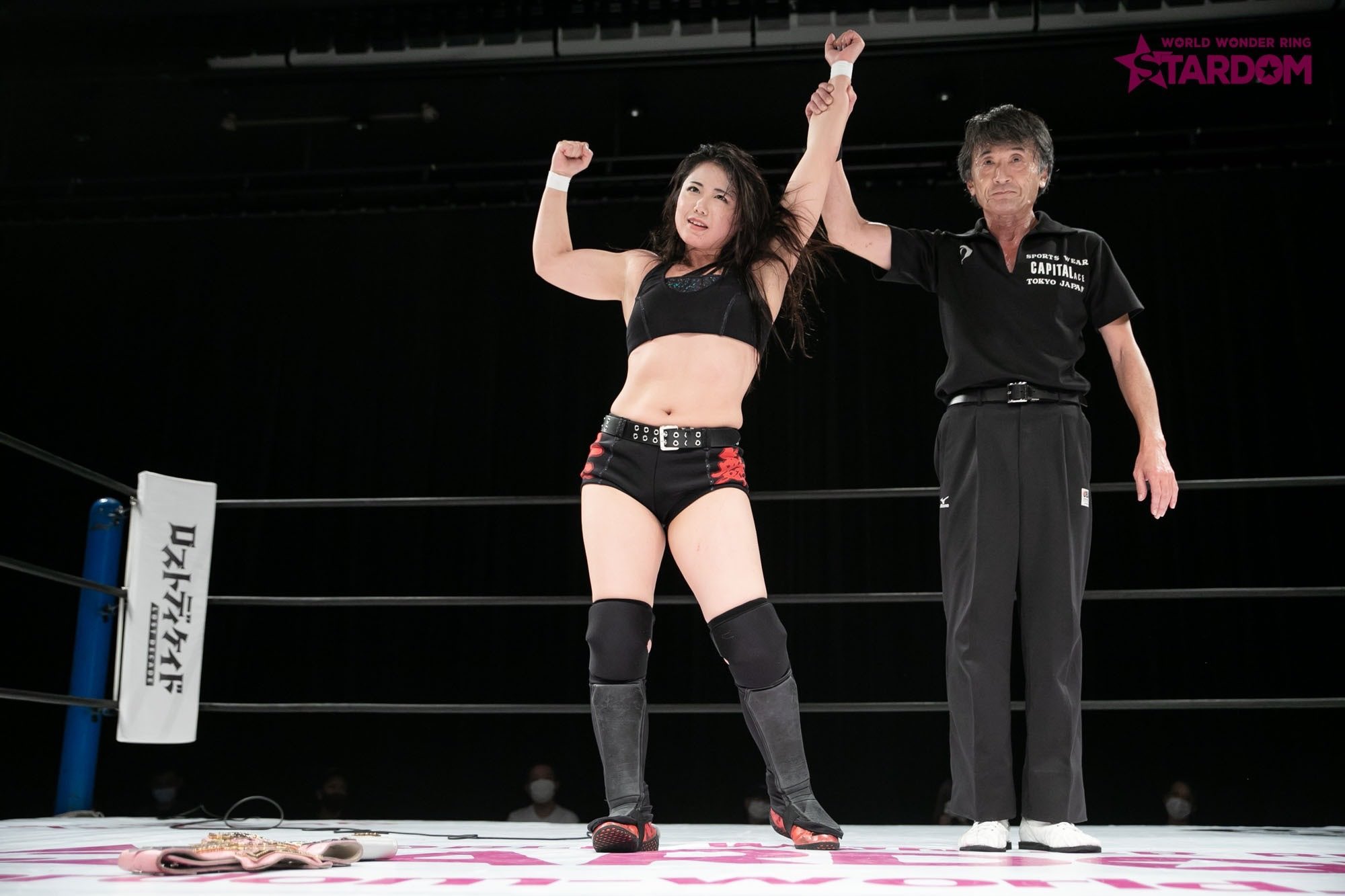 With three events in just a bit over twenty-four hours, Stardom gave Fukuoka a big old dose of wrestling last weekend. It would come to an end with the penultimate 5STAR show, one that would provide us with an insight into who had a chance of winning this thing (although if you're expecting me to sit down and do all the maths, you are sorely mistaken).
Blue Stars: Momo Watanabe (3-1-2) defeated Saya Iida (0-6)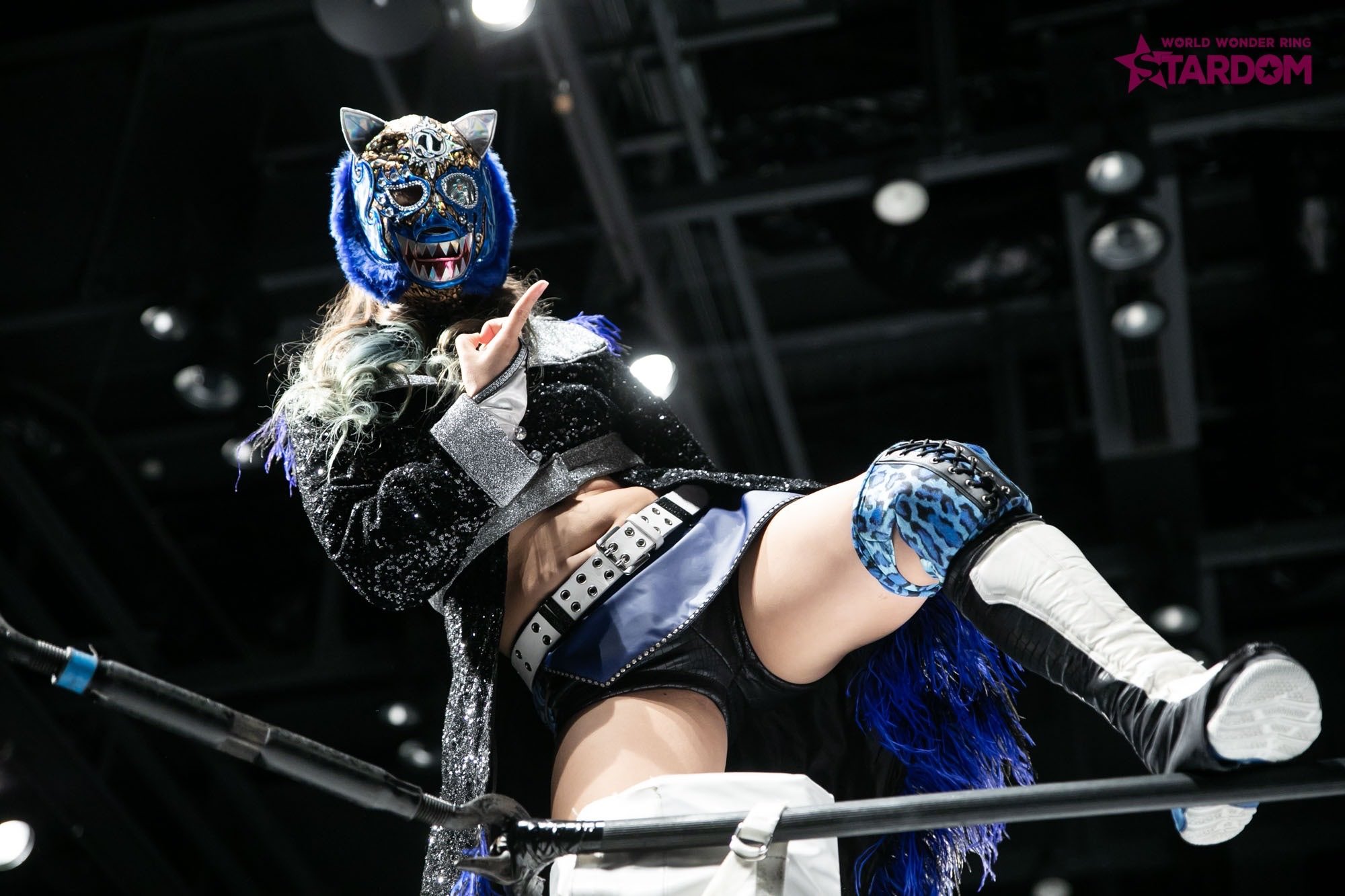 With Gori-chan's first 5STAR in danger of ending pointless, she flew out the gates against Momo, frantically going for the win. Iida was a blur of Dropkicks and flash pins as she tried desperately to scamper out with something that would make this tournament feel worthwhile.
Unfortunately, Momo seems to have found her killer instinct as the 5STAR progressed. Watanabe responded to Iida's attacks cooly, cutting her off and, to put it frankly, kicking the shit out of her. Where Iida dived into every chance she sniffed, Momo was more deliberate, confidence flowing through her as she waited for her opening.
She got it too, Iida charged right into Watanabe's trap and was hoisted into the B-Driver for the three. It was a match that followed the theme of Saya's tournament, a hard-hitting, physical sprint that may not have got her any points, but continued to prove why I'm a fan.
Verdict: Momo's Got Her Groove
Jumbo defeated Saki Kashima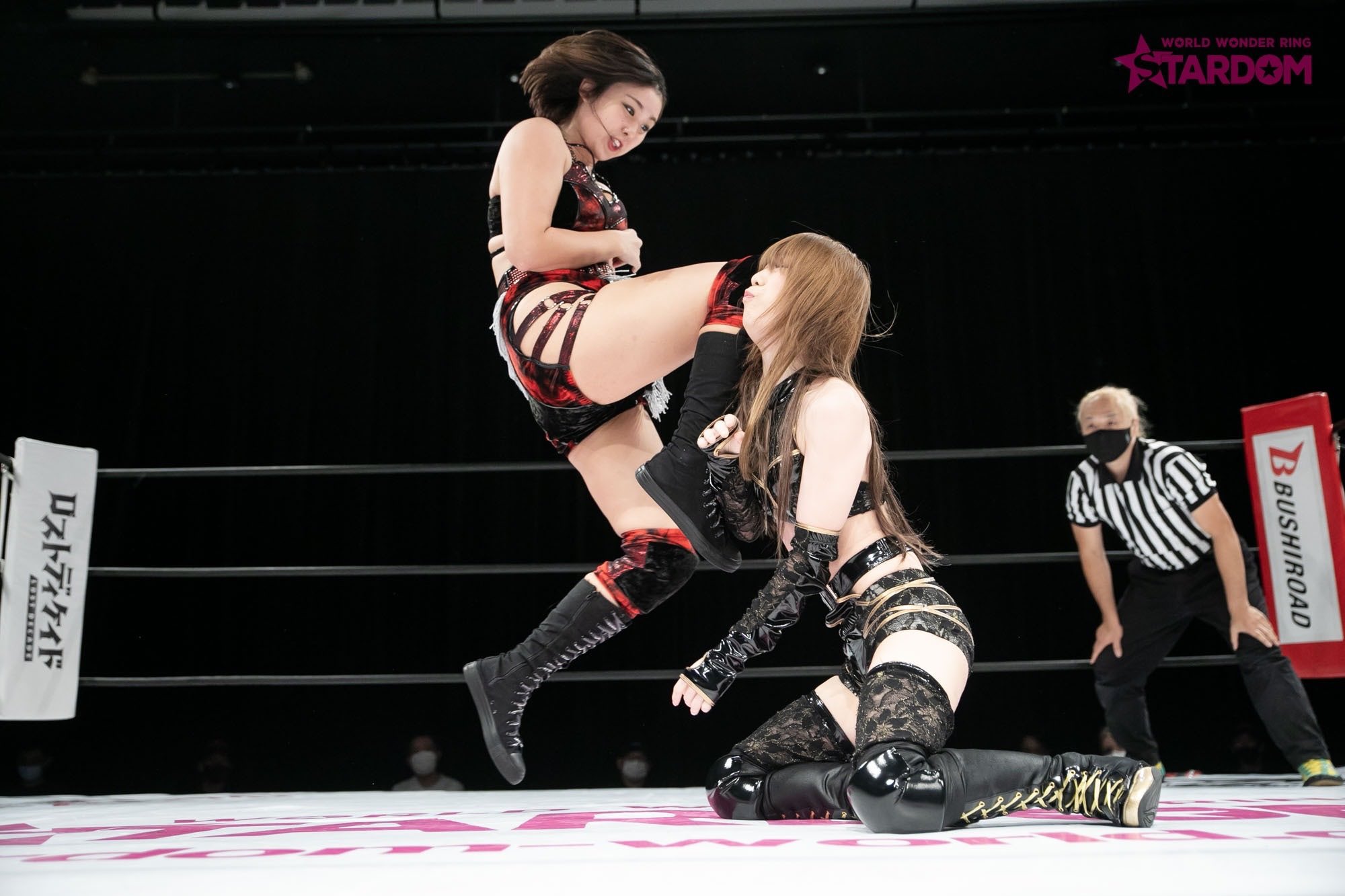 Himeka was determined not to be caught out by Saki's antics, so got in there first, attacking during the introductions. Unfortunately, there was a Natsuko at ringside, so while that gave her the early advantage, it didn't last long.
Sadly, Saki's control section was ever so slightly dull. She went after Himeka's arm, slowing everything right down and then grinding it to a halt. It wasn't until Jumbo woke up again and took control that the action got interesting, and that was only a brief spurt before the finish.
Still, it wasn't offensively awful or anything, just a tad boring. With it not being a tournament match those in a rush can breeze right past it.
Verdict: Bit Of A Yawn
Red Stars: Death Yama-san (2-4) defeated Konami (4-2)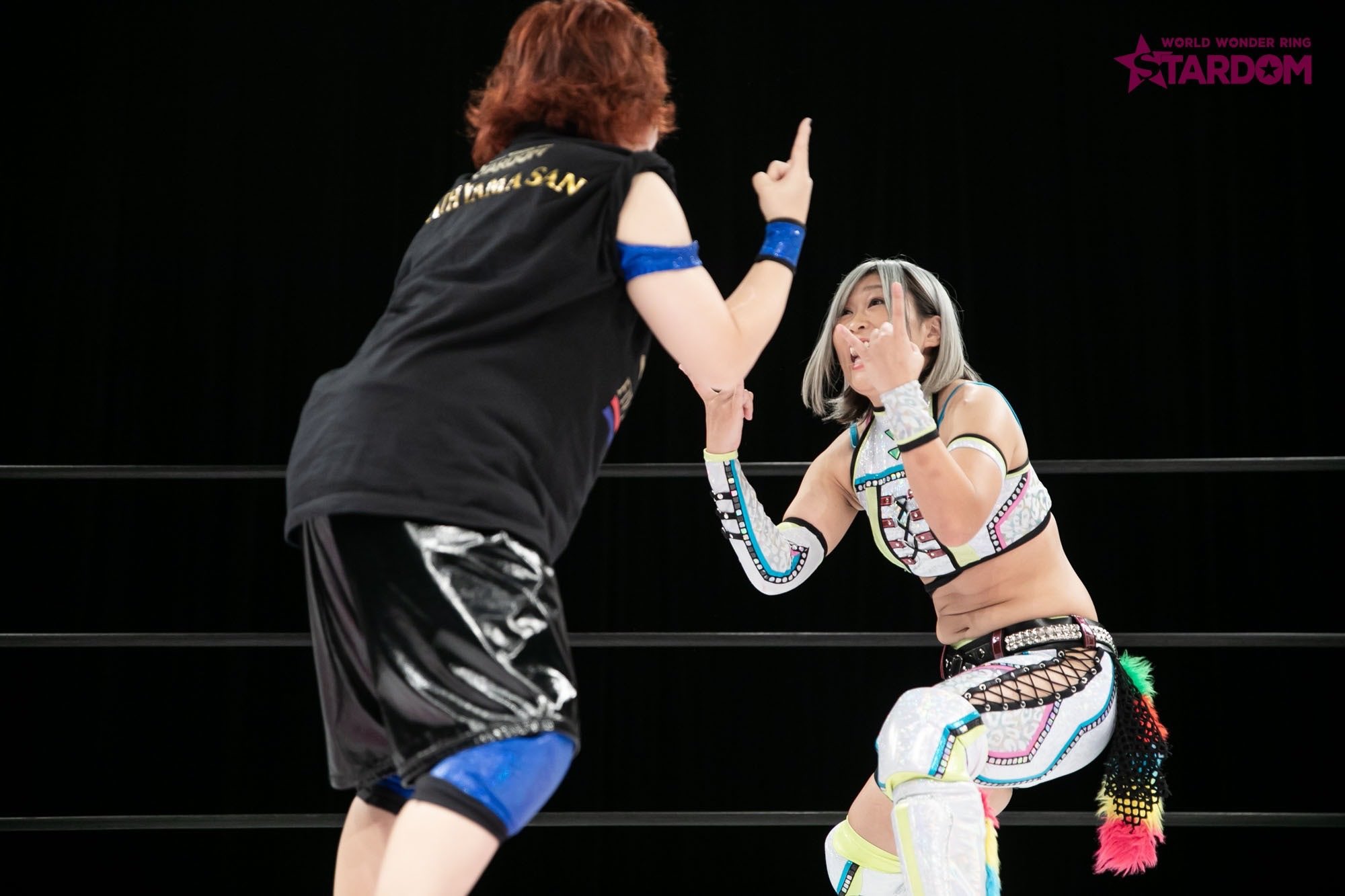 Being in the same unit as Death, Konami understands her power and made it clear pre-match that she wanted this over and done with as quickly as possible.
That made for the kind of match that won't get talked about but was ruddy brilliant. This was Death's roll-ups vs Konami's submissions. At its best, it was a frantic battle between the two, both slipping into their respective speciality from anywhere. At its worst, it was Death shouting 'death' which is still more entertaining than 90% of wrestling.
The final act made it look like Konami had taken control, kicks and submissions twisting things in her favour. However, as the Triangle Lancer began to tighten, Yama-san twisted her round and trapped her shoulders, sneaking away with the win and proving Konami was right to fear her.
Verdict: I Loved It
Jungle Kyona and Riho defeated STARS (Starlight Kid and Hanan)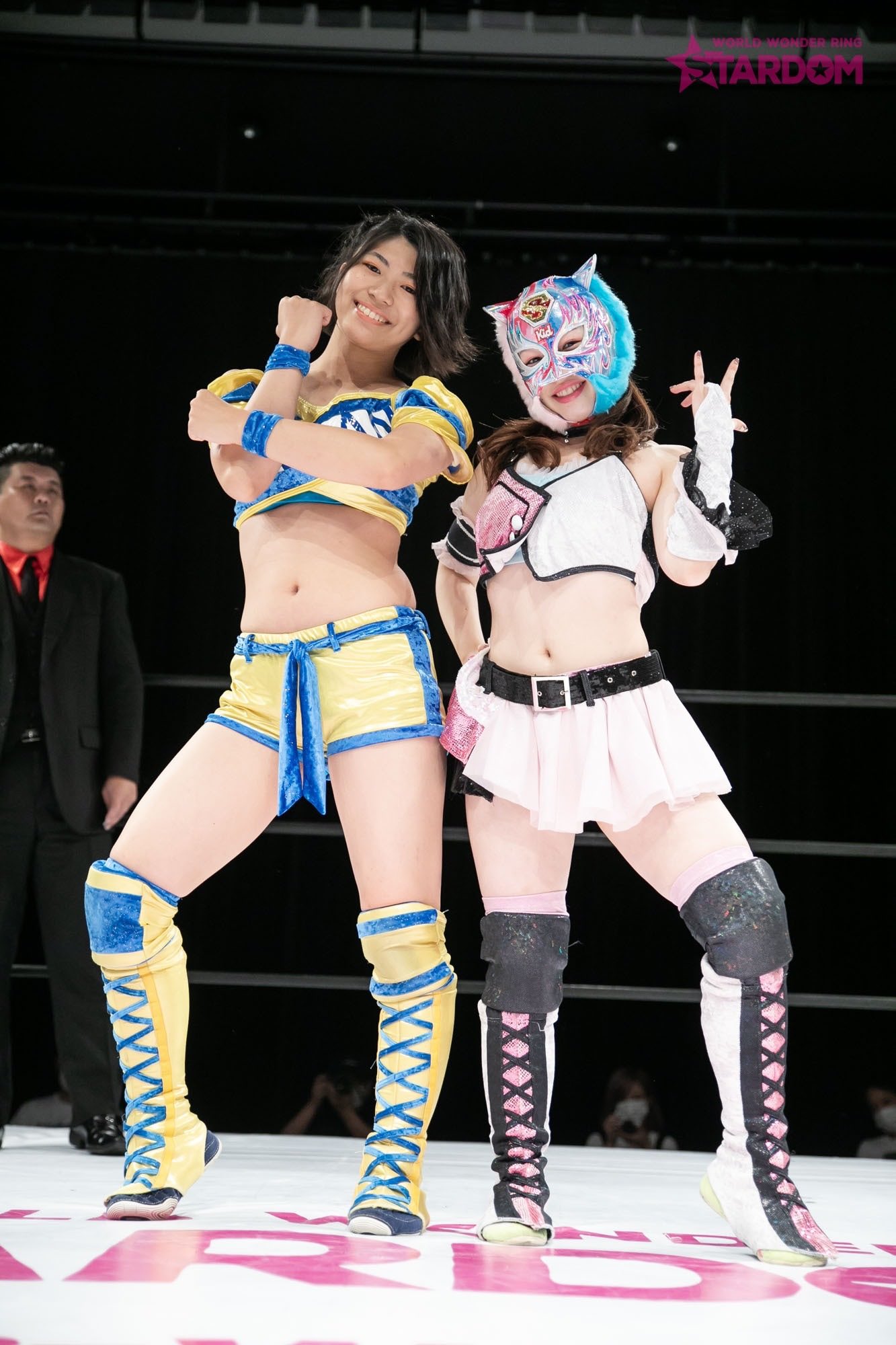 I had my big Riho rant on the previous review, so there is no need to repeat myself.
Instead, let's heap more praise on Hanan. That lass is sixteen and has come back from around a year out having barely missed a step. If anything, it feels like she might be better than she was before the injury, as she certainly seems to have a lot more confidence. The Bridging Fallaway Slam she hit on Jungle was beautiful.
The match as a whole was decent to good, but Hanan continues to be incredibly impressive. If she keeps this up, Stardom are going to have to do more with her than having her eat pins in random tags.
Verdict: Applause For Hanan
Blue Stars: Natsuko Tora (3-3) defeated AZM (2-4)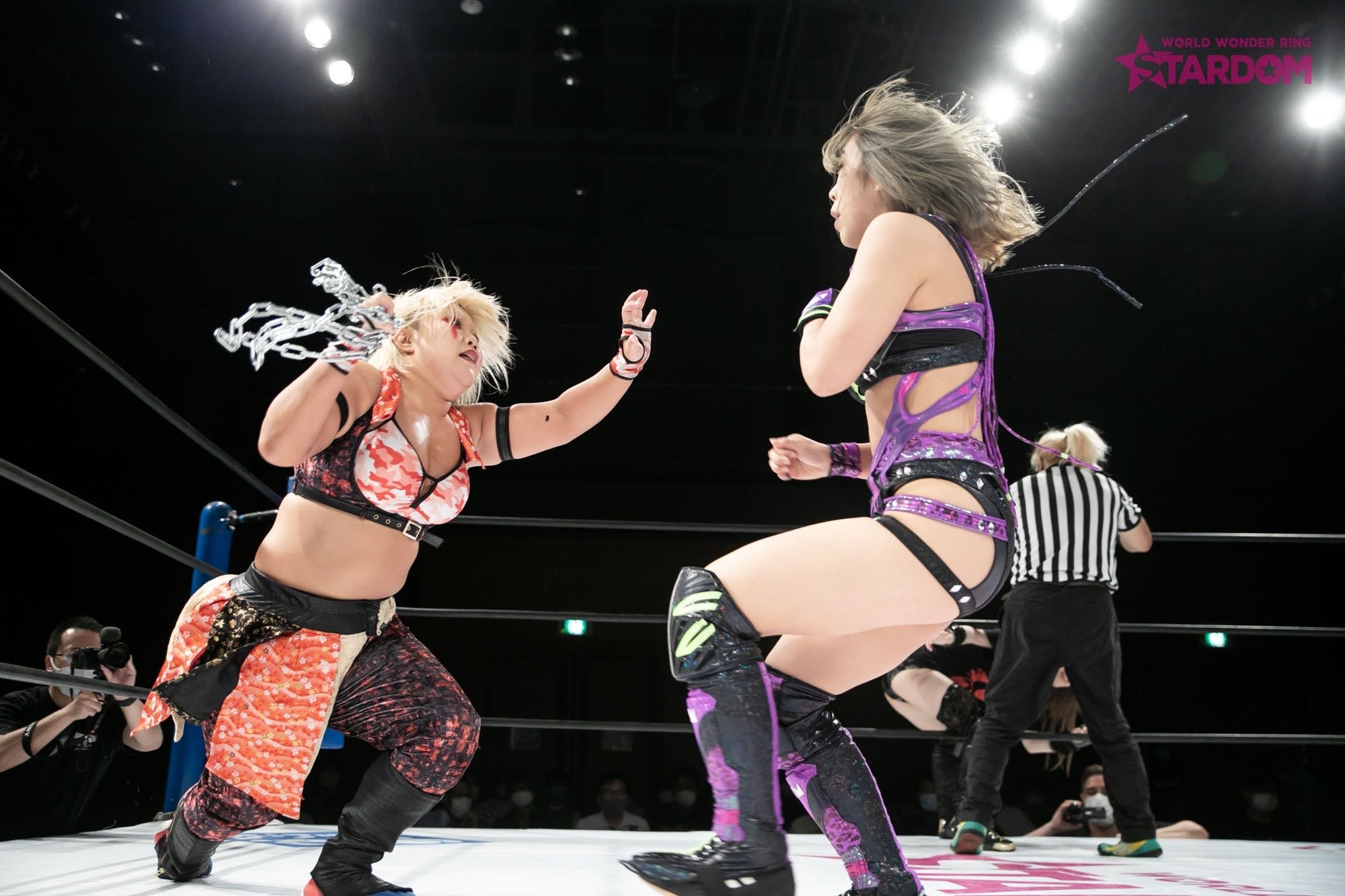 Like Himeka, AZM was prepared for Natsuko's nonsense, and these two didn't even wait for the intros to get into it. Stardom's most grizzled of veterans was looking to hit and run, getting out of there before Tora could start pulling out weapons.
Unfortunately, AZM would learn what many have learnt before her. Saki Kashima is a pain in the arse. Sorry, that's cruel. However, not inaccurate as Saki popped up on the apron, distracting the ref and delivering that chain to the exact right spot for Tora. When it met AZM's face, this was done.
There was a whiff of deja-vu to this match. AZM was a good opponent for Tora, small enough for her to throw around but fast enough to catch her off-guard. However, the outcome all felt a bit predictable and played into what we've seen all tournament from Oedo Tai. I didn't dislike it, but I can't get excited either.
Verdict: Did We Already See This?
Red Stars: Mayu Iwatani () defeated Saya Kamitani ()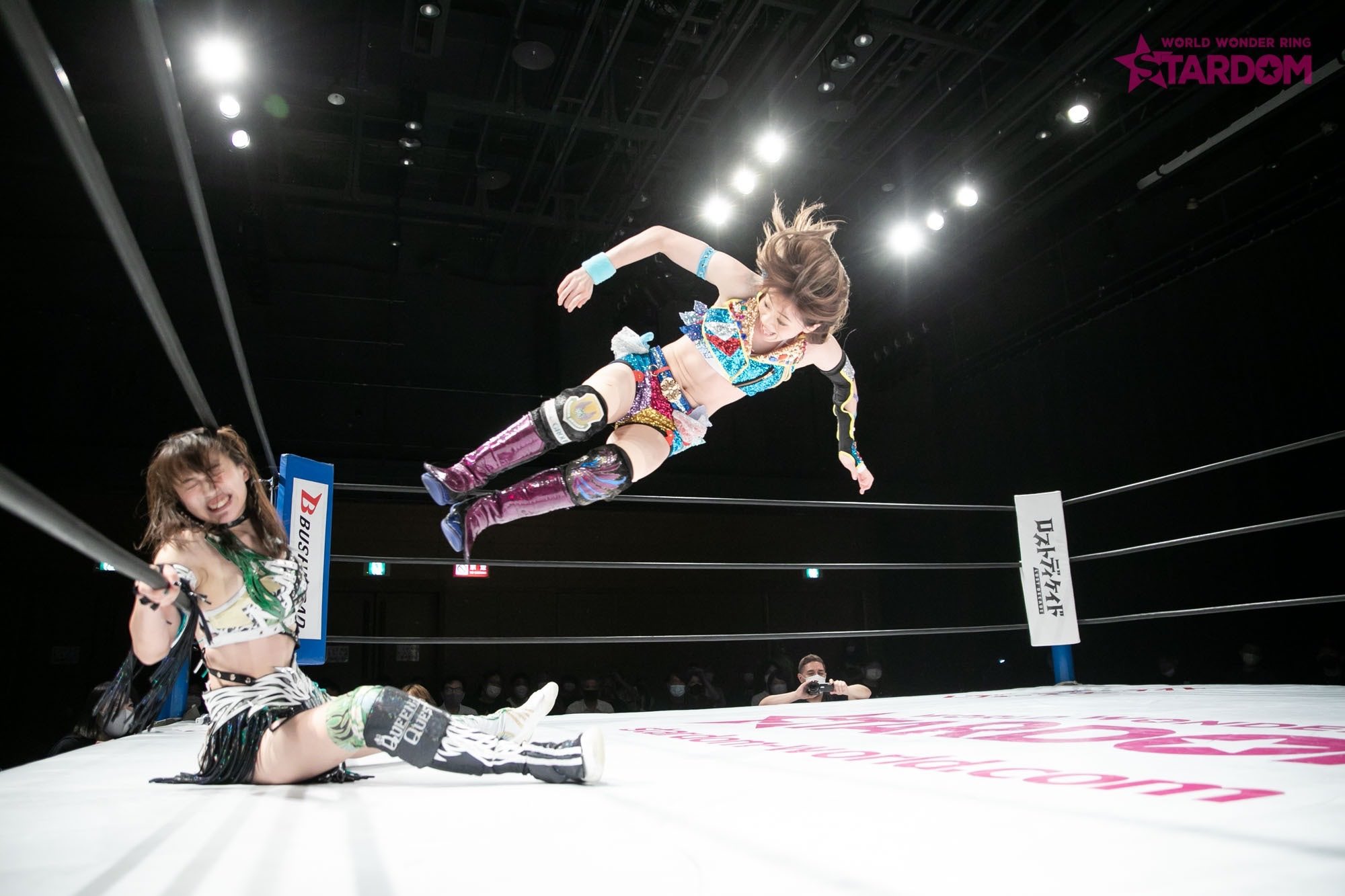 Mayu started this match like someone intent on dishing out a lesson. There was a moment where she slapped Tall Saya so hard on the back that she hurt her own hands, which presumably meant it was even worse for Kamitani. Saya has declared herself the future of Stardom, but The Icon wanted to say hello.
It made for a match where I didn't for a second believe Tall Saya was going to win. Now, normally, that would be a flaw, but not today because I did believe that she was desperate to prove herself to Iwatani. She wanted to show she could go out there and hang with the person who has been there since day one.
Mayu's response to that was cold. She wrenched Kamitani's leg over the top rope, setting it up to be worked over and was ruthless on offence. In return, Kamitani fought ice with fire, at one point firing up even when her leg wasn't up to it, it giving out as she tried to throw herself at Mayu. It was a lovely bit of selling, a twisting of a wrestling cliche where the act of clenching your fist and screaming can power through any injury.
Of course, it wouldn't be enough. I was right that Tall Saya couldn't win this and Mayu forced her to tap out with that gnarly Dragon Sleeper she does. However, having had a few worries about Saya's development, this was a match that told me she'd be just fine. I suspect it's also one we'll see again someday with more on the line.
Verdict: The Kid Will Be Fine
Red Stars: Tam Nakano (4-2) defeated Giulia (3-3)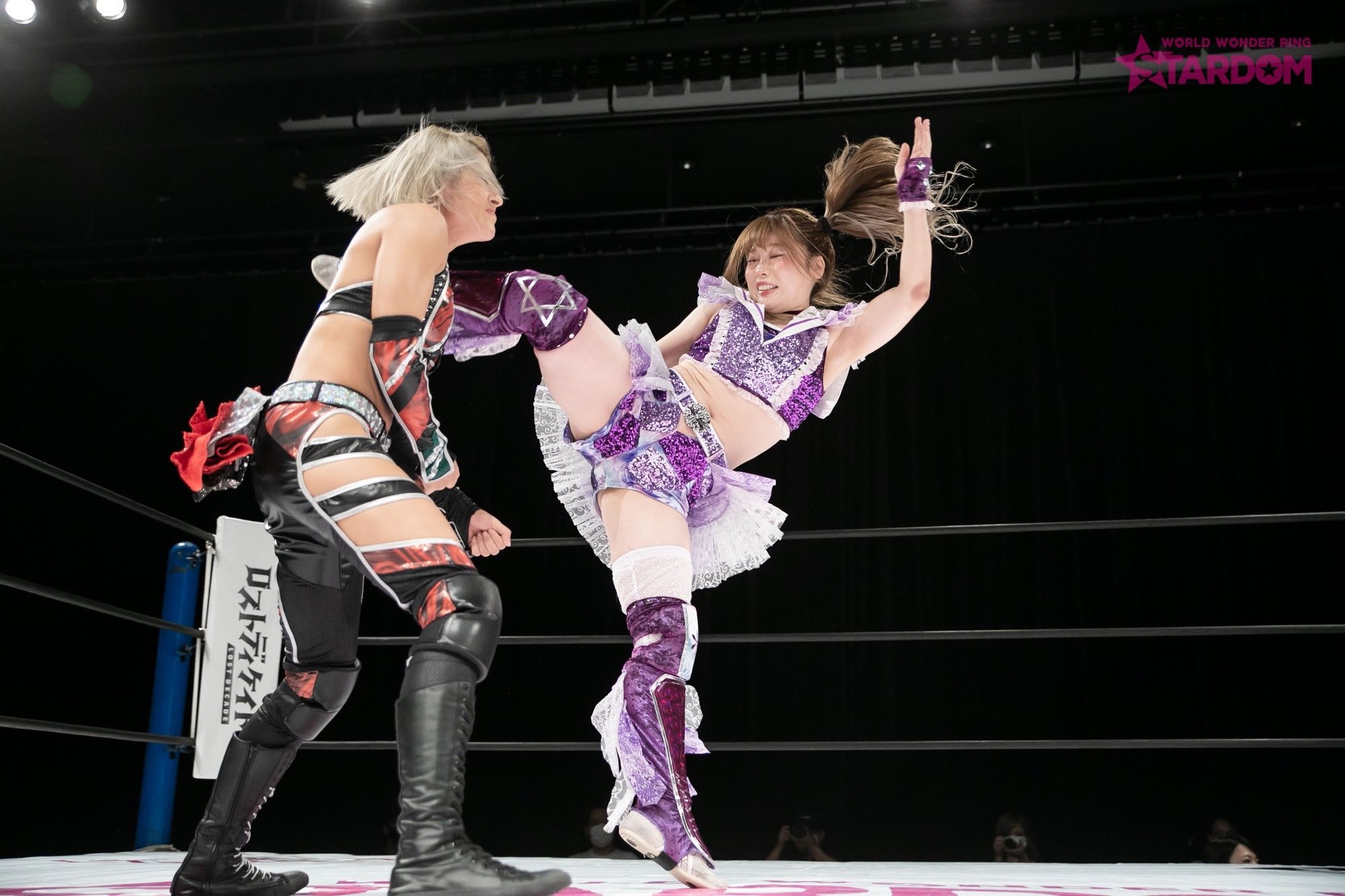 That's more like it! I enjoyed Tam vs Giulia I, but it was a match severely hindered by their desire to aim for the epic. With a tighter runtime and less temptation to descend into tropes, this was a much better experience.
Because rather than aiming for the epic, Tam and Giulia aimed for dishing out a beating. We've been pushed to believe these two hate each other, and this match convinced me. Right from the bell, they went at it, slaps, kicks and headbutts galore. It was two people trying to barrel their way through the other, unworried about what they left behind them.
They also gave Tam as definitive a victory as you'll see, a series of suplexes dumping Giulia on her head and eventually getting the three. The win was to be expected, they've already booked the title match between these two, but for it to be that commanding was a bit of a statement.
It was the match I've wanted Tam and Giulia to have since their first interaction in a tag, so even if it took them their second try to give it to me, I'm still happy to have got it.
Verdict: That's Better
In the aftermath, Tam promised to take everything from Giulia and responded to being called trash by calling her stupid trash. The smack talk might need a bit of work, Tam-chan.
Blue Stars: Maika (4-2) defeated Utami Hayashishita (4-1-1)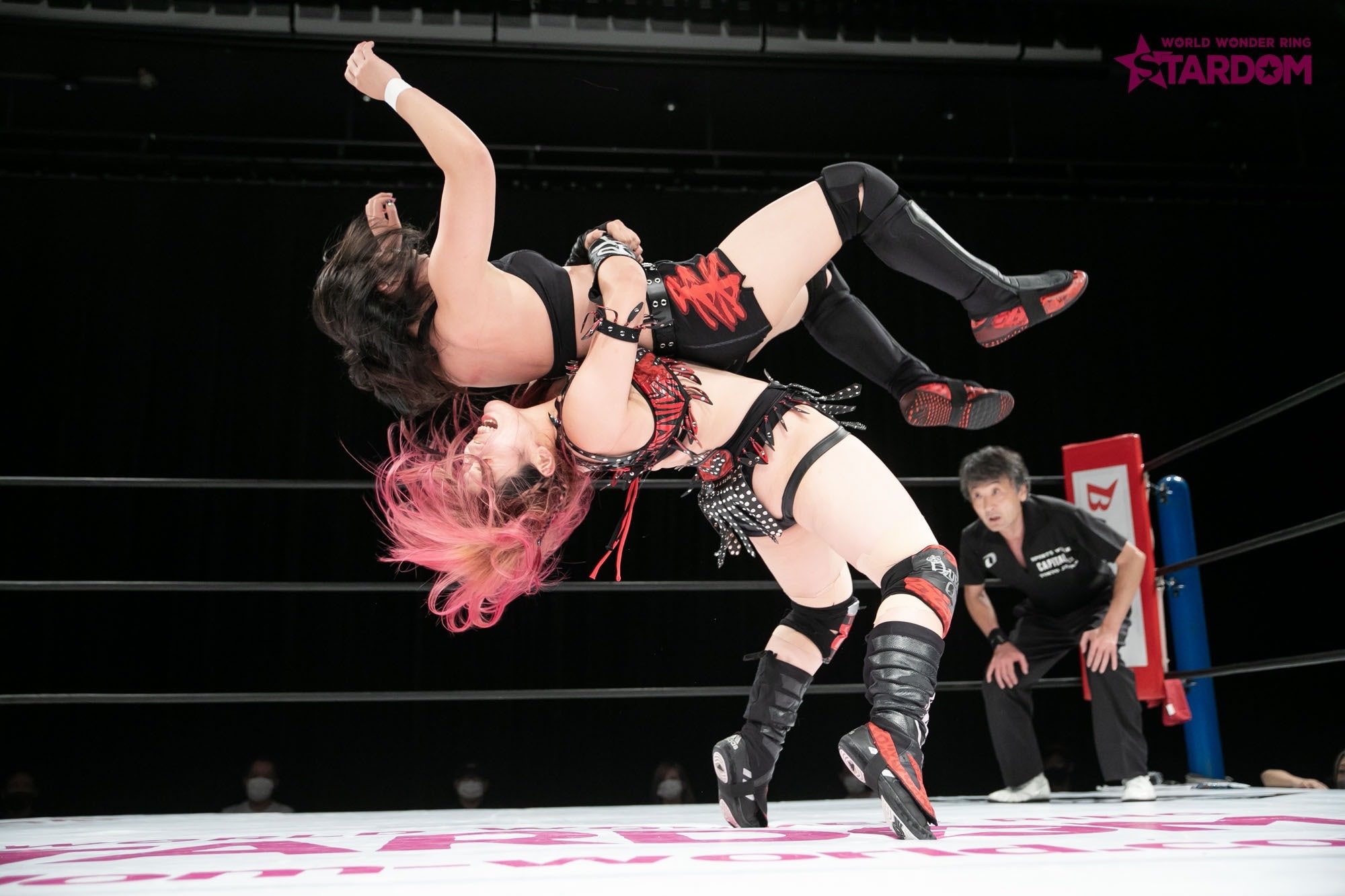 Utami and Maika's feud began outside of Stardom when Utami defended her Future of Stardom title against Maika in JTO. She won on that occasion, but the two would then fight to a draw in this year's Cinderella Tournament, making it clear their issues are far from over.
And thank fuck for that because everything about this ruled. Like Tam vs Giulia, it was a match with two people looking to hurt each other. Unlike that match, it wasn't a wild flailing fight. Maika and Utami were much more in control, instead choosing to throw each other around the ring with those vicious judo throws. Every slam looked like it would knock the wind out of you and I can only imagine they'd both picked up a few bruises by the time it was over.
With Utami 1-0-1 coming in, I was reasonably confident of the result. In fact, when I did the excellent Puro Pourri Podcast's 5STAR pick'em (their recent Big Egg episodes are great), it was the first one I filled in. Even that didn't take away from it, though. This felt like a hard-fought fight and Maika getting the win by choking Utami out was the perfect way to finish it.
If there is any justice, we are going to see this match a lot over the years. I am already looking forward to it.
Verdict: Ow
Overall Show
Those last three matches were as good as anything this tournament has delivered and better than a lot of it. Until then, it was an alright show, but with nothing that particularly shone. Thankfully, they saw us out in style and Stardom can head into the final night of the tournament with confidence. Who can still win? Fuck knows, figure it out for yourself.
Watch Stardom: http://www.stardom-world.com/
If you enjoyed this review, please consider contributing to my Ko-fi, even the smallest amount is appreciated.