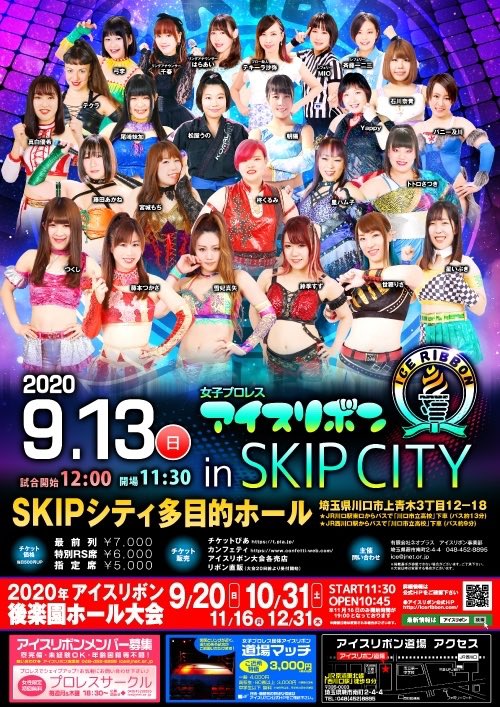 With a Korakuen incoming, Ice Ribbon's latest trip to SKIP City was building to a few biggies and had the added joy of a tag title match involving the coolest man in the world. Who doesn't want to watch that?
The niconico pre-show had Suzu eating a hot curry and having the worst time, so I highly recommend you enjoy that before getting to the wrestling.
Yappy defeated Yuuki Mashiro
Poor Yuuki fell unconscious after a recent dojo show and was admitted to hospital. Ice Ribbon's English Twitter said she was doing fine, but the reason it happened is still unknown, so I send her all the love. We must protect people like Yuuki, for they are the best type.
Because if you haven't figured it out, I am falling hard for this bizarre rookie. She didn't last long against Yappy, but her big spot saw her demanding her opponent take a couple of steps back, giving her time to pose before leaping from the top rope. Yappy obliged but, unsurprisingly, was somewhat prepared for the attack, plucking Yuuki out the air and finished her off shortly after.
I don't even know how you begin to put together the combination of cockiness, awkwardness, competence and uselessness that makes up Yuuki Mashiro, so fingers crossed we see her again soon.
Verdict: Get Better Soon!
Rina Yamashita and Maika Ozaki defeated Joint Army (Tae Honma and Matsuya Uno)
That Joint Army must be a right pain to wrestle. There is something very satisfying about their limb attacking talents. It doesn't matter what you do; if someone grabs hold of your arm and hangs off it, you're going to be in pain.
It especially works when they're in the ring with two hosses. In theory, Rina and Ozaki could have left Tae and Uno a smear on the mat, but they were two pests, refusing to stay still long enough for that to happen. Joint Army worked well together to open opportunities and came very close to getting the win.
Sadly, Rina would prove to be too big a mountain for them to chip away. She was eventually able to shake the pests off and bring that strength to the fore, turning things in her favour to end a well-wrestled match.
Verdict: Good Fun
Satsuki Totoro defeated Ram Kaicho and Banny Oikawa
Ram and Totoro only had eyes for each other leaving poor Banny to try and inject herself into the match awkwardly. It's a spot I've seen a million times, but it never stops being funny and Banny confusedly circling the two was very well done.
In fact, Banny spent this whole match playing the third wheel to perfection. It's not a particularly fun role to play, the only time people paid attention to her was when they were beating her up, but Banny is the right person to do it. Her innate likeability makes it hard not to root for her to be acknowledged.
Plus, Totoro vs Ram is a strong pairing. The two have good chemistry and play off the obvious size difference. With Ram now holding the Triangle Title, there was a big incentive to win this one, and while Totoro wouldn't pin the champ, her getting one over poor Banny would earn her the right to go after the belt at Korakuen.
Verdict: Team Banny
While Totoro and Ram were going back and forth about that match, we were introduced to the person who would make this a triangle. It was, em, Lady Koju, which is Koju Takeda in a wig and a very skimpy bikini. Not going to lie, he's a pretty guy, but I'll have to see how this one plays out before passing judgement.
The Frank Sisters (Hiragi Kurumi and Mochi Miyagi) defeated Akane Fujita and Minoru Fujita to retain the International Ribbon Tag Team titles
The list of things I didn't expect to happen this year is already very long, but Minoru Fujita cementing himself as the coolest man on the planet is still remarkable. His ChocoPro run has morphed him from a deathmatch wrestler who I barely knew existed into my style icon, as I now want to be half as cool as him. I don't blame Akane one bit for bringing him in to face off with her Frank Sisters' teammates, I would like to spend more time with him too.
And with the big man having picked himself up a deathmatch title recently, Hiragi and Mochi came prepared for a fight. Perhaps too much so as Minoru spent the opening trying to lock up with Kurumi only for her to keep hitting him. Why do people assume that just because you like stabbing people with stuff, you don't want to do a bit of wrestling occasionally?
It was the first of many laughs as this felt closer to Minoru's ChocoPro stuff than his deathmatch. The two Fujitas were struggling to get on the same page, spending as much time getting in each other's way as they did helping. The Frank Sisters, meanwhile, are an established unit, giving them the edge from the start and probably making Akane wish she'd stayed next to them.
Towards the end, the Fujitas did start to work together, managing to pull off a few moves. It was enough to briefly level things up, leaving Akane and Mochi alone as she came agonisingly to getting the win. Ultimately, though, Kurumi's strength would end up saving the day, giving the champs back control and retaining the titles in a match that earned a fair few smiles.
Verdict: Teach Me, Minoru
Suzu Suzuki and Miku Aono defeated Spring Meteor (Tsukushi and Ibuki Hoshi)
Skoosh and Ibuki are perfect partners in that they're both cocky young people who are too talented for their own good and who I am very fond of. They won the recent Kizuna Tag Tournament and with Skoosh heading after Suzu's crown, were out there to make things difficult for the champ.
Unsurprisingly, the clashes between the challenger and the champ were fire. Tsukushi was in particularly vicious form, raining in with some very stiff strikes. That match is on Sunday as I write and if you aren't tuning in, then you are an idiot because it has the potential to prod all kinds of buttocks.
It can be hard to stand out when you're the other people in a match like this, but Ibuki and Miku did well, grabbing some attention for themselves. Aono would pick up the win too, a lovely Bridging German doing the job after two Lariats failed. Sadly, she's also picked up an injury recently, dislocating her shoulder, so we've got to wish her all the best too. Get better soon!
Verdict: Suzu vs Skoosh = Fire
Skoosh and Suzu had a rather fierce showdown afterwards which ended with Suzu being Dropkicked in the back. It was well done, but I couldn't help laughing because poor Ibuki was still lying on the mat and kept getting trod on as they went at it. She was having a rough day.
Maya Yukihi, Risa Sera and Hamuko Hoshi defeated Tsukasa Fujimoto, HIRO'e and Syuri
If I ever retire from anything, I'd like to get a joshi retirement. By the time you read this, HIRO'e's career will be over, with this her penultimate match and final Ice Ribbon appearance. In traditional joshi fashion, the roster said goodbye by making sure everyone got a chance to beat her up one last time.
It also generated a feel-good factor as everyone was having a lovely old time. There was some very good wrestling involved, how could there not be with who was in the ring, but it was almost irrelevant. The general air of a group of people going out and having a blast would have been enough to drag it through. They were having so much fun that it was hard not to have it with them.
In among the serious bits, we were treated to Syuri vs Risa, which is another match booked for Korakuen. It continued the trend of the night by impressing as that card is looking mighty strong. As for HIRO'e, I am not the person to try and sum up her career because I've only got glimpses of the last few months of it. She seemed cool and looked great as she bowed out, but I'm sure someone out there will give her the goodbye she deserves.
Verdict: Saying Goodbye In Style
Overall Show
That was an enjoyable show as Ice Ribbon geared up for their next trip to Korakuen. The interactions between those who are to set to face off were great, and everything else delivered too. Plus, we got a lovely farewell which is always nice, if emotional. It probably doesn't need to be pointed out, but Ice Ribbon are one of the companies who have come out of COVID best, and they look in no danger of slipping any time soon.
Watch Ice Ribbon on niconico: https://ch.nicovideo.jp/iceribbon
If you enjoyed this review, please consider contributing to my Ko-fi, even the smallest amount is appreciated.